Caleb Westphal hasn't missed a Friday fish fry since 2013. Follow along with his never-ending adventures here.
"IMMEDIATE SEATING" beamed from the neon sign in front of Klemmer's Banquet Center (10401 W. Oklahoma Ave., 414-541-0401) as I pulled into the parking lot. It is few and far between that I come across these signs, but seeing one lit up on a Friday during Lent in Wisconsin is even more rare. Inside, a few people were gathered in the bar as the man behind the counter greeted me. Upon finding out I was there to eat, he walked me past the host stand into the Governor's Room. "I sometimes dine alone, too," he imparted, "We'll put you at the two-top." Of the 15 tables in the room, only two were in use, and a total of five people were eating. A fireplace warmed the somewhat elegant, but cozy room. "Where the hell is everybody?" I thought.
Located on Oklahoma Avenue just west of the 894 bypass—at the convergence of Milwaukee, West Allis, and Greenfield—Klemmer's has been open since 1977, when it was started by Bill and Dorothy Klemmer, who previously had been part-owners of Alpine Retreat in Hubertus. Originally simply called Klemmer's Restaurant, it became known as Klemmer's Williamsburg Inn in the 1980s, at a time when more rooms were added to it. Its name shifted again in the mid-1990s to Klemmer's Banquet Center. This seems a fitting name for it today, as much of the focus appears to be on the banquet hall side of things, not on the restaurant: there are six rooms that can be rented, and catered food is available to have on or off-site. Although founder Bill Klemmer passed away in 2012, the establishment soldiers on.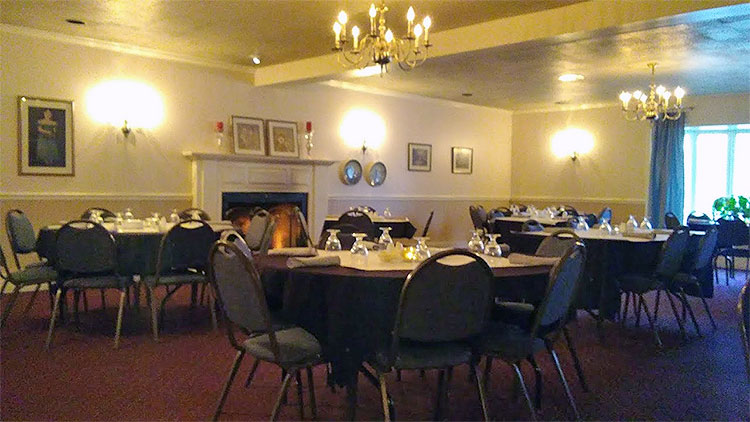 I ordered an Old Fashioned (a few cherries muddled on the bottom, three garnishing it on top, and the perfect amount of ice) and looked over the menu. There are just a few options in the "Friday Fish Fry" section: baked or fried haddock ($11.95) and fried jumbo lake perch ($14.95). Each comes with a choice of potato, as well as coleslaw, cucumber salad, and "salt crust rye bread." Beyond this, Friday diners can choose one of many other entrees, including a few other seafood options, such as shrimp with pasta, lobster tails, and pan fried walleye. I picked the fried haddock with homemade potato pancakes. Although I didn't see clam chowder on the menu, I asked just in case they had some. They sure did!
The chowder, coleslaw, cucumbers, and a basket of bread came out in short order. There was an ample amount of clams, as well as large carrot and potato chunks in the chowder. It had a balanced consistency and a favorable mix of spices. There was just enough cream to coat the green cabbage and slivers of carrot that made up the coleslaw. The slaw had a fresh crunch to it, and was rather mild in flavor. The cucumbers—an added bonus in the fish fry world—were homemade and of the bread and butter variety, and had a few slices of red onion with them that gave them a little extra life.
And then there was that bread basket. Wrapped under its cloth was a warm, baked goodness. Thick and soft, the bread had salted edges and was augmented with an abundance of caraway seeds. A petite glass butter dish with sliced pats sat at its side. There isn't an aisle in the store that stocks this type of bread; it comes straight from a baker's soul.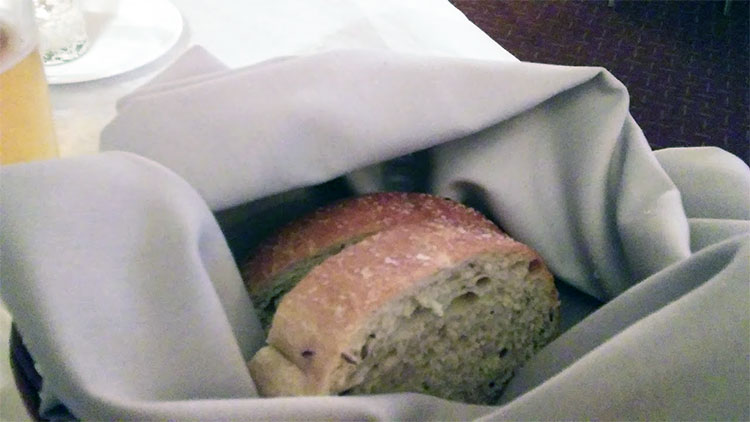 I had almost polished off this spread when the rest of the meal arrived—a plate with two pancakes and two pieces of fish. With the appearance of their breakfast counterpart, the pancakes were not only melt-in-your-mouth, they were almost melt-on-your-fork. The haddock was beer battered to a golden hue and mild in flavor. The tartar was pretty commonplace, being mayo based and relish heavy with a little dill.
The cucumbers, coleslaw, and bread were bottomless, and I was asked if I wanted more. At this point more food was probably unnecessary, but the bread was still on my mind. I asked about it, and my suspicions of it being made in-house were confirmed. I then requested some more, but said only a few pieces were needed. "I wanted to ask about it myself," came a voice from the table next to me. "That is the softest bread I've ever had."
And with that the gentleman asked me if I had been at Opening Day, and started talking about the Brewers in general. It was wholesome talk like you would have with a neighbor or an old friend. But this just seemed like the norm at Klemmer's. After another table was seated—one of only two other tables that were filled when I was there—the waitress sat down with the diners and started having a conversation with them, and even knew their names.
At Klemmer's, something just felt like home, or what you would hope home felt like if you didn't really have one. It was somewhat refined, but lacked pretentiousness, and the workers took time to talk to you. Maybe this all came about because the place was rather empty, but it's hard to tell. When it came to the food, the fish was satisfying, although it didn't seem to be the centerpiece of the meal (although, perhaps the perch would have been). It just felt like one component of a larger package. The pancakes, slaw, cucumbers, chowder, and especially the bread, all did their part.
The quality of everything overall, the amount of food, the price, the ambiance, and the service, all contributed to make the evening memorable. This place should not be largely empty at 6 p.m. on a Friday. There are so many places where you need to wait around for a table—many with inferior quality to Klemmer's. Despite the fish not being off-the-charts good, I think the overall fish fry experience here is worth recommending. It's time to make the "IMMEDIATE SEATING" sign go dark.
Takeaways: "IMMEDIATE SEATING"; a real fireplace in a cozy room; friendly staff; I only saw five people working here, but someone must have been in the kitchen cooking as well; you can book a banquet hall here and get some food catered; they barely have an online presence; solid chowder; you get a cucumber salad!; crunchy, fresh slaw; excellent bread; meltable pancakes; standard tartar; fine haddock; it's the overall experience here. RECOMMENDED.