Caleb Westphal hasn't missed a Friday night fish fry since 2013. Follow along with his never-ending adventures here.
Fish frys aren't always convenient. In an ideal world they would be the centerpiece of every Friday evening. Platters of hand breaded or beer battered perch and cod would be brought out to you while you casually sipped Old Fashioneds with friends and family, perhaps in a low-lit supper club, or in a corner tavern. But we don't live in an ideal world, and sometimes you end up eating your fish fry alone, or you have to hurry, or you aren't feeling well, or your mind is somewhere else.
On one hand, I suppose writing this column has influenced me to try more new places and to vary the geographical locations of the restaurants I go to, more than I would have otherwise. Prior to the column's existence, in 2014, I went to Klinger's East two weeks in a row because I lived a few blocks from it. Similarly, I got fish from the Packing House drive-thru more than once in 2015 (yes, they have a drive-thru just for fish frys). I went to nearby locations and drive-thrus on multiple occasions to help make the meals more convenient. It's less likely I would do things the same way now, now that I'm making a written record about where I go.
But on the other hand, I don't let the column influence my fish choices too much. In some sense I am still just doing whatever I was going to do anyways. Take this past Friday for example. I was playing a show with Devils Teeth, opening up the evening for Mondo Lucha! at Nomad Nacional. We were supposed to be there between 5 and 5:30 p.m., but I wasn't going to be free to grab fish until after 4. This was too early to find anyone to join me, so I ended up going alone. I thought of a few places near the venue with fish, such as Steny's, Drink Wisconsinbly Pub, Fuel Cafe, and the Twisted Fisherman (1200 W. Canal St. 414-384-2722). I decided to go with the last one.
Tucked along the Menomonee River on the stretch of Canal Street between the Harley-Davidson Museum and Potawatomi, the Twisted Fisherman specializes in crab and other seafood, such as salmon and tilapia, but you better believe a place with the word "fish" in its name serves a Friday fish fry, too. The wide range of seating options available in and outside of the restaurant are ideal for the summer months. Some Adirondack chairs are situated along the river, giving people the chance to fully soak up the sun. A little closer to the building, wooden picnic tables with umbrellas still allow people to sit near the water, but with a little more shade. Attached to the building is a large yellow tent with more picnic tables. A large, square wooden bar begins in this outdoor area, and continues into the building, where more seating can be found. I took a seat at the end of the bar that was outside the building.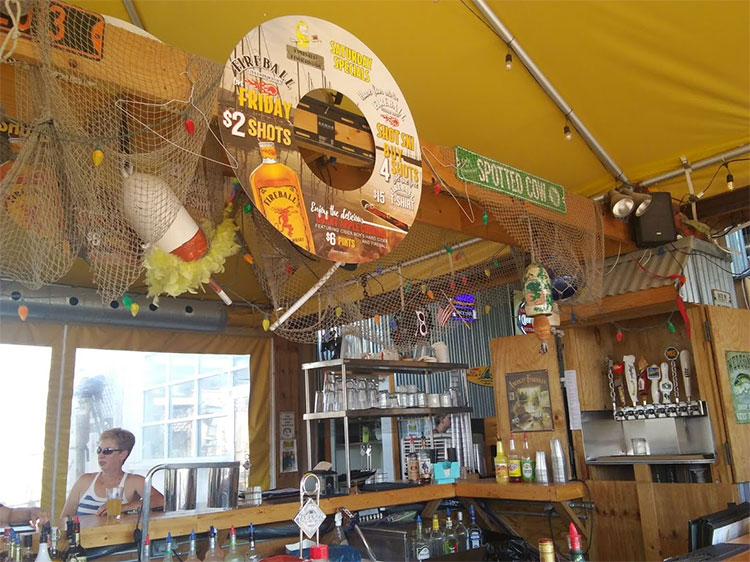 As I drank a stiff, half-muddled Old Fashioned, after having waved off an offer for a tropical cocktail, I took a look at the food menu. There are two fish fry options: the Traditional Milwaukee Fish Fry is $13.95, and includes breaded deep fried perch from Lake Erie, with two sides; while the Beer-Battered Cod is $12.95, and consists of cod made with a Point Seasonal beer batter, also with two sides. The side options are baked beans, Wisconsin cheddar mashed potatoes, mac-n-cheese, spiced Cruzan rum glazed carrots, coleslaw, steamed broccoli, and fries. I went with the perch, and ordered some chowder as well.
Now, this wasn't just any chowder, but "Milwaukee Chowder," with smoked trout instead of clams, as well as Wisconsin cream, sweet corn, and potatoes. The smoked trout flavor was prominent, the cream gave it a good consistency, and overall the original offering was well welcomed. I was given three butterfly fillets of perch—the breading adhered well to the meat side, but not as well to the skin side, where it flaked off a bit. Still, the fish had a good flavor, and I wasn't disappointed. As much as I was tempted by the Wisconsin cheddar cheese mashed potatoes, I knew I had to get the fries because it was National French Fry Day. In both taste and texture they were satisfactory. The second side I chose was coleslaw, because, well, I was eating a fish fry. It came in a decent sized container, and had a light, mild flavor. A handful of thin zucchini slices gave it an added originality.
I looked at the time and it was after 5. My mind had been drifting back to the rock and roll show off and on during the meal, and now it was time to get going. It had been another solitary fish fry, eaten in a somewhat hastily manner. But I'm not going to question why I keep going back every week. While fish frys might not always be convenient, Fridays just wouldn't be the same without them.
Takeaways: Relaxing outside summer hangout, not unlike Barnacle Bud's; the chowder had trout in it; why the hell wasn't there rye bread?; the perch breading was a little flaky on one side, but almost perfect on the other—I think there is a deeper life lesson here, but I'm not sure what it is; there was zucchini in the coleslaw; maybe I'll write about the Packing House drive-thru sometime; I'm sorta glad there wasn't all-you-can-eat, because that would have made the rock and roll show difficult.