Caleb Westphal hasn't missed a Friday fish fry since 2013. Follow along with his record-in-the-making here.
Milwaukee has a rich cultural heritage and many ethnicities help make the city what it is. One of its nicknames is even the "City of Festivals" because of the many ethnic festivals that take place here: Polish Fest, Bastille Days, Festa Italiana, German Fest, Irish Fest, Mexican Fiesta, and Indian Summer Festival, to name the major ones. And along with all the ethnic festivals, ethnic restaurants also abound. After visiting an Irish restaurant for my last fish fry, I decided to go to an authentic Polish restaurant this past week, and ventured to Polonez (4016 S. Packard Ave., St. Francis; 414-482-0080).
Polonez is owned and operated by George and Aleksandra Burzynski, and has been open since 1983. For roughly the first half of its existence it was located across from the Basilica of St. Josaphat on south Sixth Street, and it is now located in St. Francis. As I walked inside the building, took a few steps down some stairs, and turned the corner to the bar, I saw George wearing an apron and Aleksandra holding menus. She quickly greeted me and my friend, and brought us to a seat in the main dining area.
As I perused the menu trying to decide which fish fry to get, I was pleased to see that each dinner came with a soup or salad. Naturally I chose the clam chowder, and had that to eat as I waited for my traditional cod fry to arrive. The chowder was light and fluffy with an airy texture, but didn't have much flavor. I had it with the obligatory Old Fashioned, which was strong—in a good way, and non-muddled.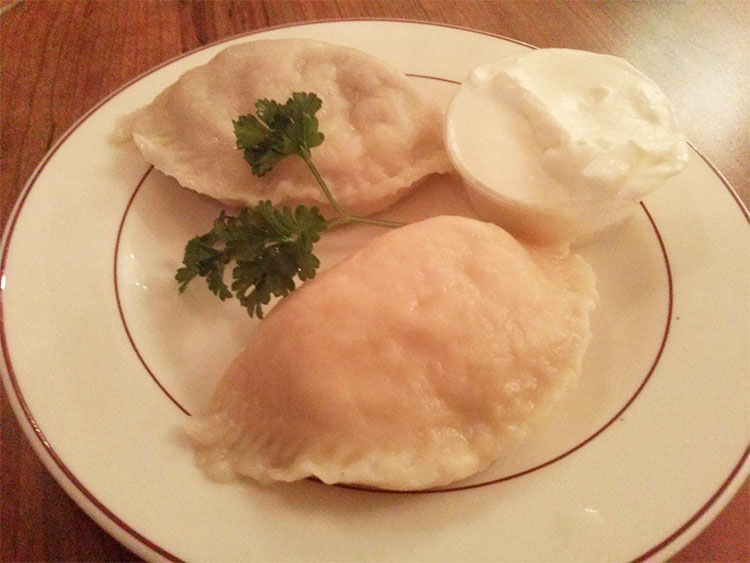 The fry came with four pieces of cod, which were skinny and rather small, but had a perfect batter with a bit of a crunch that went well with the fish texture. The tartar sauce was very good but came in one of those small containers where you can't fit the fish in it no matter how hard you try. The menu listed it as being remoulade, but it seemed like regular tartar to me. Looking at the potato pancakes one could be fooled into thinking they were breakfast pancakes; never have I seen some that were so deceiving in that regard. They did have the consistency of breakfast pancakes, but the taste was nothing like their morning cousins, and they were satisfying with just the right amount of onion. The coleslaw came in a small dish, and wasn't too bland or too spicy—it was just right. I hadn't had pierogis since visiting the Polish Center of Wisconsin in April, so I made sure to order a side of them as well (one was reuben and one was potato and cheese, and I should have ordered more).
This was my second time getting fish at Polonez. A few years ago I arrived early and ate at the bar. On that occasion I was curious about the backstory of the place, and Aleksandra took the time to chat with me and tell me all about the restaurant. The service was also great. This time it would be remiss of me not to mention that the service was not very good. It appeared like everyone was working hard, and the place wasn't overly busy, but it seemed like our waitress was inattentive, and she rarely checked back in with us during our meal. When things were dropped off we were never asked if we needed anything else, nor was there enough time for us to ask for anything before our waitress left. Our water glasses were never refilled, it was about halfway through my meal when I had the chance to ask for ketchup, and rolls were never brought to us. I didn't even attempt to ask for a second tartar sauce as it was further down the list of things I needed. Maybe this was just a fluke occurrence, but it really did detract from the enjoyment of the meal.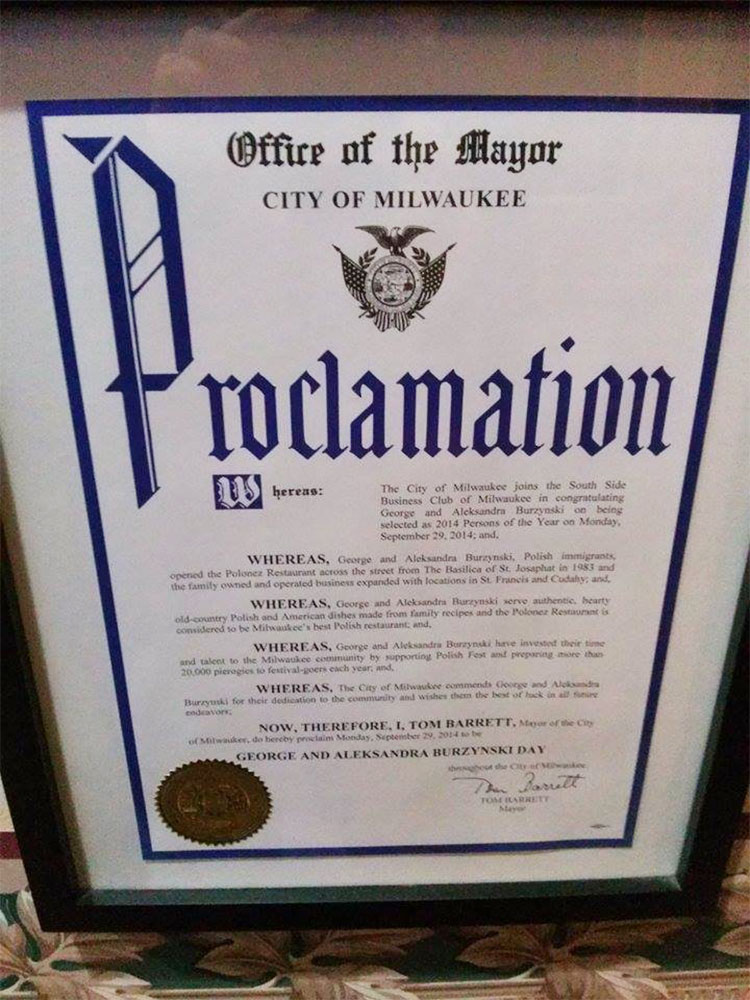 As I made my way to the exit I looked at the many things hanging on the wall that serve as a testament to the importance of Polonez to Milwaukee. There even was a proclamation from Mayor Barrett from 2014 in which he had designated September 29 as "George and Aleksandra Burzynski Day." By some chance it happened to be the third anniversary of this proclamation. I plan on visiting Polonez again, and I hear that they have a pretty great Sunday brunch buffet. They have other buffets as well, and coming up on October 7 and 14 they have a "Dining and Dancing Buffet" in honor of Oktoberfest. Anyone who shows up wearing lederhosen gets a free shot of Jägermeister. Now that sounds like a good Saturday night.
Rating: Solid fish and potato pancakes; not too exciting clam chowder; pierogis!!!; staple of the community with many other traditional dishes available; good hosts but food service was subpar (hopefully an anomaly); if you go on two Saturdays this month and wear lederhosen you get a shot.
 3 out of 5 stars.