While this Halloween weekend will be different than it's ever been in our lifetimes (unless you live anywhere else in the state, where none of this seems to matter whatsoever), there's at least one thing that a worldwide pandemic can't take from us. Of course, we're talking about beer. As the world burns around us and you're (hopefully) staying home and/or celebrating in a safe and socially distant way, here are 10 brewery events and beer releases happening in and around Milwaukee this weekend.
1840 Brewing Company — Creepfunk Haze Double IPA release party
Bay View's 1840 Brewing Company is releasing its Creepfunk Haze Double IPA during an outdoor release party at Hallow Homstead County Park in Germantown this Saturday. In addition to the freshly tapped and bottled beer, there will be live music from Steez and Creepfunk. And since the release got pushed back to Halloween weekend, this small-scale event will also feature a costume contest, a pumpkin carving contest, trick-or-treat candy for kids ("delivered COVID-responsibly"), and a keg of candy-infused Imperial Stout.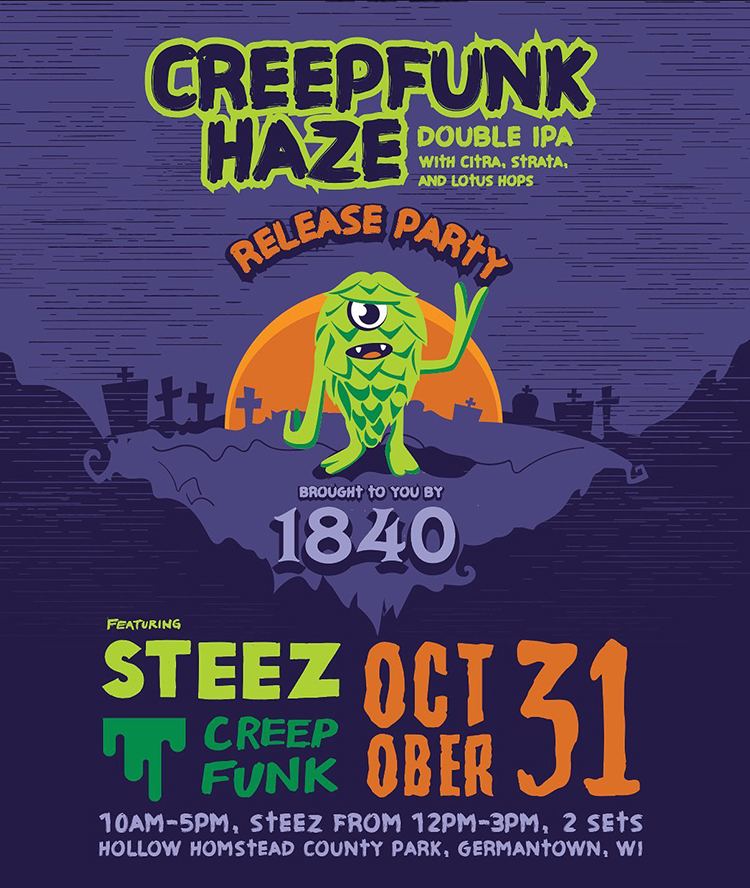 Broken Bat — Adult Trick Or Treating Beer Drive-Thru
Trick or treating isn't just for kids anymore. On Friday and Saturday, grown ups can stock up on some goodies when Broken Bat will lets customers swing by its "haunted back alley" for some discounted brews to enjoy at home. No pre-orders are needed. Just drive over.
Captain Pabst Pilot House — Dark Listening Sessions
Starting tonight and every night through Saturday, Captain Pabst Pilot House will be filling crowlers, turning out the lights, and letting a limited number of people experience "Dark Listening Sessions" at its downtown-adjacent taproom. Tonight's soundtrack will be Alice Cooper's Welcome To My Nightmare. Friday's listening will be Black Sabbath's self-titled album. Metallica's Black Album will bring things home on Saturday.
Company Brewing — Drink-Or-Treat
According to Company Brewing, this to-go offering lets Milwaukee area beer enthusiasts "get 24 delicious brews from 13 of your favorite local haunts for one scary good price." This $95 deal features beers from 3 Sheeps, 1840 Brewing, Company Brewing, Component, Enlightened, Explorium Brewpub, Fermentorium, Gathering Place, Indeed, Lakefront, Mobcraft, Tank 8 Beer, and Third Space. While you're there, try Company's new scary-ass cheeseburger.
Eagle Park Brewing Company — "Demo Track" beer releases
It doesn't take a holiday for Eagle Park to release new brews. It just so happens they're putting out two "Demo Track" beers this weekend. Starting Friday, members in Milwaukee and Muskego can pick up cans of their new Breakfast Porter and/or Cordial Sour. Non-members can stock up starting Saturday.
Good City Brewing — Space Time DDH Hazy IPA release and Mystic Shade release
The folks at Good City are offering area imbibers TWO Halloween weekend treats. On Friday, they'll make its new Space Time Hazy IPA (made with Galaxy Hops) available in their two taprooms. That will be followed with the release of Mystic Shade, a New England double IPA, on Saturday.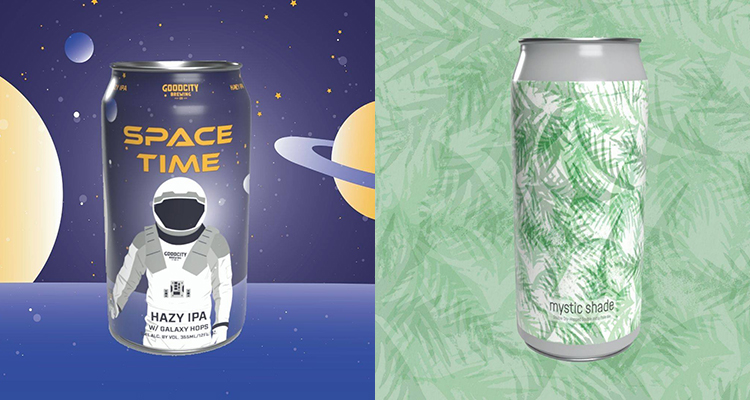 Indeed Brewing Company — Halloween Fright Flight Night
Fresh off its awesome Low-Key Lowdown urban beer garden last month, Indeed Brewing Company continues to keep things interesting with another enticing group of seasonally appropriate offerings. As of yesterday, the brewery's Milwaukee taproom is selling crowlers of four candy-inspired infusions. Grab a Mint Chocolate Porter, a Sour Gummy Paloma, or another option to-go. Or, if you care to enjoy it on-site in the limited-capacity taproom, Indeed will be offering flights of this fearsome foursome of beers with a side of candy on Saturday.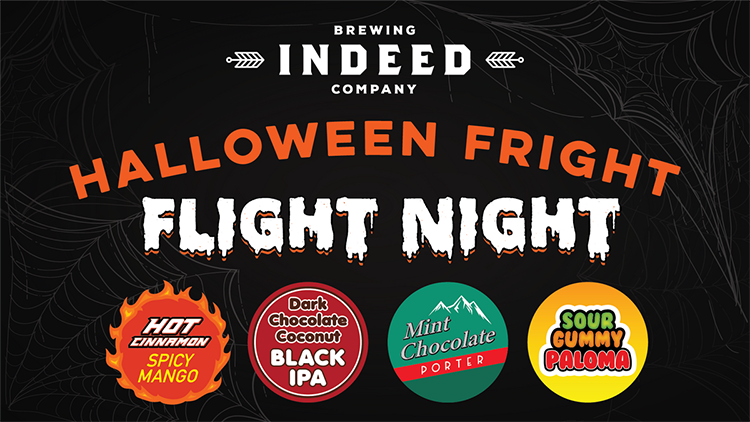 Sprecher Brewery — Trick Or Treat Tours
Out in nearby Glendale, Sprecher will host Trick Or Treat tours from noon to 6 p.m. on Saturday. Wear a costume and receive a "special treat" from the brewery. For the love of God, please incorporate a face covering into your costume. Thank you.
Third Space Brewing — Haunted Barrel Candy Bar Porter release
On Saturday, Third Space will tap its Haunted Barrel Candy Bar Porter "and a few variants" in its Menomonee Valley taproom. Wear a costume and get a free sample pour of the porter. On the lighter and more tart side of the spectrum, Third Space will also release its Cranberry Gose on Friday, both on-site and in stores. And if you'd rather get beer to-go, Third Space takes online orders as well.
Urban Harvest Brewing Company — Oktoberfest (maybe?)
We'll be honest…we don't know anything about this one. While looking for events, we noticed Urban Harvest Brewing Company—which recently re-opened its taproom—changed its cover image to the Oktoberfest-themed image you see below. There's no event posted, no status about it, nothing. So, yeah, stop by or call them to ask about it if you want to celebrate Oktoberfest on the cusp of November.