Over the past decade, it has become a tradition to have a Found Footage Festival show in Milwaukee around either Thanksgiving or Christmas. That continues this year as Joe Pickett and Nick Prueher of the Found Footage Festival bring Volume 10 of the show to Avalon Theater on Black Friday. This year has been a big one for the duo as, in addition to touring with the Found Footage Festival, they were the subjects of the documentary Chop & Steele which is now available to stream and watch on home video following a theatrical run this past summer.
Ahead of their show on Friday, we caught up with Pickett and Prueher to talk about the latest volume, their best Milwaukee-related tape, and what it was like to be the featured subjects of a documentary.
Milwaukee Record: You are touring with your tenth volume, "Popcorn Classics." Without spoiling anything, what are some highlights of the new show?
Nick Prueher: Well, we call it "Popcorn Classics" because we'll be showing off a somewhat disturbing videotape that came packaged with a free bag of microwave popcorn back in the day. But other than that, we've got the greatest batch of exercise videos we've ever assembled, including one called "Oral Aerobics." There's a 1987 video dating tape for women that Joe worked five years to track down and it was worth it! Plus, we'll be showing a bunch of training videos we found at the Pizza Hut in our hometown.
Joe Pickett: I'm most excited about an answering machine tape that someone gave us last year. It's technically not VHS, but it's analog all the same. It's called "The Dorothy Recording" and it's a harrowing three-minute conversation between two women. It's a real roller coaster ride for the audience.
MR: Do you have any favorite moments, interactions, or experiences from touring so far with this volume?
NP: Over the weekend, we spent the day in Salem, Massachusetts on tour and went to a re-enactment of the witch trials and tour of a dungeon, complete with dusty wax mannequins being tortured. Then at night, we did a show at an arcade right next to an air hockey table. That was one for the history books.
JP: I'm taking a break from drinking, so this whole tour has been pretty strange for me. For the last 19 years of touring, I've always had some sort of booze swilling in my stomach during FFF shows. It's yet to be determined if sober Joe's stage performance is an improvement or not.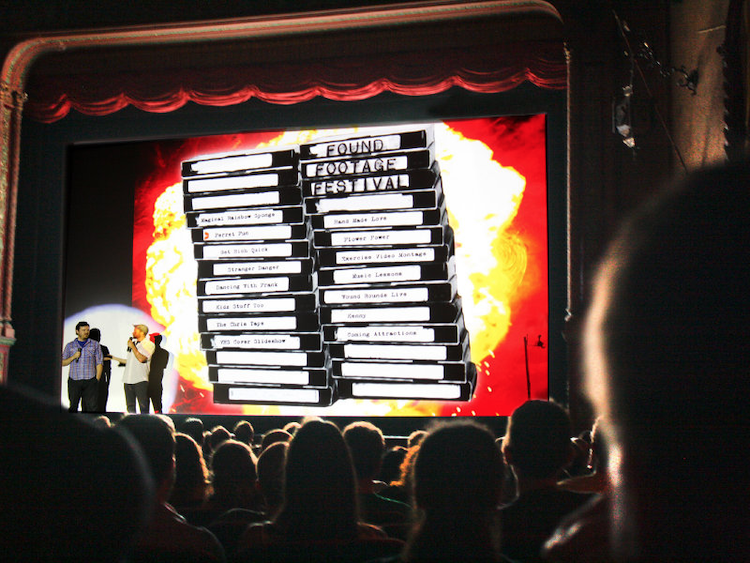 MR: In terms of putting together a touring show, how do you make the call of what is good for the tour versus something better suited for your web show, VCR Party Live? And what is the process and length of assembling a show to tour with?
NP: Our weekly YouTube show, VCR Party, is pretty loose and is our chance to workshop new VHS finds for an online audience. We take our best finds from the past year and make tightly edited clips and montages that we think will get good reactions in a live setting. And we always save some good stuff exclusively for our touring show, including things we couldn't legally show on the internet. And yes, that means full frontal male nudity.
JP: We have an office with over 13,000 VHS tapes and we've watched maybe 39% of them. On VCR Party, we're trying to watch our entire collection, so that means we'll be doing the show until 2068. The process for a new touring show takes us as long as it needs to take. We don't set a deadline for anything. We instinctively know when a show is ready to go.
MR: Do you have a favorite Milwaukee-related piece of found footage from your collection?
Joe Pickett: Well, West Allis is one of the greatest thrift store havens on the planet and I know that we've found several gems from that part of Milwaukee. One that sticks out is an ambitiously homemade sing-a-long video series called "Sing Along With Frank Woehrle." I think we found it at Shroeder's. It was produced by a company in Vesper, WI and features a guy named Frank singing old standards in front of a green screen. I think it was intended for nursing homes to have sing-alongs, but it's so ambitious and funny and charmingly homemade.
MR: Since you just mentioned it, I know Schroeder Used Books And Music was one of your favorite local spots to hunt for obscurities, but it sadly is no longer around. Now that it's gone, what do you miss most about that store?
JP: Oh man, that place was an absolute treasure. Besides the incredible inventory of VHS, old pornography, buffet danglers, and the stacks of books that would make a Fire Marshall vomit, my favorite part was the process of getting into the store. You had to call a mysterious phone number on the door—sometimes they would answer, sometimes not—and if they did, then you waited and hoped for a little old woman to show up and let you in. I went there once with a friend who collected vintage pornography and he was astounded at how knowledgeable she was about it. I wonder what they did with all that inventory.
MR: You two are the stars of the documentary Chop & Steele which chronicles your relationship, your work together, and the pranks you've pulled over the years. What was it like being the subject of a documentary?
NP: We spent five years shooting a documentary called Dirty Country, and I remember our subject saying, "Hey, can you quit shoving the camera up my ass for a minute?" I was miffed about this because we'd quit our jobs and flew ourselves out to shoot with him. This was our career on the line! But after one week of being the subject of the documentary, I totally got it. I used different words to director Ben Steinbauer, but the gist was, "Can you quit shoving the camera up my ass for a minute?" I'm really happy with the final movie though. Ben was able to capture all those little intangible parts of our relationship that we've never been able to articulate.
JP: Shooting Chop & Steele probably took six years off my life, but it's the six years at the end when you're old and boring, so I'm completely fine with that.
MR: One of your pranks featured in the film took place here in Milwaukee around this time of year. What do you remember about pulling the "Chef Keith Guerke" prank?
NP: What I remember is buying KFC the night before and staging it as really dumb Thanksgiving dishes with mashed potatoes and cranberries in a rental car, using the overhead light to see because it was 5:30 a.m., and almost freezing to death during it. But once I got on air, the segment went great and the news anchor seemed to really enjoy all the ridiculous recipes. I believe she actually tried the mashed potato ice cream cone.
MR: And since it is Thanksgiving on Thursday, what are each of you thankful for this year?
NP: I'm thankful for training videos that thought using rap music would help the indoctrination go down easier.
JP: Finding The Dorothy Recording. It's truly a Thanksgiving miracle.
Found Footage Festival Volume 10: Popcorn Classics will come to Avalon Atmospheric Theater on Friday, November 24. Tickets to the 9:15 p.m. show cost $15 and are on sale now.