This weekend will mark the 56th, 57th, and 58th consecutive days of peaceful events protesting police brutality and the murder of George Floyd. Here are just a few of the weekend's events, sure to be joined by more.
FRIDAY, JULY 24
Milwaukee City Hall (200 E. Wells St.)
5 p.m.
Madison meets Milwaukee!
Black Umbrella & Frank Nitty host a "Solidarity Stance" rally.
There will be food, music, activities for kids and lots of opportunities to get educated about the movement and how to help.
This event is a display of our solidarity✊🏽 We may have different demands but in the end we all want to see the betterment of society. We will only make tangible change by standing together. The police and the system they serve have continuously used excessive force on black and brown people and have committed murders without any consequences for decades. Come out and demand for justice and liberation for our people!
Red Arrow Park (920 N Water St.)
6 p.m.
Milwaukee's next peaceful protest and symbolic action is being held on July 24th, 2020 starting at Red Arrow Park.
Gathering and Supply Donation: 5pm
Protest March: 6:30pm
Asking for big donations of chalk and paint.
Action: Poster build will begin at 5:30pm! The symbolic action portion will begin at 6:30pm. WE NEED LOTS OF CHALK. We will be creating moments and writing the names of those we have lost due to police brutality and murderous actions due to their blatant racism.
We ask that you invite and bring as many friends and family as possible.
This being a more night time event please make sure you are bringing the most weather appropriate clothing for sundown!
If you'd like to make monetary donations for us to purchase supplies (Masks, Water, Snacks, Etc) our currently used Venmo is
@Peoples-movement
Or visit our amazon wishlist:
https://www.amazon.com/hz/wishlist/ls/1P1M7VWKPGTSH?ref_=wl_share
The route will be determined by what is safest for the group as a whole taking into consideration all parties involved.
*REMINDER* We advise for your safety and everyones safety you wear a mask during this protest. We also reccomend goggles just in case, as well as any other neccesities you feel you may need as the walk will be lengthy.
We thank everyone over the last 54 days who have continued to join in our peaceful gatherings and other events and want to remind everyone that with the continuation of this we have become a movement and there will always be power behind your voice and IT DESERVES TO BE HEARD!
SATURDAY, JULY 25
Washington Park (1859 N. 40th St.)
12 p.m.
2020 is definitely a year for the history books. We live in a different world now and it's in our hands to decide what the future holds.
The city of Milwaukee is one of the most segregated cities in the United States and it has been that way for a very long time. There are many different movements and calls for action happening locally and all around the globe, and this event is our attempt to be a part of the solution. This is your opportunity to show your support and begin the change.
The 1st Annual Together We Stand Celebration will be a positive event in which many people of all different backgrounds will come together and stand together. This will be an opportunity for everyone to share their stories to others who have not heard them.
The organizers and volunteers are working hard to provide food, music, performances, speakers, games and a solid infrastructure for the event to happen.
SOCIAL DISTANCING AND USE OF MASKS ARE REQUIRED BY MANDATE OF THE CITY OF MILWAUKEE!
—————————————-
There are a few ways you can help solidify the 1st Annual Together We Stand Celebration:
DONATIONS: The more donations we get, the more we'll be able to provide. We'll have an open cash flow report with all the ins and outs. Please donate to $TogetherWeStandMKE (Cash App) or @HugoCao (Venmo).
VOLUNTEERING: If you're interested in volunteering, please fill up the form in the link below and wait for further instructions
https://docs.google.com/forms/d/e/1FAIpQLSfuMgN14kttx-FOgv6UVU26yPv3BPmb9bUHrlEwWjiq5uifQw/viewform?usp=sf_link
BUYING EVENT T-SHIRTS: (A portion of the proceeds will be donated to the Milwaukee Urban League)
https://bsg.chipply.com/togetherwestand/store.aspx
CONTACT: togetherwestandmke@gmail.com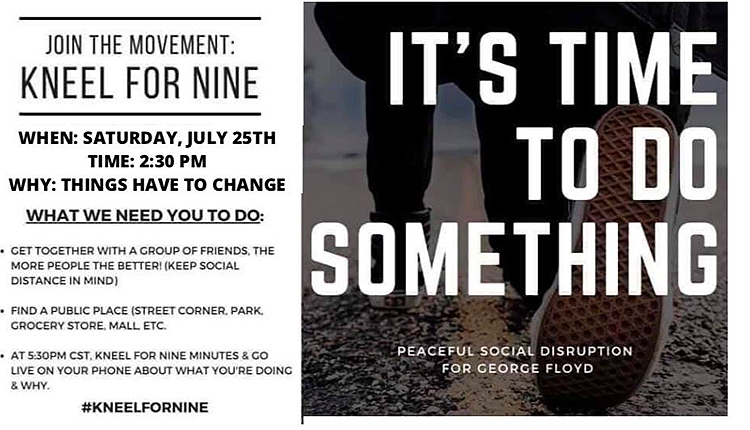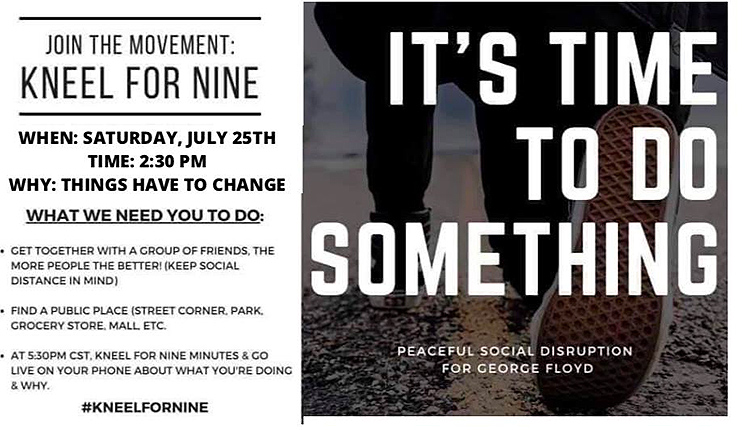 Redeemer United Church of Christ (W220N4915 Town Line Rd.)
2:30 p.m.
Join us and others nationwide as we Kneel for Nine minutes. Then, take a self-guided tour through our prairie. Quotes and scripture will be placed throughout the one-way walking path to guide your prayer/meditation.
Masks and social distancing required.
Schedule:
2:15p gather
2:30 Nationwide Kneel for Nine
2:40 Closing
2:45 Self-guided tours begin
Note: The building will not be open for entry so please plan accordingly and utilize the restroom prior to arriving.
If you feel sick, please join us in kneeling at 2:30p at home and join our Facebook live stream.
Cathedral Square Park (520 E. Wells St.)
8 p.m.
It is our social duty and obligation to continue to advocate for Black Lives and our marginalized communities who still suffer at the hands of racist systems and policies.
Join us in solidarity and march this Saturday night for the names that have still not received justice. Our Black and Brown communities are still suffering the greatest oppression and the greatest affronts to their dignity as human beings. The age of ignorance and silence is no longer an option.
Racism and police brutality is under siege and we all calling all allies, especially; WHITE ALLIES to walk with us in this fight.
As always our marches centers Black Womxn, individuals who identify as members of the LGBTQIA (especially Black & Brown members)
Please Note the following
*We will be gathering at 8pm. Marching shortly after
*This march will be approximately 3.5miles
*Marches will be required to wear a mask – Masks will be provided but bring one if you can
*Wear a black or red shirt (bring both just in case)
*This is an intentional march… no savior complexes
*Come with an open heart and lots of love for all
*THIS IS A PEACEFUL MARCH.
SUNDAY, JULY 26
Cahill Park (4950 N. Woodruff Ave., Whitefish Bay)
11 a.m.
July 26, 2020 marks the 30th Anniversary of the Americans with Disabilities Act of 1990. This critical civil rights law prohibits discrimination against individuals with disabilities in all areas of public life, including jobs, schools, transportation, and all public and private places that are open to the general public.
Join us for an accessible march to continue the discussion within our community on Black Lives Matter, racial injustices, systemic racism, and police reform.
We will be creating justice poles from 11 am – 2 pm. No art experience needed! Let your creative mind flow and paint your thoughts on the Past, Present, and Future of Black Lives Matter and our community. Sign making supplies will also be available.
From 2-5 pm we will participate in a 3 mile round trip march. The art build will be fully accessible for all to participate. The march route will be flat, with many planned stops for discussion, speakers, rest, and conversation.
Human guides and American Sign Language interpreters will be present as well as a Disability Support Team and medics. Assistive mobility devices may be available for use during the march. Please reach out to the organizers with any request for accommodations.
Masks are STRONGLY encouraged and maintaining 6 feet of distance is requested by the organizers. Masks will be available for those who need.