Do you like tacos, tequila, and world-renowned rappers who really popped off in the early 2000s? If you answered yes to even one of those questions, we have some good news for you. And if you enjoy all three of those things (and don't mind driving to Franklin, Wisconsin to experience them), then you might be in for one of the best days of your life.
On Saturday, September 16, Milwaukee Taco And Tequila Festival is coming to Franklin Field for a day of tacos, tequila, and "throwbacks." The suburban fest—not to be confused with Milwaukee Taco Fest, which will be taking place at Henry Maier Festival Park next month—appears to be going all out with chef-prepared Mexican fare, tasty tequila-based beverages, and unexpectedly awesome entertainment. Seriously, check out this lineup! (Editor's note: I am 38.)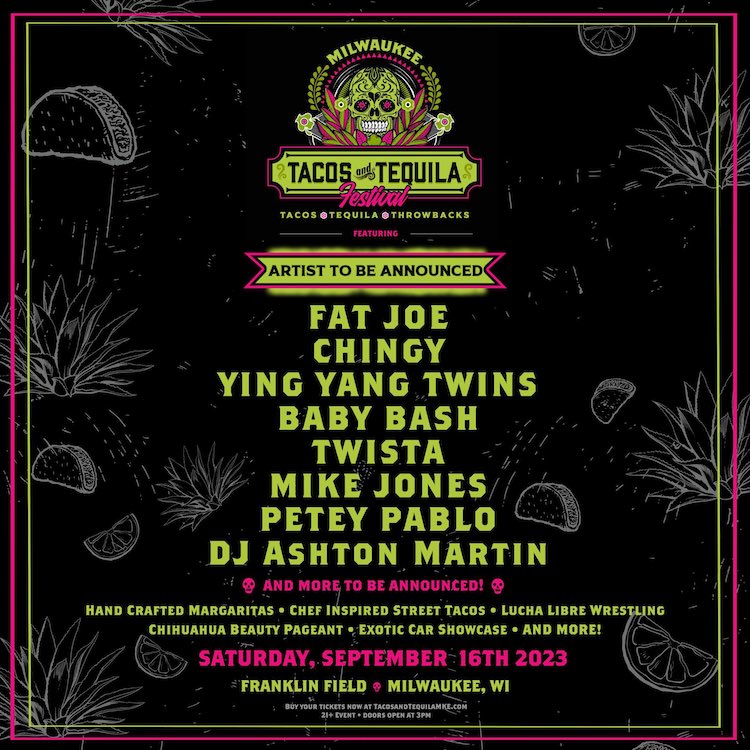 As if the prospect of hearing Chingy while eating chorizo, seeing Petey Pablo while drinking a paloma, and singing the lyrics "I'm Mike Jones" in the presence of Mike Jones isn't already cool enough, the event's headliner hasn't even been announced yet. What 2000s-era rapper deserves higher billing than Fat Joe? Flo Rida maybe? It couldn't be Nelly…could it?! Okay, we honestly don't know, but we're excited to find out!
Beyond the food, drinks, and musical entertainment, attendees can take in lucha libre wrestling, a chihuahua beauty pageant, an exotic car show, and a hot sauce and salsa competition. Early bird tickets are on sale now. General admission tickets are currently $49 and VIP tickets are currently $129, but prices will increase as the event approaches. We want to go to "thurr."