Every Friday, Off The Record looks to other Milwaukee publications (and beyond) for bits of news we missed throughout the week.
• On Friday, June 9, at 8 p.m., Riverside Theater will host a free concert dubbed "Cheers to Milwaukee." The Miller Brewing-sponsored show will feature complimentary Summerfest tickets and, more intriguingly, a mystery band. "We are thrilled to be a part of this event and help Miller Brewing thank the city of Milwaukee for their support over the last 160 years by hosting a really cool, free concert at The Riverside Theater with a band we know everyone will love," says Gary Witt, CEO of The Pabst Theater Group, in a press release.
So, the question is: Who's the band that everyone will love? Your guesses, please, in the comments below. We're betting on Bruce Springsteen and/or Elton John. [Pabst Theater Group]
UPDATE: Word on the street is that it's none other than Chevy Metal—a.k.a. the hard-rock cover-band alter ego of Dave Grohl and the Foo Fighters. [88Nine Radio Milwaukee]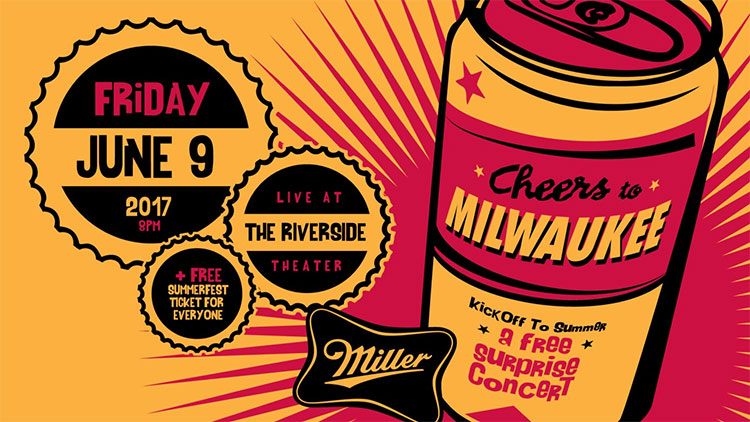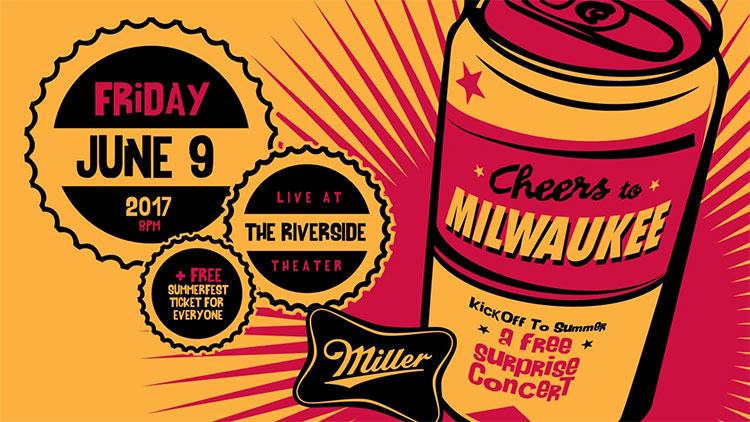 • Speaking of Summerfest, here's what the new Miller Lite Oasis looks like. [OnMilwaukee]
• Milwaukee finally has its very own "glassy skyscraper"—the Northwestern Mutual Tower—and artist/architecture critic Tom Bamberger loves it. [Urban Milwaukee]
• Green Sheet writer Chris Foran explored the history of Milwaukee's fist drive-in movie theater. The Bluemound Drive-In opened in 1940 and closed in 1981. It's final features? The Great Muppet Caper and Smokey & the Bandit II. [Milwaukee Journal Sentinel]
• The City of Milwaukee will spend an additional $2 million on The Couture project to relocate a recently discovered city-owned sewer line. Yes, recently discovered. Urban Milwaukee answers the burning question: "How does an actively used sewer line just disappear from public record?" [Urban Milwaukee]
• Milwaukee has more venues and more shows in its future, but does it have more people to support all those venues and shows? Piet Levy looks for answers. [Milwaukee Journal Sentinel]
• Behold, the latest video and song from the mighty Tigernite! [YouTube]
• ICYMI, you can get Lakefront's Riverwest Stein in cans now. [Urban Milwaukee]
• Here's some more info on Strange Town, Andy Noble's "plant-based dining spot" coming to the former Allium space on the East Side. [Milwaukee Business Journal]
• Donut Squad—a.k.a. that new fancy donut joint in the former Goldcoast Subs space on the East Side—opens today. [OnMilwaukee]
• A new martini bar and events venue is set to open in the former Chez Jacques space in Walker's Point. It's name? Martini. [OnMilwaukee]
• A Warby Parker is coming to the Third Ward. [OnMilwaukee]
• Want a fleeting glimpse at a bunch of downtown condos you'll never be able to afford? Then check out "Downtown Diggs" this Saturday! [Urban Milwaukee]
• "Age is just a number, they say. Seventy is the new 50. That strikes me as a psychological comb-over: we've reached authentic old age. If 70 is the new 50, dead must be the new 80." Milwaukee historian extraordinaire John Gurda is about to turn 70. He wrote a wonderful piece about it. [Milwaukee Journal Sentinel]
• Have a great weekend, Milwaukee!