Depending on which news sources you follow, Milwaukee is going through either a "renaissance" or a "reinvention." Or maybe it's a "reboot" or a "reimagining," like that crappy Tim Burton version of Planet Of The Apes. However you want to define it, it's safe to say that Milwaukee is currently building a lot of new and wonderful things.
• A chunk of I-794 between the Marquette Interchange and the lakefront—from 6th Street to Lincoln Memorial Drive—is set to get a $300 million overhaul. But what a group called Rethink 794 presupposes is: maybe it shouldn't?
Yep, Rethink 794—a coalition of "local advocates, volunteer professionals, and environmental and transportation advocacy groups"—is asking the Wisconsin Department of Transportation to, well, rethink its $300 million overhaul plan, and instead tear down that chunk of pesky interstate and replace it with an at-grade boulevard. The Rethink 794 plan would essentially reconnect Downtown and the Third Ward, and "reconnect our city to its most prized natural wonder: Lake Michigan." (The Hoan Bridge would remain unscathed.)
"I-794 is a relic of a time when planners, engineers and elected officials thought of Downtown Milwaukee and the Third Ward as commuting destinations rather than growing neighborhoods," the group says on its website. "Today, more than 23 million annual visitors flock to Cream City for business and leisure travel. Though tourists and residents alike have fallen in love with the heart of our city, I-794 ensures these flagship neighborhoods remain severed from one another. What if Milwaukee's downtown transportation system reflected the city we are today?"
So what would that look like? Happily, Rethink 794 has some before-and-after pictures to illustrate its vision. (The "before" photos represent 2022. The "after" renderings represent 2030.)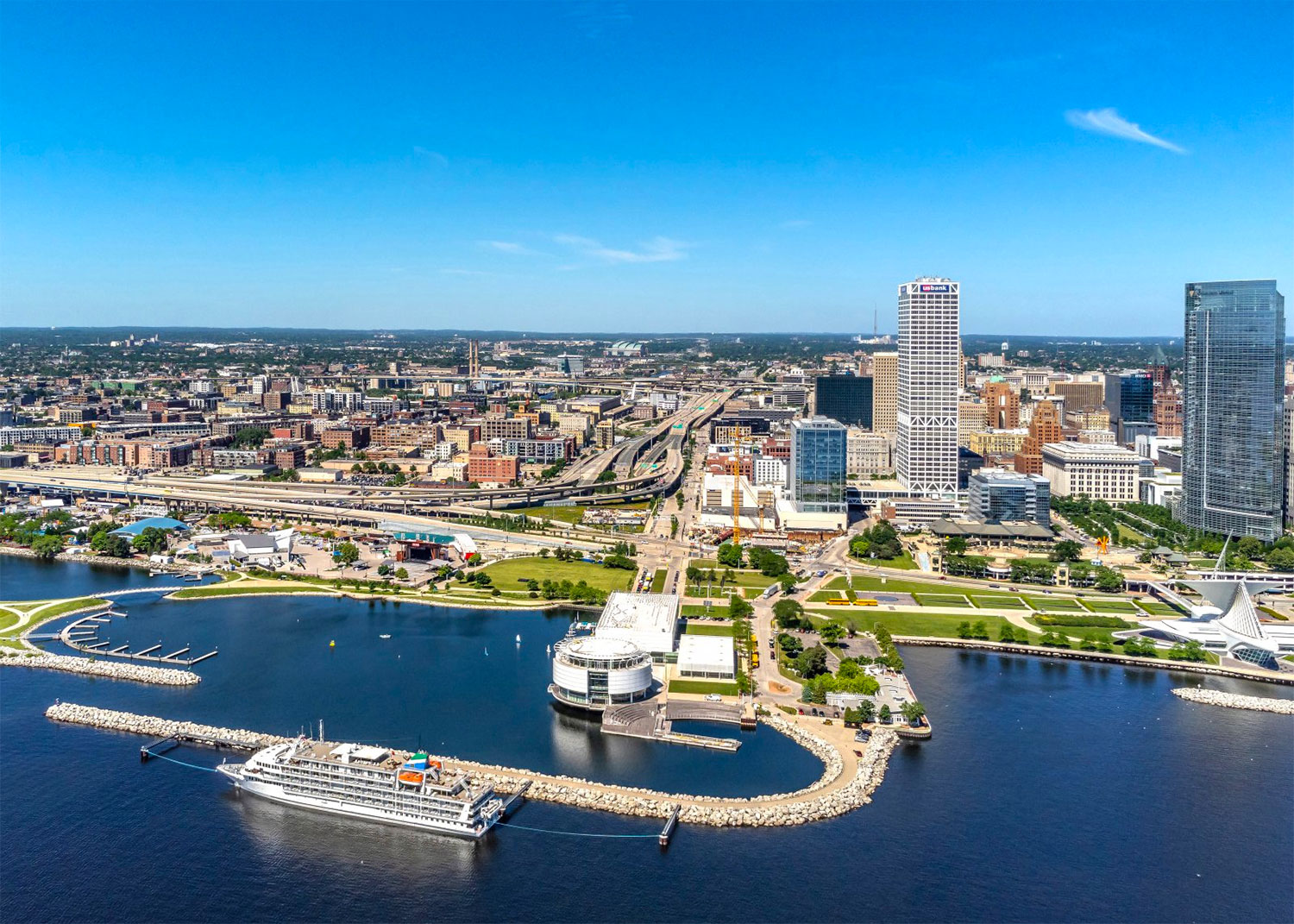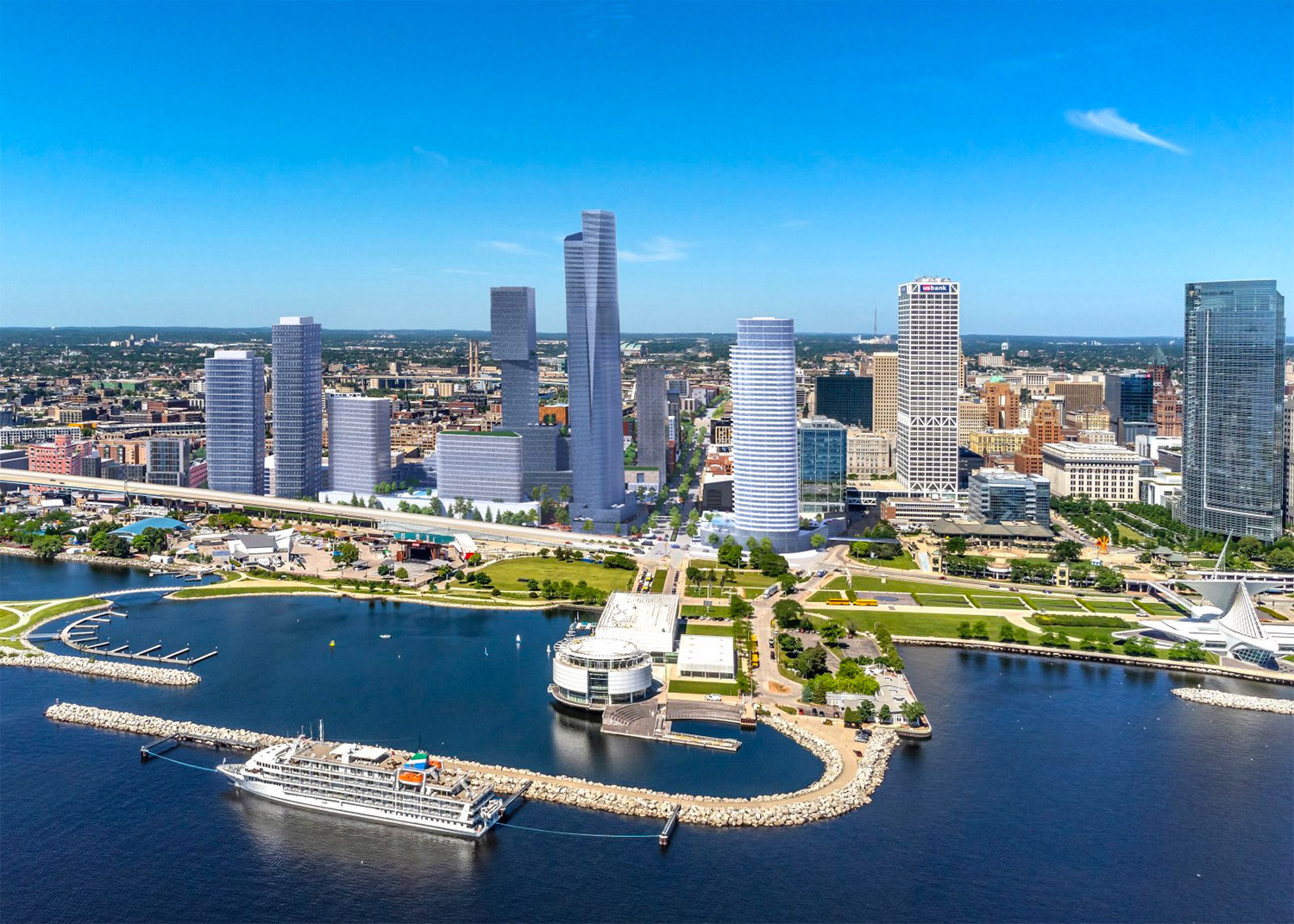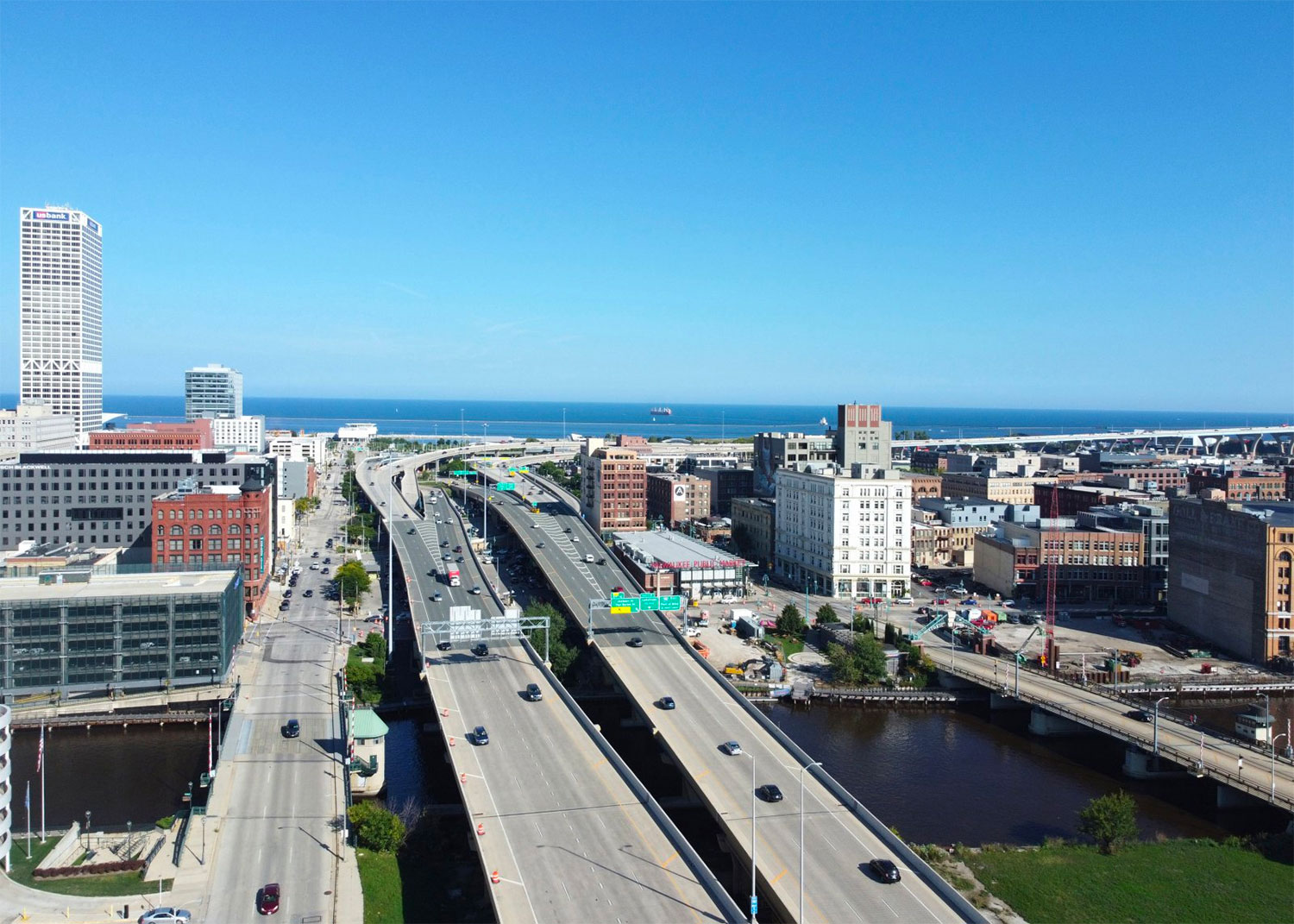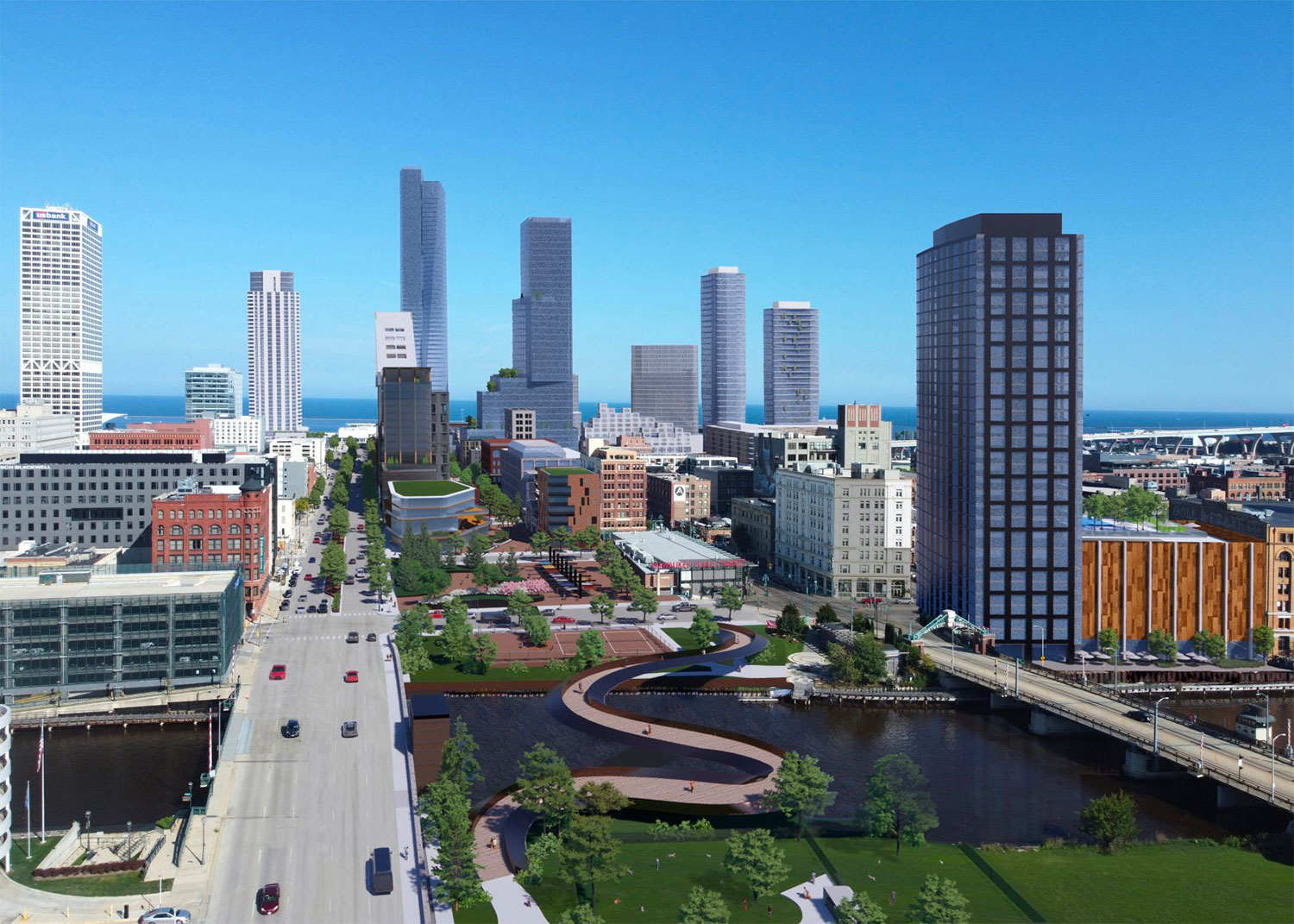 Other benefits to Rethink 794's vision? "Boulevard conversion could generate $30 million in annual property tax revenue for the City of Milwaukee and deliver much needed new housing in a high demand area," says the group. Also, "drivers frequently cite this area as one of the most confusing and nerve-racking in Wisconsin." We can relate.
Rethink 794 will further explore its vision during a free webinar on Wednesday, October 19 at noon. [OnMilwaukee]
• The identity of the professional soccer team that will play in the stadium in the new Iron District will be revealed this week. Also set for a reveal: more details on the big $160 million Iron District development, a development that will also include a new concert venue, a new hotel, housing, and more. [Milwaukee Business Journal]
• Milwaukee's Community Development Alliance wants to build 120 single-family homes and duplexes in the city's King Park neighborhood. The new homes and duplexes would be built on vacant lots. [Milwaukee Business Journal]
• The state is set to award Milwaukee roughly $13.5 million to reconstruct the Cherry Street Bridge on the north end of downtown. The bridge was built in 1940. [Urban Milwaukee]
• Plans are movin' right along for a $13 million, 87-unit apartment building at 1000 S. 5th St. and 417 W. Mineral St. in Walker's Point. Are there concerns from neighbors that the development "will raise prices for nearby housing and displace neighbors of color"? Yes. Did Milwaukee's Board of Zoning Appeals give it a thumbs-up anyway? Of course. Monthly rent for one-bedroom units "will likely start around $1,500." [Milwaukee Business Journal]
• Gov. Tony Evers recently announced "a slate of funding for projects that will create or enhance transportation alternatives around the state." A cool $4.9 million has been set aside for projects in Milwaukee County. Of that $4.9 million, a relatively skimpy $128,000 has been set aside so Milwaukee County Parks can update its Trails Network Plan. [Urban Milwaukee]
• It looks like they're finally going to finish knocking down a chunk of the long-vacant Columbia Hospital on the campus of UW-Milwaukee. The move "could change the structure of the city's historic preservation ordinance." [Urban Milwaukee]
• A long-in-the-works plan to convert the old Carleton Elementary School at 4116 W. Silver Spring Drive into housing "could advance later this month." The current plan calls for 30 apartments built in the former school, and 18 rent-to-own townhomes built immediately to the north. [Milwaukee Business Journal]
• A connector building called The Connector Building is in the works for the Beerline Trail. The Connector Building connector building "will serve as a home for trail programming and will also house a cafe." [Urban Milwaukee]
• Contractor Deshawntae Griffin wants to buy a vacant, city-owned building at 52nd and Center and turn it into a business incubator. [Urban Milwaukee]
• Developer Juli Kaufmann want to build a new personal home next to two new personal homes built by developers Tim Gokhman and Ann Shuk. [Urban Milwaukee]
• And what did we learn this week? Well, they're always building something. Isn't that right, old song from my old band?
Exclusive articles, podcasts, and more. Support Milwaukee Record on Patreon.
---
RELATED ARTICLES
• Full "New And Wonderful Things" (formerly called "New Sh*t") archives