Last month, we announced the inaugural Beet Street Harvest Festival. The fall fest—taking place on Wentworth and Potter avenues in Bay View from 11 a.m. to 6 p.m. on Saturday, October 15—is an ambitious joint effort by Goodkind, Cactus Club, and Palomino that promises music, food, drinks, local vendors, and fun for all ages. Though that broad description on its own should be enough to warrant attendance, there are a great deal of details not yet known about the first-year festival. Until now, that is. Milwaukee Record asked around and obtained every detail you need to know about the inaugural Beet Street Harvest Festival.
What kind of food can I expect?
You bet your ass there's going to be food. Goodkind will sell sandwiches outside. Palomino's stand will sell turkey legs and hot dogs. Honeypie's "Snack Wagon" will make the few-block journey to sell brownies, cookies, and both sweet and savory pies. Dawn's Sweet Treats will further sate attendees' collective sweet tooth. Palomino will be open to offer its regular full-menu service, too.
What's to drink?
So much stuff. Beyond all three establishments offering their normal selection of cocktails and beer inside, there will be an exciting array of beverages being served at numerous stops along the Beet Street grounds. Pabst Blue Ribbon and hard root beer will be flowing liberally outside Cactus Club, and a cocktail station outside the bar will serve Jim Beam, Absolute, and Tanqueray. Further down Wentworth, a station will serve Bloody Marys with a cheese curd, sausage, and—get this!—a pickled beet garnish. On Potter, Goodkind has a quartet of Katie Rose-crafted kegged cocktails, including a pear and jasmine gin and tonic, a fall paloma tequila drink, a hot apple cider infused with wine, and a bourbon mule that features Goodkind's house-made ginger beer. Those will be served out of the "Barmadillo" cocktail bus. Down on Superior Street, Palomino will have its own barrelled cocktail as well.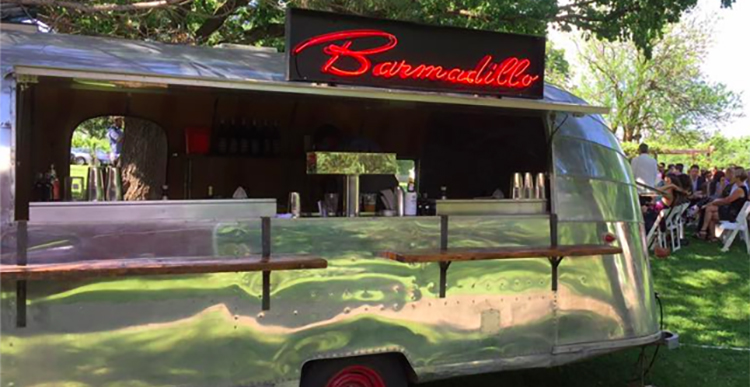 And would it be a Goodkind-associated event if Central Waters didn't have a strong presence? Not that we're complaining. The Amherst brewery is easily on the short list of best Wisconsin brewers. Its Experimental IPA will be offered outside all day, along with draft line cameos by Rye Barrel Chocolate Porter, Headless Heron, Bourbon Barleywine, Space Ghost, and the new Bourbon Barrel Quad brewed in association with Lowlands Group.
Don't drink beer? Well, our pals at Vander Mill—the official hard cider of Milwaukee Record, OKAY!—will be pouring its Totally Roasted all day, as well as succession tappings of its Mango Simcoe Goodness and the wet-hopped LL Cool Bayes.
What if I don't drink?
That's cool, as long as you don't get all preachy about it. In return, people who drink have to promise not to ask, "So why aren't you drinking?" Deal? But seriously, organizers actually made sure to have a wealth of N/A offerings on hand. The aforementioned Goodkind ginger beer can be ordered on its own. Valentine Coffee Roasters will be there to perk people up. There will be two non-alcoholic hot apple ciders. Of course, the trio of affiliated bars also have the sodas, juices, and mocktails they serve up all year long available inside.
Can I bring my kid(s)?
Absolutely! For one, the outdoor entertainment is exclusively family-friendly, down to a no-swearing policy on stage. (Note to self: Don't swear on stage, Tyler!) More over, there will be a face-painting area, a pumpkin patch, a photo booth, there's talk of a caricature artist, and the Girls Rock, Healium Hot Yoga, and Copper & Kings vendor areas will double as sites for carnival games that people of all ages can play, complete with prizes. Proceeds from game play will be donated to a charity of the vendor's choice.
Who are the vendors?
Sticking with the Harvest Festival motif, Beet Street will have farmers and other quasi-agricultural vendors involved. Some of them include Mushroom Mike, Teens Grow Greens, Cream City Canning, Dragon Fly Farm, Weeston's Apple Farm, Centgraf Farm, Clock Shadow Creamery, One Duck Farm, Pinehold Gardens, Tree Ripe Citrus, Milaeger's, and the aforementioned Bay View Neighborhood Association "Pumpkin Pavilion" Pumpkin Patch. Off the farm, Gloss Records, Dusty Medical Records, Triple Eye Industries, Rushmor Records, and Big Croc will sell tapes, CDs, and records, while Bureau Of Print Research And Design sells posters.
And this is a benefit?
Uh, kind of. Obviously, the businesses involved need to recoup their costs for stage and Port-O-John rentals, staffing, among other expenses, but there's also at least a slightly philanthropic bent to the event. As mentioned above, proceeds from carnival games will go to Girls Rock Milwaukee and Growing Power. On top of that, slice sales from the pie contest participant desserts will also be given to Growing Power. For the planet's benefit, Beet Street is striving to limit waste by serving food and drinks in compostable containers.
Tell me more about these pie events.
Palomino/Honeypie owner Valerie Lucks is a pie expert. She literally teaches pie classes. Throughout the morning, Palomino will be the site of The Great Midwestern Pie Championship, and pre-heated contest where amateurs and pie professionals alike will have their work judged as they vie for sweets supremacy, a Honeypie gift certificate, and an extravagant ribbon. The "Best In Show" winner will take home $100. Entries will be accepted through 11:59 p.m. tonight (Thursday, October 13).
The Pie Championship winners will be named on stage at 2 p.m. Then, the stage will open up for a pie-eating contest in which competitors will engage in a hands-free race to eat an 8-inch fruit pie the fastest. Winners get $50. You can sign up by emailing ([email protected]) up until noon on Friday, October 14.
Who's playing again?
Like most of its festival brethren, Beet Street will feature tons of live music. An outdoor stage will be erected next to Goodkind on the corner of Potter and Wentworth. Milwaukee Record's staff will emcee the event. (Note to self: Don't swear on stage, Tyler!) Additionally, Cactus Club will have a free (21+) show during the day. Here's the lineup:
Outside
11:30 — Negative/Positive
12:30 — Freespace Showcase (featuring Kane The Rapper, Lean Beats, Sleez, Bap, and more)
1:30 — Abby Jeanne Rebel Love
2:30 — (The Great Midwestern Pie Championship and Pie-Eating Contest)
3:00 — Maritime
4:00 — Space Raft
5:00 — Lex Allen
(DJ David Arnevik all day)
Inside (free, 21+)
1:00 — Bad Wig
2:30 — John Schooley and his one man band (Austin, TX)
4:00 — Fatal Figures (Buffalo, NY)
5:30 — Athletic Supply
(DJ Von Munz)
Once the officially-sanctioned Beet Street festivities conclude, Cactus will remain open to host its second show of the day. This time around, the late show will double as a "FUNraiser" for Alive & Fine, the vintage shop Whips singer Ashley Smith will be opening in Bay View this fall. The $10 cover will be applied to the business. When Whips isn't playing, Smith will be raffling off vintage items, gift cards, and other random goodies throughout the show. Here's the full FUNraiser lineup:
Cactus Club After Party and Alive & Fine FUNraiser ($10)
8:00 — Moon Rats
9:15 — Slow Walker
10:30 — Moon Curse
11:45 —Whips
(DJ Chris Schulist)
Sounds like a great day. See you there, Milwaukee!