An apartment building proposed for a site near Downer Avenue on Milwaukee's east side is getting some pushback from nearby residents. And that pushback is hilarious.
Several condominium owners and homeowners on the 2600 blocks of Hackett Avenue and Summit Avenue have filed a lawsuit against the City of Milwaukee and the City of Milwaukee Plan Commission. The lawsuit argues that a four-story, 55-unit apartment building proposed for a grass lot on the north side of St. Mark Episcopal Church's parish hall—i.e. a grass lot directly across the street from many of the concerned parties—would be too big for the area, and would violate current zoning restrictions.
"The Proposed Complex is out of scale and incompatible with the Site, the 2600 block of N. Hackett Avenue, and the surrounding neighborhood," the lawsuit reads, while bemoaning the possibility of a "spot-zoning" change to accommodate the building.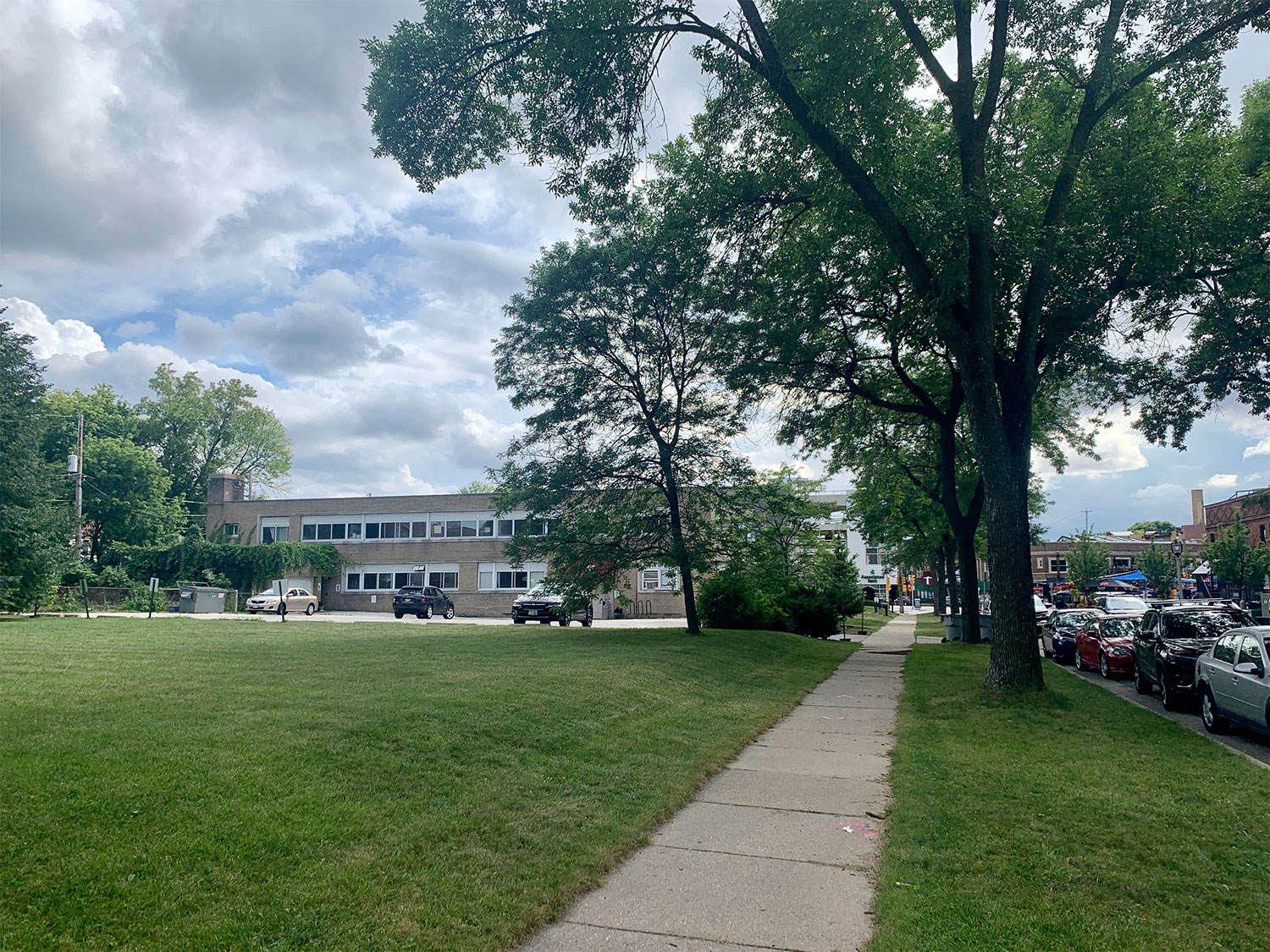 But forget the zoning-law smokescreen: What are residents really concerned about? Exhibits and emails attached to the lawsuit tell a harrowing story of an apparently tucked-away bedroom community [a half-block from busy Downer Avenue and another half-block from dozens of large apartment buildings, one of which has been the nearly decade-long home of this author] about to be forever destroyed by young people ordering stuff from DoorDash.
Plus, with all the new people, longtime residents may no longer be guaranteed good seats during special events at nearby Cafe Hollander.
"Current owner-occupied residents will lose ALL sense of living in a small, lovely, friendly, reasonably quiet neighborhood," the lawsuit reads. "This is a genuine neighborhood where people know each other, care about each other, and have spontaneous conversations of [sic] the street. […] Almost all of us treasure Cafe Hollander's occasional noisy, themed parties, and the way the neighborhood comes alive during the annual bike race. But these events are limited, by choice of the entire Downer neighborhood. We can all say goodbye to guaranteed good seats for these events if the apartment is built."
lol. Seriously, lol. Here are some other howlers:
• St Mark's apartment dwellers will be significantly younger than current residents. Younger generations are heavier users of fast-delivery services such as DoorDash and Amazon, services not often seen on this street. How will renters react when forced to wait for delivery trucks blocking their way? With honking and yelling? With no parking available, will delivery drivers simply leave their vehicles running in the street while they dash to the main apartment entrance? And by the way, deliveries will take longer than most because the main entrance is set unusually far from street.

• Our mail carrier currently parks in St Mark's lot. Where will he reliably park when that lot is gone? Will his job be made more difficult, and will our mail service suffer?

• In addition to existing residential parkers, many Downer Avenue employees park here regularly, as do shoppers and restaurant patrons, church attendees, etc. Many of these people will be forced to park further away. Might that affect businesses' ability to hire employees? Worse, will some shoppers/restaurant patrons be unwilling to walk further than they are used to, especially if they have kids in tow? Depending on the business, new apartment dwellers may or may not make up for potential lost sales.

• When people do return to their parked cars, they often get on their devices and sit there for several minutes while the next parker waits in the middle of the street to take their spot. This adds traffic and parking pressure, and this will become far more common as younger people move to the neighborhood. Younger generations are known to be heavy device users.
An accompanying website contains the usual "we're all for development, just not this development" song and dance, plus some veiled anti-renter sentiments. Oh, and the graphics for this particular Not In Our Front Yard campaign include the People's Flag of Milwaukee, which is just so perfect.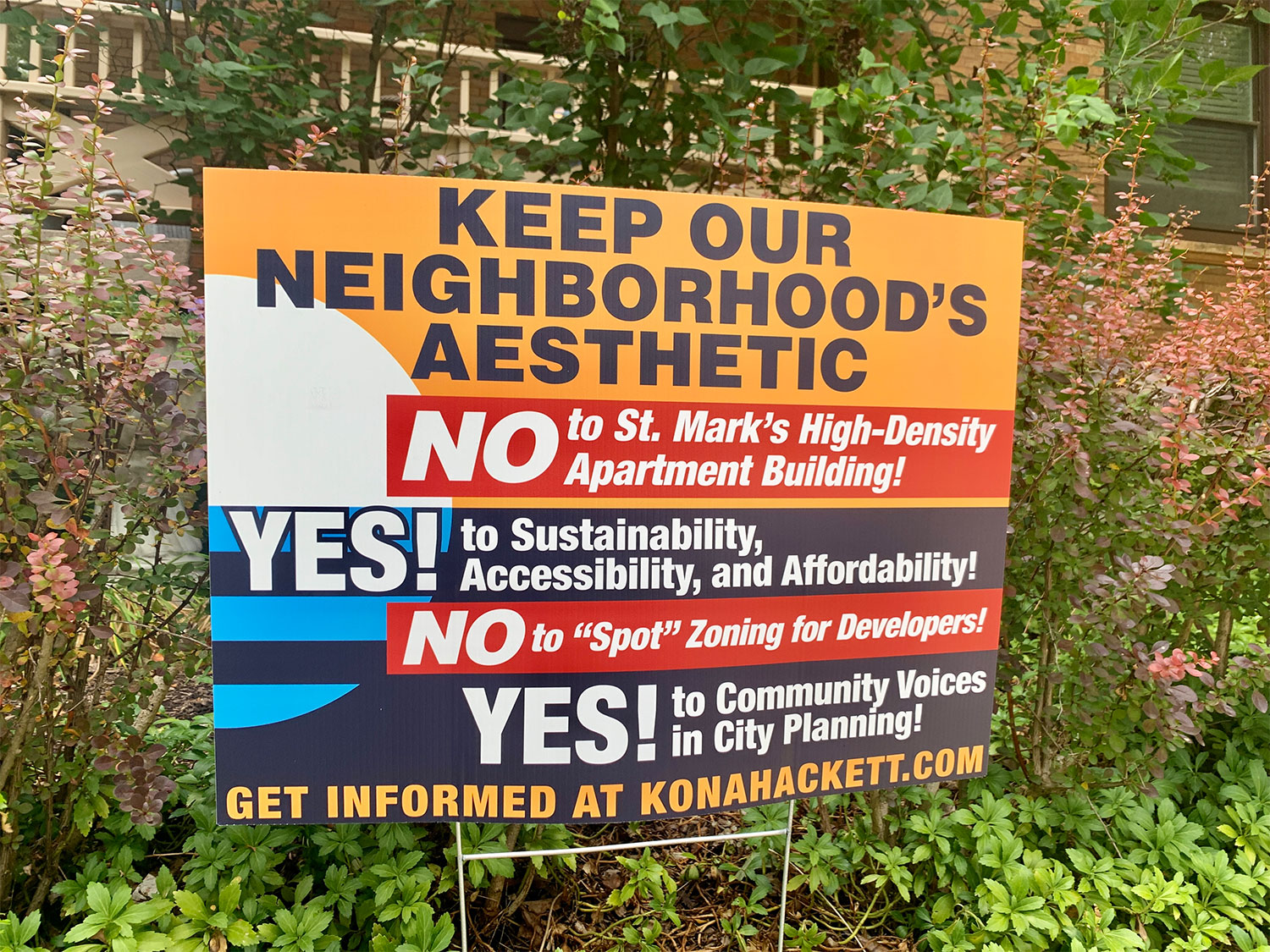 The proposed apartment building would contain units ranging from studios to two-bedrooms. An underground parking structure would also be built. Maybe the mailman could use that? I'll ask him this afternoon. Nice guy!
The City Plan Commission will hold a public hearing on the matter on Monday, August 22 at 1:30 p.m. at City Hall in room 301-B. The online listing for the hearing contains dozens of letters of opposition and support—and seemingly much more "support" than "opposition."
UPDATE: At Monday's marathon meeting, the City Plan Commission voted 6-0 to recommended for approval the rezoning of the site. The matter still needs approval from the full Common Council, which next meets Thursday, September 1.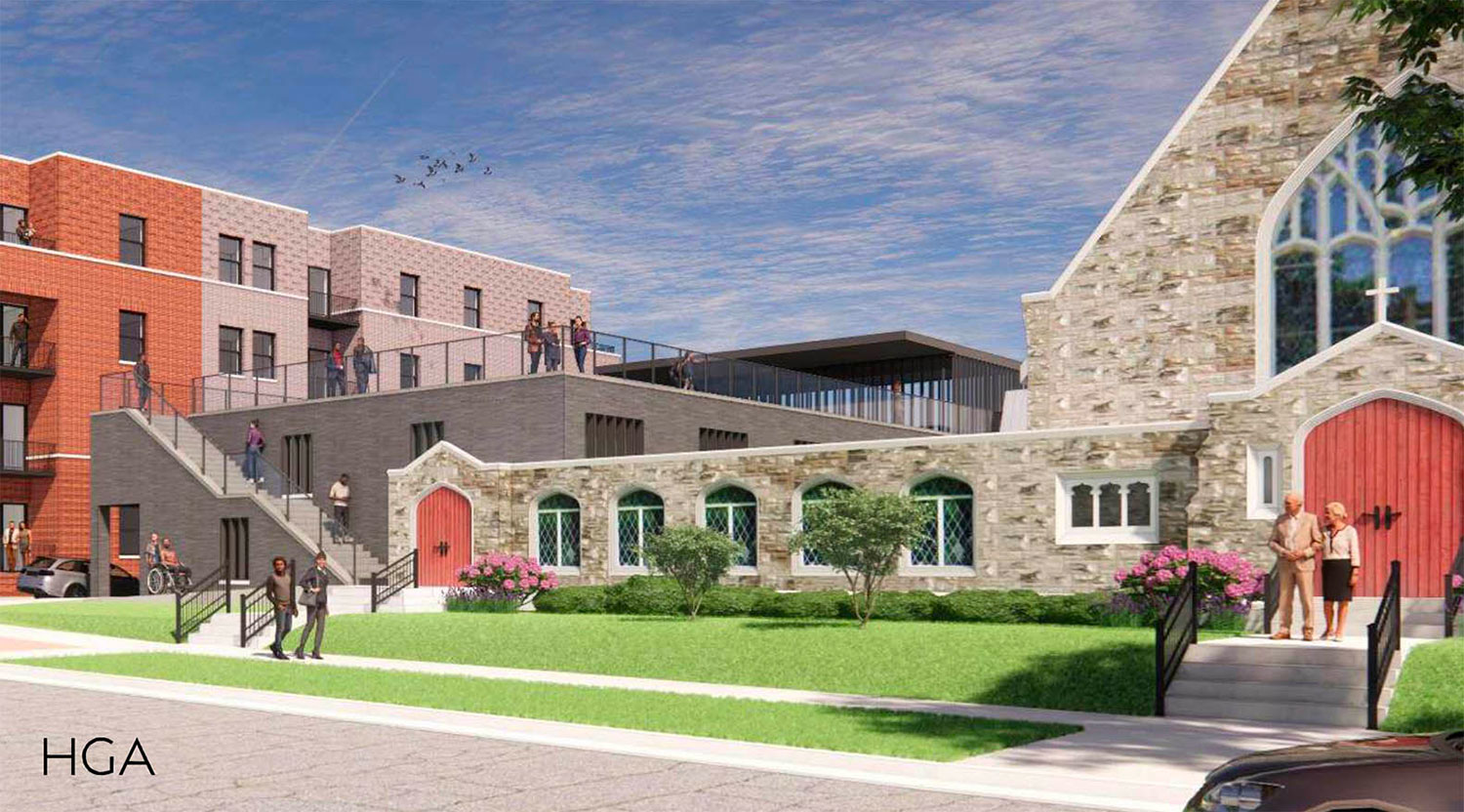 Exclusive articles, podcasts, and more. Support Milwaukee Record on Patreon.
---
RELATED ARTICLES
• In case you blinked, here are all the new and wonderful things they're building in Milwaukee (June 12-18)