And then there were none. After yet another Milwaukee summer rife with festivals and block parties, Saturday's Bay View Bash unofficially brought the celebration of the season in the City of Festivals to a close. Perhaps unfairly, as the last block party each year, the annual event on southeastern Milwaukee's main causeway of Kinnickinnic Avenue is expected to go out strong before ushering in the inevitable and endless winter. With brisk temperatures and just three stages for entertainment, would Bay View Bash be able to match the stacked musical lineup of Locust Street Festival and Breadfest? Could it top the variety of Brady Street Festival? Or would is somehow manage to suck even more than Summer Solstice did? Milwaukee Record was on hand for (most of) the Bay View Bash, in effort to bid Milwaukee's summer festival season a proper farewell with one last minute-by-minute recap.
11:17 a.m. – We're early. As we stroll down the car-free stretch of Kinnickinnic, vendors finish setting up. There are only small clusters of people dotting the main drag, and more people appear to be clutching paper coffee cups than plastic beers. We're doing our part to help even the count, as we procure a Sprecher-brewed Bay View Bash Light. It's okay.
11:20 a.m. – Since there's nary a note of music to be heard yet, we amble over to The Vanguard stand to see if any of the sausages we've been dreaming about since spring are ready. Not yet. Life is unfair.
11:22 a.m. – THAT'S A HUGE FUCKING DOG! For a frame of reference, the woman beside it is over five feet tall. Come to think of it, there are a bunch of big dogs roaming about. Is there a Marmaduke lookalike convention going on or something?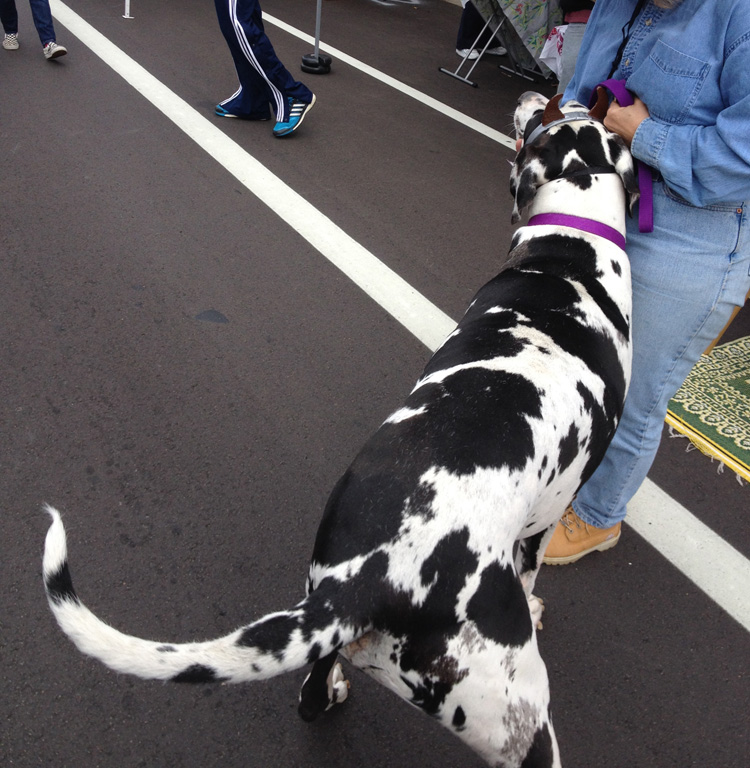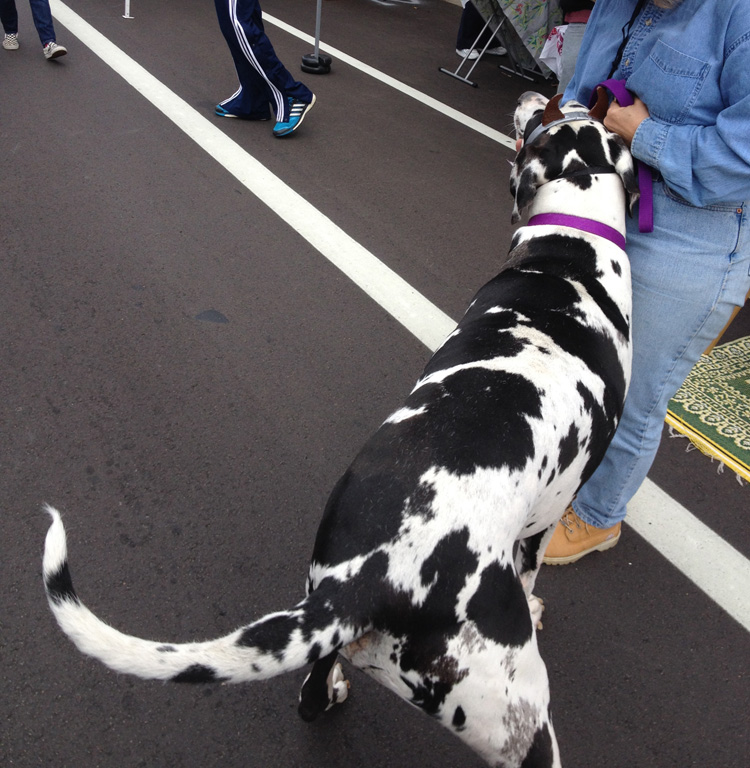 11:33 a.m. – Fortunately, Heavy Hand is on the Rushmor Stage to fill the part of our heart we'd reserved for cholesterol with its enjoyably abrasive brand of rock and roll. They embark on a journey through the majority of their great Northwoods Knives. That is, however, until they reach the seventh selection. The indisputably family-unfriendly "Motherfucking Bobcat" finds the trio delving into old cuts, such as "Shitty Teenager Store" and "Click Twice" before returning to the Northwoods and finishing up with "Secret Of These Wedges." As the last notes ring out, singer Anthony Weber waves at a passing bus. A middle-aged woman waves back.
Noon – Some kind of weird-ass gigantic puppet is walking around. Who is it? David Gruber?
12:05 p.m. – The Vanguard still isn't serving food, but there are brats on the grill. Life is unfair.
12:12 p.m. – We kill some time between bands and bratwurst by shooting some hoops. We put down $5 (and some personal information) to take 10 shots at a Milwaukee Bucks-sponsored hoop. An upper level ticket and draw string bag also come with it. We hit seven shots and add a Junior Bridgeman mini bobblehead to our haul. The guy who went before us made only one shot.
12:22 p.m. – The time has come. We finally get to "BE SOMEBODY" and indulge in a Vanguard sausage. Of the four varieties on hand, we decide to start what's sure to be a long, wonderful, physique-diminishing relationship by ordering an Italian. With the accompaniment of pesto, red peppers, onion, SarVecchio cheese, and fennel, it's worth the wait (and the weight). Even the bun is divine. Life is fair.
12:34 p.m. – As we do our damndest to take our time eating, Like Like The The The Death takes the stage and wastes no time laying into "Here Comes Irregular." Even the imagery of a backward-headed dude eating a Twinkie while wearing only briefs can't make us put down the Italian sausage. This also marks Weber's second performance on the Rushmor stage since an hour earlier.
12:45 p.m. – We're not lugging this bobblehead around all day. Plus, the fall-like conditions have given way to the sun. It almost feels like early September out here. We walk a few blocks home to drop off our prize and our jacket. Admittedly, we enjoy a beer of the non-$4 variety while we're there.
1:57 p.m. – After taking in an entertaining Tigernite performance (in our first non-Mondo Lucha time seeing them), we cave and have Vanguard's Piri Piri sausage. In addition to bleu cheese and hot sauce, the brat features the best tasting pickled cactus we've ever had. It's also the only pickled cactus we've ever had. Here ends our sausage-related entries.
2:33 p.m. – Midnight Reruns continue the Rushmor-sponsored streak of excellence. "Summer Smoker" starts things off. Save for that song, "Stop Lyin' Down" and "King Of Pop," material from the band's flawless self-titled debut is set aside so the Reruns can play some new stuff—the vast majority of which sounds even better than the awesome older material.
3:16 p.m. – We just remembered one of the perks of the Bash. Now in its third year, Lakefront's Bay View Brown briefly emerges each September in accordance with the block party. It's been about a year since we've had one. Time to change that.
3:26 p.m. – While in search of a Port-o-John, we are taken by the sterile sounds of inoffensive wedding music provided by DJ D-ON on Herman Street. A bunch of kids take turns dancing on a small piece of cardboard. We can't help but watch the spectacle for a few minutes…until we realize how creepy we must look watching kids dance in front of a line of Port-o-Johns while holding a beer. Thankfully, we aren't alone in doing so.
3:37 p.m. – We're back at the trusty Rushmor Stage, where Platinum Boys just finished their first song. Bassist Joe "Rio Turbo" Peterson says, "Give us all your drugs!" before laughing manically. They play "CRUISIN' USA" and a handful of other well-received punk-tinged selections about booze, weed, and a girl named Candy (who is likely a metaphor for booze and/or weed).
4:15 p.m. – We do a lap around the non-food kiosks. There's a ton of great stuff: Used records, Wiskullsin apparel, and a shit-ton of eCigs and eCig accessories. There's even a tent that offers clothing with "Milwaukee Home" printed on it. What a world!
5 p.m. to 7:30 p.m. – We take a nap in our own Milwaukee home.
7:50 p.m. – Since it has limited availability and all, it would be irresponsible if we didn't keep having Bay View Brown, right?
8:08 p.m. – The biggest crowd of the day—unless we napped through something significant—is gathered at the South Stage (sponsored by David Gruber, of course) to take in Gabriel Sanchez And The Prince Experience. As great as the sheer novelty of watching someone who's not actually the artist formerly known as The Artist Formerly Known As Prince is, the show-starting rendition of "Let's Go Crazy" is actually pretty good. The early part of the set is primarily populated with deeper cuts, but we sit back and just watch the spectacle anyway. People brought lawn chairs to this. Others are standing in the yards of strangers to get a better glance. Everyone goes nuts for "Raspberry Beret."
8:35 p.m. – So this is what it sounds like when a band tries to sound like "When Doves Cry."
8:40 p.m. – We've just heard arguably the most popular Prince song. Is there anywhere for the show to go but down now? Before finding out, we keep this cheat day/year going with a slice of sausage pizza and some Dang! brand butterscotch root beer at nearby Classic Slice.
9:18 p.m. – Back at The Prince Experience, we're experiencing a fair-to-decent recreation of "I Would Die 4 U." After finding the keyboard to not be laser-y enough to do the song justice, we depart and make our way back to the fail-safe Rushmor Stage.
9:36 p.m. – KK is exponentially more bustling and all-around intoxicated now than it was 10 hours ago. Some of those people are taking in a raucous set by Zero Boys, an Indiana punk band that was founded 35 years ago. Though two members have exclusively white hair and are well into their 50s (likely their 60s) and the drummer is wearing a shawl, they're jumping, screaming, and dancing more than any other band we've observed the entire day.
10 p.m. – Bay View Bash is over. Some people linger, while others dissipate to keep the fun going at nearby establishments or return to their own neighborhoods. Between the long-awaited foodstuffs, the rare beer, bobbleheads, and music, we had a pretty enjoyable Saturday at the Bay View Bash. Let's hope the volunteers had as much fun cleaning up after it on Sunday.