Every Friday, Off The Record looks to other Milwaukee publications (and beyond) for bits of news we missed throughout the week.
• Thought Milwaukee was satisfied with a $128 million, 2.1-mile streetcar system? Think again: A new-ish Wisconsin company called Transit Innovations LLC wants to raise more than $1.4 billion for a 55-mile commuter rail system dubbed the "E-Way." Wait…what?
According to the Milwaukee Journal Sentinel, Transit Innovations' plans "envision running commuter trains along 55 miles of existing freight tracks in Milwaukee and Waukesha counties, and building an estimated 7,000 units of new multi-family housing and other real estate, such as retail and offices." But, the Journal Sentinel notes, "three knowledgeable observers familiar with the efforts to start commuter rail in Milwaukee expressed skepticism" about the project. Oh well, here's a proposed map anyway: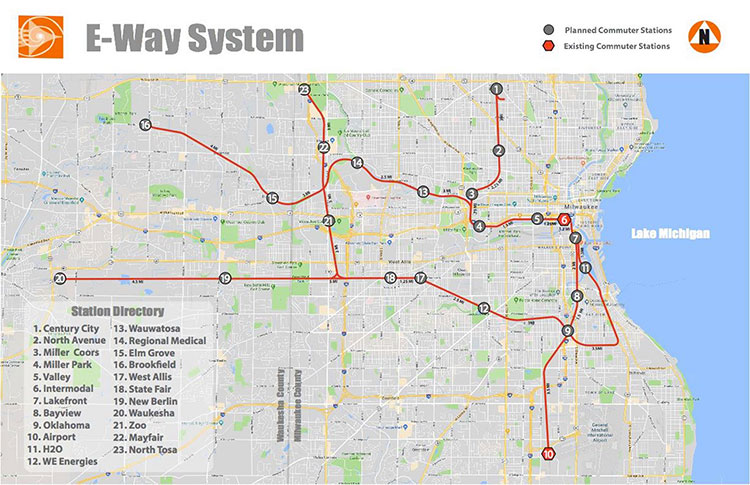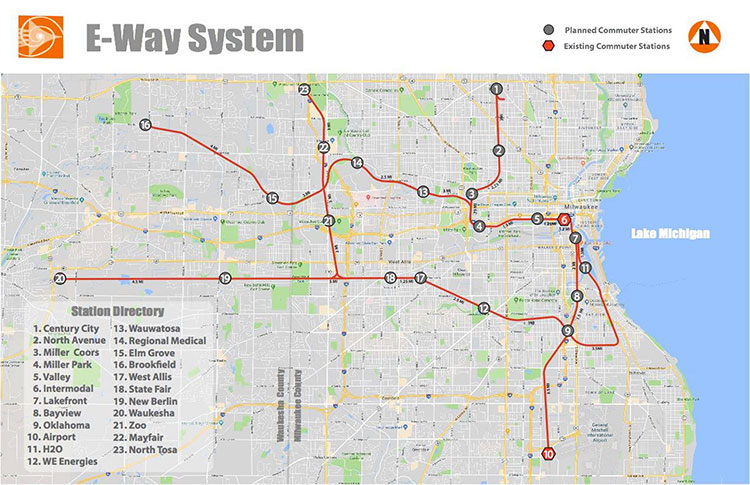 And dig this: a rival firm, Wisconsin Transit & Realty Group, is also trying to make commuter rail a thing in Milwaukee. The plot thickens:
The Transit Innovations project actually dates back to at least early 2015, when the Milwaukee Passenger Rail Company, a group headed by [Transit Innovations president Greg] Dugan's partner, Brian Kliesmet, unveiled a similar plan. That push failed to gain traction, but it did spawn Transit Innovations' current competitor.

Michael Garven, who in 2015 was president of Milwaukee Passenger Rail, now is vice president of Wisconsin Transit & Realty.

Garven said he split from Milwaukee Passenger Rail about two years ago. He declined to speak in detail about the efforts of his group, but said they are more advanced than those of the rival firm.

"No pun intended, we're further down the tracks than they are," Garven said.
And here's that clip from The Social Network in case you didn't get the reference. [Milwaukee Journal Sentinel]
• Milwaukee County Transit has entered phase two of its big redesign, MCTS Next. [Shepherd Express]
• Milwaukee's Custom Reality Services made a virtual reality film about Arthur Ashe. It's headed to the 2019 Sundance Film Festival. [Milwaukee Business Journal]
• Your parents' favorite Wisconsin brand, Drink Wisconsinbly, is headed to the Fiserv Forum entertainment block. [Milwaukee Journal Sentinel]
• Speaking of Fiserv Forum, Johnson Controls is gonna put a steel globe outside the arena. [Milwaukee Business Journal]
• Evan Rytlewski rounded up the 50 best Milwaukee rap songs of 2018. [Shepherd Express]
• Twitter user @RAPCINE ranked all 50 songs on Rytlewski's list. [Twitter]
• No more smoking outside the UW-Milwaukee Panther Arena, Miller High Life Theatre, and Wisconsin Center convention hall. [Milwaukee Business Journal]
• Trapper Schoepp, who has a Bob Dylan co-write under his belt, wrote about that song, "On, Wisconsin," and other Dylan tunes. [The Bluegrass Situation]
• More not-so-great news for the print edition of the Milwaukee Journal Sentinel. [Milwaukee Business Journal]
• Crossroads Collective opens December 17. YES. [OnMilwaukee]
• Have a great weekend, Milwaukee!