Since 2017, Milwaukee Krampusnacht has celebrated the half-goat/half-demon Krampus—a.k.a. a figure from Alpine folklore who punishes naughty children and acts as a foil to the do-gooding Saint Nicholas. The annual blowout boasts a family-friendly night of costumes, music, food and drink, and arts and crafts. Milwaukee is the city of festivals, after all, so why not an annual Krampusnacht?
Itching for Milwaukee Krampusnacht 2023? It's coming! To various locations in the Brewery District! On Sunday, December 3! Get your tickets HERE!
There's a LOT going on for Milwaukee Krampusnacht 2023: vendors spread across three Brewery District locations, a "comedy roast of Santa Claus" (lol), a "hodag calling contest" (lol), live music from Xposed 4heads and other local acts, and, of course, the American Ghost Walks Krampus Parade. Here's everything you need to know, courtesy of the naughty/nice folks behind the event: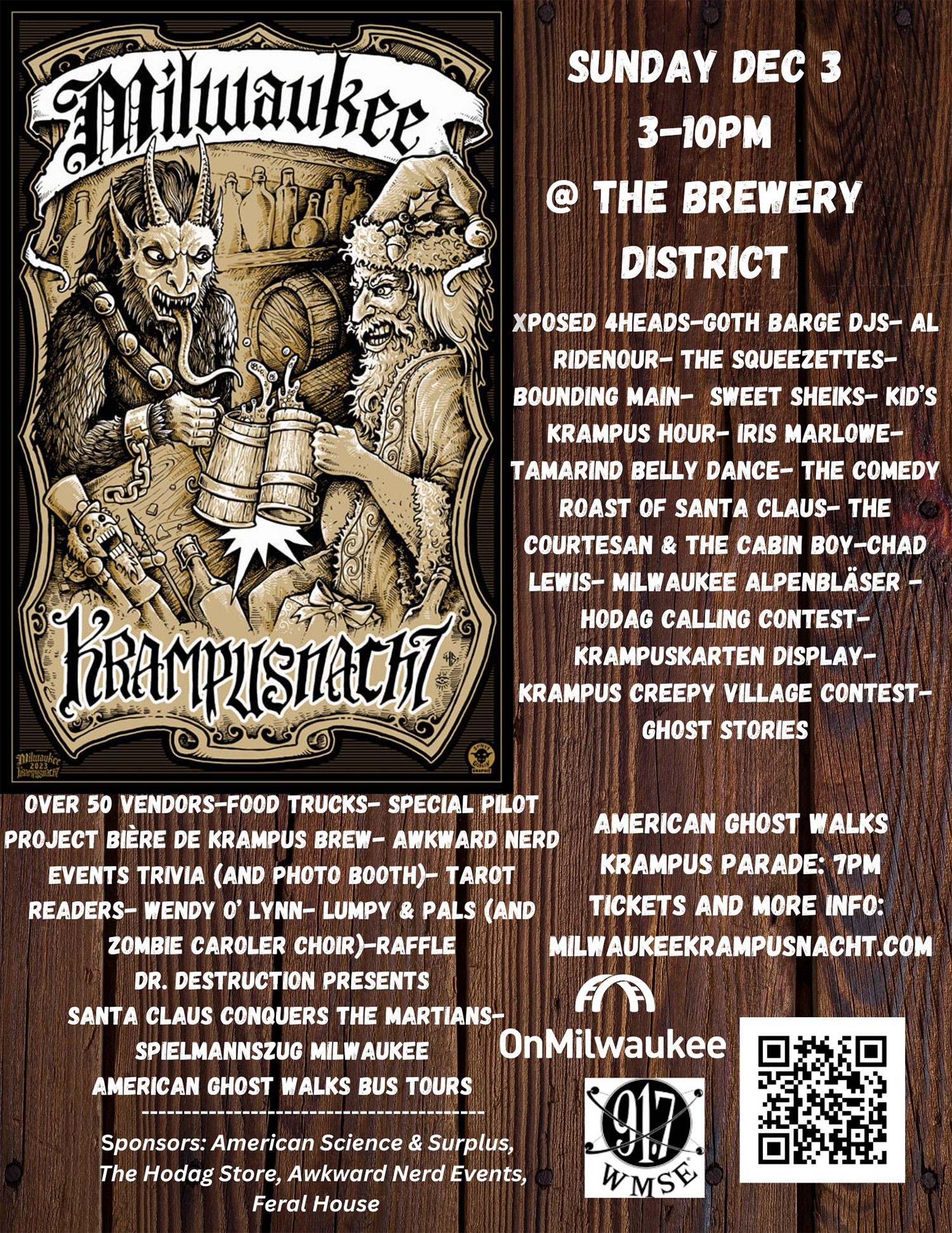 Vendors: It's our biggest vendor market yet– over 50 vendors found across three areas, Pilot Project, Barley Room, and outdoors on 10th Street near the Brewhouse Inn & Suites. We have carefully selected a variety of vendors (local to Milwaukee or the Midwest) selling items perfect for holiday gifts. Candles, jewelry, soap, prints, books, ornaments, toys, clothing, and many unique items will be available.
A list of vendors can be found HERE.
Activities: We have a variety of activities set up at Best Place (Blue Ribbon Hall), Amped, Pilot Project, and Nō Studios. Kid's Krampus Hour is a fest favorite– kids make craft projects and are visited by Krampus and Saint Nick. There's a presentation by Al Ridenour (author of "The Krampus and the Old, Dark Christmas"), and Chad Lewis ("Winter Legends and Lore").
There's also a Hodag Calling Contest, the Comedy Roast of Santa Claus, Awkward Nerd Events Trivia, a Krampus Creepy Village miniature building contest, ghost storytelling by Heidi Erickson and Angela Rose, tarot readers, a Krampus photo booth, and a screening of Santa Claus Conquers the Martians hosted by Dr. Destruction's Crimson Theatre. American Ghost Walks is also leading 45 minute bus tours during the event.
See the schedule and ticket info HERE.
Music: Revelers will find music in a few locations. Best's Place Great Hall will be set up with a stage featuring Xposed 4heads, The Squeezettes, Bounding Main, Iris Marlowe, Tamarind Belly Dance, and The Courtesan & the Cabin Boy. Wendy O' Lynn and Lumpy & Pals are performing in Best Place's King's Courtyard. Goth Barge DJs are spinning out on the On Tap patio and Nō Studios features performances by Sweet Sheiks and Milwaukee Alpenbläser.
See the schedule and ticket info HERE.
Food and Drink: This year, Pilot Project is making a special Bière de Krampus available in six-packs, first come, first serve, while supplies last, as well as other food and drink. Best Place will have their special German Glühwein (a hit last year) and food and drink will also be available at the Eleven25 building food court, On Tap, Central Waters Brewing, Amped, and a selection of food trucks on 10th Street.
Krampus Parade: the heart of the event is the American Ghost Walks Krampus Parade, which marches down Juneau Ave from 9th to 11th and back at 7pm sharp. You'll see dozens of costumed characters on the loose!
Want more Milwaukee Record? Subscribe to our free weekly newsletter and/or support us on Patreon.