The Green Bay Packers defeated the Philadelphia Eagles Monday night, putting an end to a dispiriting four-game losing streak. Still, the Packers are a lowly 5-6 going into Week 13, and it's hard not to hear disgruntled fans spouting off stuff like "Go do another commercial, Rodgers!", especially when Aaron Rodgers, well, sometimes looks like he'd rather be doing another commercial.
So wouldn't it be great if there was a bobblehead semi-related to Rodgers' most iconic ad campaign? Maybe not, but that hasn't stopped the bobble wizards at the Milwaukee-based National Bobblehead Hall of Fame and Museum from creating an Aaron Rodgers Discount Double Check figure. Yes, now you can own your very own pint-sized version of the Packers MVP doing his signature "title belt" celebration, as seen on the field and in those State Farm commercials from a few years back. Limited to a run of only 216, the $40 bobbleheads are available now, and are expected to ship in December.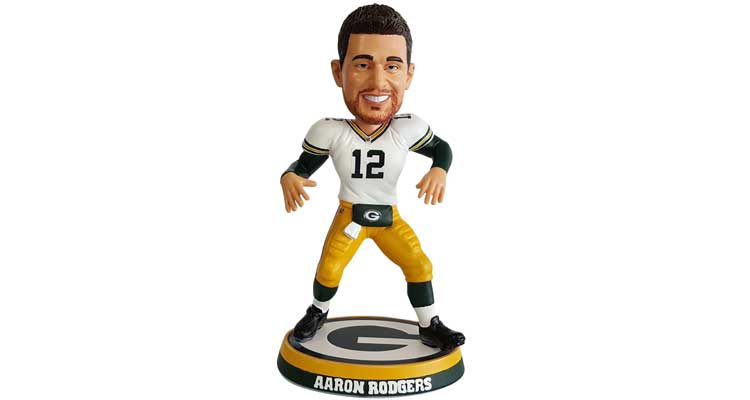 In addition to Rodgers, the National Bobblehead HOF has also unveiled wobbly-headed figures of Packers legend Jerry Kramer, and Marquette University's Golden Eagle mascot. No word yet on a commemorative playset of Rodgers and Clay Matthews hanging out at home and hitting flies with golf clubs or whatever.