Tonight's Monday Night Football game between the Packers and Lions will be significant for a few reasons. It'll be a chance for a Green Bay team that looked absolutely abysmal in Week 1 to right the ship and win its home opener. It'll be an opportunity for a young, unproven, and unabashedly rebuilding Lions team to send a message to the rest of the NFL by upsetting a division rival in a nationally televised game. And it will also be the first time Jamaal Williams will face his former team since the Packers declined to re-sign him this past offseason.
Over the course of four seasons with Green Bay, Williams amassed 18 touchdowns (including an unbelivable catch as part of one of the best touchdown passes of Aaron Rodgers' career) and nearly 3,000 total yards. He proved to be an above average blocking back, a great backup/friend to Aaron Jones, and a more-than-serviceable starter when needed. He could step up to return kicks and play special teams. And along the way, he became a legitimate fan favorite in Titletown.
The charismatic running back earned a reputation for being an eternally upbeat, tough, and team-first player. He became known for his pregame dance routine and entertaining interviews. Throughout his Packers career, he was just plain likeable.
He still is likeable, in fact. However, when Jones made the somewhat surprising decision to remain with the Packers this offseason, there simply wasn't enough room for Williams in Green Bay's suddenly-crowded backfield (that also has future feature back A.J. Dillon) and no space on the team's limited payroll.
Jamaal the 🐐

😂😂😂😂 @jswaggdaddy pic.twitter.com/Du2t8jPOdx

— Hogg (@HoggNFL) September 17, 2021
So when Williams inked a two-year, $6 million contract with the Lions this winter, the sentiment among most Packers faithful was some version of "so long, thank you, and good luck." Maybe it's because he handled a difficult situation of being the odd man out with grace and maturity. Maybe it's because he wound up with the Lions and not, say, the Bears or Vikings. Maybe it's because he'll now have an opportunity to be even more of a contributor in his new role with his new team. Maybe it's because the change of scenery has only made him more endearingly odd and entertaining. Whatever combination of reasons are responsible for it: we're still huge fans of Jamaal Williams.
That's something of a rarity in modern day sports, what with trash talk at its peak and loyalty (among players and, even more so, with organizations) at an all-time low. We legitimately want the best for Williams…excluding tonight and January 9, of course. Though its rare to continue loving an active player after his time in Green Bay is up, it's not altogether unheard of. Here are a few more examples of ex-Packers we're happy to continue backing in their new cities.
Micah Hyde — Buffalo Bills
In four seasons with the Packers (2013-2016), Micah Hyde missed just one game. While on the field, the safety managed eight interceptions, two forced fumbles, five fumble recoveries, four sacks, and a ton of tackles. He was also a trusted kickoff and punt returner, taking three punts to the house. When the Packers opted not to re-sign their former fifth-rounder in 2017, he signed a five-year, $30.5 million deal with the Bills in 2017. This might be tough to imagine, but the Packers letting Hyde go elsewhere apparently made Aaron Rodgers upset. Since joining Buffalo, he's been a valued contributor to the team's formidable defensive unit, and he earned a Pro Bowl selection along the way. Since the Bills are basically the Packers of the AFC, we've enjoyed watching his success in Western New York.
Casey Hayward — Las Vegas Raiders
In 2012, Packers rookie defensive back Casey Hayward made a great first impression with six interceptions. His next three seasons in Green Bay featured a mix of injuries and ineffectiveness, which made it easy for the Packers to cut ties with the former second-rounder after the 2015 season was through. Hayward wound up in San Diego in 2016, where he quickly made his presence known with a seven interceptions (still the most of his career). He added seven more picks in the four subsequent Los Angeles Chargers seasons. This year, Hayward is a starter on the Las Vegas Raiders.
Richard Rodgers — Free Agent
Richard Rodgers is currently unemployed, having been waived by Philadelphia at the end of the preseason. While he spent the past three seasons with the Eagles, we'll always have a place in our heart for the tight end who made up half of the "Rodgers-to-Rodgers" Hail Mary touchdown in 2015. We're not alone in feeling that way. Best of luck landing somewhere else, Richard.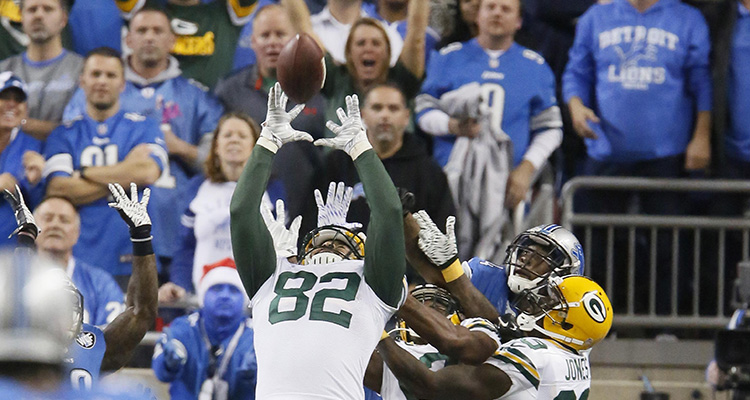 Bryan Bulaga — Los Angeles Chargers
Something we've sorely missed since the end of the 2019 season has been "BRONBULAGAIOWA." Something we haven't missed as much is "Bryan Bulaga has been placed on the IR." That's for the Chargers to deal with now.
Chris Banjo — Arizona Cardinals
Admittedly, Chris Banjo was nothing particularly special during his three-plus seasons with the Packers (2013-2016), but his last name is Banjo, which is pretty cool/funny. Though he finished 2016 with the Saints— where he played until the end of the 2018 season—and has been with the Cardinals since 2019, we still see the occasional green and gold Banjo jersey in the wild. Usually at bluegrass festivals.