Milwaukeeans work hard and bowl harder. Follow this monthly series to learn more about your favorite bowling houses and some new ones you'll want to visit.
In the 1950s, Deddo and Erv Raasch opened the 24-lane Olympic Recreation (later Olympic Lanes) on Highway 41 in Milwaukee. With support from Brunswick, Olympic became one of the very first bowling centers in town to offer automatic pinsetters. Jerry Laczniak took over in 1975 and added 12 lanes, making it a 36-lane house. After Jeff and Cindy Vitale bought the center in 1982, they continued to make improvements, including outdoor sand volleyball courts and a game room with pinball machines. In 2002, current owner David Bardon began transforming Olympic Lanes into JB's On 41 (4040 S. 27th St.; 414-281-8200; MCTS Route 27), a Swiss Army knife of a place that offers about a million things to do. On a sunny May afternoon in 2018, we decided to go and do as many of those million things as we could.
We walked into JB's just as a group of first graders poured in for their little buddy Sam's birthday party. They were pumped and so were we. Three steps inside the place, we could see that the day's fun wouldn't be limited to bowling. There was a sharp-looking bar, luxury lanes and traditional lanes, a pool table, and an arcade that wouldn't quit. It was a very clean and slick-looking place, but it was still very much a bowling alley.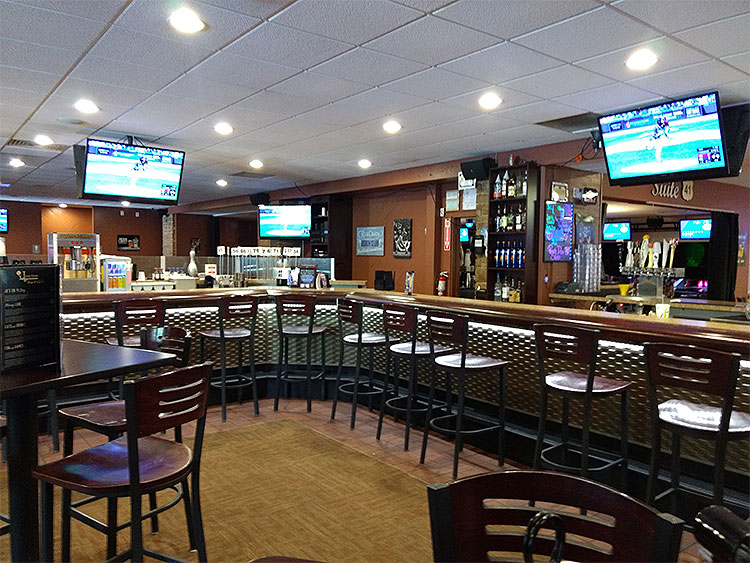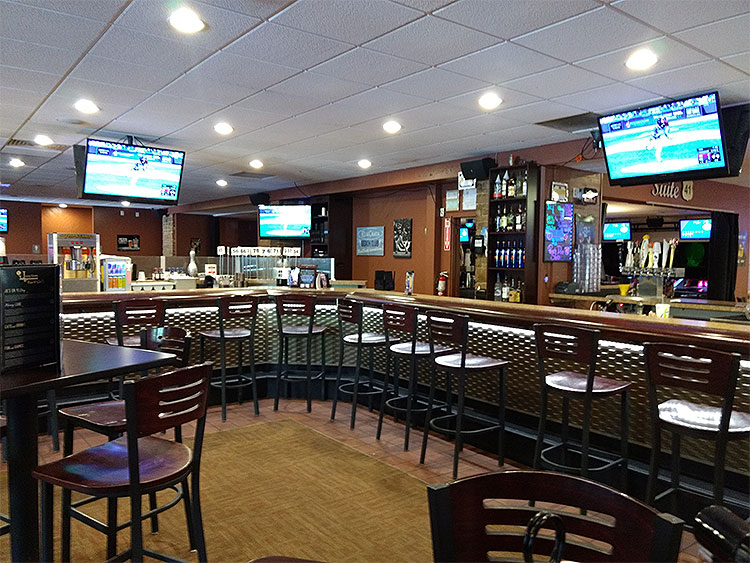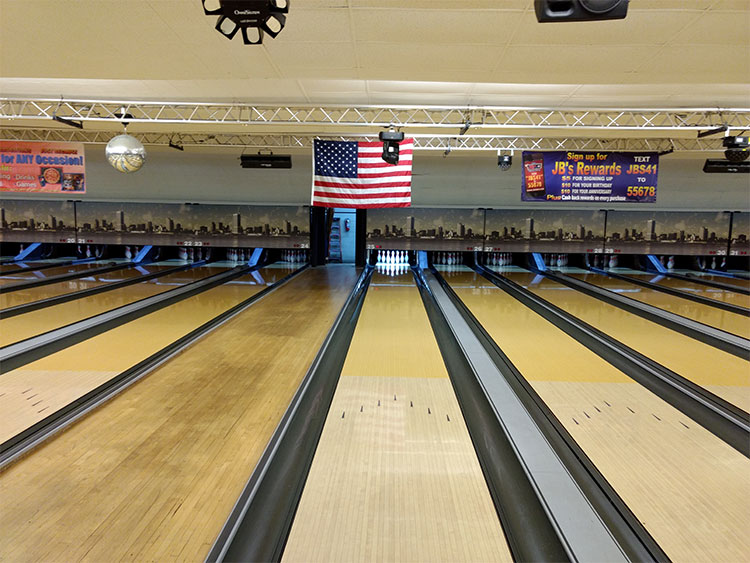 We started our visit with some lunch in JB's Junction Bar & Grill, where the afternoon Brewers game was showing on several TVs. On JB's website, it states that "guests can dine and drink with or without bowling." Why would anyone go to a bowling alley and not bowl?
The staff recommends either the steak sandwich or the tacos from their lengthy scratch-made menu. We decided to split the difference and get the Carne tacos. James brought us our trio of soft corn shells filled with seasoned filet and pickled red onions. The onions could honestly be a menu item all on their own. The full bar is well-stocked, including eight beers on tap. Plus, an ICEE machine! We were here to do some bowling, but we could certainly understand why people would come here just to dine and drink.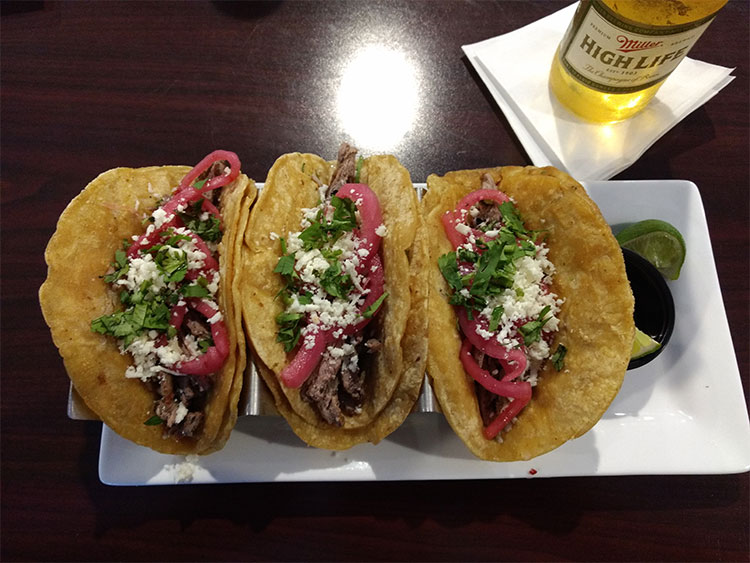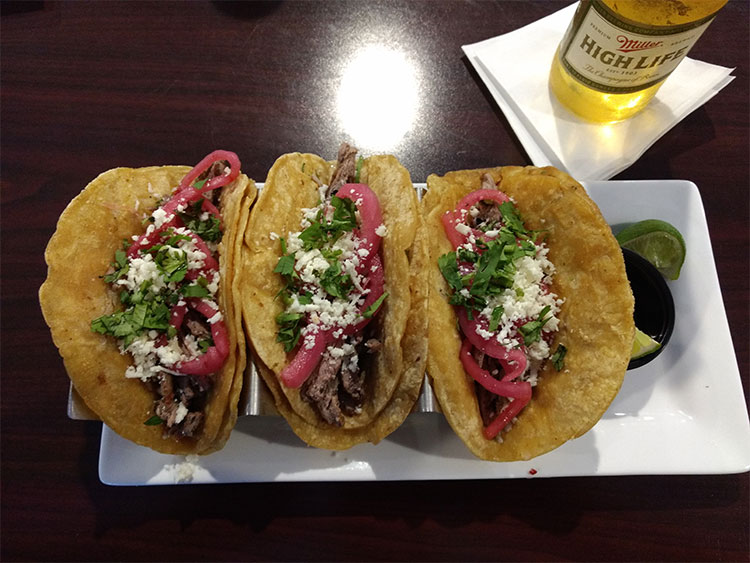 JB's owner, David, and mechanic, Lee, were sitting nearby in the bar. We had a nice chat with David about Sheboygan and we learned that Lee actually prefers JB's burgers to the tacos or the steak sandwich. Good tip for next time.
As the Brewers wrapped up a 7-run 4th inning, Lee offered to give us a tour of JB's inner workings. He's been running things behind the scenes of local bowling centers for 45 years, so he knows his stuff. He showed us the differences between the original pinsetters and the ones installed with lanes 25-36. The newer machines have belt-driven ball returns, sending the ball out just a little bit faster than the originals. If you're an impatient bowler, stick to lanes 25 and up.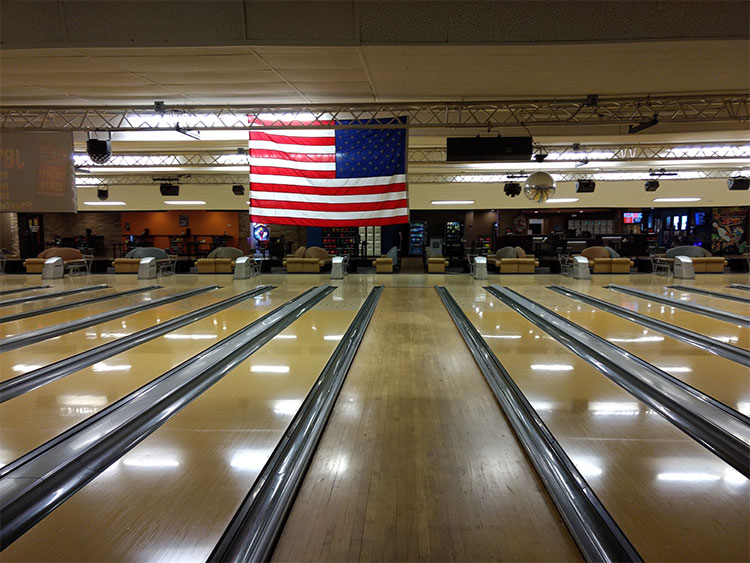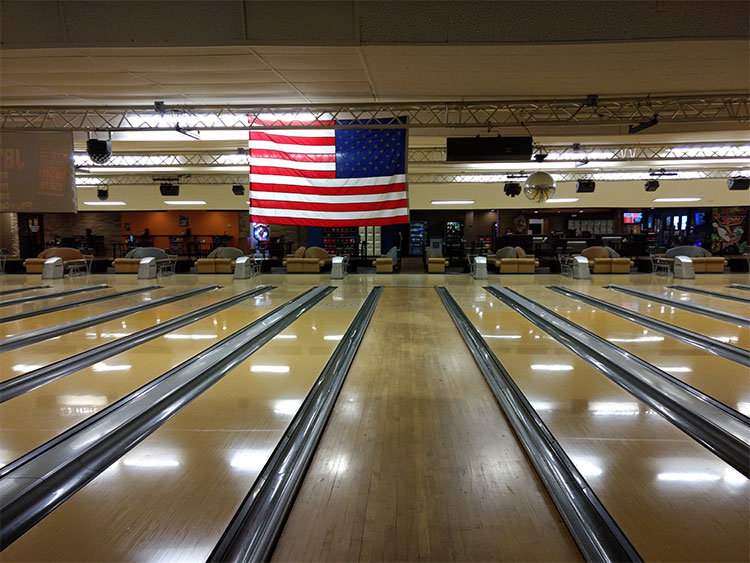 After the pinsetter lesson, Lee took us out the back door to see the volleyball courts. There are four courts that play north-south and a sitting area with picnic tables. Lee said the courts used to play east-west, but the setting sun caused issues with visibility, so they turned the whole setup 90 degrees. Gotta love the attention to little details at this place.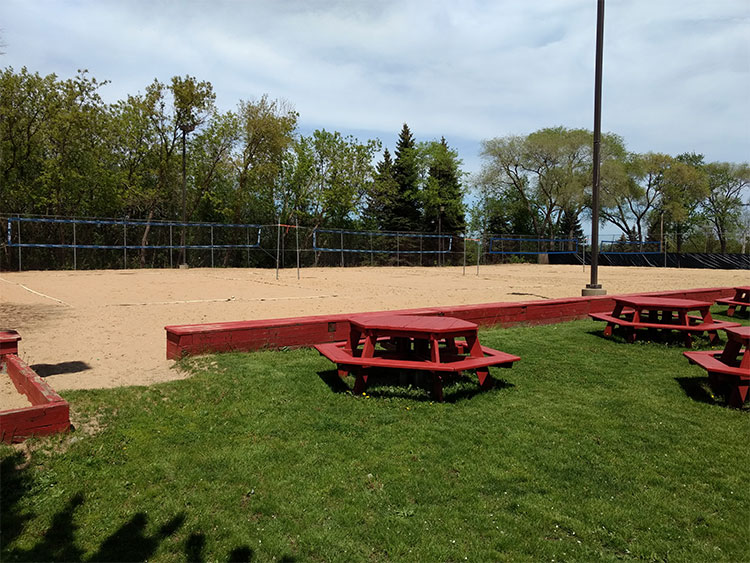 Back inside, we checked out the arcade. There are 40 total games, including 30 games with prizes or tickets that can be cashed in for prizes. There are modern games like The Walking Dead and Jurassic Park shooters, old-school fare like Skee-Ball, and old-modern mashups like the giant reboot of Space Invaders. And crane games. So many crane games.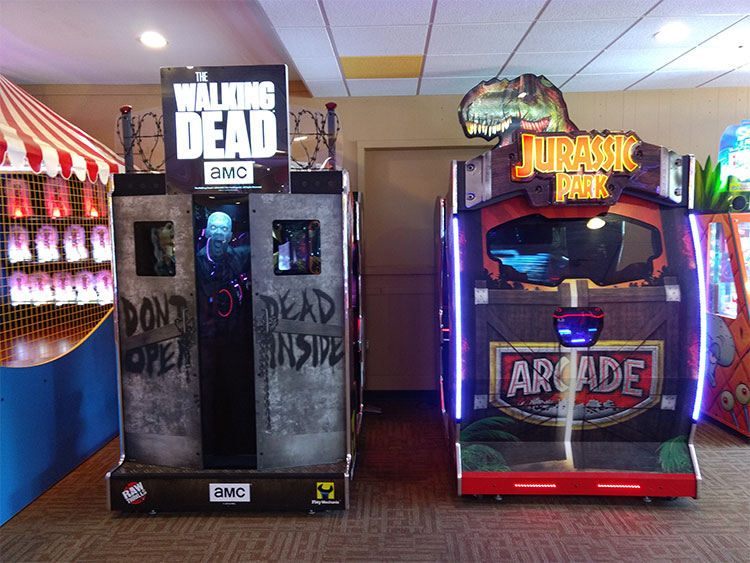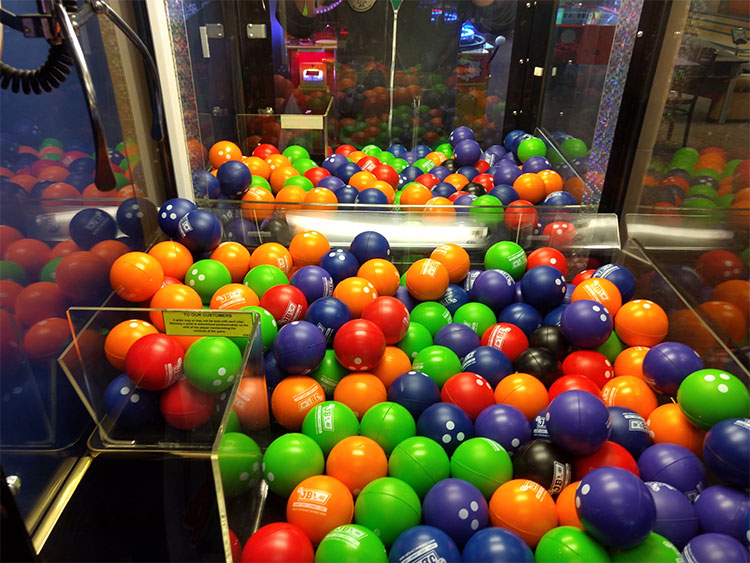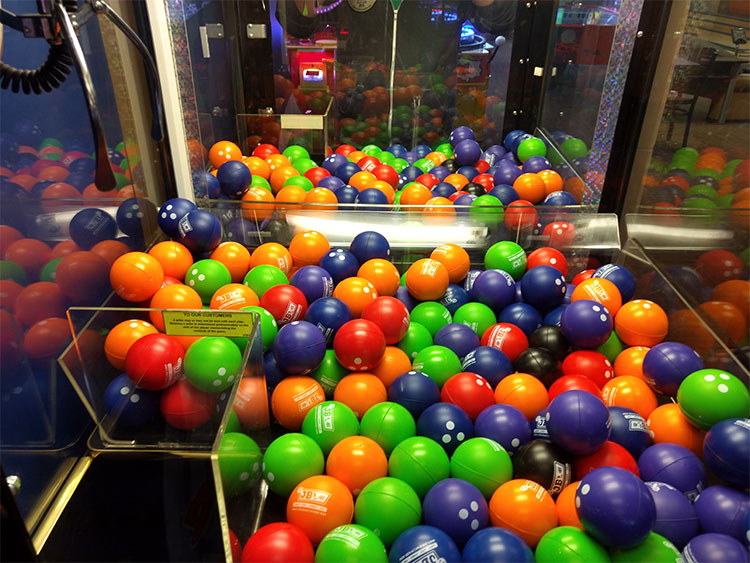 Kaylie from JB's staff told us all about the various promotions and capabilities JB's offers for bowling and everything else. There are leagues for bowling, volleyball, bags, and arcade games. They participate in the national Kids Bowl Free program, as well, with over 6,000 kids taking advantage in 2017. Did she also say there's an arcade league? (She did.)
It was great exploring, but soon it was time to bowl. Lanes 1-10 are luxury lanes in JB's Suite 41, featuring a separate bar, Door County cherry wood lanes, and high-end disco lighting. Lanes 12-36 feature a more traditional setup, but still provide comfortable modern seating and synthetic lanes. JB's offers bowling by the game or by the hour, with a Virtual Red Pin option that includes the potential for all kinds of cool prizes.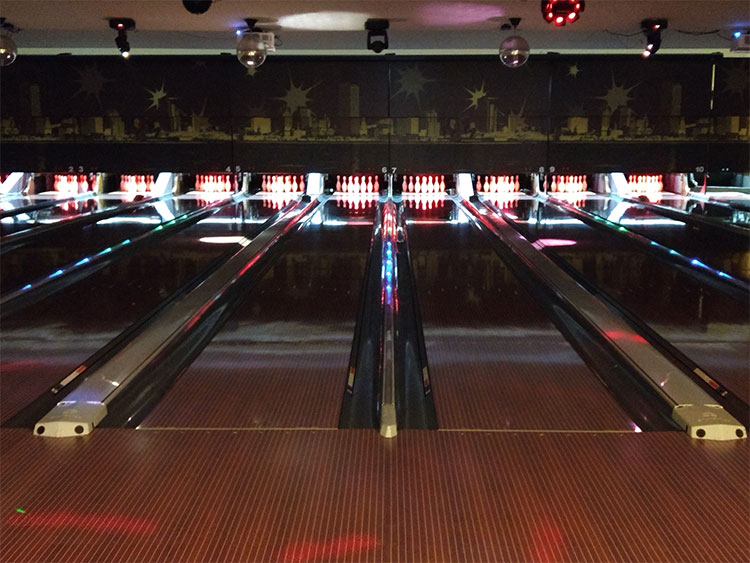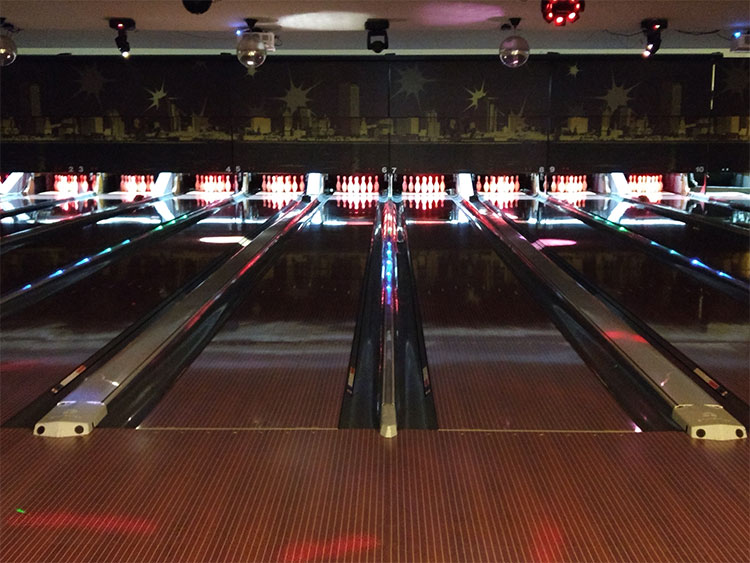 We opted for the more traditional, non-luxury experience and the manager set us up on Lane 25—one of the post-addition lanes with a faster ball return. We must have looked like fast bowlers. The Free High Five prize was seriously tempting, but we decided not to go with the Virtual Red Pin option. Next time.
We bowled pretty well. Josh threw four consecutive strikes to close out his third and final game just as Big Boi's "All Night" (that song from the commercial with the singing emojis) started playing and we called it a day. On our way out, a manager asked what we had for lunch and we told her we had the Carne tacos. "Aren't the pickled red onions delicious?" she asked. Like the bowling, the arcade, and everything else at JB's on 41, we highly recommend the pickled red onions.
Lanes: 35 (The lanes go up to 36, but there is no Lane 11.)
Pins: 350
Open bowling: Yes
Bowling balls available for use: About 175
Bowling ball colors: We stopped counting at 10
Automatic scoring: Yes
Automatic pin-setting: Yes
Arcade: You bet
Crane game (and best prize): 6 of them (Bob Ross POP! Figure)
Total beer taps: 8 (Guinness, Lagunitas IPA, Angry Orchard, Leinie's Summer Shandy, Bell's Oberon, New Glarus Spotted Cow, Miller Lite, Miller High Life)
Pitchers: Yes
Specials: Yes
Food: Yes, scratch-made
Food recommendations (Kaylie): Steak sandwich, tacos, Bistro Fries
Food recommendations (Lee): Burgers—especially the Mushroom Swiss
Food recommendations (Us): Anything with those pickled red onions
Bathrooms: 2 men's, 2 women's
Jukebox: Yes (digital)
Televisions: About a million
Bumpers: Yes
Wi-Fi: Yes
Glow Bowling: Yes
Sand volleyball courts: 4
ICEE flavors: Strawberry Lemonade, Cherry, Blue Raspberry
Seriously, an arcade league?: Fun, right?