Hank Aaron is nothing short of a living legend. The Hall Of Fame icon is a 25-time All-Star, an MVP, and a World Series champ who helped put Milwaukee on the baseball map. Hammerin' Hank's 2,297 career runs batted in, 6,856 career total bases, and 1,477 career extra-base hits are all good for the most in Major League Baseball history. By most accounts, his 755 home runs should also still be considered the most of all time.
Few, if any, could match Aaron's accomplishments on the diamond, and he's enjoyed just as much success off the field. As a pioneer and a humanitarian, Aaron's uplifting spirit and charitable efforts have been lauded by anyone fortunate enough to be in his orbit. He was even awarded the Presidential Medal Of Freedom in 2002. The former baseball great—and current Atlanta Braves senior vice president—has done it all and has done so at a consistently high level, including some feats in the realm of business.
After retiring (as a Milwaukee Brewer!) following the 1976 season, the baseball god's career took an entrepreneurial turn. Aaron's industrious second act got its start in a rather unexpected way: by becoming an Arby's franchisee. Before he headed up an array of auto dealerships and had close to 20 different restaurants to his credit, the Home Run King was thinking Arby's.
Aaron's outset with the fast food franchise that famously has "the meats" began in mid-'80s, when the slugger met Arby's then-head of marketing Frank Belatti. The pair reportedly worked together on a campaign to raise the restaurant chain's profile among baseball fans. With the help of the batter-turned-pitch man, Arby's became the official fast food of Major League Baseball in 1986. With that distinction also came the creation of the Arby's RBI Award (a.k.a. the Hank Aaron Trophy), which was given to the player in each league with the most runs batted in over the course of a season. MLB also gave $1,000 for each of those two players' RBIs (usually a sum of about $250,000) to Big Brothers/Big Sisters Of America, a charity Aaron has supported for many years.
Along the way, the pair struck up a friendship and Aaron decided to stake his reputation on roast beef and curly fries by officially getting into the Arby's business. He took ownership of a Milwaukee area Arby's location in 1986. By the end of 1989, he had three metro Milwaukee Arby's locations to his name, and had his sights set on opening 12 more by 1991. Aaron was said to have a hands-on management style, with an emphasis on friendly and attentive service.
"The most important thing that I want all of us to understand is that we are serving the public," Aaron said in a 1989 interview. "Whether customers buy one Coke or 15 sandwiches, they're all going to be treated the same way—with a smile and a 'thank you.'"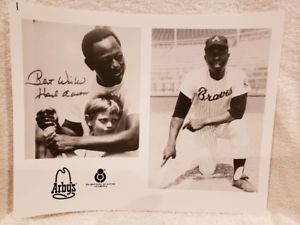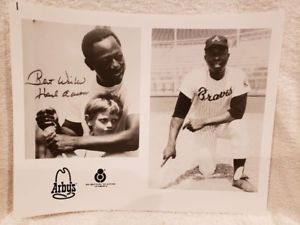 Beyond the impeccable service, Aaron-owned Arby's locations each had memorabilia from the Hall of Famer on their walls and each new restaurant's opening brought appearances from his former Braves and Brewers teammates. Though he never reached his 1991 goal of 15 locations, Aaron owned seven Arby's restaurants at his peak with the franchise. Thanks at least in part to what he'd learned as an Arby's owner, Aaron expanded his ownership umbrella to other chains in subsequent years, including Church's, Popeye's, and Krispy Kreme locations. At one point, he owned 19 restaurants. As mentioned above, he also opened a handful of car dealerships.
By the turn of the century, the Arby's was no longer the official fast food of Major League Baseball and the Arby's RBI Award was also no more. In 1999, Aaron became the namesake of a far-more-prestigious award (which he didn't need to share with a business that offered Horsey Sauce). When Aaron became too old to be as hands-on and present at his franchises, he sold all of them…including his seven Arby's establishments.
These days, Arby's is a divisive dining topic. Some folks swear by it. Others—like Jon Stewart, the Simpsons, and beloved punk rockers—have repeatedly voiced their less-than-flattering feelings about the franchise. No matter your thoughts on Arby's, we can all agree that Hank Aaron is the best and curly fries rule. And in the end, isn't that all that matters?