When making a list of the greatest quarterbacks—and the greatest football players, for that matter—of all-time, you absolutely have to include Aaron Rodgers and Tom Brady. Both superstars have managed long, incredible careers and have helped engineer some of the most memorable moments in NFL history. Even as both are deep into their careers, each athlete is continuing to play at an incredibly high level, and pretty much any team in the league would still dismantle their franchise to have the chance to get either Rodgers or Brady under center for their team.
While the level of play, the accomplishments, and the legacy both of these quarterbacks have managed trough the years is inarguable, there is one source of debate. Who is better? Before Green Bay travels to Tampa Bay to engage in a battle of QB greats, Milwaukee Record crunched the numbers, factored in some crucial off-field items, and tracked the strange-yet-important intangibles to give you some reasons Aaron Rodgers is better than Tom Brady.
Has done more with less around him
The first thing people who disagree with this article's assertion will reference is the number of Super Bowls that Brady has won. Yes, his role on SIX teams that won the Super Bowl is simply astounding and something that is unlikely to ever happen again. That being said, Brady was just the figurehead and ONE OF the star players on a handful of teams that also boasted top-tier talent at every position on both sides of the ball, once-in-a-generation coaching acumen, rule-bending advantages, and a combined four games against the perennially shitty Jets and Dolphins each season.
Brady threw 39 touchdowns to Hall Of Fame wideout Randy Moss and has tossed 79 touchdowns (and counting!) to otherworldly tight end Rob Gronkowski in his career. Having those guys down the field—not to mention the various other guys the Pats dynasty has absorbed onto its roster during their decade-long run—does a lot to inflate some numbers.
Yes, Rodgers has the great Davante Adams at his disposal and has thrown to the likes of Jordy Nelson, Randall Cobb, and Greg Jennings over the course of his career, but each of those receivers saw significant drop offs in production after leaving Green Bay. Also, for every touchdown to one of those default "star" receivers, there are 10 players Rodgers had to rely upon that few non-Packer Backers recall. When Richard Rodgers is a starting tight end long enough to catch 15 touchdowns from one quarterback, that's not a great sign for a team's Super Bowl chances. Check out this list, and your respect for A-Rodg will grow tenfold.
Knows what down it is
Sorry! We had to do it.
Tom Brady thought it was 3rd down after a 4th down incompletion ended the game for Tampa Bay. pic.twitter.com/YF25w3rU3Y

— NFL Update (@MySportsUpdate) October 9, 2020
Better acting reel and superior comic timing
Buccaneers coach Bruce Arians claims Brady knew it was 4th down when he threw an incomplete pass to essentially end last Thursday's game. If that's the case, it was the quarterback's best acting performance yet. Brady's other acting credits include his unforgettable performance as "Computer Geek #1" in the 2003 conjoined twin comedy Stuck On You, as well as appearances as himself in Entourage (the series and the film), Ted 2, and voiceover work in a football-focused episode of Family Guy. You think that's bad?! Yes. Yes, you should think that's bad.
Conversely, Rodgers boasts appearances on The Office and Game Of Thrones, along with a sketch-stealing cameo in Key And Peele.
Neither are Oscar contenders, but between that acting work, their voluminous commercial acting reels, and appearances on long-running television staples (Jeopardy! for Rodgers, SNL for Brady), the Packers playcaller has shown better selection with roles he takes, better comedic timing, and better overall skills as a thespian.
Spent his entire career with one team
Brett Favre's career was tarnished when he left the Packers in dramatic and polarizing fashion. Similarly, there's surely some Pats fans who—even after all he helped do for the franchise—will never be able to see him the same way again now that he's in Tampa Bay. On the other hand, Rodgers will remain a Green Bay Packer forever and ever AND EVER AND OH GOD PLEASE NEVER LEAVE, AARON!!! PLEEEEEEEEASSSEEEE!!!
Has cooler friends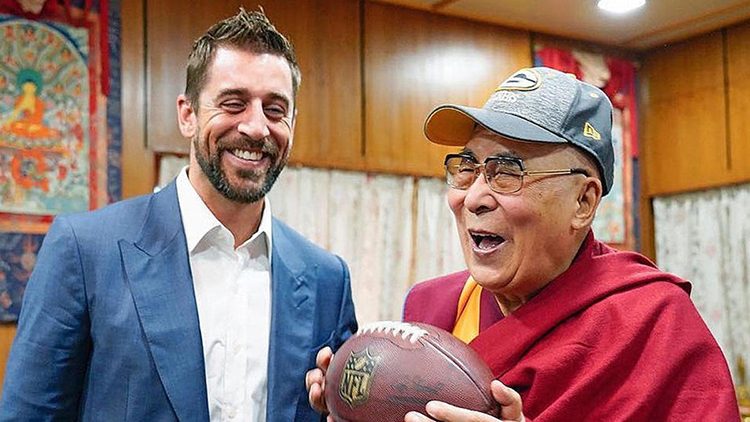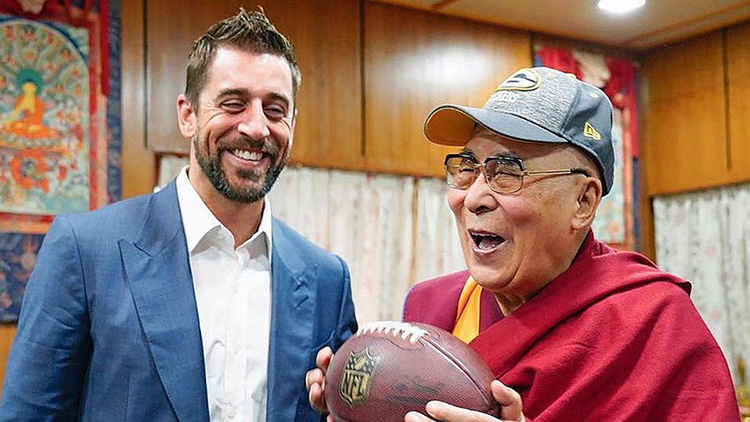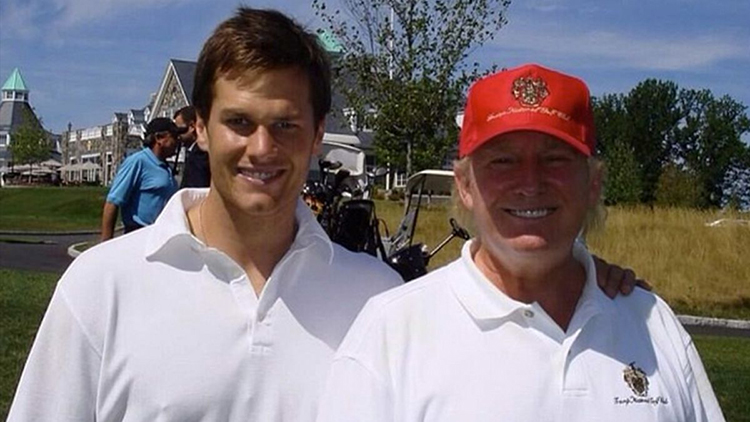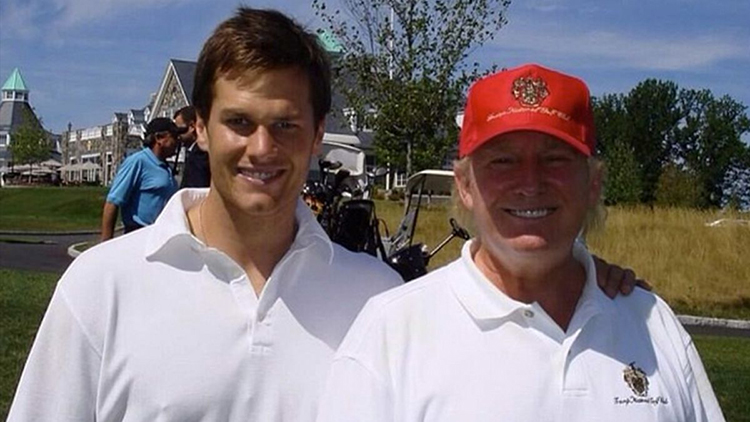 Believes in aliens
A few years ago, we wrote about the time Aaron Rodgers saw a UFO. Add that awareness of the galaxy's incomprehensible vastness and the universe's infinite possibility to the collection of evidence about Rodgers' intelligence and character. He's not only incredibly smart on the field, but he's also shown himself to be an empathetic and socially-aware person with an ever-evolving perspective off the field.
Meanwhile, Brady is an alien.
Better athlete
We've had fun here and brought up some admittedly iffy points up until now (even if they're all points we fully believe), but the real deciding factor to determine who is better requires us to, well, evaluate each player's individual athletic talent. Though Brady's five additional years in the league—and seven extra years as a starter—plus the aforementioned star-studded supporting cast of tight ends and receivers has given him a major advantage in many statistical categories, Rodgers is clearly the better football player. Green Bay's QB is faster and a better scrambler (with 2,110 more career rushing yards than Brady in one fewer carry), has thrown 99 fewer interceptions, has more rushing touchdowns, a higher completion percentage, more yards per attempt, and a higher career quarterback rating. And let's not even talk about arm strength and accuracy.
Fans can argue who is better until they're blue in the face, but we'd take Rodgers over Brady any day, and we don't think we're the only ones who would do so. Really, only time will tell who goes down as the best ever. In the meantime, Sunday's game is bound to be an exciting one, as two of the best quarterbacks in NFL history square off and try to add to their already-amazing legacies.