FREE Sunday Family Fun Day at Northwestern Mutual Community Park on September 17 Showcasing UPAF
MILWAUKEE, WI (September 6, 2023) – Milwaukee World Festival, Inc. (MWF) and Northwestern Mutual, through its Foundation, are excited to announce details for the final FREE Sunday Family Fun Day at the Northwestern Mutual Community Park on September 17, 2023, from 10:00 a.m. – 4:00 p.m. The day will be themed around Milwaukee's performing arts, highlighting various United Performing Arts (UPAF) member groups from the community.
"We want to thank Northwestern Mutual for sponsoring this series of events, as well as the thousands of families that have joined us this year at Henry Maier Festival Park for Sunday Family Fun Days," said Don Smiley, Chief Executive Officer, Milwaukee World Festival, Inc. "Don't miss the last event on September 17, as we showcase UPAF and the vibrant performing arts community in Milwaukee,"
Programming on September 17 will feature family-friendly experiences, interactive activities, food trucks, and more. Onstage performances from UPAF groups include:
• Milwaukee Symphony Orchestra
• Milwaukee Youth Theater
• Signature Dance Company
• Danceworks
• First Stage
• Kids from Wisconsin
• Xaalat African Drum and Dance for Life
• Milwaukee Repertory Theater
• Plus, a presentation from the UWM Manfred Olson Planetarium.
"At the United Performing Arts Fund, we are the biggest cheerleaders for artists in our community, said Patrick Rath, President & CEO, United Performing Arts Fund.  "Whether you love music, song, dance, or theater, the UPAF Performing Arts Showcase will give you a chance to experience ALL of this and so much more.  With more than 3,000 full-time performing artists in our community ready to entertain our community for the 2023-24 season, these free performances are guaranteed to bring a smile to your face and fill your heart with joy."
Exhibits and hands-on activities during Sunday Family Fun Day include Betty Brinn Museum, First Tee, face painting, and more. Plus, roaming entertainment from Mad Science, Bebop The Balloon Guy, Circus Jenny Stilt Dancing, Milwaukee Flyers, and others.
Food and beverage options will be available from the following vendors– Bobalou Gourmet Pretzels, Little Sweetie's Treat Wagon, Sil's Mini Donuts, and Tots on the Street Food Truck. Free parking is available in Lot G, located south of the Henry Maier Festival Park Mid-Gate, as well as designated bike parking. No pets are allowed.
For the FREE Sunday Family Fun Day lineup on September 17 visit MilwaukeeWorldFestival.com.
The Northwestern Mutual Community Park is also open on non-event days to the general public. Times of operation are subject to the event calendar – please visit MilwaukeeWorldFestival.com to view the current schedule.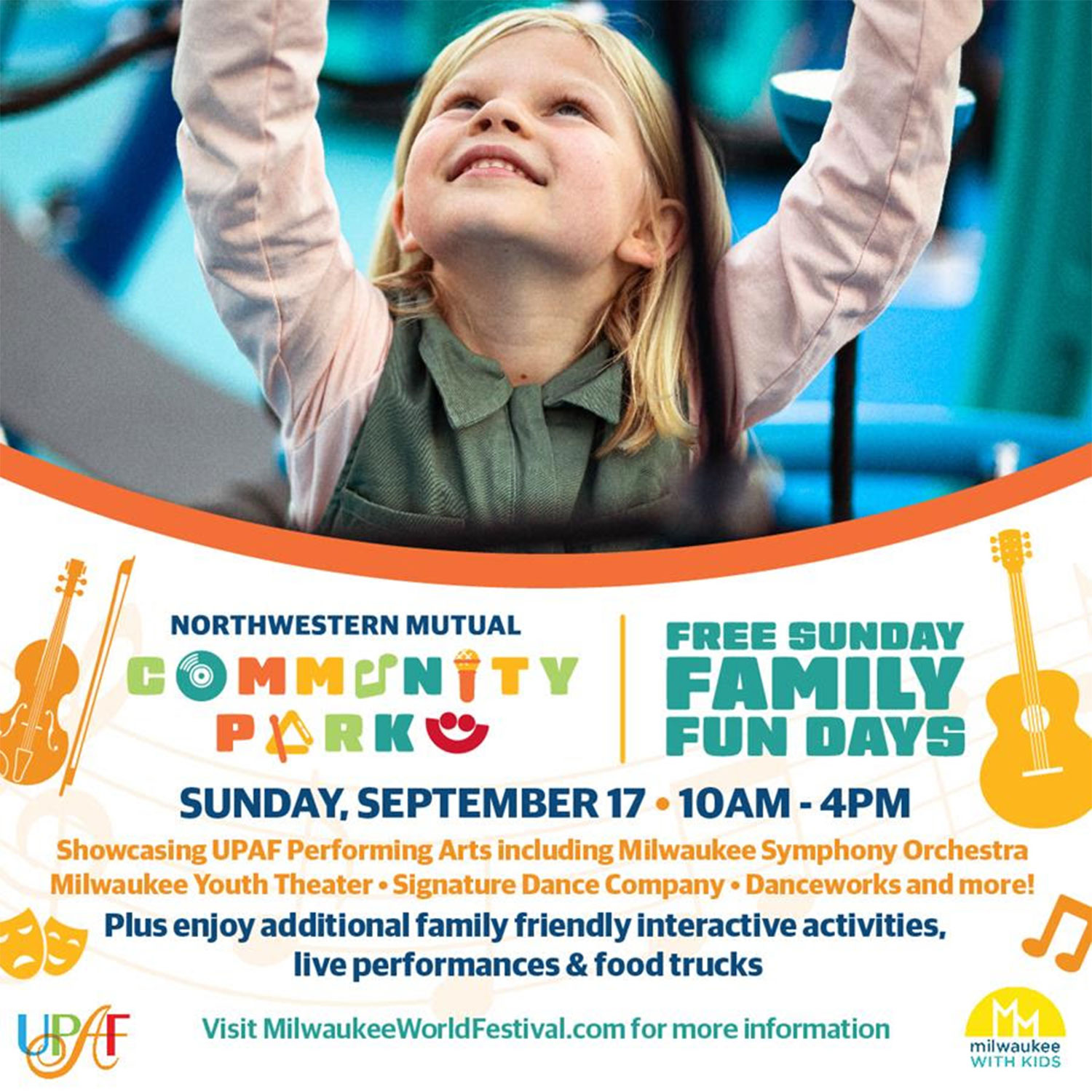 About Milwaukee World Festival, Inc.
Milwaukee World Festival, Inc. is an independent, private 501(c)(3) corporation founded in 1965 that produces Summerfest presented by American Family Insurance, a three-weekend music festival featuring over 800 artists across 12 stages. Milwaukee World Festival, Inc. also maintains and improves Henry Maier Festival Park, located on 75 acres on the shores of Lake Michigan in Milwaukee, WI. In addition to Summerfest, Henry Maier Festival Park hosts a variety of ethnic and cultural festivals, concerts, walks, runs, and other special events. The mission of the organization is to promote an understanding of different ethnic cultures, the histories and traditions of various nationalities, harmony in the community, civic pride as well as to provide a showcase for performing arts, activities, and recreation for the public and employment opportunities for the youth of the community. For more details, visit Summerfest.com, Facebook.com/Summerfest, Twitter: @Summerfest or Instagram: @Summerfest.
About UPAF
The United Performing Arts Fund (UPAF) has been setting the stage since 1967 by providing critical investment in our region's vibrant performing arts scene. UPAF's mission is to secure community resources, promote the performing arts as a regional asset and improve the quality of life through responsible investment in and financial support of the performing arts in Eastern Wisconsin. UPAF proudly bears Charity Navigator's highest distinction for nonprofits – a four-star rating – and is the No. 1 united performing arts fund in the country in terms of dollars raised.
With generous community support, UPAF funds 47 diverse local performing arts organizations that provide our community with the best of music, dance, song and theater. In addition to entertainment excellence, these organizations provide transformative educational programs for local children, ensure that individuals from marginalized neighborhoods have opportunities to participate in the arts and expand arts access for people with disabilities.
About The Northwestern Mutual Foundation
The mission of the Northwestern Mutual Foundation is to improve the lives of children and families in need. The Foundation has given more than $465 million since its inception in 1992 and is designed to create lasting impact in the communities where the company's employees and financial representatives live and work. It accomplishes this by combining financial support, volunteerism, thought leadership and convening community partners to deliver the best outcomes. The Northwestern Mutual Foundation's efforts are focused nationally on curing childhood cancer, and locally on education, neighborhoods and making the company's hometown of Milwaukee a great destination. Visit Northwestern Mutual Foundation to learn more.
About Northwestern Mutual
Northwestern Mutual has been helping people and businesses achieve financial security for more than 165 years. Through a comprehensive planning approach, Northwestern Mutual combines the expertise of its financial professionals with personalized digital experience and industry-leading products to help its clients plan for what's most important. With more than $558 billion of total assets being managed across the company's institutional portfolio as well as retail investment client portfolios, nearly $35 billion in revenues, and $2.2 trillion worth of life insurance protection in force, Northwestern Mutual delivers financial security to more than five million people with life, disability income and long-term care insurance, annuities, and brokerage and advisory services. Northwestern Mutual ranked 97 on the 2022 FORTUNE 500.
Northwestern Mutual is the marketing name for The Northwestern Mutual Life Insurance Company (NM), Milwaukee, WI (life and disability insurance, annuities, and life insurance with long-term care benefits) and its subsidiaries. Subsidiaries include Northwestern Mutual Investment Services, LLC (NMIS) (investment brokerage services), broker-dealer, registered investment adviser, member FINRA and SIPC; the Northwestern Mutual Wealth Management Company® (NMWMC) (investment advisory and services), federal savings bank; and Northwestern Long Term Care Insurance Company (NLTC) (long-term care insurance). Not all Northwestern Mutual representatives are advisors. Only those representatives with "Advisor" in their title or who otherwise disclose their status as an advisor of NMWMC are credentialed as NMWMC representatives to provide investment advisory services.
Find more press releases HERE.