Peanut butter and jelly. Giannis and Khris. Bacon and, well, pretty much anything else. Those are just a few examples of great duos. As of today, you can officially add Vincent Van Great and Amanda Huff to that list as well. A day after Huff—who you should know as one half of You Win !!! and an accomplished solo artist—took the stage during VVG's Summerfest performance in support of Ludacris, the dynamic duo released an outstanding EP together.
Troublemakers finds Vincent Van Great setting aside his hip-hop chops and, instead, showcasing his smooth singing voice, top-notch songwriting skills, and his flare for production in other genres. Along with his contributions, Huff offers velvety vocals that elevate the ambitious EP to untold levels. Over the course of seven tracks, the pair partner up on warm and uptempo pop-leaning offerings like "Treats" and "Tease," they trade verses on R&B jams like "Double Strawberry Plush" and "2 Cool," and they boldly traverse darker and more experimental territory in the title track and release-stealing banger "God Mode."
Van Great and Huff each bring their own diverse creative backgrounds and individual artistic acumen to Troublemakers, but over the course of 21 minutes, they manage to find common ground and make beautiful music together. This isn't just the pairing we never knew we needed, it's also one of the best releases in Milwaukee music this year. The EP—which was recorded and mixed by Charley Cooks and mastered by Justin Perkins of Mystery Room Mastering—also serves as a precursor to Vincent Van Great's forthcoming Ladies Please full-length, which he says will "have similar vibes" to Troublemakers.
You can, and absolutely should, listen to Troublemakers HERE (or wherever you stream music).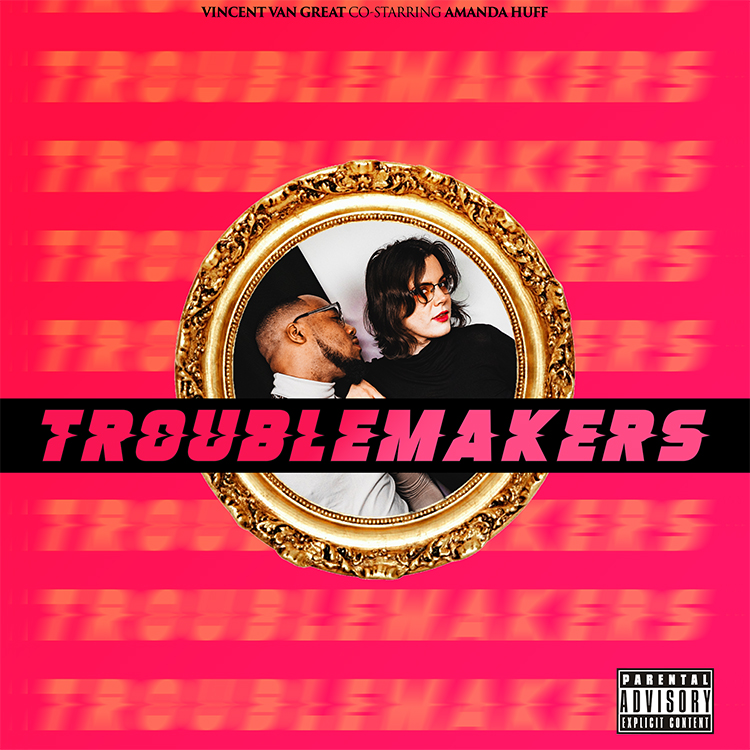 [Album cover by Moolah Bred]