Martin Defatte wears a lot of different hats in the Milwaukee music scene. The versatile and multi-talented Cream City creator is a web developer (who has designed websites for area institutions like Cactus Club, Mystery Room Mastering, and Rush-Mor Records), one of the co-curators of the extensive and awesome MKE Punk archive, a graphic designer behind album covers for an array of Midwest acts, the co-founder and co-owner of the Triple Eye Industries record label, the local organizer of the Ableton User Group Milwaukee, and one half of the industrial hip-hop duo Guerrilla Ghost.
In addition to the production, instrumentation, and recording work he does as part of Guerrilla Ghost, Defatte also makes music for a solo vehicle called Tron Jovi. While keeping incredibly busy with Guerrilla Ghost in the last year-plus, Defatte says he had some compositions that "weren't quite right" for his primary project. "They were too quirky and textured to be worked into rap songs and, for whatever reason, Chuck would pass them up and work on other tracks," Defatte told Milwaukee Record.
With one unused creation—the music that eventually became "The Return Of Tron Jovi Dub"—as his launching point, the producer got to work on writing songs specifically for a Tron Jovi release once he was finished with Guerilla Ghost's latest album "as a way to kind of cleanse [his] palate." With no worries about how the output would mesh with his main project's sound, Defatte ventured into unfamiliar and unexpected territory in this latest Tron Jovi release. As the EP's title and track names both suggest, Bass + Frequency Studies In Dub, Chapter One lands in the vicinity of dubstep.
"While it doesn't sound like traditional dub, the elements are there—heavy bass, lots of delay, and it's even got some dub siren," Defatte says.
The six-song instrumental EP was written and recorded in the order the songs appear on the release. Defatte says portions of the EP were developed from Twitch livestream jams and some compositions were inspired by new features of the Ableton Live 11 Beta. Apart from some additional percussion from Kevin DeMars on the opening track and mastering throughout by Justin Perkins at Mystery Room Mastering, Defatte is responsible for every part of Bass + Frequency Studies In Dub, Chapter One.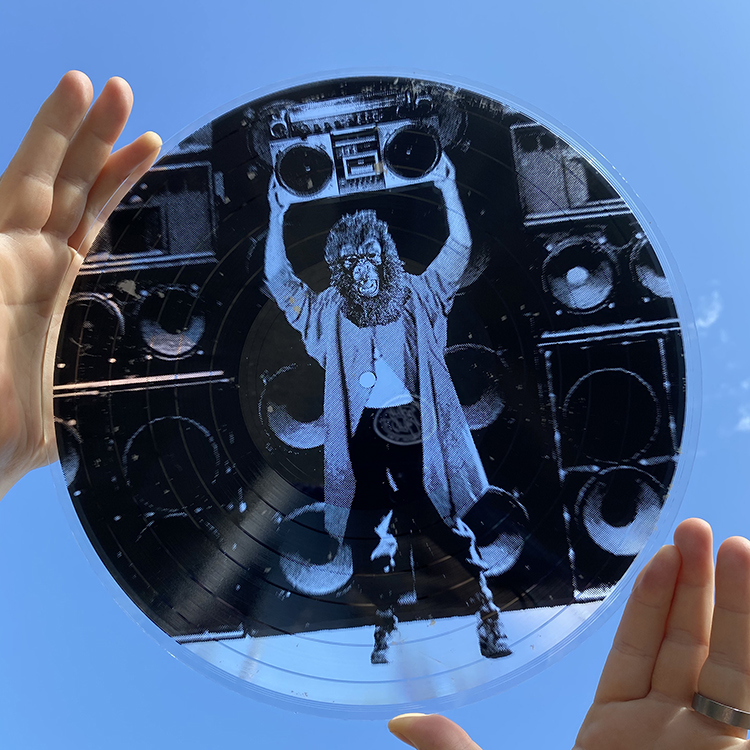 The EP will be released digitally on Friday, April 9. There will also be 22 copies available to the public (and 26 total in existence) on 12″ lathe-cut vinyl. The records were screen printed on one side by Francisco Ramirez of Bureau Of Print Research & Design and were hand-cut by Little Elephant Lathe Cuts. Records can be ordered in advance online or purchased in person at Rush-Mor Records right now (while supplies last).