Thursday night, Mike Krol will bring his hissy, police-impersonating power-pop stylings to Cactus Club. Despite the recent frequency of the L.A.-dwelling member of the Merge Records family's Milwaukee visits, it's possible Mike is the second-most notable Krol in your musical lexicon. His brother Justin Krol has amassed an impressive list of past and current drumming credits with acts like Hugh Bob & The Hustle, Rx Drugs, and Hot Coffin, to name just a few. Fittingly, Justin is also known to slap skins for his brother's project from time to time, and he'll do so tomorrow as well.
As interesting as the Krol's family band dynamic is, it's not exactly a unique thing in Milwaukee music. Given the intense bond, years of proximity, and blood connection siblings share, it's only natural that some brothers and sisters would wind up playing in bands together. Though we're sure the family tree of the local music scene has many branches we're missing, here are 12 notable sibling bands in Milwaukee music.
1. Airo Kwil
Airo Kwil is the stage moniker used by rapper and drummer Will Rose. After moving back to Milwaukee from Madison three years ago to be closer to his ailing father, he joined in on drums in Calamity Janes And The Fratney Street Band, which featured his big sister Johanna Rose on upright bass at the time. Being roommates and best friends, it's only natural that Johanna brought her upright skills and backing vocals to Airo Kwil. In turn, Will plays drums for Johanna's primary creative endeavor, New Boyz Club. "Music was our guiding force through our father's illness and passing," Johanna Rose says. "It's how we supported each other through the unimaginable and for that I am so thankful."
2. Avenues
The family resemblance in Avenues isn't tough to spot. Guitarist Shawn Brooks and bass player Scott Brooks aren't only brothers, they're twins. Together, they make up half of the long-running project that doles out fun pop-punk ditties on both land and sea. You can see them open for The Copyrights at Cactus Club next week. Tip: You can tell the Brooks brothers apart by the number of strings on their guitar.
3. Eagle Trace
About 15 months ago, we introduced you to Eagle Trace, a young and hungry Milwaukee indie rock band with an astonishing four brothers in its ranks. "We all slowly started around my senior year of high school," Jackson Bogardt says. "Max picked up a guitar in college. I started playing, and then Cass started playing drums and joined me because he thought it would be fun." When it came time to bring in a singer, brother Mitch stepped up to the mic. Last month, the literal band of brothers released a new EP, ensuring the family affair will continue.
4. The Frogs
Throughout the 1980s and '90s, The Frogs were a point of local pride. The subversive rock band featuring brothers Jimmy and Dennis Flemion entertained Nirvana, was sampled by Beck, collaborated with Smashing Pumpkins, was covered by Pearl Jam, and released some great music on their own accord. Sadly, Dennis died unexpectedly in 2012.
5. Galactic Cannibal
The Woods brothers are both respected in their own separate and vastly different corners of Milwaukee music. Big brother Nick fronts Direct Hit!, an accomplished pop-punk band and the latest addition to the Fat Wreck Chords family, and his little brother makes experimental noise under his name, Peter J. Woods. While their primary projects couldn't be more different, they came together for one brilliant side project called Galactic Cannibal. The short-lived band paired Nick's penchant for upbeat punk rock with Peter's menacing voice that screaming nihilistic lyrics.
"It was awesome. My brother and I never had a project that we worked on together, mainly because his interests are so different than mine are artistically," Nick Woods says. "I was really excited to do a project where we could figure out a way to meet in the middle."
Peter is also the voice screaming Direct Hit!'s beloved "Fuck you! Get pumped!" rally cry on every recording and he stepped in last-minute to play bass on the band's most recent full-length, Brainless God.
6. Juniper Tar
Though they haven't played out since their Milwaukee Day show in 2014, local folk phenoms Juniper Tar are still a celebrated band the city should be proud to call its own. Two other people who should feel especially proud of Juniper Tar are the parents of Ryan and Aaron Schleicher, who are brothers and Juniper Tar's bassist and guitar player, respectively. Forget a family reunion, let's get Juniper Tar back on stage already.
7. Mike Mangione & The Union
Mike Mangione & The Union might only bear one man's name, but it's is very much a family affair. The band's namesake is joined by his brother Tom. Moreover, sisters Monique and Chauntee Ross are also in the band. More on that below.
8. New Boyz Club
As noted in the Airo Kwil entry, Johanna and Will Rose both also play together in the eight-piece "glitter jazz rock project" New Boyz Club. This time, Johanna is at the helm and Will provides accompaniment. Though they work well together, playing so often and the normal brother-sister dynamic makes the occasional argument inevitable.
"We are siblings, best friends, collaborators, and very passionate about what we do, so sometimes we have disagreements," Johanna Rose says. "William's usually right and I try my best to not be a bossy older sister. Ultimately, unconditional love can really make a rhythm section."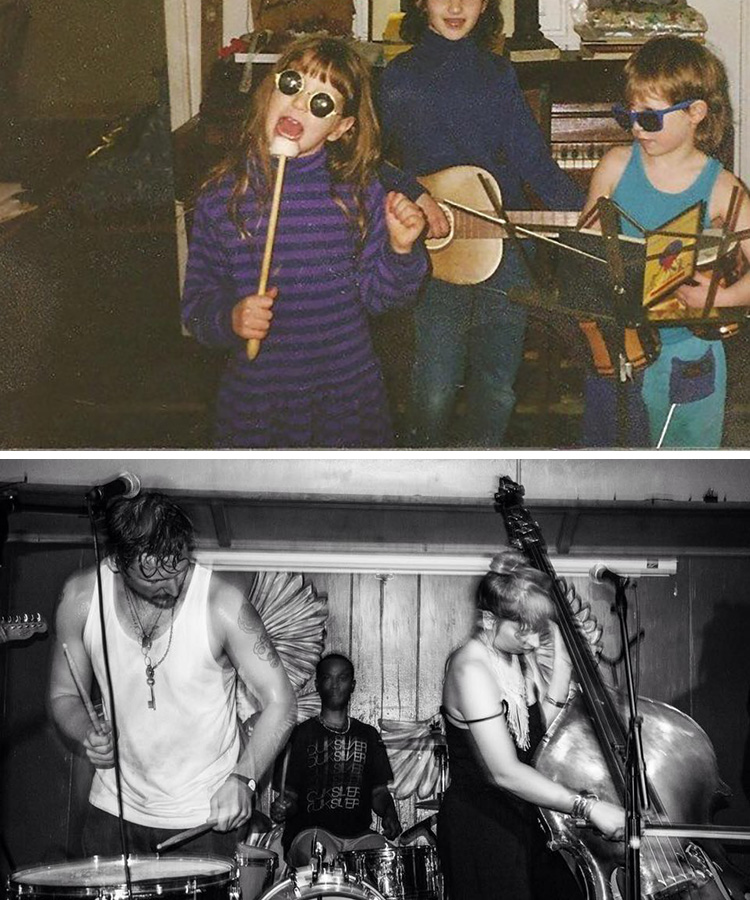 9. Reyna
Sisters Victoriah and Hannah Gabriela Banuelos quickly came to regional prominence under their eponymous pop-rock project Vic & Gab. After a strong start that spread their sibling sounds well beyond state lines, the Banuelos sisters decided to regroup and rebrand last fall as Reyna, a somehow more infectious synth-pop band.
10. SistaStrings
SistaStrings isn't just a name. Together, siblings Monique and Chauntee Ross (who, as noted above, also play in Mike Mangione & The Union) bring their string instrument skills to the stage, both with their own material and accompanying a wealth of area acts like Klassik, D'Amato, and Pharaoh Mac & DMT.
11. Trapper Schoepp
Despite dropping the "& The Shades" suffix from his band's name, Milwaukee troubadour Trapper Schoepp continues to play with his brother Tanner, the only other ever-present Shade in the accomplish folk-rock project.
12. Ugly Brothers
Like SistaStrings, Ugly Brothers is more than just a clever band name. Alex and Palmer Shah have been playing together since 2008. In 2011, they adopted a few more musicians into their family when they started Ugly Brothers. We don't get the "Ugly" part though, since the family folk band makes some pretty sweet sounds together.