In the early 1980s, hardcore punk often had a political focus, with many of the genre's forebearers using it as a means to express the frustration and anger felt by many in the Reagan era. As the decade ended and the genre expanded, hardcore found itself sometimes losing that political edge, and in some cases, replacing it with a hyper-masculine bravado. The political spirit of early hardcore wasn't gone entirely, though, and towards the latter half of the '90s, a small crop of musicians melded the melodicism of bands like Sunny Day Real Estate with the intense aggression of hardcore, often accompanied by fiercely political lyrics. This subgenre would eventually come to be known as screamo (and in recent years, for the sake of clarity, skramz), with bands like pg.99, Majority Rule, and Reversal Of Man spending the remainder of the decade using hardcore punk as a vehicle for social protest. In many cases, these acts lasted just a few years and released a small handful of limited releases, and by the late 2000s, the genre largely ceased to exist beyond web board nostalgia.
Milwaukee's Snag is one of the genre's modern day torchbearers, drawing influence from the aforementioned acts as well as era-specific local contemporaries. While all three of the band's members have previously played in similarly minded groups like Living and Wrestling and Marcy, Snag's lyrics primarily focus on the issue of climate change. In anticipation of their record release show this Saturday for their debut full-length, we sat down with the members of Snag to talk about environmental issues, the importance of all-ages shows, and more.
Milwaukee Record: Having a political agenda in hardcore punk is nothing new, but what separates you from a lot of other acts is the lyrical focus on climate change. What informed your decision to do this?
Brian Wysocki (drums, vocals): I think for me, climate change encapsulates the whole political realm because it touches on a variety of subjects, from pollution to pollination, different things that fall under the category of environmentalism, which isn't as talked about in hardcore from what I can tell. We took that route and made it into our own catharsis. It's something we are very passionate about.
Peter Murphy (bass, vocals): In the last three years, it's much more about climate anxiety. I think what we are talking about is inherently intersectional. I think that intersectionality informs what we do, and I think the direction we have turned with this album is that this is an album about climate anxiety, despair, and hope. The source of all this despair and generational anxiety comes from the fact that there isn't a lot that you can do to change it. What we can do to try to assuage that fear and despair is to scream about it.
Sam Szymborski (guitar, vocals): I think we try to match the style of music we're playing with the subject matter in a way. With us, we try to have this juxtaposition of both heavy parts and melodic parts. The feelings of despair and anxiety are the more heavy and aggressive parts, but then the hope comes through in the prettier and more melodic parts. You've got the juxtaposition of all the things that we're trying to encapsulate in the same genre.
MR: Do you feel like making music with a political agenda is needed now more than ever?
PM: The trap of that question is to know about the level of need in all times other than this. I feel like we need to be as staunch in our opposition to ideologies that promote the hurting or killing of others, but we also need to be welcoming of others who are trying to leave those ideologies. If we want to have a politics that is about people and improvement, then we need to have a politics that is open to the fact that people can improve and change.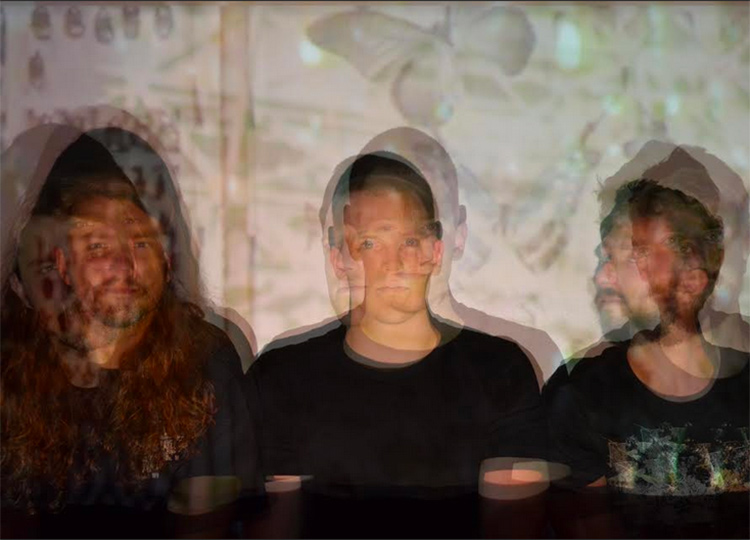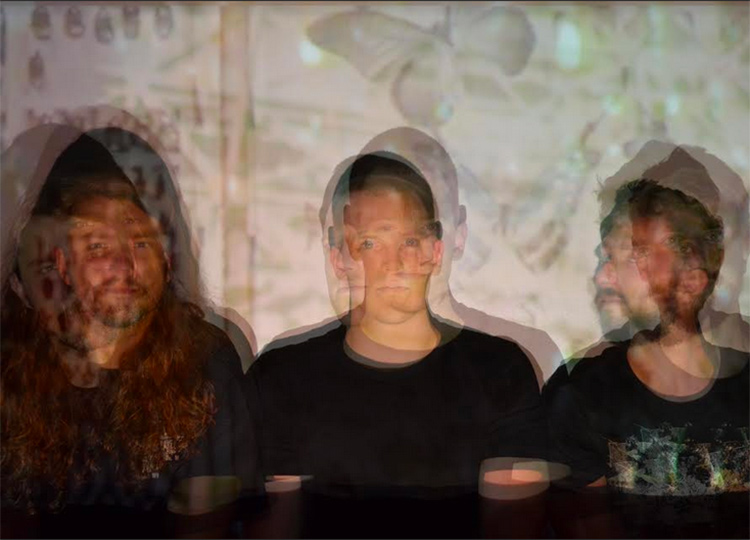 MR: All of you have been playing in hardcore bands for the better part of a decade now. Why is it that you're still involved and feel the need to be involved?
BW: For me, this music has been all I've known, and it's been a cathartic experience. It's the most passionate music I can think of and play. Putting that music along with a political message is very meaningful to me and gets me out of the struggle of daily life.
SS: I work in the service industry and I have to put a smile on every day no matter what. It's hard work and it's difficult, but being able to scream and play fast allows me to express anger that I may not always be able to express in my day to day.
PM: We were all at varying levels of depression when we started this band, and it wasn't until a little later that we realized that. It was definitely very therapeutic for all of us at the time when we formed, and still is now. Maybe it's dramatic or hyperbolic, but in some ways I feel like all of us do this so that we don't fucking die.
MR: Are there specific people who inspire you locally?
SS: People like Dave Rudnik and Kelsey Kaufmann for me are really inspiring personally. Kelsey and I have been friends since high school, but I am continually inspired by her tenacity. She's as punk rock as ever because she's trying to change the laws so that it's easier for venues to host all ages-shows. She's trying to make things more accessible for the younger crowd in hopes of them growing into adults who are active participants in their community. Dave is so encouraging. No matter what it is you're doing, he has a bit of advice to help you along. He's the whole package, and he's been doing it for years but he's still super excited to be doing what he does. Both him and Kelsey aren't doing what they do for any sort of recognition, they're just doing it because they're passionate about it.
MR: Let's about all-ages shows for a second. For some of our readers who may not fully understand, why is this important to you?
PM: When you're a teenager, that's when music can really influence you and change your life. That's when it's most potent. When you're a teenager, finding a community of like-minded people is so important, especially with music like this. Being able to experience live music at that age is so great, so it's important to make it that anyone can come see a show no matter their age. There are things that I was introduced or exposed to during that time period that literally changed my life.
BW: There have been a few instances where we've played and younger kids have come up to us and said, "That was amazing, I've never seen anything like that before." That always feels good and gives us hope. Without all-ages shows, kids can't necessarily experience things like that. They can see a band like us or whoever and get the message and think, "Oh, that's something that I can get down with."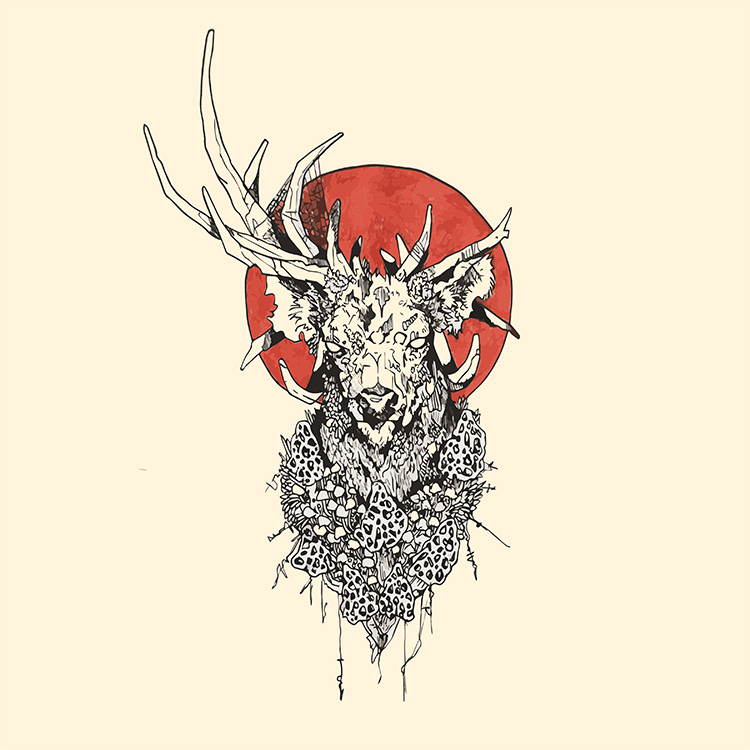 MR: One thing I love about the album is the packaging. It seems to serve more than just the purpose of being aesthetically pleasing.
SS: I drew the front and back cover for it. I was trying to figure out what to draw, and each of our albums has a centered image. For this, I picked a deer because similar to the music, a buck is both beautiful and aggressive at once. It has the disposition of both peacefulness and being the king of the forest. The buck is surrounded by morel mushrooms, because [Wysocki] and I spent time this past spring hunting for morels. When I was drawing it, it was a big part of our lives. The back cover is more straightforward with the bees, as some of the songs have to do with colony collapse and the extinction of bees.
PM: There are two heavier concepts on the album. One of them is self-immolation. There was a gay rights attorney named David Buckel in New York who self-immolated in Prospect Park as a way of protesting our dependency on fossil fuels. On the album, there's this concept of wanting to take action but also feeling like the action you could take has no meaning, and the struggle of that tension. Inside the album are three inserts: a zine with some photos and song lyrics, a box of matches, and an envelope of pollinator seeds. The tension is always there, feeling powerless versus the massive potential of any of us. These things are in the listener's hands, it's up to them as to what they choose to do with them.
MR: In relation to the album's theme of climate change, are there any specific organizations that you would like to mention that people can donate to?
PM: Honestly, I feel like the answer has to be no. There's an impulse to feel better by making a small donation, and that does make a big difference. I work for an environmental non-profit, and it makes a big difference to have a large base of small donors, but the problem is so much larger, and small attempts to make things better simply aren't enough.
BW: There's a song on the album called "The Only Rational Response." We've donated everything that we've made from that song to Voces de la Frontera. The song is about breaking down borders. My family is very close with a bunch of immigrant families, and we call them our family as well, so it speaks to me to give other immigrant families hope and to help break down borders in that regard.
MR: Ultimately, what do you hope for people to get out of the album?
PM: We're constantly being told that the end of the world is coming. Maybe it's 12 years away or 50 years away. The problem is that it's always presented as this thing that will happen to all of us in a single moment, when it's really more along the lines of this continual erosion of our quality of life. California is on fire right now, Milwaukee just got eight inches of snow. The end is upon us. It may feel mundane, but it's happening now. Don't wait to take action, start doing things now. Even if they feel like they don't mean anything.
BW: It's a call to action. You can take what you want from the stories that are portrayed in the lyrics, but it's up to the listener as to what they want to do.
SS: I hope people enjoy the music and that it can spark inner interests in what we're about. If they take the time to listen to it and learn what we're about as a band, I hope they can recognize that there's a problem and try to make a change, be it big or small. Support local farms, take care of animals, drink water, and tell your friends you love them.
Snag celebrate the release of their debut album Saturday at Company Brewing, alongside Social Caterpillar, Knaaves, DaveKevinAdam, and poets Unique Russ, Sam Pekarske and Jonny Lohr. The album is available for purchase via Middleman Records and streaming on Spotify and Bandcamp.