Back in July, the incomparable Abby Jeanne chased her latest 7-inch—which included a cover of the 1981 Siouxsie And The Banshees hit, "Spellbound"—with a cover of "Stop And Listen" by The Shag. The tribute to the Milwaukee garage rock outfit's 1967 single was initially just a digital release. That will change this Friday, when the cover will be put out as part of a 7-inch that also includes another Abby Jeanne rendition of a standout song from the late '60s.
Joining "Stop And Listen" on the limited edition release is a cover of  "Somebody To Love" by Jefferson Airplane. Beyond wanting to honor some songs that have special importance to her, Abby Jeanne is releasing this 7-inch in an effort to make up at least some of the income she, as well as her band, have lost (and will continue to lose for months to come) on account of the ever-worsening COVID-19 crisis.
"As you all know this has been one hell of a year. Almost everyone has been affected by the pandemic and the maddening politics of our times," Abby Jeanne says. "These realities have led musicians to a total loss for work. The live music industry in the U.S.—which is how we make 90 percent of our income to survive and continue to make more music—won't be fully back until next summer at the earliest."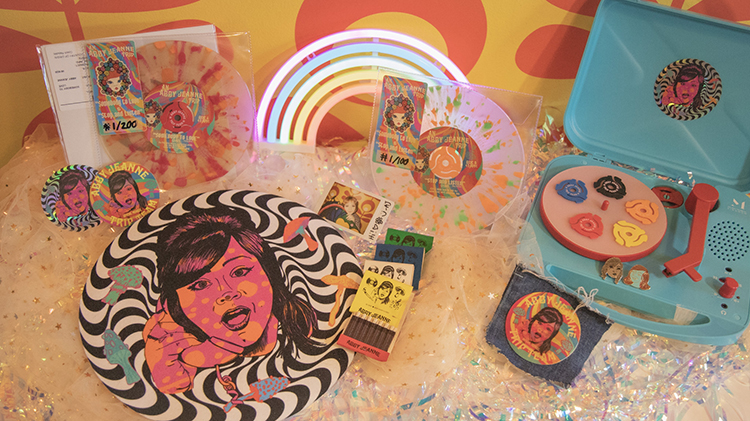 Though she acknowledges the dire circumstances that artists are facing in this unprecedented time, Abby is also giving listeners an opportunity to get some seriously good items while simultaneously giving herself (and her backing band) some much-needed relief. There are seven total packages available, including $25, $50, and $75 options with two color splatter options at each level. There's also a $150 "Deluxe Package" (pictured) that comes with a 7-inch, a test pressing, a mini portable turntable that's hand-painted by Abby Jeanne herself, and a bunch of other goodies.
The quality cover of Jefferson Airplane's "Somebody To Love" was produced by Abby Jeanne, mixed by Glenn Brigman (singer for Los Angeles psych rock band Triptides), and mastered by Justin Perkins at Mystery Room Mastering. The song will be available digitally and on vinyl—along with her cover of "Stop And Listen" by The Shag—on Friday, November 13. Before you can hear it anywhere else, take a trip with Abby Jeanne and listen to "Somebody To Love" below.