Though Summerfest officially started off in grand (and/or soul-searching) fashion on Wednesday, thousands upon thousands of people were convinced to kick off their Big Gig attendance with "Throwback Thursday," which offered patrons discounted drinks from noon to 6 p.m. and familiar sounds from the past at a number of stages throughout the festival grounds.
Throughout the afternoon and into the early evening hours, festival-goers enjoyed dirt-cheap tallboys of beer and discounted soft drinks while turning back the clock with so-called dynasty acts. The Crystal Method electrified the Miller Lite Oasis at 4 p.m. Over at the BMO Harris Pavilion, The Posies, Matthew Sweet, and some amalgam of Gufs members set the stage for a headlining performance by The Wallflowers. The brand new U.S Cellular Connection Stage had the Sugarhill Gang go on before Nelly (who's also something of a throwback at this point). Uline Warehouse brought out "Cornerstones Of Rock" to play hits of the '60s and '70s before George Thorogood & The Destoryers, and Meat Puppets headlined the Johnson Controls World Stage.
There was a vintage booking suited for almost any musical taste Thursday, but for our money—or, you know, our free ticket we got for spending more than $50 at our neighborhood Pick 'N Save—it didn't get any more interesting than the time-tested trio of acts taking us back to simpler, worse-sounding times at the Harley-Davidson Roadhouse. Between the hours of 4 p.m. and 9 p.m., the stage offered three acts who combined to sell more than 20 million albums, amassed a handful of Platinum records, and became cultural touchstones during one of the most all-around regrettable epochs in modern music history. As mainstays in agro alternative and the mercifully short-lived "nu metal" genres, each of these acts first achieved notoriety close to 20 years ago and, in most cases, receded from the public eye shortly thereafter. So how would Alien Ant Farm, Lit, and P.O.D. go over live in the year 2018? Surprisingly, not half bad!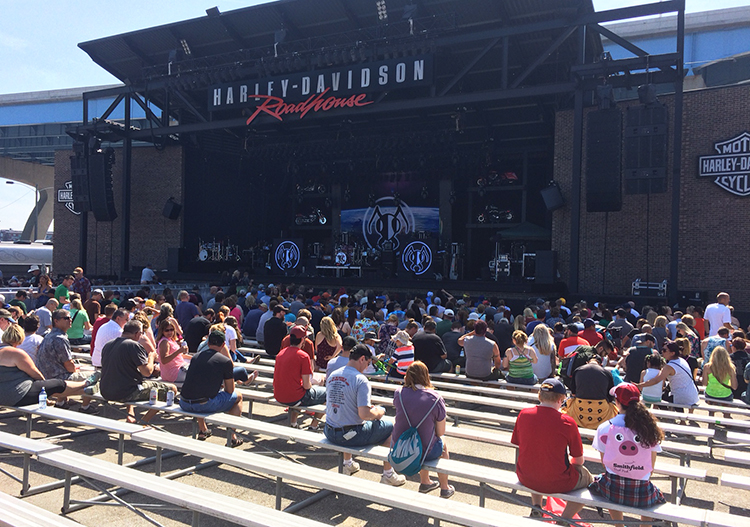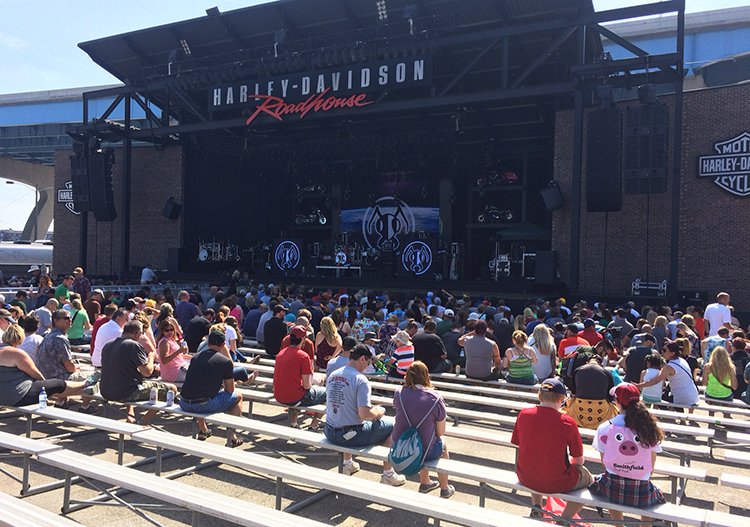 The five-hour block of rock was set into motion by Alien Ant Farm, a one-hit (of their own, another by Michael Jackson) wonder that first reached mainstream consciousness with 2001's ANThology. The record sold more than five million units, largely based on their catchy cover of the King Of Pop's "Smooth Criminal" and secondary single, "Movies." After that, AAF enjoyed modest success with 2003 follow-up, truANT, and then faded out of the public eye. Along the way, they endured lineup changes, leaving vocalist Dryden Mitchell and drummer Mike Cosgrove as the only original Ants left on the farm.
As the crowd gradually filled in Thursday, the newest iteration of Alien Ant Farm took the stage and played a set mostly made up of cuts from those two releases from the band's salad days in the early aughts. After establishing themselves as an affable and energetic late-afternoon force in their first two songs, the band used one of the biggest weapons in its limited arsenal when they played "Movies" as its third song. Though dated, the 2001 track with chugging guitar licks and the still-infectious chorus got the crowd going and even inspired some to sing along.
While it might've been ill-advised to burn their most recognizable (original) song so early on, Alien Ant Farm's energy sustained, and most of the crowd—ranging from teenagers who somehow knew material that came out around the same time they did, all the way to people in their forties—seemed to enjoy mid-set filler songs. As the moment everyone was waiting for neared, Mitchell asked the audience "You remember when MTV used to play videos?" That led to him to talking about the BET Awards-crashing stunt for their "These Days" video and the band playing the song. After both their memorable singles were behind them, there was just one thing left to get to…eventually. A few more nu metal/punk hybrid tracks followed and the audience built, both in anticipation and in numbers before the band's finale: "Smooth Criminal."
People of all ages sang along to band's incomparable take on the Michael Jackson hit and Mitchell even worked a vocal hook from CeCe Peniston's "Finally" into it. Dammit if it didn't still hold up! The singer thanked the satisfied crowd one last time once the song ended, then said he was going to drink IPAs and smoke weed until he fell over. And with that, it was done.
A few minutes after 6 p.m., Lit chased that cover with a crowd-pleasing tribute of their own. With the bleachers now full, they started their set with a rendition of Tom Petty's "American Girl" that was true to the original. Lit's presence was interesting because, unlike the other two acts that flanked them, they truly had just one hit. That song, of course, is the remorseful and unavoidable 1999 anthem "My Own Worst Enemy," which propelled the band's breakout album, A Place In The Sun, to Platinum status and landed the band on the lineup of Woodstock '99.
After "American Girl" was in the books, the band tried to keep listener attention with micro-singles "Zip-Lock" and "Miserable" (the video of which features Pamela Anderson tantalizing a shrunken-down Lit) early on (with some success) before having the audacity to play [shudders] material "off the new album." Yes, Lit—whose name has been reduced to a slang term at this point, which itself is now past its prime—has apparently never stopped making music. They've released four records since A Place In the Sun, including one last year. The band's singer also teased a new album that they hope will be ready to release next month and told people to tag them on Instagram.
Over the years, Lit's drummer tragically passed away, they've experienced a few other other lineup changes, and their sound has starkly transition to a sort of contemporary country. As the set neared completion, they played a song that was apparently on the American Pie soundtrack, a new-ish song called "Fast" (which they debuted on CMT), and a couple other Kid Rock-adjacent cuts before giving the vast majority of the building crowd the one and only thing they wanted. Like "Smooth Criminal" two hours earlier, "My Own Worst Enemy" prompted cheers, and a large faction of the audience singing along to each and every word. It took a painfully long time and a few requests to check them out on Spotify to get there, but it was (narrowly) worth the wait.
Finally, this early 2000s triple-header was brought to a close by the biggest of the three bands. Since first forming as a Christian rock band in 1992, P.O.D. has sold more than 12 million albums, been nominated for a few Grammys, and dominated rock radio airwaves between 1999 and 2003 with a steady stream of nu metal singles. Shit, they even inspired the name of a Kevin James movie. Though a faction of the now-bursting turnout at the Harley-Davidson Roadhouse might've been just holding their spot prior to Buckcherry's set, it seemed like a great deal of people were on hand to see P.O.D.
Right before they took the stage, Linkin Park's "In The End" played over the house P.A. and elicited a small-but-noticeable applause from the bleachers. P.O.D. then came out and pulled no punches, opening with "Boom." Two songs later, their now-dreadless singer was welcoming us to "Southtown" with album-like precision. "Youth Of A Nation" immediately followed in the top-heavy setlist.
Though most of the set was populated by songs pushing 20 years old, it didn't seem to deter people from singing along and enjoying the new-look, new-sound, and nu metal take on Throwback Thursday. By the time P.O.D.'s closer "Alive" rolled around, the audience seemed to share the song's uplifting sentiment. As hard as it might be to come to terms with popular songs you can clearly recall making the swift transition to "oldies," this collection of three early-2000s castoffs made for a strange and surprisingly fun experience on the second day of Summerfest.
We left before Buckcherry went on because even we have our limits.