Though Summerfest books bands from all corners of the country and brings in a fair amount of international talent, the Big Gig has recently gone about narrowing the disparaging gap between its hometown talent and its grounds stage headliners by working hard to fill mid-day and late evening slots with locally-sourced musicians.
It's likely there's never been more local presence at Summerfest than we've seen this year. With more than 70 Milwaukee acts playing on the main stages during the 11-day event, and about 100 other regional acts on the Renegade Stage and similarly small offshoots, it's quite possible to spend an entire day seeing Milwaukee-based performers at Summerfest. In fact, we did just that. Thursday's lineup was particularly well-stocked with area talent on almost every stage. Here's who we saw.
Milwaukee Youth Symphony Orchestra at Northwestern Mutual Children's Theater
Admittedly, the main reason we were brought to the Children's Theater around 3:30 was to escape the sweltering sun and take in the breeze by the lake. Though not originally a priority, the Milwaukee Youth Symphony Orchestra's steel drum showcase was actually very enjoyable. The youngsters whipped out impressive Caribbean renditions of Bruno Mars' "Locked Out Of Heaven" and the Beverly Hills Cop theme. In all, it was a surprisingly fun start to the day.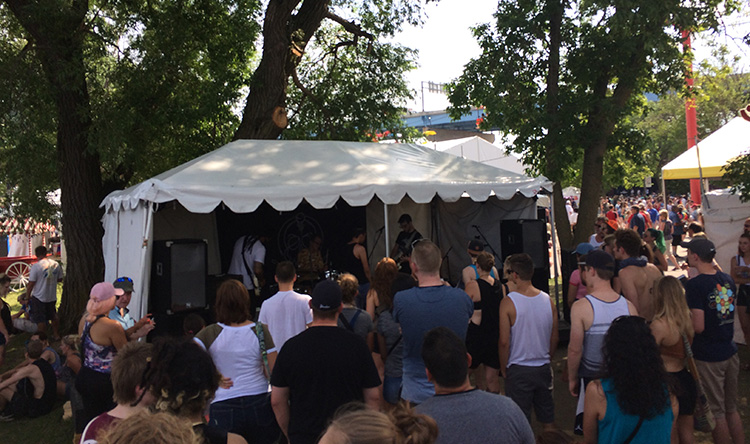 NewVices at Rebel Stage
While en route to see D'Amato, our attention was drawn to both the sounds and the crowd size NewVices brought to the Rebel Stage. The young quartet was doling out emphatic indie rock numbers with an underlying aggression that, as was the case for us, lured in random people from the paved path. We took in a few songs and tried to keep a beach ball aloft with the help of the rest of the Rebels.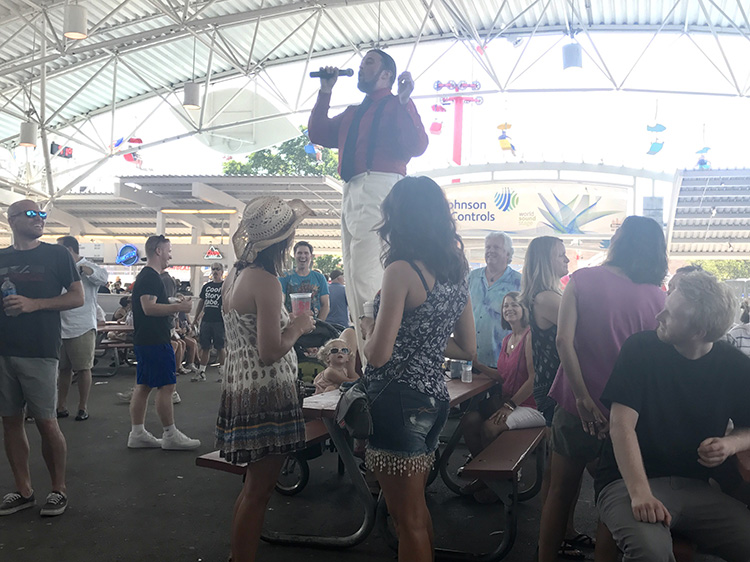 D'Amato at Johnson Controls World Sound Stage
Eventually, we made our way to D'Amato, just as Ms. Lotus Fankh commandeered the mic from the frontman for a crowd-pleasing rendition of an anti-creep anthem. Once she returned to backing vocal duties, D'Amato's showmanship took him out into the crowd and atop a picnic table, dancing every step of the way.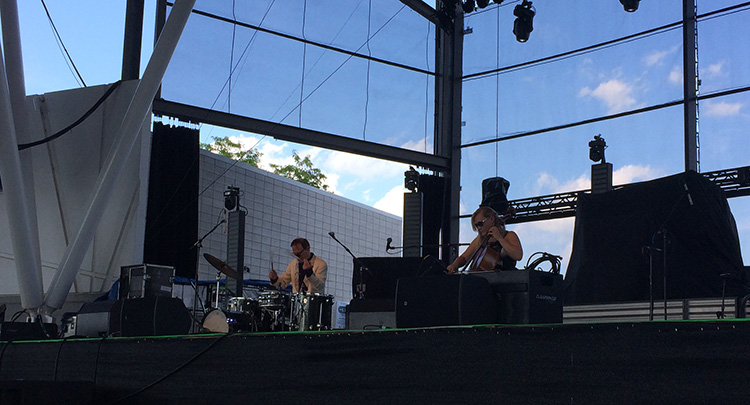 Nineteen Thirteen at BMO Harris Pavilion
Around the same time D'Amato was letting his freak flag fly and leading the World Sound Stage in a rowdy affair, cello and drums duo Nineteen Thirteen was treating a couple hundred people taking cover in the shade of the BMO Harris Pavilion to trance-like tunes that meandered from classical to the downright experimental. Victor DeLorenzo and Janet Schiff played a soothing set of originals, as well as a cover of Kraftwerk's "The Model" and a parting tribute to David Bowie before bowing out.
Wayne & Wingnut at Northwestern Mutual Children's Theater
Children's Stage stalwart Wayne and his wooden pal Wingnut (or is it the other way around?) aren't really a musical act, but we happened to notice they were preparing to "sing" the "Star-Spangled Banner" while we were making our way to the next show. It was…something.
Vincent VanGreat at Johnson Controls World Sound Stage
Who could possibly top a creep-ass puppet singing America's national anthem? Vincent VanGreat. With a sizable crowd and a number of his family members proudly looking on from the front row, the singer/rapper/producer—joined by his Ninja Sauce backing band and SistaStrings—breezed through a set that was heavy in cuts off 2016's fully great UnGreatful and brimming with charisma. Unfortunately (or fortunately if you're taking this to be an indication for the quality of Milwaukee music), we had to leave early because local sets were starting to pile up elsewhere.
Whips at Harley-Davidson Roadhouse
It's pretty much the summer of Whips in Milwaukee, and we couldn't be happier about that. In less than a month, Whips has played PrideFest, Locust Street Festival, The Little Gig, and now the Big Gig. Though each set tends to be virtually the identical, even down to the same The Ride-laden set list and song order, it's something we could (and will) watch any day. Whips will play at Cactus Club tonight, by the way. See you there!
ComedySportz at Kohl's Captivation Station
As we've mentioned before, Summerfest offers lots of other attractions. We left Whips and B-lined it to the Kohl's Captivation Station to catch the latter half of ComedySportz's nightly performance. The small tent was full and the crowd overflowed to the grass on both sides. Six improvisers delighted the packed house with fun, accessible, and (mostly) family-friendly games. After our shirt was used as material by one of the performers, we figured it was time to go. Plus, Direct Hit! was about to begin.
Direct Hit! at Harley-Davidson Roadhouse
The boys in Direct Hit! are no stranger to the Summerfest grounds. The pop-punk quartet has headlined the KNE New Music Stage (RIP!), opened for Rise Against, and played with Blink-182 at the (then) Marcus Amphitheater last year. This time around, they played a 7:15 set that had songs from last year's Wasted Mind, the recently-reissued Domesplitter and a few tunes off Brainless God. Before playing their first song, singer Nick Woods said "We're Direct Hit! and we're from Milwaukee. It's really cool we get to play here." Whether talking about Direct Hit!, the upcoming 8 p.m. set by Lex Allen a couple stages over, or any of the local ingredients incorporated into the Summerfest recipe this year, we couldn't have agreed more.