You don't have to be a hot-shit real estate developer or a car-loathing urban enthusiast to know Downtown Milwaukee is on the verge of some major changes. As rounded up in a comprehensive Milwaukee Magazine piece by Dan Shafer, these changes include a new Northwestern Mutual tower, a possible residential high-rise called The Couture, a remodeled Milwaukee Art Museum, a revamped lakefront corridor, a refreshed northern Summerfest entrance, a controversial streetcar system, and much more. Milwaukee's long history of half-assing or simply botching similar big projects may mean not everything will eventually end up as planned (we're looking at you, streetcar), but for now, there's nothing but optimism (and dollar signs) floating in the rarefied Downtown air.
By why stop at Downtown? Why not harness that optimism and envision an entire city reborn and redeveloped? And, more importantly, why not transform some flagging (or empty) buildings or businesses into thriving ones? Here are some reinventions we'd like to see in Milwaukee—some already in the works, some little more than personal pipe dreams.
1. Journal Square/UW-Milwaukee Panther Arena/Milwaukee Theatre (Bucks arena)
Nothing embodies all the endless controversy inherent in big-time Milwaukee reinvention better than the new Bucks arena. Beyond the sticky matter of who, exactly, will be footing the bill (a combined $200 million has already been promised by former owner Herb Kohl and current owners Wes Edens and Marc Lasry), the question of whether or not the thing will be built at all looms large over the next few years. Then there's the location: though not confirmed, early reports have Edens and Lasry eyeing up the Milwaukee Journal Sentinel buildings (Journal Square), as well as the UW-Milwaukee Panther Arena and the Milwaukee Theatre. That's a lot of downtown real estate to be demolished in order to construct one NBA-approved arena, but if that arena is ambitious enough—i.e. if it's less "arena" and more "downtown entertainment complex"—then we say go for it. Sure, the remaining Journal staffers will have to find a new HQ, the Panthers will be pissed, and Milwaukee Theatre fans will lose out on one or two interesting shows a year, but this is the kind of "bold idea" that Milwaukee loves to talk about. Let's not fuck it up.
2. Shops of Grand Avenue (Marcus Theatres multiplex)
After years spent speculating on the fate of everyone's favorite underperforming downtown mall, Milwaukee was overjoyed to learn that the Shops of Grand Avenue were recently sold at auction to a New York real estate investor, and that he'd be turning them into…well, something. While Milwaukee continues to ponder the mall's future (plenty of time for more thinkpieces, everyone!) might we suggest that whatever form it ends up taking, it includes a first-run multiplex? The idea of a downtown movie theater has been kicking around for over a decade now, and it's high time that city-dwellers should be able to see Marvel Superhero Property #345.8 without driving out to the 'burbs. Marcus Theatres Corp. is currently exploring a downtown site for a nine- to 12-screen theater; the only caveat is that the site needs a preexisting parking structure. Happily, these days, the Grand Ave. is almost nothing but parking.
3. The Tasting Room (coffee shop)
Just how long has The Tasting Room been vacant? The former East Side bar/music venue officially closed its doors in 2007, but it was out of business for some time before. Since then, oodles of condos have sprouted up nearby, and Bel Air and Fink's have taken up residence across the street. About the only thing missing from the intersection of Water/Kane and Humboldt (don't forget Greek Village Gyros!) is coffee. So could someone please buy this seemingly choice building, fix it up, and turn it into a cozy mom-and-pop coffee shop? Something along the lines of Fuel or Brewing Grounds? Or, barring that, turn it into anything? Small-plate restaurant, book store, record shop, head shop, art gallery, anarchist collective space, whatever.
4. The Library Club (underground performance space)
For over a decade, the cavernous space below Beans & Barley has been home to a seemingly endless number of dance clubs: Shooters, Esoteria, Mantra Lounge, Decibel, and, most recently, The Library Club. What did all of these clubs have in common (other than music and a penchant for underage patrons)? None of them lasted very long. Perhaps it's time to stop trying to make an East Side club work, and instead use the space for something more interesting. Riverwest is currently stacked with broadly defined "performance spaces" that play host to music, art openings, and the like—so why not have one east of the river? Surely one of the many deep-pocketed champions of Milwaukee's "placemaking" prowess could turn the former Library Club into an incubator for young, innovative, and grant-friendly artistic entrepreneurs. At the very least, an arts space would make a fine compliment to Beans, who have been supporting the city's creative types for years by employing them. (See also: CapTel.)
5. Down & Over Pub (all-ages music venue with basement comedy club)
While we're on the topic of great properties located in the heart of their prospective neighborhoods with a tendency for frequent turnover, let's talk about the iconic and historic brick structure that has stood at 2535 S. Kinnickinnic since the late 1800s. Originally erected to serve as a Masonic hall, the almost 150-year-old building's deed recently belonged to the short-lived Bay View Brew Haus and now the barely breathing likes of The Down & Over Pub. The bar hasn't had its lights on in weeks, and "RA SHIT A JOE S" (a version of October 24 headliner The Rashita Joneses) is still on the outdoor marquee. That's still way better than when it listed a Brutal Dildos show right above an announcement that its thankfully briefly existent Up Up And Play daycare had opened upstairs. It's not official yet, but it's safe to say Down & Over is done. Despite the site's shaky recent history, it has all the makings of being a unique and lucrative venue if it ever winds up the right hands again. With so many Bay View venues competing for music lovers' money, why wouldn't somebody consider cornering the market as the neighborhood's only all-ages music venue? Any income lost on alcohol sales during shows (on the main level) could be supplemented by utilizing the basement (which was a Chinese restaurant four years ago) as a local comedy room for stand-up showcases—basically a southern Milwaukee equivalent to what Karma offers East Siders. The upper level could be used for anything from residential purposes to an artist's studio or band's rehearsal space…virtually anything that isn't a daycare.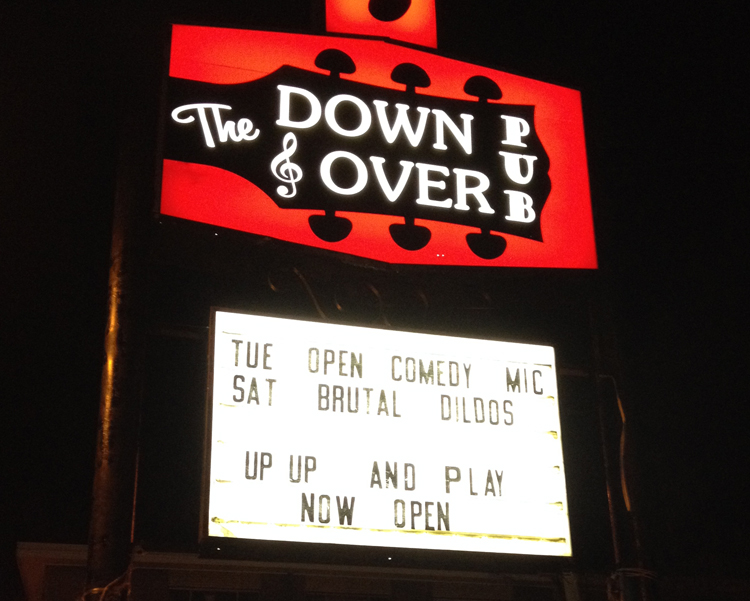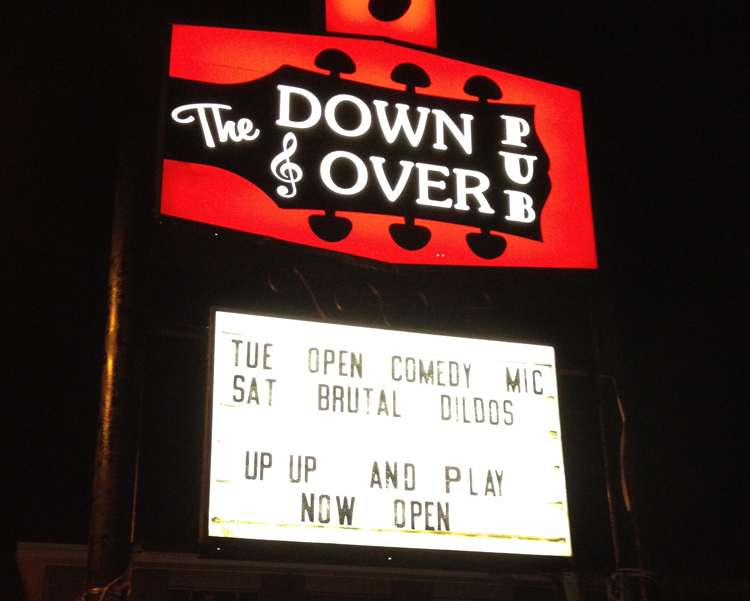 6. Brady Street World Of Beer (video arcade)
At the end of October, an owner of the World Of Beer on Brady Street announced that particular location of the craft brew franchise would be closing after two years as the East Side's premier Florida-based bar franchise. Majority owner Wayne Farmer said focus would be shifting to the group's new Wauwatosa branch. Minority owner Jeff Ferchoff immediately refuted those claims. Then nobody knew what the fuck was happening with the place until the original announcement of closure was confirmed last week along with a promise that Brady Street wouldn't be without a World Of Beer for long. Does Milwaukee need another bar offering hundreds of diverse beer options? Well, yeah, sure…that would be awesome. But does that bar need to be the McDonald's of beer bars? More importantly, does that bar (chain or otherwise) really need that great corner real estate in the heart of Brady Street? Nope. Instead of Brady Street's umpteenth watering hole catering to young professionals, mid-life crisis cases reliving their glory days, and beer snobs, why not let a long-overdue arcade spawn where WoB once stood. With a sizable college population nearby, a true blue arcade with classic machines would give people of all ages a place to hang out on a nine-block radius currently dominated by taverns and restaurants. To sate its clientele of drinking age, maybe they could offer some beer options. Four or five varieties should be enough.
7. Mr. Webo's (Taco John's)
After just over a year in business, Mr. Webo's posted a sign on its door in September promising it would return October 1, then proceeded to never open again. Outside of the new wave Mexican restaurant's incredible fish tacos, Webo's was primarily known for two things: its off-putting interior decoration (with graffiti skulls aplenty) and being two doors away from beloved Bay View Mexican food staple Guanajuato, which formerly existed in the site Mr. Webo's oh-so-briefly occupied. Chef and restauranteur Frank Sanchez—who once owned a restaurant called Taqueria Azteca that also stood in the same spot as Webo's and GTO—is soliciting $7,000 to open Sazón, a high-end establishment that will specialize in "Mexican soul-food tapas." We wish him luck, but if he falls short with his GoFundMe campaign, we know a restauranteur who could offer something different (while much less authentic) to the already exceedingly well-represented Bay View Mexican cuisine scene: Taco John. Instead of trying/failing to overtake GTO as the neighborhood favorite or attempt to out-upscale Riviera Maya, why not offer a faster and cheaper taco source? Sure, it's a chain, but the closest Taco John's to Milwaukee is deep in Waukesha. That's too far to go for Potato Olés.
8. Any of the dozens of struggling and uninspired downtown restaurants and bars (Silk Exotic)
Since 2010, Silk Exotic has thrice applied for Class B Tavern, Public Entertainment Premises and Food Dealer licenses in downtown Milwaukee (and expressed interest in a few other properties in the area as well). Every attempt was voted down by the Milwaukee Downtown B.I.D. For those not aware, that acronym stands for "Business Improvement District," but instead of letting a Wisconsin-based business with three successful establishments to its credit add a fiscal boost to a section of the city that sorely needs a breath of fresh air, the district's "improvement" is enacted by using morality to blackball a legitimate business with proven profitability in favor of a cluster of cookie-cutter restaurants, bars, ultra lounges, failed clubs, and purveyors abusing the word "artisan" that all come and go unthinkably fast while adding next to nothing to the city during their short spurts of existence. What Silk offers might not be for everyone, but its track record is undeniable, as are the additional dollars that would wind up at nearby bars, restaurants, and hotels—not to mention the city in general as a result of employing dozens of bartenders, security guards, kitchen help and, yes, dancers—with a new post-game, after-concert, and bachelor party destination somewhere Downtown. There's already a fucking statue of Fonzie Downtown. Would a Silk East really be much worse?