If you keep tabs on Milwaukee music, there's a good chance you know SistaStrings. The project, which consists of classically-trained siblings Monique and Chauntee Ross, has been a fixture in local music for the better part of the past decade—both with their own output and by accompanying other area artists. Now based in Nashville, the Ross sisters have quickly found their careers reaching unimaginable heights of late.
In recent years, they've performed all over North America to play arenas, large-scale music festivals, and historic venues while supporting world-renowned talents like Allison Russell, Jason Isbell, and Brandi Carlile. Along the way, they've performed at the Grammys, played late night shows, sat on stage during Joni Mitchell's recent live return, and recorded a dual album with Peter Mulvey that will be released on Ani DiFranco's label next Friday.
Tonight, SistaStrings will cross another item off their bucket list when they take the stage with Brandi Carlile at Fiserv Forum. Prior to the homecoming show, Milwaukee Record asked Chauntee and Monique what the past few years have been like, what they've learned from these amazing experiences, and what it was like to hang out with The Fonz backstage.
Milwaukee Record: What has the past year or so been like for you? This might be a huge understatement, but I feel like it's been the most fruitful period of your careers to this point.
Chauntee Ross: This past year has been one of the scariest, most fulfilling years yet. It's been full of change, challenges, growth, but most importantly, so much love. I knew after the shutdown in 2020 that I needed to make a huge change and go after my dreams harder than ever before. I didn't know what that would look like exactly, but having the amazing support system that I have made it very clear that we were headed in the right direction for us.
Monique Ross: This year has been a blessing in so many ways, but quite difficult in others. This is the longest I've had to be away from my baby girl, so finding that balance of touring and attempting to be the best mama I can be is an ongoing challenge. I'm so grateful to my parents for being rockstars at helping. With saying that, it has been amazing to see our work paying off. To be able to do what I love with real and genuine people that also love performing, it's a dream.
MR: Between playing with some of music's biggest names at historic venues and at massive festivals, performing on late night television, and playing the Grammys, I'm sure it's difficult to narrow it down, but what have been some of your favorite or most memorable experiences you've had in recent months?
Chauntee: It's so difficult to pin down favorite moments over the past year since the big move. The first few months of living in Tennessee were super tumultuous for me. I hadn't found a place or a job and spent a lot of time driving. Driving back to Milwaukee for a few weeks to gig and play some fabulous shows. I drove from Jackson, Tennessee where my parents live to Nashville where Monique was living weekly. Those times on the road I did so much thinking and processing. I wrote down my goals as clearly as I could and began to go to as many shows as I could. As far as what shows really stand out, I'd say getting to do double-duty at the Grammys was pretty special. We played with Allison Russell at the Premiere Ceremony and then went to play with Brandi Carlile for the televised ceremony. I remember seeing a corner of Billie Eilish's performance. Having moments in the hallway with Donatella Versace and Meg The Stallion and was absolute gold.
Monique: One standout experience for me would be playing The Gorge with Brandi. We headed out a week before the show to rehearse for the summer tour season. We worked our asses off while praying all the while that Chauntee would be able to make it for the show because she had come down with COVID. I wouldn't let anyone say "if" she came, it had to be "when" she came. Sure enough, she tested negative just in time to be able to fly out and play an incredible show at the most beautiful venue I've ever seen.
MR: What are some of the most important things you've learned from playing in front of huge audiences with world-renowned artists? Have you absorbed any perception-changing lessons that might change your approach to creating and performing going forward?
Chauntee: I've learned that less can be more. I've gained patience in a way I didn't have before. At the end of the day, it's people behind every massive show and performance. It's folks dealing with everyday things, trying to keep it together and do their jobs well. It's loving the people we work with and treating everyone with respect.
Monique: I've learned that being me is enough. I don't have to try to look like, sound like, be like anyone else. It's owning our individuality and embracing it that makes things so special.
MR: One of the most recent things I've seen happen to you is getting to see a rare Joni Mitchell performance at Newport Folk Festival from just a few feet away. Can you explain what that was like?
Monique: Being on stage with Joni was a surreal experience. Feeling the power of what it's like to come together to honor and respect a legend like Joni was something. You could feel her joy with being back in a stage. I Can't imagine the fight and determination it took for her to be able to even do that. Down to relearning how to play the guitar—it was beyond joyful! You could even feel how our energy and enthusiasm was giving her more energy. I'll never forget that day.
Chauntee: Of course Newport Folk Festival was something I couldn't have dreamt up in my wildest dreams. Dancing with Joni Mitchell as she walked out on that stage and led us all on a spiritual journey was beyond incredible. I was looking out at the audience of thousands dancing with Allison Russell, Kam Franklin, and Yasmin Williams watching The Roots perform right before our set with Brandi. Seeing everyone have the best time and watching the music over the water. Then it was our turn. Audience is grooving and the music is going. Next comes a quick set change and for the Joni Jam. I was told to sit on one of the couches behind the musicians on stage and sat down right next to Monique and Kyleen and Josh, Brandi's string section. The fog rolled in and created this protective wall around what was one of the most influential performances I've experienced in my life. It's hard to describe and I haven't fully been able to process the experience yet.
MR: Was Henry Winkler nice and—I think I'm legally obligated to ask you this—did you talk about the Bronze Fonz with him?
Chauntee: Meeting The Fonz was so joyful. It was our third performance at The Greek in two weeks, so I was saying hey to all the staff in the building we'd been seeing and when I popped up at the top of the stairs by the dressing rooms, there's Henry Winkler and his lovely wife. I was super excited and just started chatting with them. They were both so welcoming. I told him we were from Milwaukee and that we love him and was all "can we take a photo?" And he was all "that's what I'm here for!" He intentionally sat himself there for all of us to interact and was remembering everyone's names. It was super special and fun.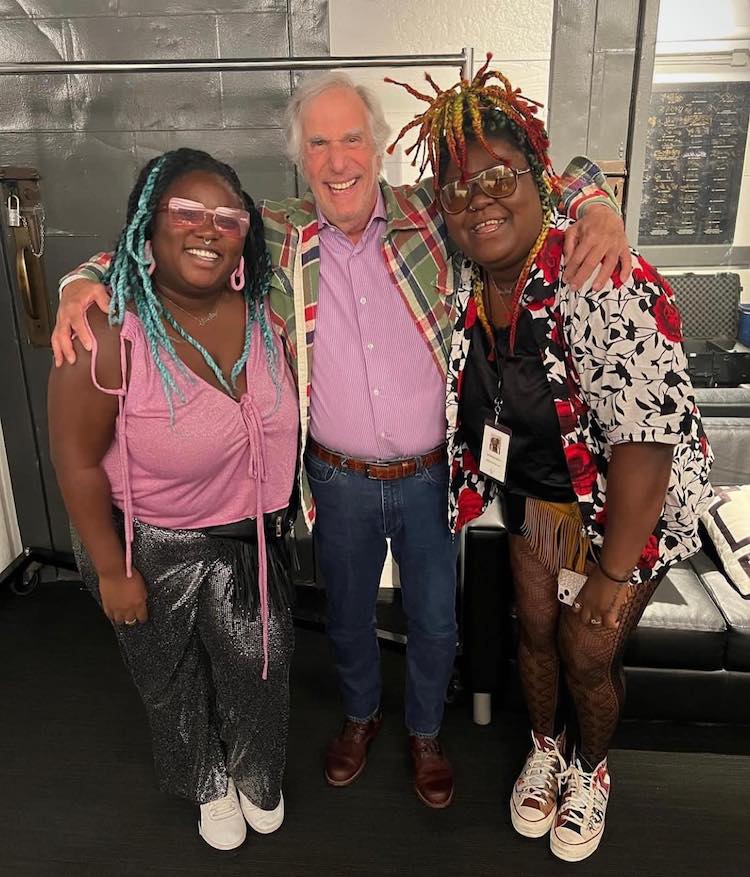 Monique: He and his wife were two of the most beautiful humans you could ever meet.
MR: As longtime Milwaukee residents, what's it going to be like to perform at Fiserv Forum this week?
Chauntee: Performing at The Fiserv is a bucket list item for me.