On July 27, 2002, I attended the first and only Van's Warped Tour of my life. The show, which took place at the Tweeter Center in the Chicago suburb of Tinley Park, boasted dozens of popular punk, ska, and hardcore acts playing on seven stages in the outdoor complex (that's now called the Hollywood Casino Amphitheatre) over the course of roughly 10 hours on a sunny Saturday.
Though it now takes some effort to conjure them, memories of that day still reside in deep recesses of my mind, somewhere beside basic algebra formulas, Super Nintendo cheat codes, and the names of my homecoming dates. I recall repeatedly running to the big, inflatable board detailing that day's schedule so I could keep on top of where I needed to go to see some of my favorite bands. Between stages, cold Dixie cups of free Yoo-hoo sustained me. I remember watching such venerable punk vets as Bad Religion, NOFX, and Lagwagon. I made sure to catch favorites of mine like Alkaline Trio, Thursday, Anti-Flag, and the recently Chris Carrabba-less iteration of Further Seems Forever. For some reason, it was also important to watch flavor of the week acts like Vendetta Red, Sugarcult, and much of the day's Drive-Thru Records Stage lineup.
On the way back to Wisconsin in a van packed with teen boys from northeast Wisconsin, I carefully held a sticker signed by Alkaline Trio (and now Blink-182) member Matt Skibba and a sheet of paper bearing the fresh insignia of Asian Man Records owner Mike Park until we got to our motel room in Racine, where four of us had to sneak in through the window of the ground level room to avoid paying extra. In all, it was a great day, but one that never happened again and, frankly, didn't need to. I'd spend subsequent summers working to help cover college tuition, then working steady jobs, then not wanting to spend my limited free time and disposable income seeing a bunch of bands with strange names at a festival I'd lived approximately half my life since last attending.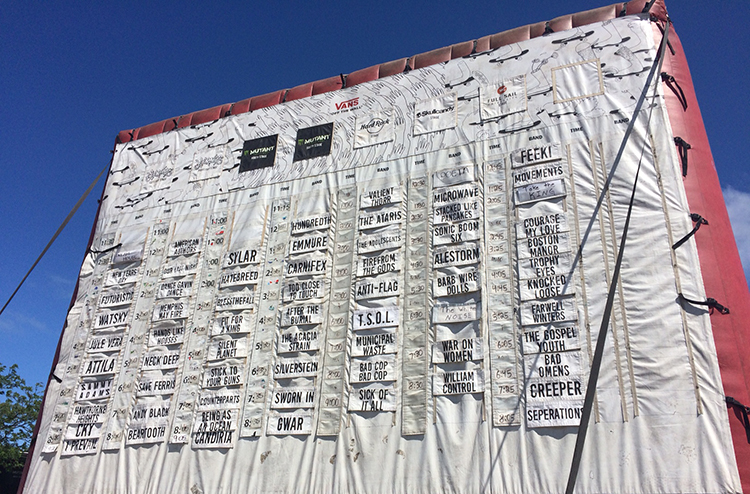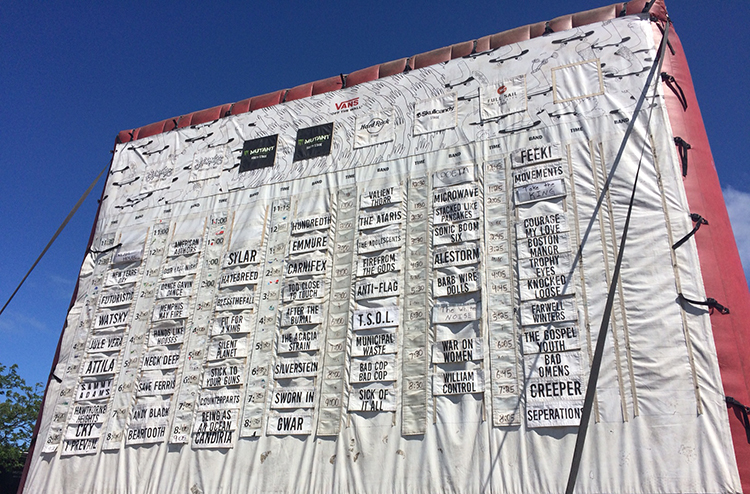 A strange confluence of events and a friend's generous offer of a free ticket found me, now a jaded and broken 32, doing something I never thought I'd do: return to Warped Tour. Monday afternoon, just shy of 15 years from that unforgettable afternoon I spent in suburban Illinois, I was looking at that same inflatable schedule once again and observing the ways Warped Tour has (and hasn't) changed over time.
Yesterday's installment of Warped Tour was contained on the southern most segment of the Henry Maier grounds. Basically, it was the BMO Harris Pavilion (where two stages were set up side-by-side), the amphitheater, and grounds space to right of the oversized instruments at the main entrance. With bands packed so close on the limited real estate, there was some sound bleeding in from other stages. Upon entering, I heard the first instance of what was to be a regular occurrence in the day: metalcore. Metalcore bands would consistently elicit the largest turnouts.
Unlike '02, pop-punk was no longer the order of the day. However, it was still there…just relegated to the Hard Rock Stage, which seemed to be something of a collection of dynasty acts. I bypassed a well-attended 2 p.m. Hatebreed set at the Monster Mutant South Stage (lol) to head there and take in some of The Ataris. Once, "San Dimas High School Football Rules" started, a girl who likely wasn't born when the song was released in 1999 sprinted to the stage, dragging a young man behind her.


In addition to the 65-plus bands on the bill, Warped Tour still had hundreds of vendors flanking every stage, with a sprawling marketplace in what's usually the JoJo's Martini Lounge. Fidget spinners, weed-themed apparel, and satanist shirts were some standout shops. There was also a strong vegan advocacy presence, and I signed up for the bone marrow registry at one station as well.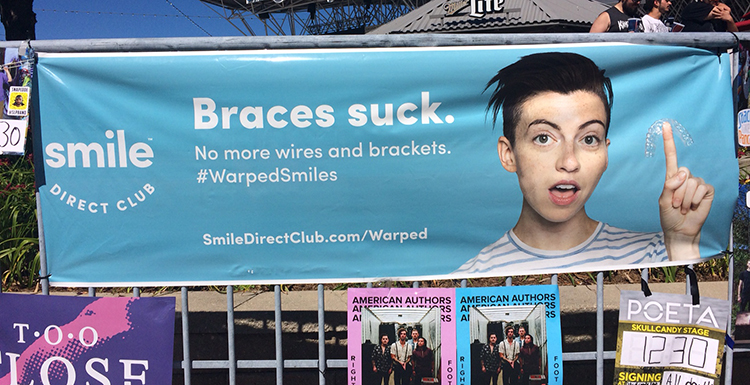 Of course, Van's Warped Tour—a festival with a corporation mentioned in its very name—is rife with marketing. The grounds were peppered with advertisements, including each stage's name (Hard Rock, Monster Energy, Skull Candy, Journey's, etc.) and a wealth of posters and banners everywhere.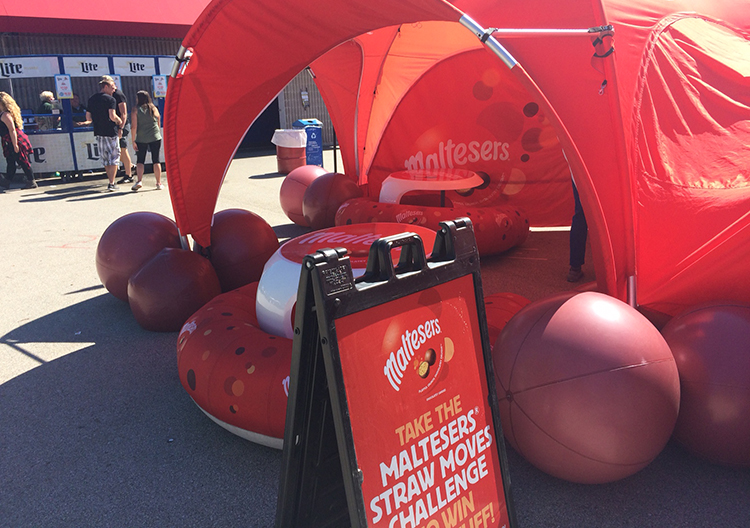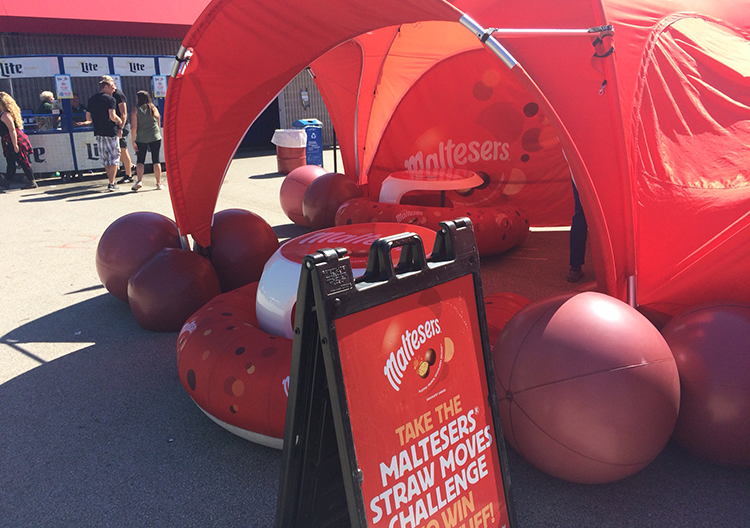 Yoo-hoo is long gone, but kids were loading up on sample-sized bags of Maltesers candy to tide themselves over.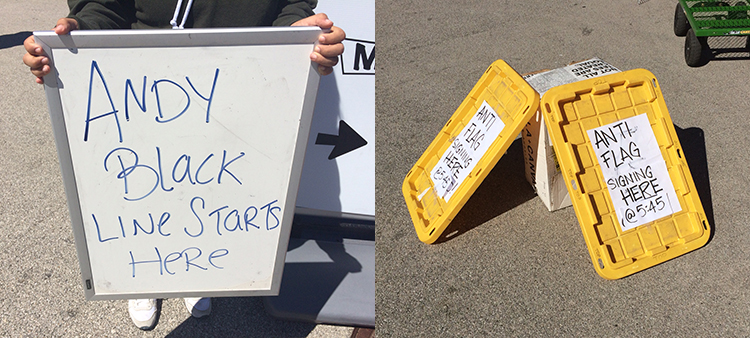 Warped also continues to champion fan access through pre- and post-show meet and greets.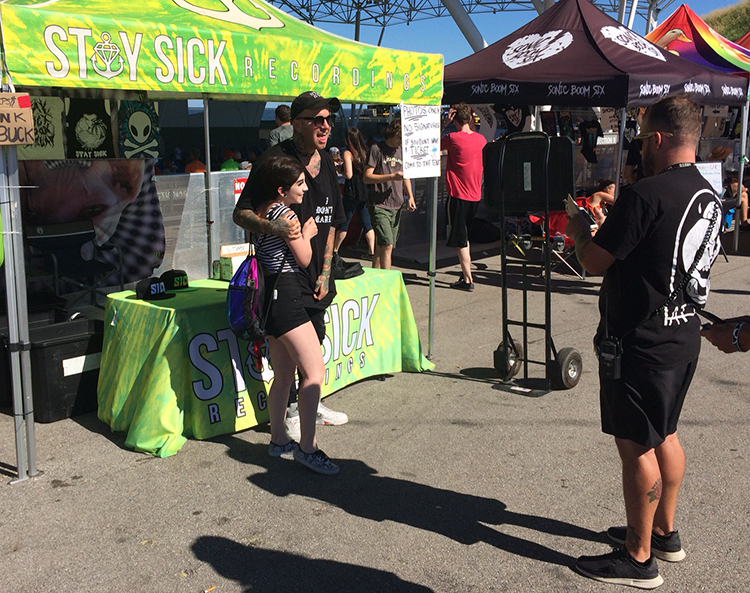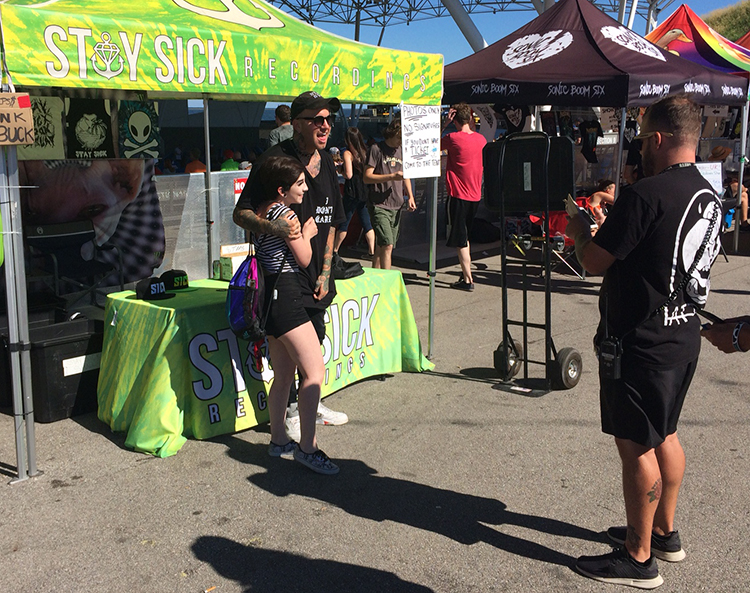 Hundreds of people waited in line to meet whoever the fuck this dude is.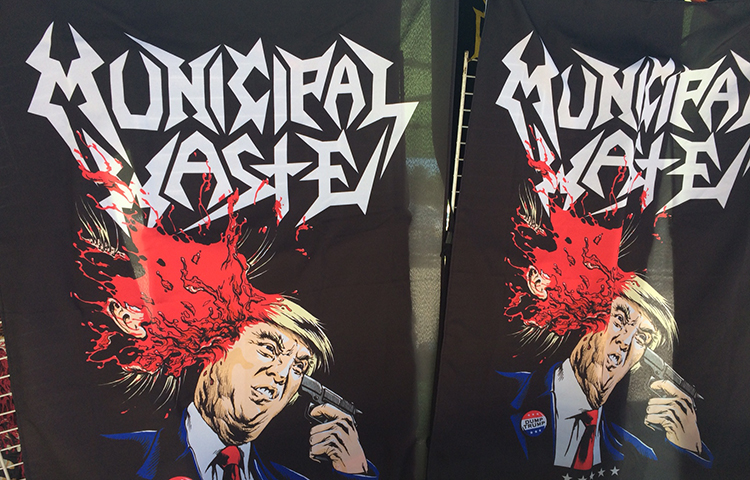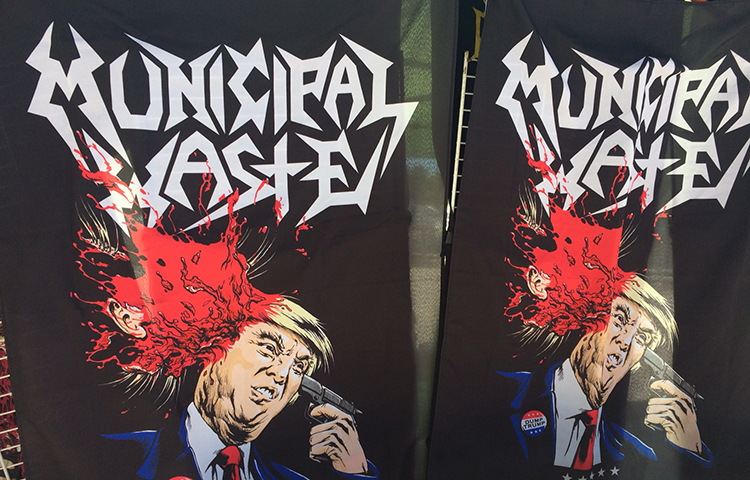 We've come a long way since the "Not My President" shirt's creation, but in many ways, the spirit of Warped Tour remains the same. Hours after overhearing a band say "Throw your hands up if you follow us on Twitter," I found myself standing in front of Anti-Flag, just as I had been 15 years earlier. There at the Hard Rock Stage, the Pittsburgh punks—now one of the older acts on the tour, and playing their last Warped show of the year—played an inspiring and energetic set in which they they asked the respectably-sized crowd to work together to disrupt the comfort of the rich and to fight against racism, homophobia, transphobia, and inequality. Embarrassing as it is to say, I (a prematurely gray-haired business owner with an accountant and shit) felt similar chills that I can remember feeling at Tinley Park.
Whether 17 or 32, it means just as much to hear "Die For The Government" played to a group of passionate people on a sunny summer day in the Midwest. Even if most of the bands, the between-song banter, the products being pushed by banners, and stage sponsors have shifted through the years, the festival—as polarizing, branded, and widely-panned as it can be—still matters. It might not by my favorite festival, but it isn't for me anymore. After 15 years away, Van's Warped Tour hasn't really changed, and that's okay in my opinion. To me, yesterday's events gave me a reason to look back with a newfound appreciation for that July day in 2002. To thousands of kids at the Summerfest grounds, yesterday might be the special July day they look back at 15 years from now.