In 2019, Nile was working his way onto big Milwaukee bills, he was embarking on out-of-town shows, he was earning attention from local media and listeners alike, and he was beginning to hit his stride as a solo artist (in addition to his work as part of the Phat Nerdz collective). Like many others, the Milwaukee-born and Milwaukee-raised rapper experienced a depressing and creatively limited 2020 and early 2021. However, when the world started to open up again, Nile—a.k.a. NilexNile on streaming platforms—hit the ground running.
In recent months, the ambitious artist has performed alongside rock bands, played a Halftime Show, shared the stage with WebsterX in support of Run The Jewels at Summerfest last week, collaborated with a CBD retialer on a "LunchBox" offering, and has been hard at work on a highly-anticipated mixtape. That mixtape, an eight-song release called Free Lunch, will be released on Saturday, September 25. That date also coincides with Nile's performance at Equinox music festival in the Brewery District.
Prior to Free Lunch's release and this weekend's performance, Milwaukee Record spoke with Nile about his ability to fit on all types of shows, the importance of collaboration, plans and goals he has for the future, and why he considers his new mixtape to be "food for thought."
Milwaukee Record: How are things going? It seems like you've been really busy. In the past week or so, you did our Halftime Show series at Cactus Club and I saw that you were performing on stage with WebsterX at Summerfest.
Nile: To be honest, the experience of being backstage at Summerfest alone was kind of crazy, but being able to be on that stage to perform is just a whole different experience. It kind of feel like it was the blink of an eye how fast the experience went. But knowing you're meant for moments like that, I had to take a deep breath, look out at the stage and not be distracted. It was a really good experience.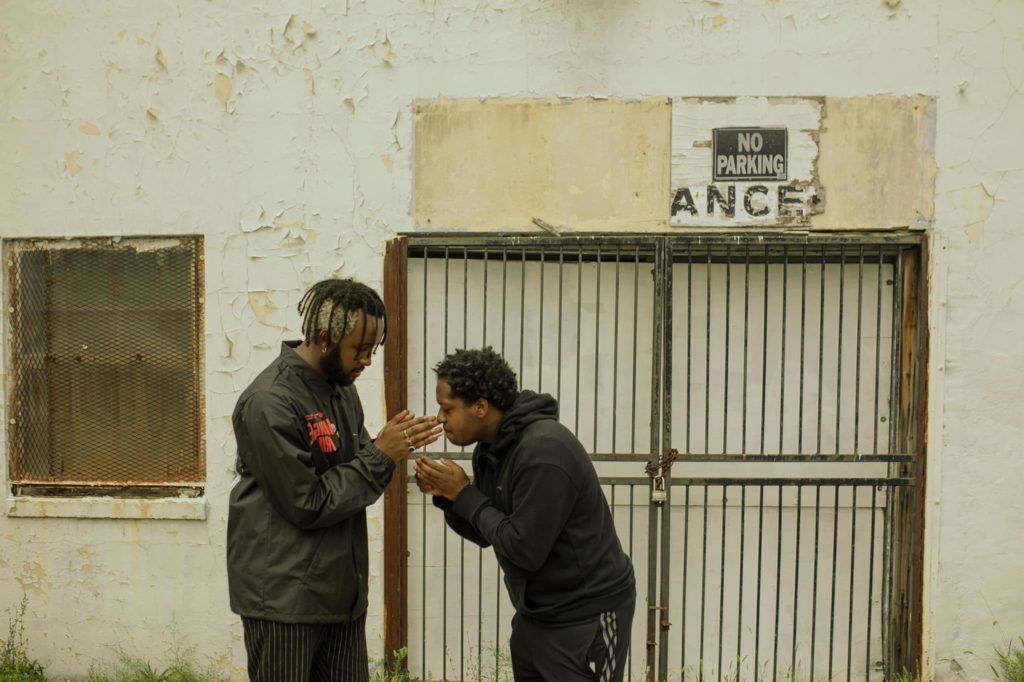 MR: That was right before the Run The Jewels set on that stage as well, so it was a neat opportunity for local people to make a name for themselves and show people who maybe aren't aware of what's going on in their own city what's happening here.
Nile: Even though I work hard, I'm sure there are a lot of creatives in the city that work either as hard or harder than me. I feel like there was a moment where I could have had this opportunity this year. I was having a really crazy 2019. I was going really hard, but I was overlooked for the [Summerfest] opportunity then. Even this year, I felt like I could of had it, but I was overlooked again.
Just the fact that big bro, Web, was—on top of the song me and him just released—like "I feel like it's go time. I really feel like you deserve to be on the stage, bro, so I'm going to bring you out here with me." I really appreciate that. Not only is that huge for the locals, but at the end of the day, it provides an opportunity to broadcast to locals. There's a lot of people in Milwaukee, Wisconsin, and I feel like I made an impression. That's all you can really ask for is being an artist who wants to keep putting your music out to people who don't know nothing about you, who can continue to consume your music whether they do fuck with you or don't. The chance to make an impression is everything for an up-and-coming artist.
MR: There are great things happening right under people's nose, but some listeners thing local automatically means worse—which is absolutely wrong—so some people have to be repeatedly hit with it in a lot of different ways. I feel like you're able to do that. You had a show on The Hop…like, a moving vehicle, and mixed-genre Cactus Club shows, the Halftime Show, and Summerfest, and the upcoming Equinox fest. Those are all different audiences, all different experiences, and I feel you fit all of them very well.
Nile: Man, I appreciate it. That speaks to the artistry as well. I really deeply appreciate all these opportunities. I going to continue to show up to show out. I'm going to give a show no matter where I am. I feel like that's what people get when they come to a set of mine. You may not know me, but when my set is over with, you'll really enjoy it. I'm here to show you that I'm here to make it about you and me, not just myself.
MR: It seems like it is a very interactive experience. Weirdly enough, you were the first artist I saw live after venues really re-opened. It was exactly what I needed: asking people to move up front, put their hands in the air, and be in a room and share a moment with each other. It wasn't just "watch me do something for you." You brought everyone together when we needed it.
Nile: I think it's important to do something to stand out and to be impactful. I guess I was just hoping that my first sets back would be as they had been in 2019, just being interactive and really having fun with people. I was just hoping to continue the energy and it seems like everything is going well so far.
MR: Speaking of that recognition of music as a collaborative experience, you're great at working with others, either by being featured on other people's music or getting help from people like WebsterX and Lafond on your new mixtape. I think that ability to recognize that working together will help reach new places is important to have, too. You can't do it on your own, even if you are the driving force behind it.
Nile: The beautiful thing about this mixtape is I feel like I'm stepping a little outside of my comfort zone because I'm growing. That's how the best version of yourself comes about. I understand what's over there, but how do I get there? I feel like the biggest issue with me as an artist coming up was how do I make a song—a record—with other people. I can rap all day, but how can I talk about something and, at the same time, how can I allow somebody else to come and do their thing without stepping on their toes?
When I started coming up with the ideas for "Bagels," I reached out to Lafond, and she told me how much she loved it and was ready to be down to collab with it. That literally was the start of Free Lunch. I was trying my best to figure out the direction of where to go with Free Lunch, and that was the start of Free Lunch.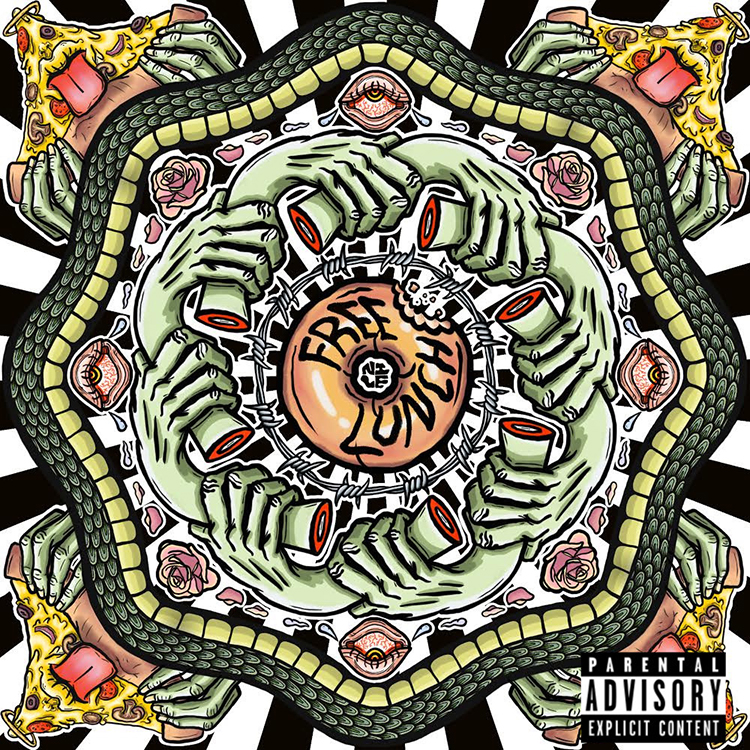 MR: With everything sort of landing under the Free Lunch umbrella, is it a thematic thing where it all fits within one overarching narrative, or is it just eight songs you feel are representative of where you are as an artist now?
Nile: It could potentially be both. There are project cuts that you'll be able to vibe with and understand the overall theme and appeal to a certain story. Technically, Free Lunch is my version of food for thought. I'm just hoping that people use this food for thought as something to utilize in their day to day. There are songs about turning up, a song about something nostalgic and reminiscing about your past, and mood records. I hope the songs do something for the listener because I feel like I threw different versions of me on this mixtape just to give people more of the energy of me. On the last couple projects I worked on, I haven't really been totally excited about them. This mixtape is something I've had the most fun on since probably, like, 2017. I think that it's going to be received pretty well and the theme is up to you, the listener.
MR: Now that we're finally able to look ahead, what's next? Is there anything in the near future that you're excited about or any long-term goals?
Nile: Free Lunch is dropping on the 25th of September. That's a huge moment for me because, again, I feel like I'm going back to the roots of being able to create with the people I love. On top of that, Phat Nerdz is working on a lot more music, so we'll be dropping more music in 2022. Also, we'll have our Phat Nerz Festival next year, but we wanted to play it safe because of COVID. I know I've got more music in the works, of course. On top of the mixtape, I've been working on other things too, just trying to stay on my stride. And just more collaborations.
I want to continue showing people I do belong. I do fit with bigger giants like WebsterX, and maybe one day Klassik or maybe B~Free. I want to show y'all I can still be myself and I can still exist on records with these bigger artists. We can still make dope music that allows the community in Milwaukee—as far as the creatives here—to continue to grow and expand. I guess I'm just trying to be a part of many more projects to make my imprint and impact a lot more know.
Nile will release Free Lunch everywhere music is streamed on September 25. You can see him perform on the Milwaukee Brewing Company Stage at 6:30 p.m. that night as part of the Equinox music festival. Full schedule and tickets can be found HERE.