In our MKE Music Rewind series, we revisit notable Milwaukee music that was released before Milwaukee Record became a thing in April 2014.
I was driving past Shank Hall a few weeks ago when I noticed the long-running East Side club had a fancy new digital marquee. And because it was Shank Hall, that fancy new digital marquee was promoting a Pat McCurdy show.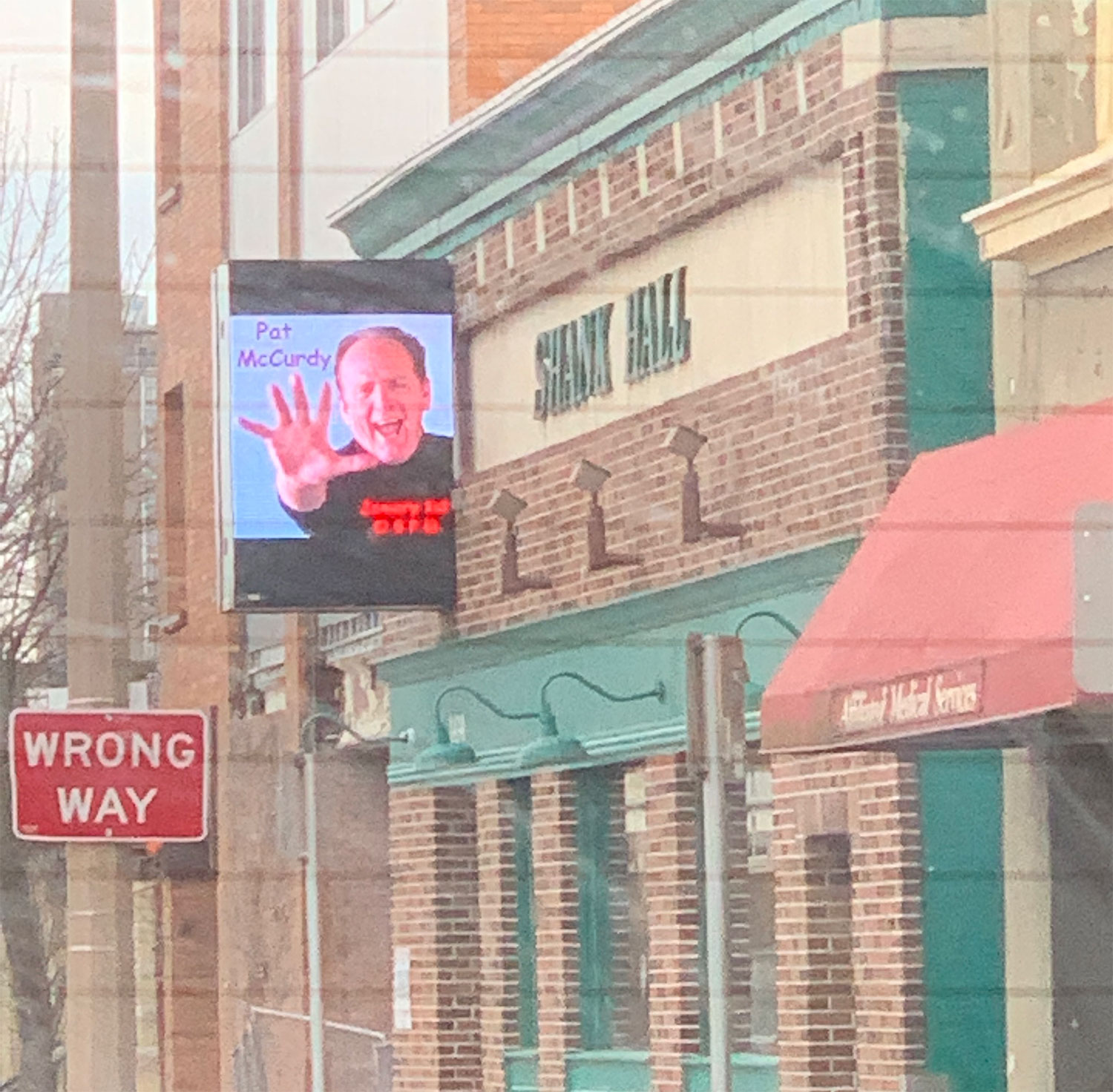 McCurdy, of course, is the forever-ubiquitous Milwaukee acoustic singer-songwriter who specializes in sing-along novelty songs like "Sex And Beer," "Screw You," and [checks Spotify] "Chokin' The Gopher." He plays out constantly. He's a Summerfest staple. He did a Packers song called "We Love The Green And Gold," and Larry the Cable Guy was in the video for some reason. Love him or hate him, dude has been making music and delighting folks for decades. May we all be so lucky.
But wasn't McCurdy originally a member of a beloved Milwaukee power-pop band? Yep! The band in question was Yipes!
Formed in 1977, Yipes! featured McCurdy on vocals, Mike Hoffmann and Andy Bartel on guitars, Pete Strand on bass, and Teddy Freese on drums. "Yipes began in November of 1977 when the band took over Pat's parents' basement and began three weeks of rehearsal," Strand told OnMilwaukee in 2014. "We took the show live around Thanksgiving and were off, playing 250-300 shows per year."
That's a lot of shows! In a 1978 interview with the Milwaukee Sentinel (archived on McCurdy's website), Strand describes the band's nonstop '70s schedule, as well as its casual attitude toward success:
"Individually we're not the best musicians around," he admitted, "but we all play together real well. We don't have any egos or maestros up there on stage. So we're going to keep going as we are, playing four days a week and rehearsing in between.

"If we get a break, great. At the end of the year, we'll take stock of what we're doing musically and where we want to base ourselves."
Yipes! did get a break. After the group's cheeky power-pop-meets-new-wave sound took hold in Milwaukee, Madison, and beyond, Millennium Records (a label distributed by RCA) released Yipes!'s self-titled debut in 1978. The record cracked the Billboard 200, reaching #171.
A follow-up LP, A Bit Irrational, was released in 1980. Millennium dropped Yipes! soon after, and the band members went their separate ways. McCurdy fronted a few more bands before finding solo success. Hoffmann stuck around and became a Milwaukee music staple, playing with bands like Semi-Twang and The Delta Routine. Yipes! reunited in 2013 for their induction into the Wisconsin Area Music Industry (WAMI) Hall of Fame. A third record, Yipes!!!, followed five years later.
But what about that first, single-exclamation-point record? It's a fun, hook-filled collection of songs marked by a late-'70s piss-take sense of humor. Opener "This Is Your Life" is a sharp-elbowed and snarky anthem to high-class living. "Out In California" is a snotty diss track aimed at well-tanned West Coast denizens (opening line: "Out In California / They think they're really cool"). "East Side Kids," meanwhile, brings that snark back home (opening line: "East Side kids always get what they want"). "Russian Roll" and "The Ballad Of Roy Orbison" are late-album highlights, the former channeling early Elvis Costello and the latter slowing things down for a surprisingly tender love song.
Musically, the Flamin' Groovies-style sound of Yipes! has aged well, with many bands still drawing on it today. (It's easy to hear echos of a punkier Yipes! song like "Me And My Face" in the music of a current Milwaukee band like Rexxx.) Perhaps the only modern-day sticking point is McCurdy's gregarious, "ain't I a stinker?" delivery. Even Robert Christgau zeroed in on it in his otherwise positive review of the band:
The problem is leader Pat McCurdy, who has one of those 'good rock voices' that enable the artiste to shout in tune but don't permit much nuance. You can almost see him curling his lip and raising his eyebrows whenever a joke comes up. Oh well.
But again, McCurdy is still using that "good rock voice" to delight packed bars and grills more than 40 years later, so good on him.
The members of Yipes! got together a few more times after their 2013 reunion, playing as late as 2019. Sadly, Hoffmann passed away in late 2021. A planned tribute show at The Cooperage—featuring a Yipes! performance—has been postponed due to COVID-19. Both with the band and with others, Hoffmann was a Milwaukee music legend. R.I.P.
Exclusive articles, podcasts, and more. Support Milwaukee Record on Patreon.
---
RELATED ARTICLES