Three years ago, beloved Bay View bar Burnhearts concocted a crazy scheme: stage an outdoor block party in the dead of winter. Even crazier was the fact the from the get-go, Mitten Fest was an instant success, bringing live music, food, drink, and art outdoors to a two-block stretch of Potter Avenue. To top it off, the event was also a benefit for the Hunger Task Force. (Nearly $3,000 and 2,000 pounds of winter clothes were collected for the organization in 2014 alone.) This past Saturday, Mitten Fest experienced its biggest year yet, no doubt helped by oodles of well-deserved buzz and some remarkably mild weather (for February in Wisconsin, at least.) What follows are some of our personal highlights from the 2015 edition of Milwaukee's best cold-weather blow-out. (Final fundraiser tally for this year: 80 bags of clothing; 6,000 pounds of food; and nearly $4,500 in cash.)
• Warm-ish weather, no snowfall (like last year), and sunshine? Their are summer block parties that have less luck than this. Anyway, here's a picture of Potter Avenue taken Friday, before the Mitten Fest madness. Stick around for the "after" shot.
• Have we mentioned how much we enjoy Sin Bad lately? Well, we love Sin Bad. Like the comedian by the same name, the band belongs in the 1990s, but that doesn't make the new pop-punk/emo revival amalgam any less enjoyable at 1 o'clock on Saturday in 2015. While the crowd is only in the hundreds by this point (most of which is standing by the beer stations and craft area), small pockets of early attendees enjoy Sin Bad's energetic set populated with could-be Get Up Kids and Mates of State B-sides from the trio's impressive 2014 demo, along with a cover of Archers Of Loaf's "Harnessed In Slums" for good measure.
• A mountain of snow occupies the empty lot across from Burnhearts, and is the de facto playground for the many children in attendance. We try to snap a few pictures from atop the great pile, only to get playfully pelted by snowballs.
• Knowing thousands of people are on the way, we take advantage of the acceptably short beer lines and nurse a Founders All Day IPA and peruse the local crafts.
• Towers singer Zach Byrne is sporting a Milwaukee Bucks cap as he and his band bring some intentional (and unintentional) rock-and-roll guitar feedback to the day's proceedings. It should be noted that the sound is terrific for all four bands—another Mitten Fest success story.
• Towers' unofficial coming out party is great. However, at just eight songs, it's also incredibly short. That and Greatest Lakes' meticulous attention to detail regarding their sound levels and monitors lead to a near-90-minute gap between the second and third act. Fortunately, Vanguard co-owner and Marilyn Manson documentarian Chris Schulist is once again providing between-band jams. He's rolling out some serious hits for 2015: Rick Astley, Guided By Voices, Positive K, Boz Scaggs, Slayer, and plenty more (including local cuts from Jaill, Midnight Reruns, Call Me Lightning, and more). At one point, in a nod to the long lines for the Port-A-Johns, Schulist addresses the crowd: "Next year we're all wearing Depends!"
• Like years past, there are lots of "Line Fest" jokes floating around the brisk winter air. And yes, like years past, the lines are long at peak hours: 20-30 minutes for a bourbon-barrel-aged old-fashioned at "Brandy Land," by our estimation. Hell, there's a line to get in the bar that stretches across Potter. Still, no one seems to mind, and there's plenty of entertainment to be had from people trying to buy their way to the front of the line. We turn down multiple $20 offers.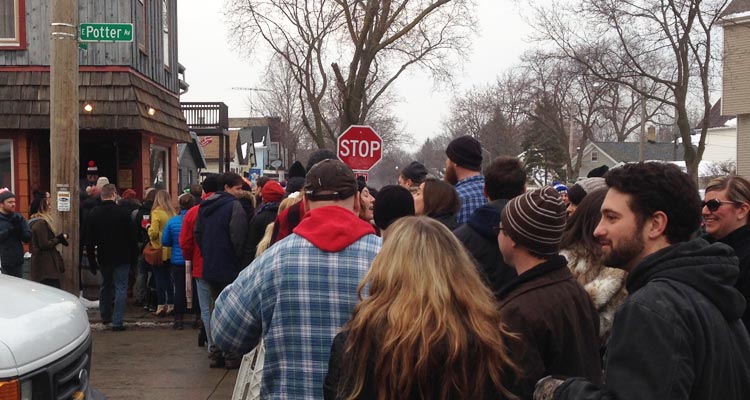 • Mitten Fest is enforcing a "no carry-ins" policy, though that isn't stopping certain people from sneaking in their own booze—and subsequently getting shaken down by security. One gentleman tries to convince a bemused guard that his Pabst Tall Boy is a donation for Hunger Task Force, to no avail.
• Even if Greatest Lakes made the sound engineer work for his check, it was well worth the wait, as they delight the largest crowd of the day (composed of both 1 p.m. holdovers and a wave of newcomers) with tight, true-to-album versions off their great 2014 self-titled debut. Why don't more bands have a singer/auxiliary percussionist?
• Even when adhering to the "dress in layers" winter rule, standing outside for six hours in February can get a little chilly. Seeking warmth-giving sustenance, we head over to the Goodkind booth. Co-owner Paul Zerkel recommends the bone broth, noting that it's currently all the rage in dining scenes across the country. Skeptical, we give it a shot anyway, and receive a cup containing two (2) bones and one (1) cupful of beef stock. And ho-ly shit, it's good: warm, flavorful, delicious. If this is the latest trend, consider us on the bandwagon.
• For all the breathlessly touted and generously funded "placemaking" projects popping up in Milwaukee these days, it's nice to realize that the undeniably awesome Mitten Fest is organized by a group of people who own a bar. No grants, no city hall proclamations, no insipid marketing-speak: just good people doing good things. That's the Milwaukee we love.
• Case in point: Burnhearts owner B.J. Seidel is seriously busting his ass today, dumping trash can after trash can full of plastic cups and other refuse into nearby dumpsters. Halfway through the afternoon, we even spot him on top of Brandy Land, snapping pictures of the action below. During Canopies' set, he was wheeling three kegs through the unrelenting sea of people. Hats (and mittens) off to him, and to everyone who made this year's event such a rousing success. Here's that "after" photo.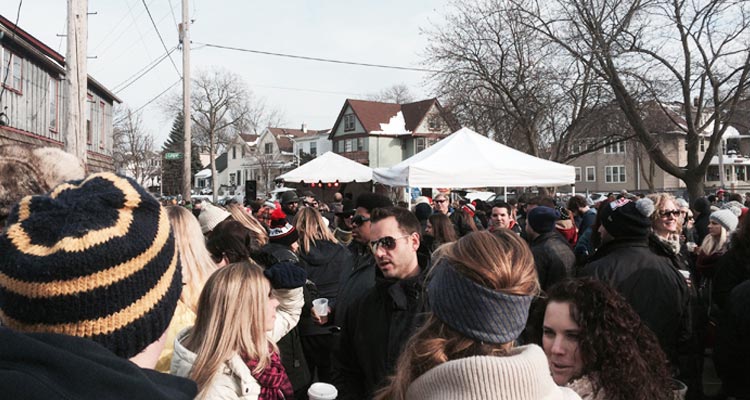 • As the day wears on, the crowd continues to swell, and half barrels of Founders and Central Waters suds are being emptied at an unbelievable clip (even with enforcement of the "no carry-in" policy becoming exceedingly lax). As Canopies play, this gentleman dressed in a bear costume enjoys a cigarette.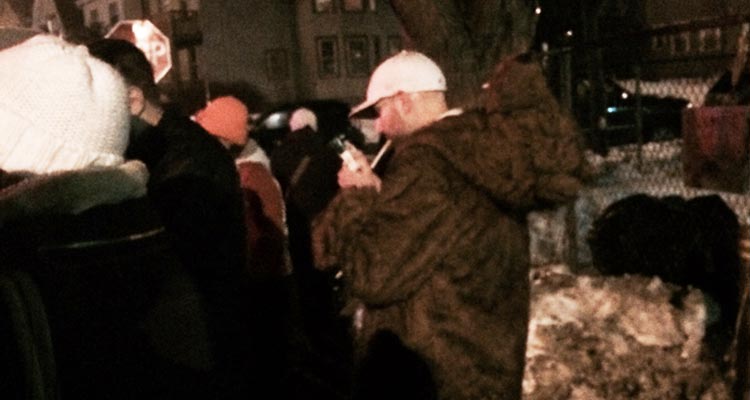 • Nearby, we're able to snap a covert shot of the aforementioned children playing on the snow. The now-brimming dumpster serves as snowball protection.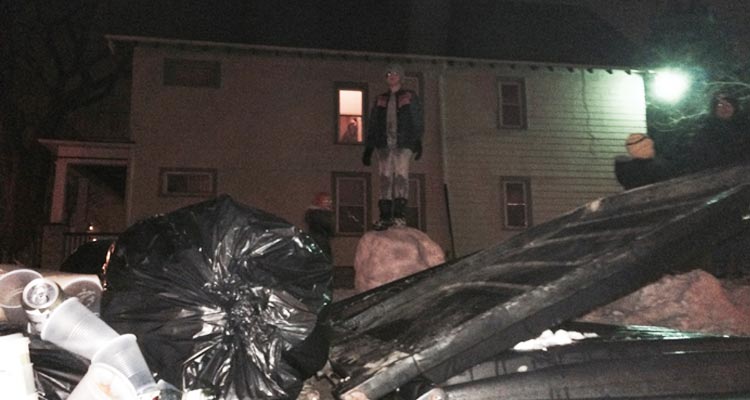 • Is there a better Milwaukee band working today than Canopies? Maybe, maybe not. Either way, the spaced-out synth-pop act proves to be the perfect choice for this year's Mitten Fest headliner. We have it good, Milwaukee.
• This was by far the best, most attended, and most temperate Mitten Fest yet. Let's do it again next year.