Our fat-free, dolphin-safe Milwaukee events calendar is chock-full of things to do, but only a handful of events are worthy of the lofty honor of "Record Recommended" (patent pending). Here are our recommendations for November 11-17, 2019.
MONDAY, NOVEMBER 11
Jesse Malin + Trapper Schoepp, Diane & The Gentlemen @ Shank Hall
Singer-songwriter (and former D Generation vocalist) Jesse Malin makes a welcome stop in Milwaukee in support of his latest record, the Lucinda Williams-produced Sunset Kids.
TUESDAY, NOVEMBER 12
The Chainsmokers + Lennon Stella, 5 Seconds Of Summer @ Fiserv Forum
If you enjoyed The Chainsmokers' "loud, dumb Summerfest spectacle" back in 2017, here's your chance to relive the magic.
WEDNESDAY, NOVEMBER 13
Candlebox @ Turner Hall Ballroom
If you enjoyed Seattle's Candlebox over the course of the band's 25 years, here's your chance to relive some actual magic. "Far Behind" is still great.
Torche + Eye Flys, Conan Neutron & The Secret Friends @ X-Ray Arcade
THURSDAY, NOVEMBER 14
Tour de Brady Street @ Brady Street
Starting Thursday, November 14 and running through Saturday, November 16, Lakefront's "Tour de Brady Street" will encourage adventurous folks to visit a total of nine bars location on or near the East Side thoroughfare and complete a series of challenges for raffle tickets. The event is one part bar crawl, another part scavenger hunt. After the three-night extravaganza is through, people can find out if their hard-earned raffle tickets will translate to any prizes during a Grand Finale Party at Lakefront Brewery, which will also include a Shle Berry performance. (Through November 16.)
Daniel Van Kirk + Andrew Youngblood @ The Underground Collaborative
Dan Van Kirk is the pride of Rochelle, Illinois. The (now-L.A.-based) stand-up comedian, improvisor, impressionist, and podcaster—who's probably best-known in the medium for his work alongside the Sklaar Brothers on Dumb People Town—returns to his beloved Midwest with fellow comic, Andrew Youngblood, when "The Together Tour" drops by The Underground Collaborative.
Montell Jordan @ Potawatomi Northern Lights Theater
You see, the hood's been good to Montell Jordan, ever since he was a lowercase G. But now he's a big G and he's got a concert at Potawatomi Hotel & Casino in November, y'all. If you want to hear "This Is How We Do It" and "Let's Ride" live, here's your chance.
The Demix + Fuzzy Logic, Fancy Nancy @ X-Ray Arcade
Full Moon Karaoke And Variety Show @ Company Brewing
FRIDAY, NOVEMBER 15
Chicken Wire Empire + Chris Castino of Big Wu @ The Back Room @ Colectivo
Even though Chicken Wire Empire—a bluegrass band that's been the subject of an hour-long film and who have shared the stage with the likes of Yonder Mountain String Band and The Big Wu—have little left to prove, the group didn't waste any time before making good on their New Year's resolution when they released their first record in more than four years, What Moves Mountains, on January 1. At the tail end of a year that featured that long-awaited follow-up and will culminate with a tour in Germany, Chicken Wire Empire hold down The Back Room @ Colectivo for a two-night residency.
Wavy V (record release) + L'Resorts, Caley Conway @ Anodyne Walker's Point Roastery
We forget where we read it, but we're pretty sure someone called Wavy V "Milwaukee's answer to The Zombies." It's an apt description, yet the group's intricate, delicate, and baroque psychedelia is entirely its own. This is a band with not one, but two flutes. Emily Morrow and Riles Walsh have been terrific together since their days in The Candliers, and their voices and talents are on fine display again. Tonight, the group celebrates the release of a new single, "The Fools Have Gone To Bed."
Penelope Antena + LUXI, Fuzzysurf @ Club Garibaldi
Milwaukee Jazz Book Release: Jamie Breiwick + KASE @ Jazz Gallery Center For The Arts
Cinema Hooligante: Tammy And The T-Rex (gore cut) @ Oriental Theatre
Orange Drink (record release) + North Breese, Dashcam, Hot Science @ X-Ray Arcade
Chelsea Handler @ Riverside Theater
Free Dirt + Jeff Mitchell, Hughes Family Band @ High Dive
The Grovelers + The Unheard Of @ Circle-A Cafe
MAM After Dark: Friendsgiving @ Milwaukee Art Museum
SATURDAY, NOVEMBER 16
NBA Jamboree (NBA Jam tournament) @ X-Ray Arcade
Are we hosting a city-wide NBA Jam tournament at X-Ray Arcade? Yes we are. This all-ages event will pit players from all around the region against one another in a day-long battle for the title of metro Milwaukee's best NBA Jam player. If that lofty honor isn't enough to bring you out, top finishers will also win some amazing prizes. There will also be a loser's bracket winner. While you wait your turn in the tourney, you CAN buy a bucket of Enlightened Brewing Co. beers (including the aptly-named Cream City Brix) or get your chest "heating up" with specialty Jeppson's Malört cocktails (and shots) made available exclusively for the tournament. X-Ray will have other games on free play all night long as well. Get your tickets HERE.
Sat. Nite Duets + Vanity Plates (David Berman & Daniel Johnston tribute) @ Circle-A Cafe
The recent one-two loss of Silver Jews/Purple Mountains genius David Berman and legendary singer-songwriter Daniel Johnston was devastating. Want to celebrate these incomparable artists? Then go to this show, which will feature Sat. Nite Duets performing the music of Berman, and Vanity Plates performing the music of Johnston. All proceeds will go to the National Alliance On Mental Illness (NAMI).
Genesis Renji (record release) + J-LAMO, Mo'City, Von Alexander, CT @ Bremen Cafe
Come Holy Spirit + Gnarrenschiff (split release) @ Acme Records & Music Emporium
Chicken Wire Empire + Armchair Boogie @ The Back Room @ Colectivo
Dashcam + LUXI @ Pabst Milwaukee Brewery & Taproom
Cinema Hooligante: Tammy And The T-Rex (gore cut) @ Oriental Theatre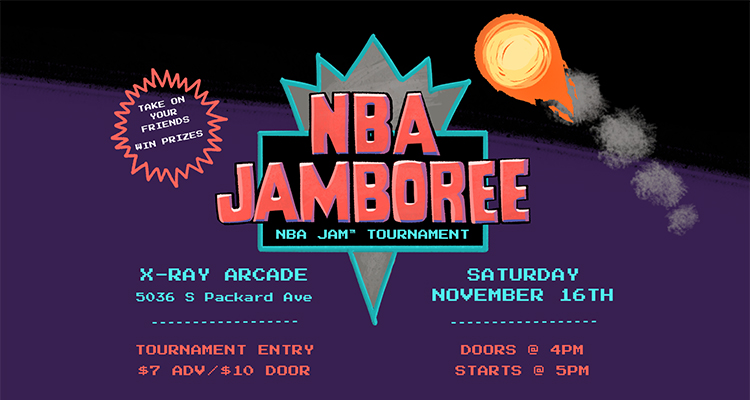 SUNDAY, NOVEMBER 17
My Brother, My Brother, And Me @ Riverside Theater
"The McElroy brothers are not experts, and their advice should never be followed." That's the tongue-in-cheek (?) disclaimer that precedes My Brother, My Brother, And Me, the long-running and wildly popular "advicecast" that has been gracing earbuds for nearly a decade. What's it all about? Brothers Justin, Travis, and Griffin McElroy offer their advice on questions from both listeners and Yahoo! Answers. Hilarity ensues. Ridiculous digressions, years of in-jokes, and guests ranging from Lin-Manuel Miranda to Jimmy Buffett also figure into the fun.
Warhola Cats (record release) + Future Living Things @ Company Brewing
The Marcus King Band + Aaron Lee Tasjan @ Turner Hall Ballroom