As I'm prone to sliding into posts from time-to-time, I grew up in the Fox Cities. For almost 20 years of my life, I had an Appleton mailing address. It's a great place, but there always seemed to be a lack of establishments that host original music on a regular basis, not to mention a shortage of touring acts (even from Milwaukee) coming through town. So when the inaugural Mile Of Music happened last year, I took notice. Not, like, "actually go to it"-level of notice, but I kept tabs on it heading into this year. This year's Mile Of Music (called "Mile 2") brought in more than 220 bands to play 30-plus places over four days; to my delight, a massive amount (39 bands and 88 shows, to be exact) of bookings in the "hand crafted artisan festival" this time around were Milwaukee bands. Even though they call it a "hand crafted artisan festival" and that's awful, I decided to drive 100-plus miles and walk up and down a mile stretch of downtown Appleton for four days with an aim to see as many Milwaukee bands as I could. It wasn't always pretty and it wasn't always fun, but here's an exhaustive recap of my all-Milwaukee Mile Of Music.
THURSDAY
By the time we arrived in Appleton and parked near "The Ave" (a colloquialism for College Avenue), it was about 7:30, which was partway through the five-hour Milwaukee music lull on a fairly under-represented opening night. I decided head to Fox River House, my go-to bar in town, to try my first "Mile Of Music Pale Ale," a decent-yet-safe take on IPA that was brewed (or, likely, just re-labeled) for the festival by Appleton's own Stone Arch microbrewery. Out in the beer garden, I tolerated something called Reuben, who tried to get us to sing along with a song we didn't know. Meanwhile, an already-drunk dude in his 40s sidled up beside me, closed his eyes, and shoved a sloppy burger in his face harder and more vigorously than I'd ever seen done before. Still, watching a middle-aged guy mouth-fuck a cheeseburger 18 inches from my face beat singing a contrived "folk" (a term that would lose all semblance of meaning within the next 48 hours) band's chorus about stamps.
Eventually, I made my way to the first night-time Milwaukee option in the vicinity, Thriftones at a bar called The Bar. A visibly wasted "bouncer" who pushed maybe 140 pounds took my ID and, noticing my laminate, told me I should go on stage. I declined. Thriftones put on a much better show than I would have. It was band's inaugural Appleton performance, and it was my first time seeing them as well. Singer Matthew Davis seemed gracious, even as said bouncer attempted to fight his boss on the sidewalk directly behind the band. Eventually, cop cars were aplenty outside The Bar, as they tried to suss out a different fight. When I wasn't distracted, Thriftones put on a good show. As enticing as the night's events had been to that point, I decided to leave Mile Of Music for the night. Midnight Reruns was playing nearby later on, as was Shoot Down The Moon, but I saw they were both playing Friday afternoon. I eagerly left the utterly unappealing opening night, vowing to catch both bands early the next day.
FRIDAY
Turns out my right rear tire had other ideas. Following a lengthy mid-afternoon ordeal to repair my valve stem (costing me $17 and the chance to see 13 Milwaukee bands play) and pondering entirely abandoning Mile 2 not even a kilometer into the festival, I rushed to Mill Creek in effort to catch some of the 5 p.m. Midnight Reruns set, the band's third and final MoM performance in the last 19 hours. I arrived as the band was finishing its next-to-last song. After, guitarist Karl Giehl said, "We have one more song. Then we're going to get drunk" in likely response to the 20 people in attendance, many of whom were nowhere near the stage. They finished with a blistering rendition of "Basement Guy" and promptly started loading their equipment.
I continued east on College Ave. and rushed to Ole Town Tavern to catch the beginning of Myles Coyne's 5:55 set (his second of the day). After playing "Minotaur" on his own to a talkative and inattentive corridor tavern, Coyne—who's somehow still alive after carrying Breadfest on his back—was joined in his tiny entrance-adjacent corner by mandolin player Jordan Maye, who pitched in on "The Windy City" and (in defiance of Mile 2 policy) a cover—of a song by his friend Caley Conway. Confronted with tons of Milwaukee overlap and needing to make up for lost time, I waved goodbye to Myles' mom (whom I met minutes earlier) and headed west to something called X-tra 920.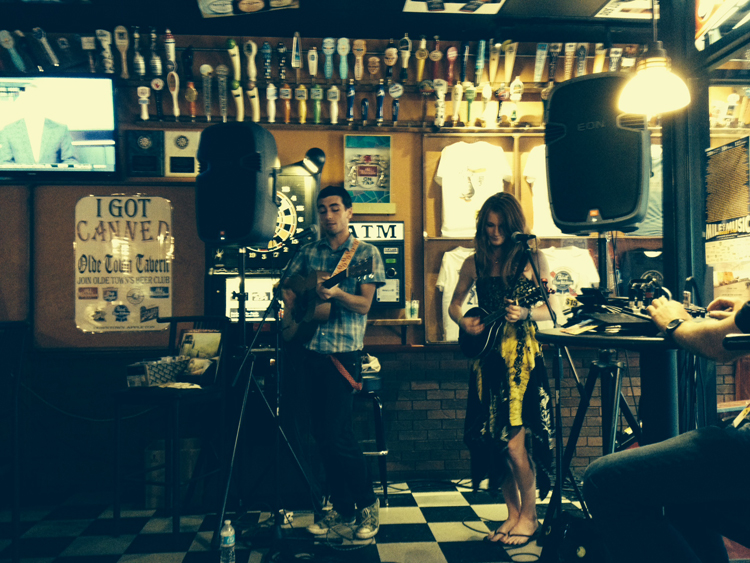 One aspect of Mile Of Music that is both great and unfortunate is that it occasionally forces music fans and bands into establishments they might never organically visit. The 6:10 slot at X-tra 920 seemed to land on the unfortunate end of the spectrum for The Fatty Acids and those who came specifically to see the Milwaukee favorite. Imagine what a place that would intentionally misspell its name to utilize the ever-posh, informal-yet-influential letter X and rep Appleton's 920 area code. Can you picture it? You're probably right. After passing through the metal detector (yes, metal detector), and thanking the heavens I wasn't epileptic, I navigated the florescent light fixtures, the various velvet ropes partitioning off the unused VIP sections in the new establishment, and the glass displays full of Grey Goose on hand for bottle service, I made my way to the stage just as the Fatties were beginning. A patchwork crowd composed of about 50-60 fans and people likely wanting to scope out the brand new ultra lounge (or whatever it is) looked on as TFA performed cuts from Boléro, one-offs from comps and splits, and a heft of new material with the composure and energy of an experienced act who wasn't being hit with the crushing realization they built a day into their ongoing tour to return to Wisconsin, only to play at X-tra 920 at 6 o'clock.
After partaking in bottle service of a couple High Lifes, I made my way to nearby Vic And Gab (And A Drummer), who was playing its final song at Deja Vu Martini Lounge. Rats! Fortunately, the sister act was playing the following afternoon. With a 45-minute gap between Milwaukee acts, I convinced some friends who were well aware of the infamy of Luna Lounge (including a guy being fatally shot there last year, and ex-Packers linebacker Nick Barnett allegedly shoving a woman to the ground when the club was called "Wet" before that) to accompany me to the night club-turned-temporary venue to catch Kane Place Record Club's show there. We were a bit early, so we knew we were in for a wait. Then we waited some more. Eventually, we noticed Kane Place—who had finished sound checking—should have been 30 minutes into their set already, and I was late for the show I was most excited to see. I vehemently apologized to my companions for making them go to Luna, all for a band that wouldn't play due to a member's decision to no-show, and I speed-walked to the other end of the festival.
As I entered the Lawrence University Chapel, I could already hear Christopher Porterfield playing. I managed to snag one of the last vacant seats in the back row of the crowded church. Since I try to see the Field Report front man whenever possible (I highly recommend you do too), the gorgeous, heart-wrenching  material wasn't altogether new to me. Something new I was hearing, though (at least compared to some particularly rude MoM audiences), was the absolute silence of a captivated chapel. As Porterfield plucked and strummed the parts to the yet-unreleased song, "Pale Rider," he took a couple steps back and let the church walls carry crushing lyrics about a dead boy who would've been six years old to fill the silence left by the enraptured audience. On his final song, "Summons," (also on the forthcoming Marigolden) the guest of honor requested the 400 to 500 people in the church supply some "Oh"s to sections of the song. Watching one man lead an entire church congregation of people largely unaware of who he was in a song they'd never heard before was an incredible and moving experience. Here's a grainy submitted video of what it was like.
SATURDAY
In addition to businesses on and around the downtown main drag of College Avenue, there were a couple outliers involved in Mile 2. The furthest away and seemingly the weirdest fit was Skyline Comedy Club. The reputable mid-sized third floor club is about a mile from the majority of the festival. Apparently a free shuttle brought people there, but instead, I waited until something I wanted to see was at the beginning of a day before visiting Skyline and heading to The Ave for the rest of the day. Just after noon on Saturday, Twin Brother was that band. The first of the band's three-show Mile Of Music run was also its worst attended, likely due to time slot and location. I was part of a crowd that topped off at 15, including staff, or 16, including a strange Jeffrey Ross painting near my two-top table. When not using the stage to work on his comedy routine, Sean Raasch and band eased folks into day three of Mile 2 with a set brimming in delicate and all-around pleasing material off the forthcoming Twin Brother record, Swallow The Anchor (coincidentally, streaming on Milwaukee Record this week).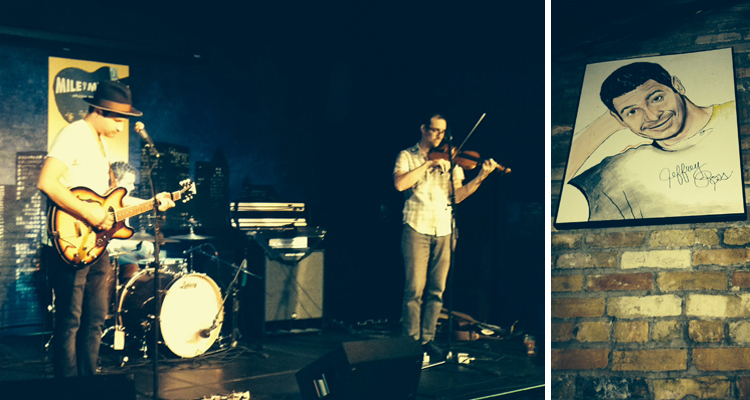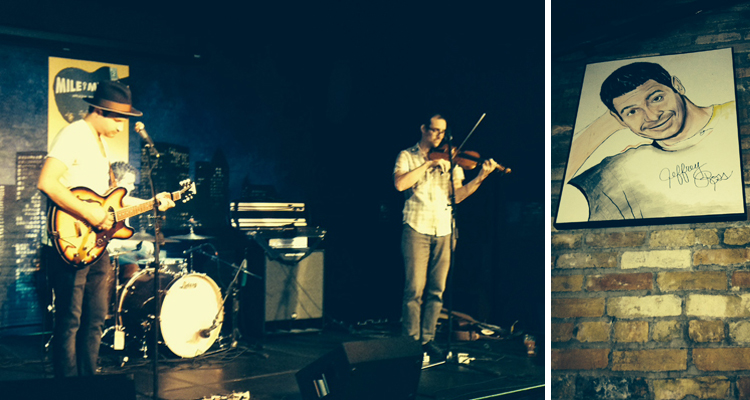 From there, I kept the brother motif going with Ugly Brothers at Emmett's, a polarizing Little Caesar's-adjacent Richmond Street tavern also on the outskirts of the festival. The eclectic young folkers continued their run of memorable summer festival appearances, this time in a dingy bar instead of outdoors. With members who grew up in Green Bay, this was something of a homecoming show for the band, which brought a sizable contingent of relatives of eponymous brothers Alex and Palmer Shah. Even playing a member short, Ugly Brothers made their families proud with spot-on versions of "Smoking In The Presence Of Cancer" and anti-snow anthem "Rabbit" (complete with harmonica and banjo solos) before giving way to Animals In Human Attire. Faced with five Milwaukee bands playing at some point in the 2:20-3:10 slot, and the other four being bunched together (and not at Emmett's), I decided to bypass AIHA's set and keep the sibling motif going by making good on my meaningless, self-issued promise to see Vic And Gab this time around. The Banuelos sisters were evidently the most popular act in the vicinity at the moment, as they played soothing and inoffensive indie-pop ditties like "Let You Down" to the sun-drenched Anduzzi's patio. When the trio busted out a remixed version of "So Long, So Tired" a little girl got really into it. Check out that air!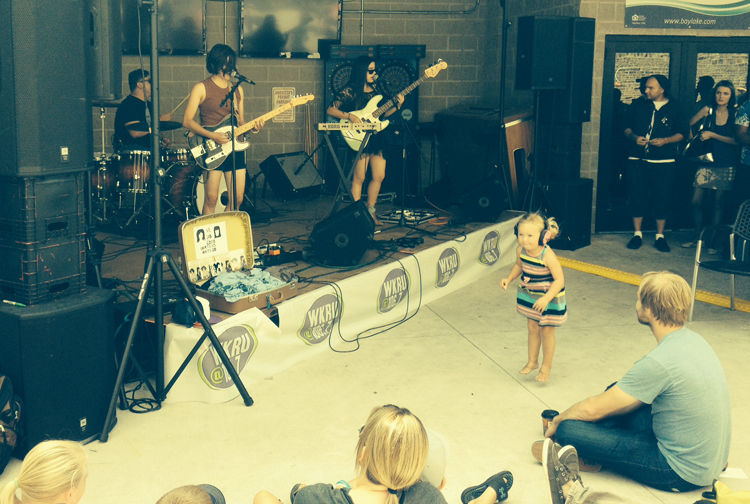 Midway through, we jumped ship and brazenly returned to X-tra 920 for Brett Newski's first in-state show since returning from a European tour (again). Flanked by the rhythm section of Bright Kind (one of the many acts we missed on account of tire troubles) as his backing band, they played next-to-flawless renditions of "Dirt," "The Maths," and "Vs The World" to virtually nobody, until people eventually began to take notice of Newski's sound and they discarded their firearms to pass through the metal detector into the club. Knowing we weren't leaving the band virtually alone, we returned to Fox River House—with Thursday's burger assault there still fresh in our minds—to check out Sugar Stems.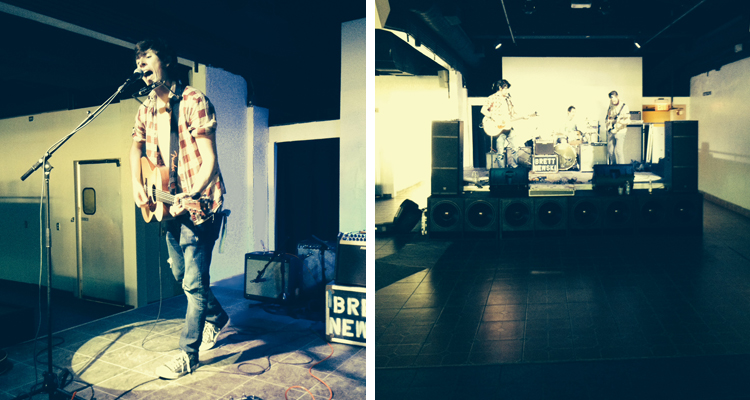 The jangly and timeless pop-rock of Sugar Stems was a perfect fit for the off-Avenue beer bar's lovely rear patio. Fresh off a seven-show jaunt out West, the quartet (keyboard player Andy Harris didn't make the trek) issued a tight and polished performance that leaned definitively in the direction of its soon-to-be-released-locally record Only Come Out At Night, including "The One," and "We Only Come Out At Night" to a packed patio. Again faced with ample overlap, we chugged our Mile Of Music Pale Ale and walked to the Bazil's for a full dose of Christopher Porterfield this time around. What a difference a day makes. Just 18 hours removed from inspiring a packed chapel to sing backing vocals for him, the troubadour was confined to a thin fenced in parking lot side patio that was vulnerable to encroaching audio from a nearby outdoor stage. While not quite the religious experience of Friday's Lawrence show, it was still a tremendous outing that was rife in lovely stripped-down Marigolden samples that quieted even the most oblivious wine-clutching 50-somethings who were "here to see some music" in the mood-diminishing light of day. Fans whose tardiness or claustrophobia found them on the outside of the patio looking in still issued requests between the fence bars, to which Porterfield complied—including Field Report favorites "Taking Alcatraz" and "Incommunicado."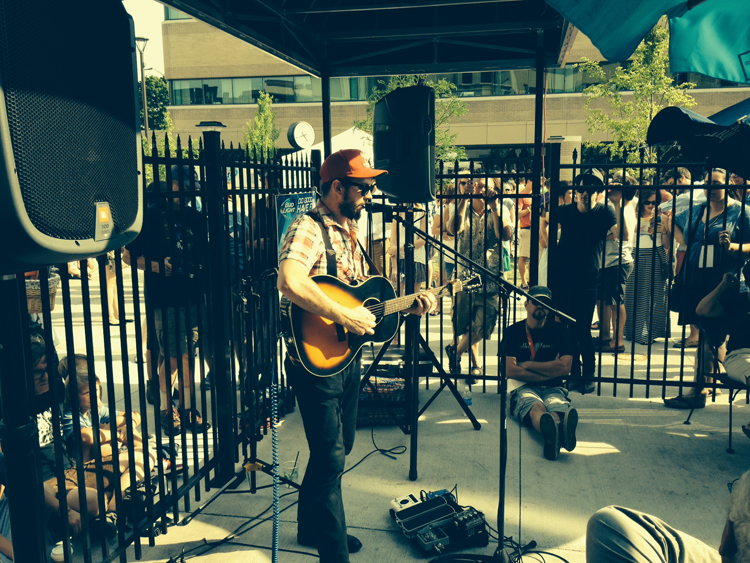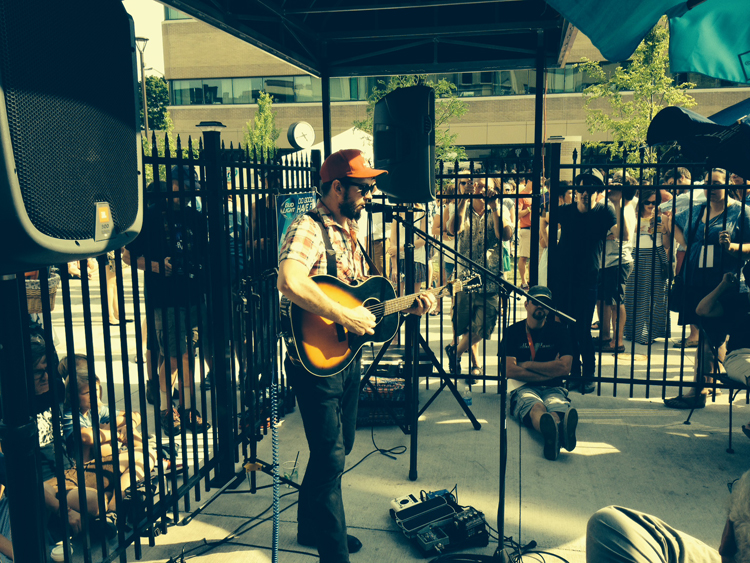 From there, I rushed to catch some of The Midwestern Charm's fourth and final Mile Of Music performance. Adhering to the apparent Luna curse, the moment I entered, singer Conner La Mue broke a string during and "Can't Stand It" from its solid rocker Growing Pains and needed to take time to change it. In all, La Mue—an affable front man who looks like a rom-com male lead's schlubby-but-sage best friend who says things like "Then go get her, man!"—played eight times in four days, be it with Charm, Sleepwalkers or solo sets. Strings will break after that much use. After some Packers banter, the band came back strong with the infectious "Lush" that at least partially pepped up the dim, cavernous shithole where a dude died nine months back.
Buffalo Gospel's Saturday evening performance was one of the MoM shows I'd looked forward to most. Not only was this the first time I was seeing the all-star country outfit live, the band was joined by Christopher Porterfield on pedal steel. I don't know if I mentioned this, but I kind of like his music. With a soft and subdued outing largely populated with songs from 2013's We Can Be Horses, Buffalo Gospel didn't disappoint. The Deja Vu crowd on the other hand… As Ryan Necci and Heidi Spencer's vocals were intertwining masterfully in gems like "Hoarse As A Crow" and "Mule," an incessant undercurrent of bar-side chatter infiltrated the fragile melodies. The stage layout (which only allows a thin row of people to actually face the stage directly) is partially to blame for this. Having an emotive country outfit booked at a fucking martini lounge also has a role. The biggest qualm both I and various members of bands I spoke to had was the apparent lack of thought put into where certain acts would fit and at what time slot. There were 20 better places for this show to occur. Still, if Buffalo Gospel can put on a great show in those conditions (which included a cowboy-hat-clad woman in her 50s asking them to "rock it" between songs), I look forward to seeing them in a dedicated venue and around people who know when to zip it.
After a two-hour breather, I returned to check out GGOOLLDD—one of the most stark departures from Mile 2's unabashed folk, Americana, and singer-songwriter bias—but quickly retreated because it was PPAACCKKEEDD. Evidently, we weren't the only ones seeking an upbeat change of pace. So we settled for the seeing the end of Sugar Stems' second set. Even with booking qualms, when I'm settling for Sugar Stems, your festival is doing something right.
SUNDAY
By Sunday afternoon, a collective calm loomed over College Avenue. With Thursday's shitshow, most people got their "Sunday Funday" out of the way Saturday. A small cast of performers played to a dwindling assemblage of people at Anduzzi's who, like me, were dead set on going every day…for reasons unknown. I did so by seeing the last of the nine Milwaukee acts to play that day, Surgeons In Heat. With singer John Mayer (the other one) in Jaill and the trio working on a new album when Mayer isn't otherwise occupied, Surgeons In Heat hasn't been especially active of late. The band's breezy, borderline lackadaisical strumming of two-minute numbers that toed the line between warmth and utter depression were an oddly-apt Mile Of Music outro. Basked in the warmth of summer, immersed in the realization the festival (and summer) was coming to an end soon. Fortunately, I can retread my all-Milwaukee Mile Of Music in small increments throughout the year without driving 100 miles again. Not to say I won't next year.