It's an unprecedented and incredibly difficult time for restaurants right now. Wanting to highlight local establishments who are keeping food quality high while also keeping its customers and employees as safe as possible during the ongoing COVID-19 crisis, we're going to focus on restaurants that have completely shifted to carryout and/or delivery service in a series we're calling "Carryout Chronicles."
As this weekly series has illustrated, there's no shortage of dining establishments in or around Milwaukee that are offering service in a strictly carryout and/or delivery capacity. We've been doing these articles for months now, and honestly, we haven't even scratched the surface. A great deal of the businesses that currently fall into that classification have made the shift to carryout- or delivery-only within the last 12 months.
On top of completely shifting the way they now serve customers, restaurants have been forced to adjust to using new apps and other contact-free ordering platforms, adapt to ever-changing local health policies, repeatedly ask predatory delivery conglomerates like UberEats and DoorDash to stop undercutting them by delivering their food to customers without their consent, pare down and otherwise modify their menus to work best (or at all) as carryout cuisine, cut costs everywhere imaginable as elected officials argue about goddamn Mr. Potato Head instead of stepping up during a once-in-a-lifetime public health crisis, and have both online and in-person arguments with mislead or just-plain-selfish clientele about a piece of protective fabric and why their staff members deserve to be treated with a shred of basic human decency.
It hasn't been easy for restaurateurs. That's probably the understatement of these unprecedented last 12 months. In fact, it's been a straight-up nightmare for most restaurant owners and staff. If they've tried to do things even close to correctly in the age of COVID, it's been an unthinkably difficult and frustrating time for everyone in the industry. Our heart goes out to everyone who has been working tirelessly to simply stay afloat and keep people safe amid the madness.
There are no winners right now, but if there's one positive that can be taken from this (and believe us, there isn't), it's that food trucks were at least somewhat more prepared to make many of the necessary adjustments when the world turned upside-down last March. As one of Milwaukee's longest-running and most popular mobile food purveyors, Taco Moto was—arguably at least marginally—more prepared to deal with the needs and requirements of responsible modern dining. Having been over a year since our last stop at the truck, we decided to pay Taco Moto a visit recently.
Policies And Procedures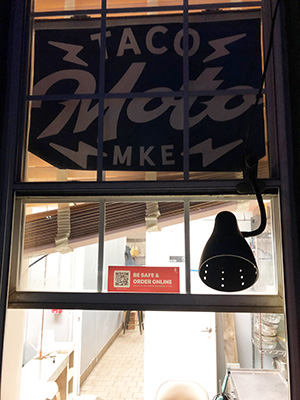 Prior to COVID-19's arrival, Taco Moto could be ordered in person at the truck perpetually parked in the lot of Boone & Crockett and The Cooperage. Food could either be taken to-go or enjoyed either inside Boone or out on one of the property's many exterior picnic tables. Occasionally, the truck would also appear at local events, such as Mitten Fest.
Today, with festivals still on hold, Boone & Crockett closed for the time being, and The Cooperage indefinitely shuttered for live events, to-go is the only way Taco Moto can be enjoyed. Additionally, the food is now prepared inside the Boone & Crockett/Cooperage prep kitchen (820 S. Water Street) and can be picked up at a new Taco Moto window installed at the front of the building. We placed an order online—the only means of placing an order at this time, and our preferred method to be honest!—and in the time it took to listen to the new Mikey Erg album, we were told our food was ready to pickup.
Actually, once CashDrop told us we were "2nd in line," we made the five-minute drive from Milwaukee Record headquarters to the Cooperage compound. By the time we arrived, we had been texted a notification that it was our turn to pick our order up. We masked up, walked to the window, got a fat sack of food from owner/chef Mitch Ciohon, and went home to dig in.
Carryout Quality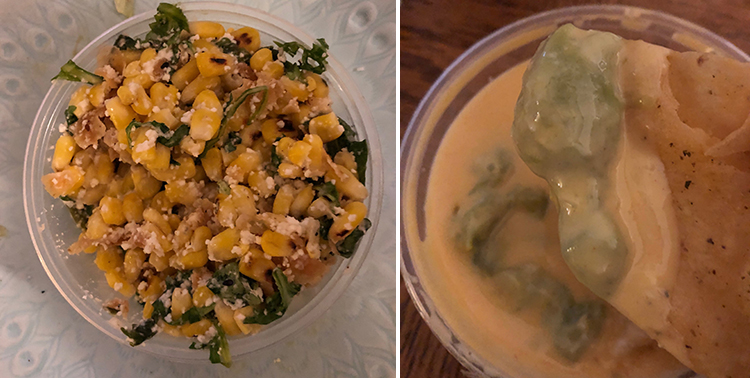 Since we were making up for lost time, we went a little more crazy with our order than we normally would have. We started things off with a Grilled Corn Cup ($4), a confluence of grilled corn, fresh arugula, cotija cheese, and crushed tortilla chips that kicked our meal off in grand fashion. Initially torn between side options, we doubled down and also got an order of "Kwayso" ($4), a house variant of queso with avocado on the bottom. The Kwayso dip comes with fresh, house-made tortilla chips that are generously coated with thick granules of Taco Moto's sweet and savory "Moto Dust" blend. We're pleased to report that fans of the specialty spice can also order a half-ounce "Dusty Dime Bag" for a dollar. Of course we did just that.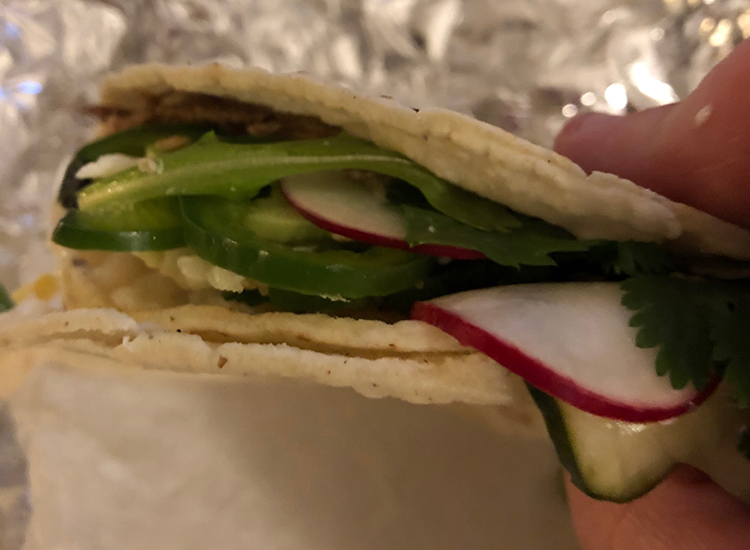 Every single one of our orders from Taco Moto through the years has included at least one Dr. Pepper Braised Pork Shoulder taco ($4). The streak continued this time around, as we made sure to add Moto's house specialty, complete with chunks of distinctly flavorful pork shoulder, pickled, radish, cabbage, cilantro, and aioli jammed between two corn tortillas. The photos don't do this justice (do they ever?!), but this was just what we needed. In an instant, we were treated to bittersweet sensory-triggered remembrances of patio hangs with pals, pre-show snacks, and street fest nourishment.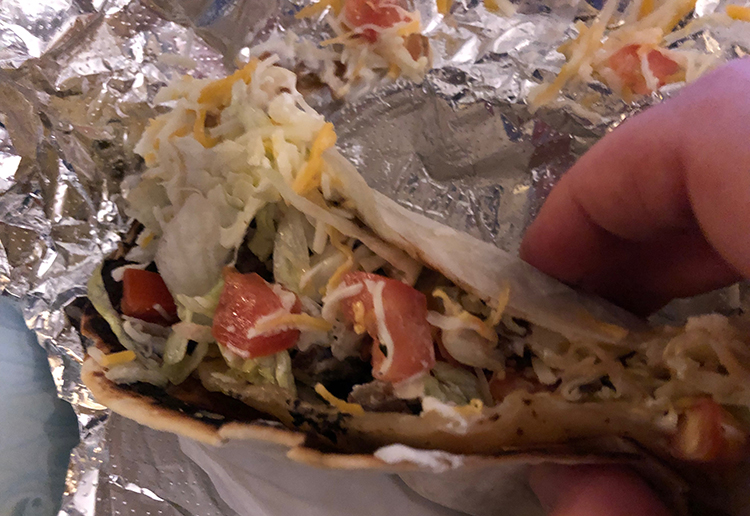 We chased that highlight with Moto's new riff on Taco Bell's bygone banger: the Double Decker Supreme ($5). The elevated take on the now-extinct fast food favorite featured all the familiar accoutrements (ground beef, diced tomato, lettuce, shredded cheese, refried beans, sour cream), but with better ingredients and a higher level of execution than any version the Yum Brands-affiliated chain used to offer. Admittedly, some of the filling fell out by the time we got home and unwrapped it, but we happily scooped up the remnants with a tortilla chip and all was right in the world. We also had a Grilled Chicken Thigh taco ($4) that was very good, but was overshadowed by the other two tacos. Also, we took perhaps the worst photo in Carryout Chronicles history of it (and that's saying something!), so we omitted the Chicken Thigh Taco from this review.
Other Info
We can't forget to mention that Taco Moto has added breakfast tacos and burritos to its Saturday and Sunday arsenal that look huge, super cheesy, and stuffed with french fries. Winter hours are limited to 3-8 p.m. Thursdays and Fridays, 12-8 p.m. Saturdays, and 12-4 p.m. Sundays. And be aware that Taco Moto also sells awesome accessories like Burrito Blaster hot sauce sprayers, shakers or Moto Dust, as well as Taco Moto-branded pins, stickers, and patches.
While we're certainly looking forward to getting back to The Cooperage, Boone & Crockett, and Taco Moto when conditions safely allow, we're happy a beloved food truck-turned-pickup window is here to give us familiar flavors and a taste of better times in a big paper bag. That's good enough for now.