Believe it or not, Milwaukee was once a haven for metal. There was a time—let's call it "The '90s"—when cult European bands that American metalheads never dreamed they'd get to see in person would make a special trip across the Atlantic to play the Brew City's esteemed Metal Fest. Around the turn of the millennium, though, that esteem disintegrated in a storm of mismanagement, lawsuits, and disgruntled artists. Metal Fest is long gone, and nowadays, legends of extreme music are about as likely to play Appleton or Green Bay as Milwaukee.
Every once in a while, though, somebody throws us a bone, and oddly enough, the Pabst Theater group has landed two black metal tours so far this year (assuming you can stomach the idea that Deafheaven is actually black metal, admittedly a stretch). The Norwegian elder statesmen of Mayhem last played Milwaukee at Metal Fest's second-to-last incarnation (July 2000), and have now taken a page from the classic rock playbook, performing their 1994 genre-defining masterpiece De Mysteriis Dom Sathanasin in its entirety on their current tour, which stopped at Turner Hall Ballroom Tuesday night.
De Mysteriis wasn't necessarily the genesis of black metal, but it definitively established the future of the style: brutal, explosive, but lo-fi and relentlessly depressive in aesthetic. The frantic, dissonant guitar in particular has since been emulated by virtually every black metal act since the album's release. Its legend was only enhanced by the fact that its primary lyricist (Per "Dead" Ohlin) committed suicide in gruesome fashion before it was even recorded, and at the time of its release, the album's bassist (Varg "Count Grishnackh" Vikernes) was facing sentencing for the stabbing murder of its guitarist (Øystein "Euronymous" Aarseth).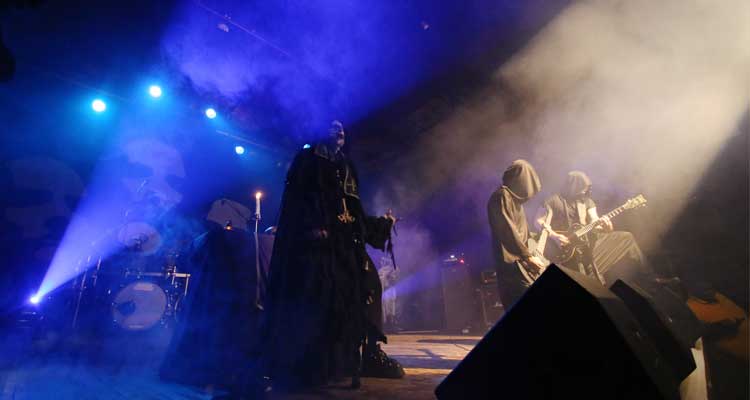 Still remaining in Mayhem from that era are drummer Hellhammer and vocalist Atilla Csihar; original bassist Necrobutcher, the longest-serving member of the band, remains in the fold as well, with guitarists Teloch and Ghul rounding out the lineup for the past few years. Shouts of "Hail Satan!" and "Fuck Jesus!" arose from the crowd as Mayhem took the stage, and the group put on the full candles-and-cloaks spectacle for this performance, though only Csihar wore facial corpse paint. He seemed to relish his role as frontman much more than one would expect from his vocals on Mysteriis, which features choked reptilian rasping more than anything approach actual singing, and his musical theater background served him well during the ominous chanting of the title track.
Mayhem has released four albums since Mysteriis, garnering varying degrees of scorn initially for reforming without its founding guitarist, but the group has retained a level of respect throughout its career and have never made any kind of retread record. Still, the truth is that this iteration is essentially a tribute band; the energy that spawned these songs 30 years ago has vanished from the world, and with this tour, Mayhem has abandoned all semblance of relevance, playing Mysteriis and nothing more.
Still, what a tribute this was: evil nostalgia at its finest, eight songs that virtually every black metal fan knows by heart, performed with proper reverence and style. At age 47, Hellhammer is still at the top of his game, and the two guitarists did proper justice to the source material. Barring a Euronymous hologram, this was about as good a Mayhem show as we're ever likely to get.