Johnny Marr has been working as a professional musician since he was 15 years old—and it shows.
The 55-year-old former guitarist of the influential 1980s post-punk group The Smiths has worked with many bands since the group broke up in 1987, including The Pretenders, Talking Heads, Modest Mouse, and The Cribs. In 2013, Marr released his first solo album, The Messenger, followed by 2014's Playland, and last year's Call The Comet.
On Tuesday night, Marr and his band—consisting of keyboardist/guitarist James Doviak, bassist Iwan Gronow, and drummer Jack Mitchell—gave a lively Pabst Theater audience what it wanted: a healthy amount of Smiths songs interspersed with Marr's solo music.
"Nice to see you, it's been a long time," Marr greeted the enthusiastic theater crowd, which seemed to range from 20 years old to over 60 years of age.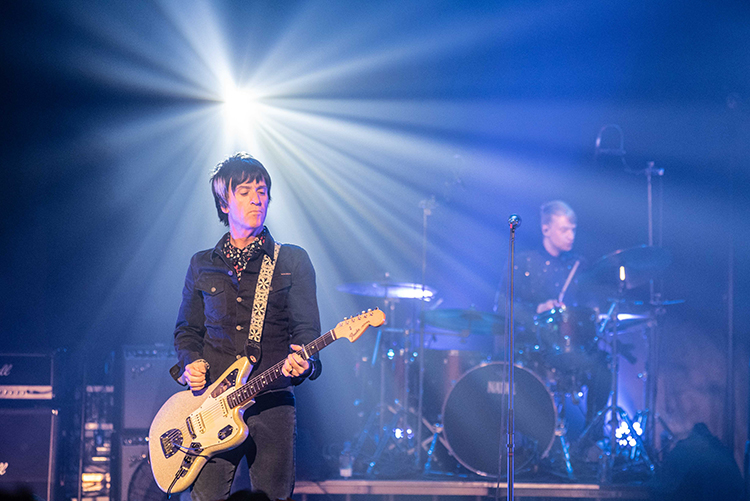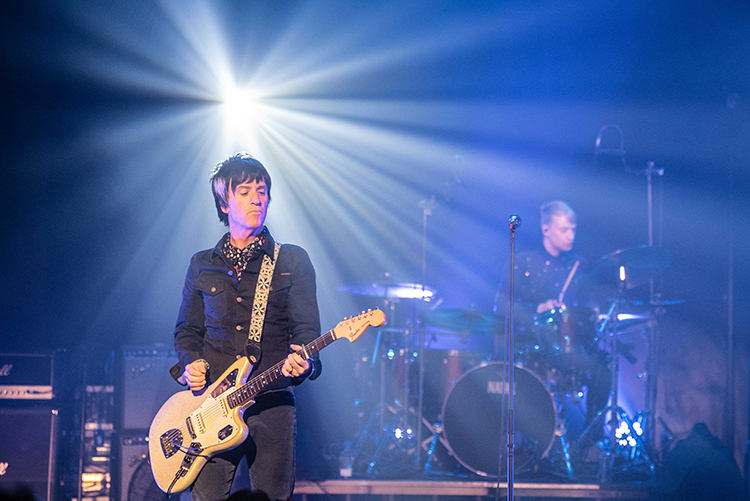 Marr has barely aged since his Smiths days more than thirty years ago (although he now sports a gray streak in his black mod-styled hair). The lean guitarist, a vegetarian since the mid-1980s, looked effortlessly cool in a denim jacket, a retro floral-print shirt, and slim-cut dark pants.
Marr performed a number of songs off his latest album, including the dance-friendly "Armatopia," the evocative and nostalgic "Hi Hello," (with hooks reminiscent of Smiths songs like "Half a Person" and "That Joke Isn't Funny Anymore"), and "Day In Day Out," and the spooky "New Dominions." The guitarist also threw in the disco-inspired songs "Easy Money," off Playland and "Getting Away With It," a 1989 song Marr performed with Electronic—a project that also included Bernard Sumner of New Order and Neil Tennant of Pet Shop Boys.
Marr, showing he's a master of complex, jangly, and melodic guitar hooks, changed instruments several times during the concert and he employed many different effects in the process. Though he showed his tremendous talent time and time again, the modest guitarist never lapsed into self-indulgence.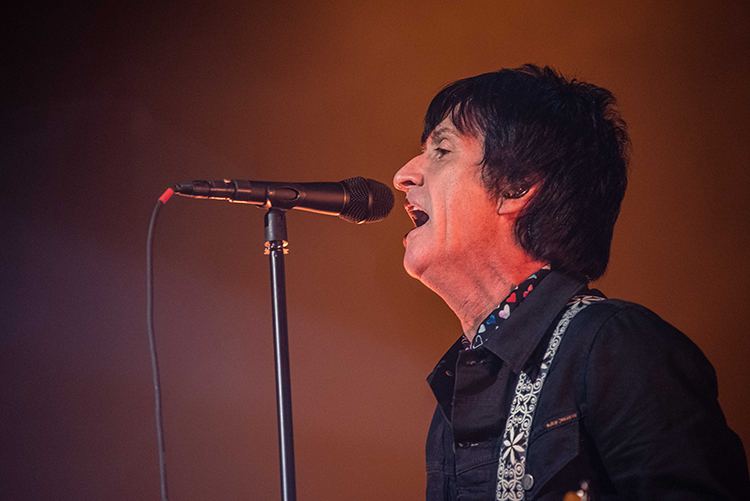 Fans hoping to hear some Smiths did not leave the concert disappointed. Marr and his band treated the audience to half a dozen Smiths songs, among them "Bigmouth Strikes Again," a somewhat harder and angrier version of the "The Headmaster Ritual," (which appeared on the group's 1985 album Meat Is Murder) the lush, romantic "Last Night I Dreamt That Somebody Loved Me," and the reverb-heavy masterpiece (and perhaps The group's best-known song) "How Soon Is Now?" Although Marr doesn't have Smiths former lead singer Morrissey's rich and singular baritone, his voice is pleasant, and it was a delight to hear the songs played live.
"You look like a nice bunch," Marr said late in his set. "Any requests?" He then mentioned two of Wisconsin's best-known musical groups—Steve Miller Band and Violent Femmes—and proceeded to sing and play of few bars of Miller's "Fly Like An Eagle."
Marr and his band played a handful of songs for an encore, notably, a cover of Depeche Mode's "I Feel You," and two more Smiths gems, "There Is A Light That Never Goes Out," and "You Just Haven't Earned It Yet, Baby."
Marr was a gracious performer, bowing between songs and thanking the audience and his band. "This is such a cool place. Not many places like this around anymore," Marr said of the historic Pabst Theater. "God bless you. Thank you for coming out. It's been so much fun. Let's do it again."