Last week, Gov. Tony Evers announced that $15 million in COVID-19 Live Music and Entertainment Venue Grants had been awarded to a total of 96 Wisconsin venues. Of those 96 establishments, 11 of them are based in or around Milwaukee. And exactly zero of those 11 venues are the Cactus Club. For reasons we can't entirely process (but that seem to have a lot to do with ownership of Cactus Club transferring to new owner Kelsey Kaufmann in February, thus misidentifying it as a new business), the iconic Bay View bar and music institution that hosted approximately 250 events last year was excluded from this measure that was specifically enacted to keep the state's venues afloat during the ongoing and ever-worsening COVID-19 crisis.
While Cactus Club certainly could have used some funding from last week's grants—and it's actually pretty appalling that one of the city and state's most active, inclusive, and longest-running venues was left hanging out to dry—the latest bit of bad news the bar has received hasn't slowed its roll one bit. In fact, after closing in mid-March (even before a statewide shutdown was in place), Cactus Club immediately sprung into action to figure out ways to stay in business during a pandemic. While still not being open for indoor, in-person business, the venue has managed to bring in funds through making new merchandise, starting a Patreon page, launching a GoFundMe campaign, and completely pivoting its business model to carryout/patio service.
All told, each of these new revenue streams combined don't come anywhere near accounting for the income lost by not being able to host concerts in a safe and sustainable way, but it's hopefully enough to keep the business around during these unprecedented times. In addition to those offerings, Cactus Club has also started to allow people to rent out its green room for overnight stays. For a $200 fee, up to four guests get an overnight stay in the "Cactus Club Greenroom Cabin," some beer and batched cocktails, a S'mores kit, access to a backyard fire pit, and (if desired) a masked-up and guided historical tour of the incomparable venue.
To this point, only a few folks have taken advantage of the under-promoted accommodations. With equal parts curiosity and desire to draw more attention to an invaluable Milwaukee business that's enduring a difficult year (and, to be honest, a need to get away from my house for a night), I recently booked a stay at the Cactus Club Greenroom Cabin. Here's what I experienced.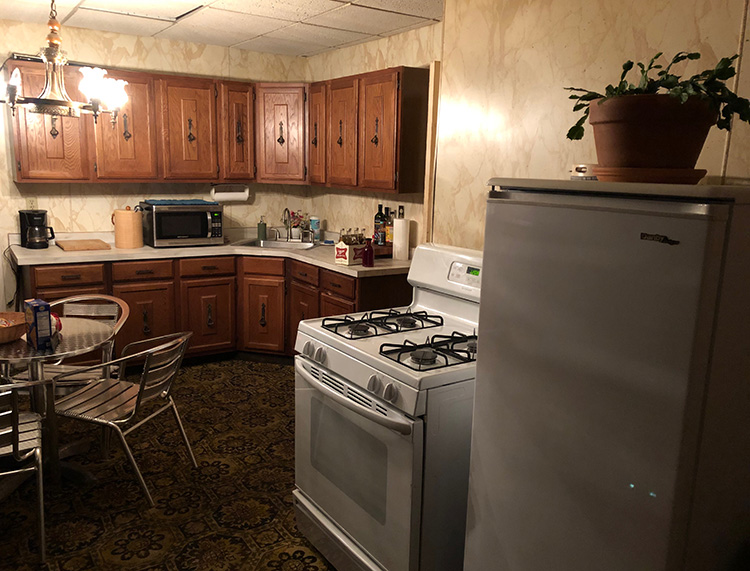 I arrived at Cactus Club one evening last week, where I caught up with Kaufmann outside by the fire pit. She offered to start a fire for me, but since I would be staying there alone and it was among of the colder days of fall so far, I declined, and was directed to the stairway that led to the second-floor accommodations. Upon entering, the kitchen is the first thing you see. It's delightfully dated in the best way (carpeting, a brick wall), but it was outfitted with a fridge, an oven with gas ranges, a microwave, and a coffee pot add some functionality to the flare.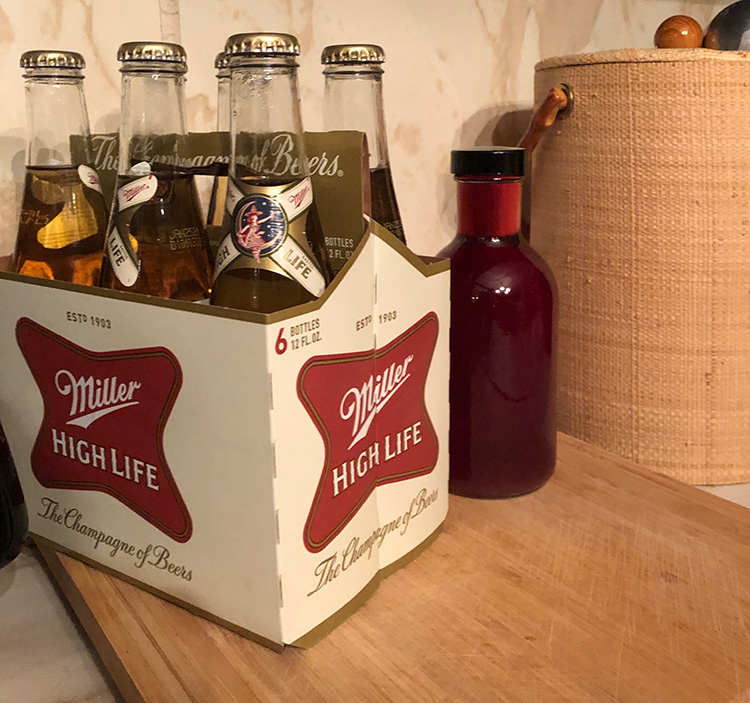 The High Life and Autumn Sangria I'd requested while arranging my stay were there waiting for me.
As promised, there was a S'mores kit too.
I had been in the Cactus Club green room on a few occasions, such as changing into costume before my dumb Green Day Packers novelty band performed there, listening to Brendan Kelly tell stories about his musical exploits during a show I booked for him at Cactus in early 2019, recording a My First Band with Restorations over two year ago, and helping bartenders bring the bar's bleachers up after Packers games from time to time. In each of those occasions, I've never seen the space look as cozy and inviting as it did during my stay.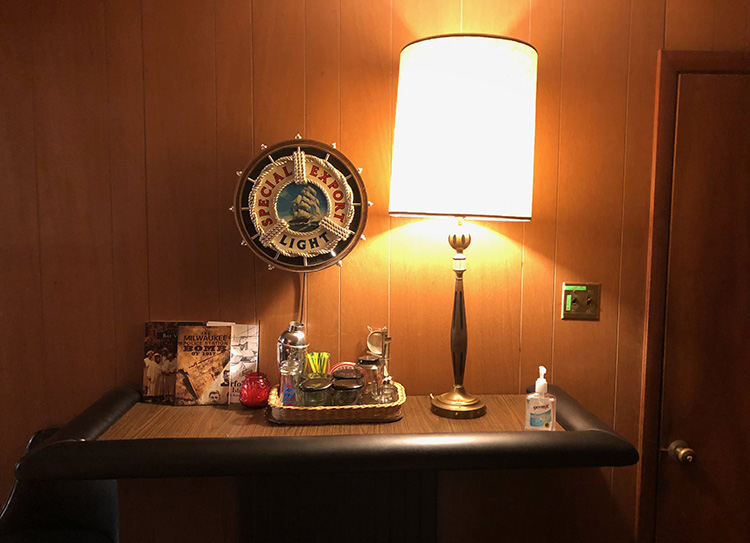 Sure, the green room feel is still there…intentionally, I think.
But there are also lots of new accents that gave the place—that, not so long ago, was where bands like METZ, Tacocat, Radkey, Big Business, Sincere Engineer, and more killed time before playing—a more homey feel. Among those accents, I saw plants.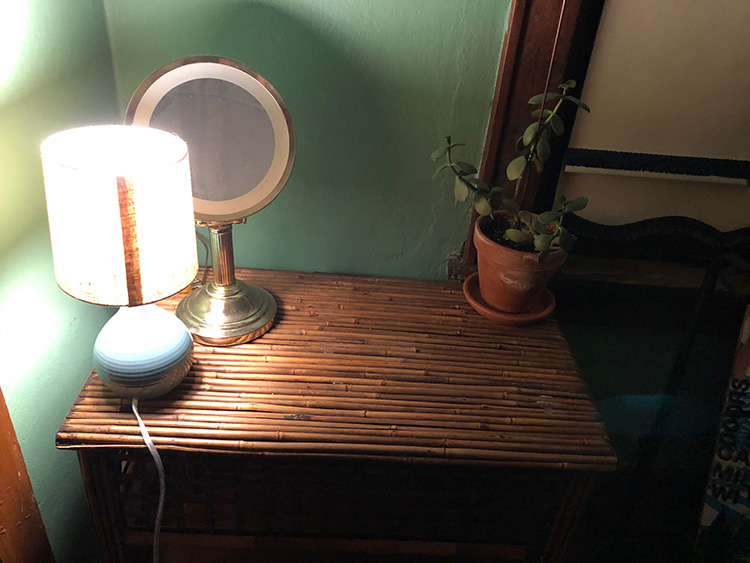 End tables.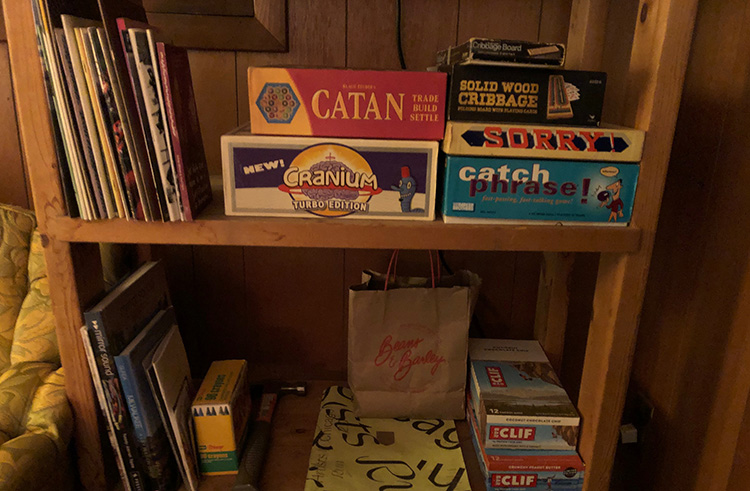 Board games and periodicals.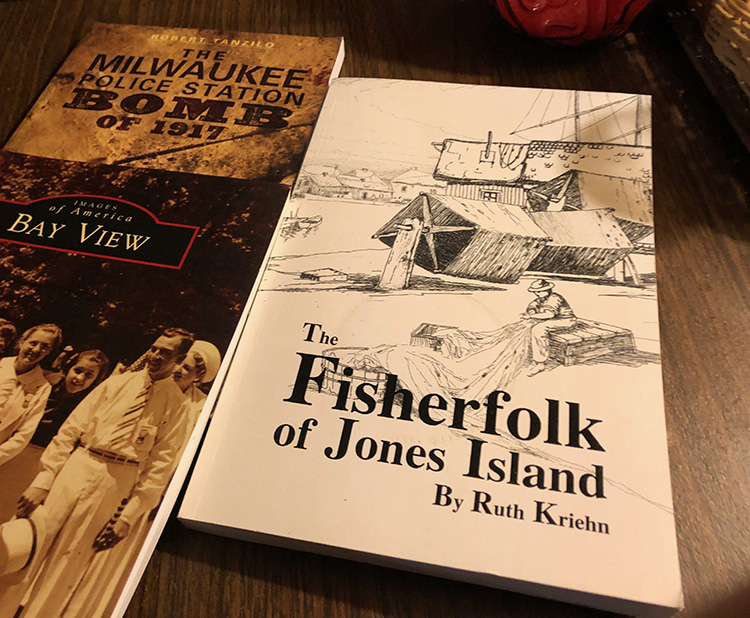 Local literature.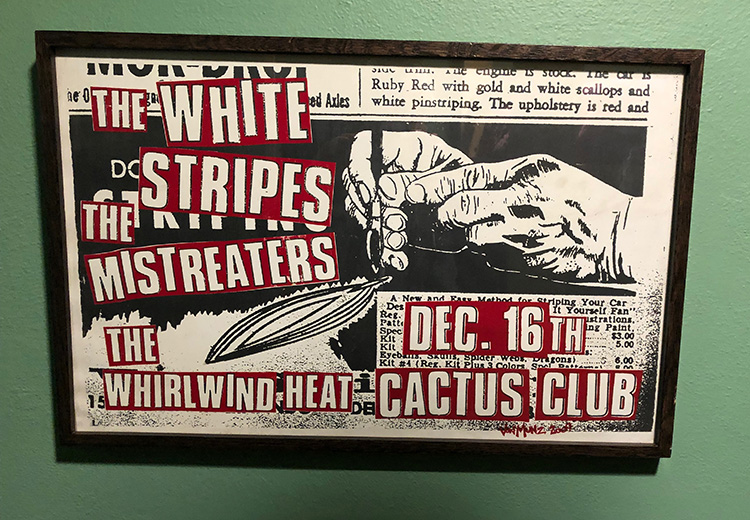 Show posters from Cactus' past.
And a brand new bunk bed with full-sized mattresses in each of the two designated bedrooms.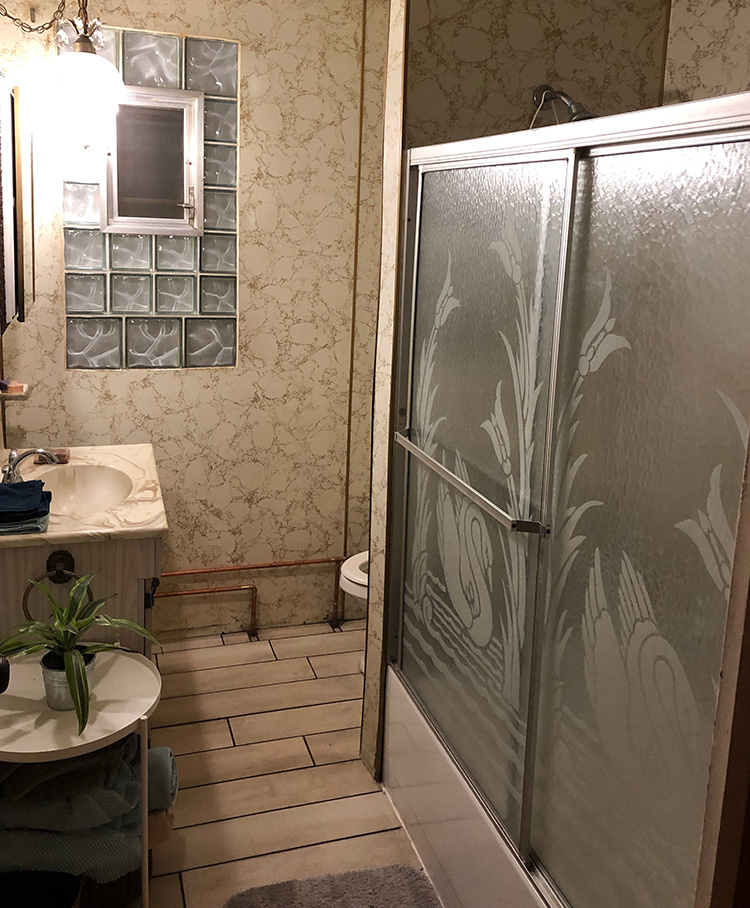 The bathroom also had some updates, including new tiles on the floor. After placing a carryout order at Palomino, which is located directly next door to the Greenroom Cabin, I decided to take a shower. I didn't need to, but how many chances would I get to shower at the Cactus Club?!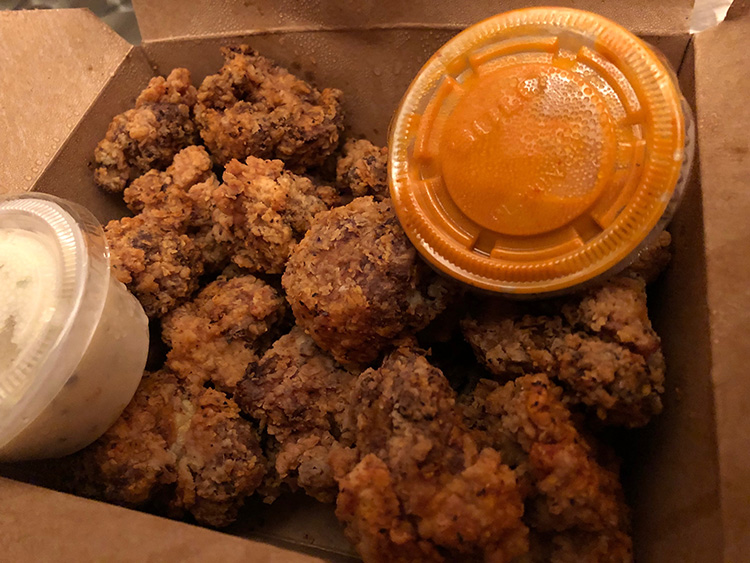 Within 20 minutes, my order of a Palomino burger and Buffalo Cauliflower was ready to pick up.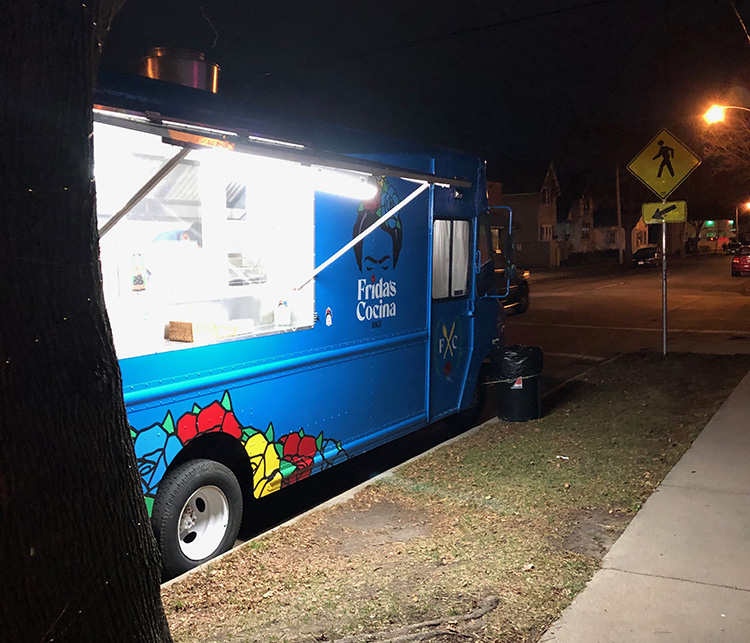 Though my meal was very good (especially when accompanied by a cold bottle of High Life that made me wistful for our High Life-sponsored Milwaukee Record Halftime Show series that took place at the bar the three previous Packers seasons), I should also mention the Frida's Cocina taco truck is available outside Cactus Club almost every night it's open for carryout/patio service.
Now clean, filled with comfort food, and warmed internally by specialty sangria and "The Champagne Of Beers," I spent the rest of the night listening to music, writing ahead on a couple articles, reclining on a vintage sofa to read a few chapters about the interesting history of nearby Jones Island and its former inhabitants, and eventually retiring to my chosen bunk.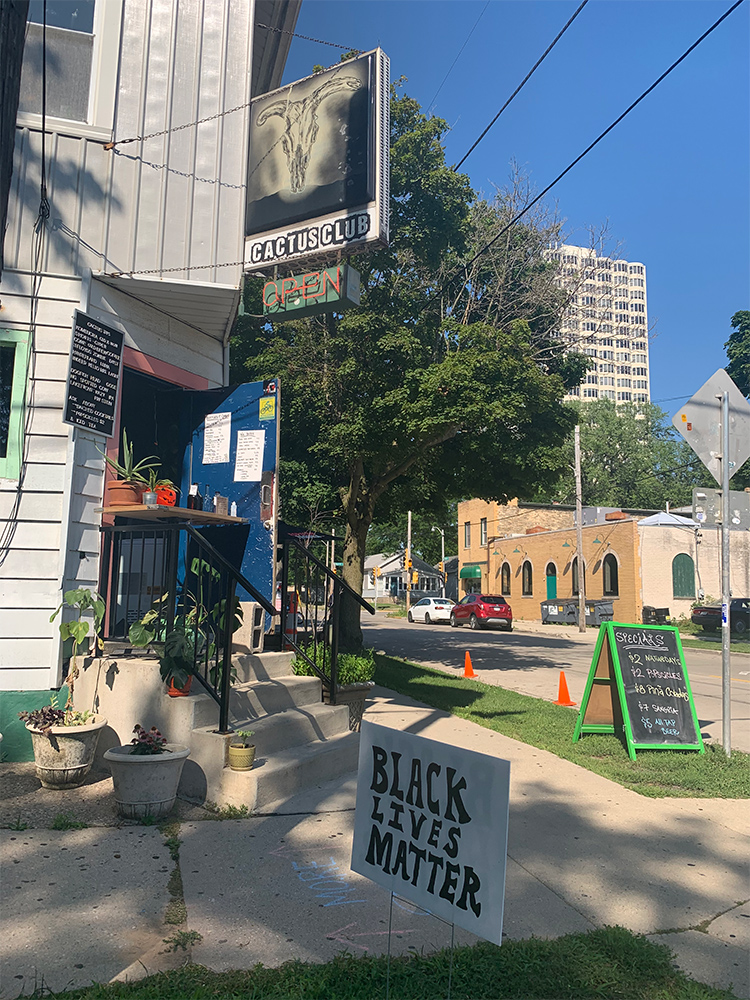 Though work/life circumstances required me to leave in the wee hours of the morning (not allowing me to take advantage of morning coffee and breakfast croissants!), I really enjoyed my night at Cactus Club's Greenroom Cabin. It gave me an opportunity to safely get away, recharge my mental batteries, and to experience a building I've been 100 times before in an altogether new and unexpected way.
If you're looking for a night away, a place to host out-of-towners, or if you just want to support Cactus Club, I recommended booking a stay while you can. As nice as it was, I truly hope the Greenroom Cabin is just a short-term thing that's no longer offered if/when the world bounces back and the venue returns to hosting shows. Until that day comes, this is a nice alternative.