People in Milwaukee know Chris Schulist for a lot of different reasons. In addition to being the co-owner of The Vanguard, co-founder of Dope Folks Records, and the former vocalist of The Mistreaters, Schulist also DJs at a wide variety of local events and regularly spins songs on the WMSE airwaves under his "Christreater" moniker. Over the past few months, he also added "Jack White's Touring DJ and Professional Hype Man" to his vast and varied résumé.
Yes, Schulist spent much of this past spring and summer touring arenas and massive music festivals with his longtime friend, who also happens to be a world-renowned rock star. Following more than 40 shows all over the country in which he played music, emceed, and kept spirits high, Schulist took some time to tell us about how this amazing opportunity came along, what the job requires, and some of the most memorable parts of his tour with Jack White.
Milwaukee Record: First off, how did you land the job of being Jack White's touring DJ?
Chris Schulist: Well we've been friends for over two decades and he trusts my taste in music. But really, I had previously made house playlists for him to play in the venues for previous tours. This time around, they were toying with having a live DJ and host of the whole show. So when they came through Chicago in April, they called me and asked me to DJ and kind of "host the show" and said, "do your own thing and we will just see how this goes." So I kind of treated it like I do my shows on WMSE. I played some songs, talked about them, made some jokes that didn't land, and just kind of went from there. It was kind of a trial thing because, really, we didn't know how any of this was going to go. I was under the assumption that my "job" could end at any point because it wasn't a real fleshed out idea of my role on the tour. But I did a couple of shows and I guess they thought it was working, and then they asked me to join the tour full-time as the DJ/MC/Hype Man and host the show.
MR: In case people haven't heard your My First Band interview, how did you and Jack meet?
CS: Back in 1999, I was the loudmouth singer in this band The Mistreaters. We hit up the White Stripes to open for us for our record release show at the Cactus Club because their first record was just coming out and we loved it. Pretty sure we offered them $200 and the guarantee of a packed show and they reluctantly agreed. Years later, they confessed to me that they were going to bail on the show, but they received Von Munz's "Record Flier" in the mail, thought it was amazing, and said, "Damn, well I think we got to play this show now!" After that show, we became friends and stayed in contact ever since. So each time they'd come through Milwaukee, we'd hang out or they'd stay at my house, or I'd stay with him if I was ever in Detroit. I even DJ-ed their White Blood Cells record release show in Detroit. So I guess after 20 years, it's coming around full circle.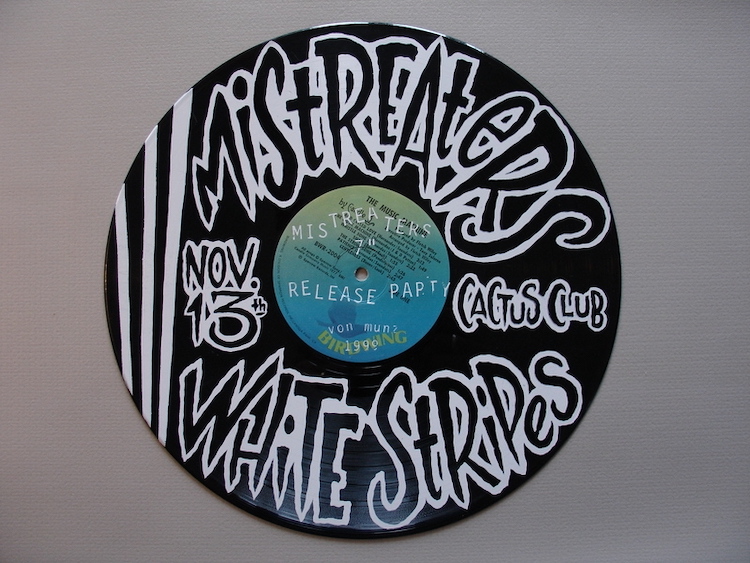 MR: How many shows did you do on the tour? And were there any highlights—either show-related or backstage—that you care to share?
CS: Well, I've been doing it since April, so at this point I think I've done over 45 shows or something like that. It's hard to say which shows stood out because for me, I'm measuring it on how much I amped up the crowd. When I would get the crowd really riled up, Jack would feed off of that energy and just go ballistic. He never uses a setlist, so everything he does is off the top of his head and the band just follows him. He calls stuff out and they just gotta follow. So If the crowd is losing their mind, he will feed off that and blow the roof off the place. It's super fun to watch every single night.
As far as shows that stood out though, I hate to be a giant bummer, but I think the thing that stands out most in my mind was being in Texas when the Uvalde shooting happened. Let me tell you how hard it is being the "Hype Man" saying, "HOW ARE YOU DOING, TEXAS?" when you are in the state that this tragedy happened. I couldn't not address it because it was on everyone's minds. I mean, we were watching it on the news backstage. So I went out there and talked to the crowd and I was in tears. At that moment, all we could do is just try and shut out the world for a few hours, away from our phones and the news and just enjoy music. It was pretty crazy and I'll never forget it. I don't think I will ever cry in front of that many people ever again. Another thing that stood out was being in Florida and Jack going off to the crowd about Ron DeSantis. It made me really proud to be a part of this tour and his personal Hype Man.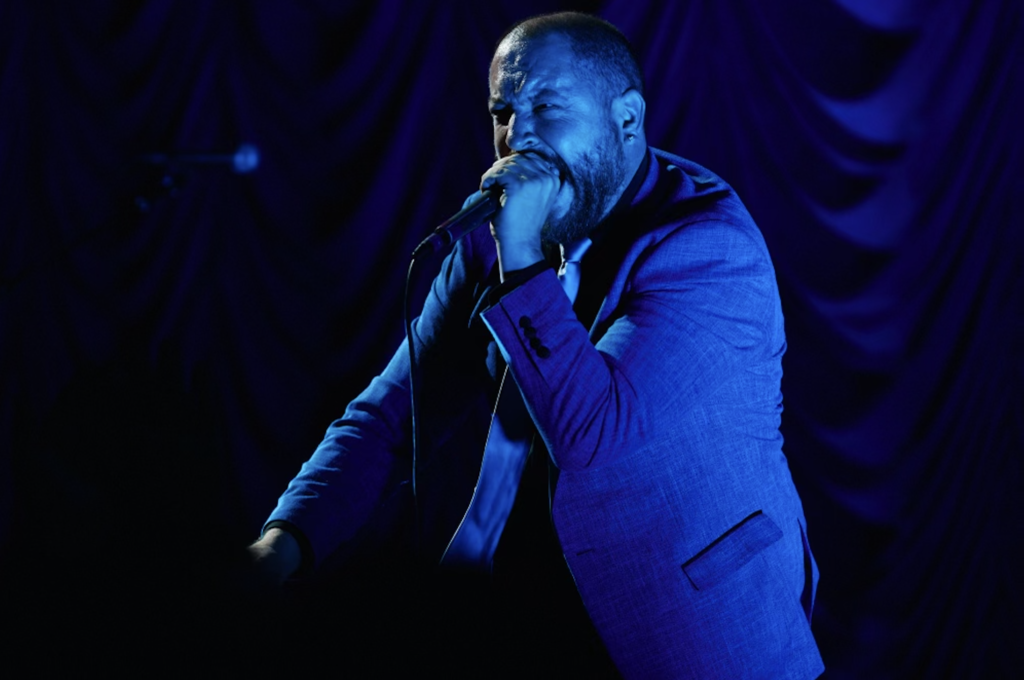 MR: You've touched on it a little already, but what's the role of a tour DJ? Are you essentially hired to keep people engaged and upbeat before the show and in-between sets?
CS: My job is exactly that—to keep the crowd engaged and in a good mood. I always DJ off the top of my head and don't really have a plan of what I'm going to play, so I'm reading the crowd.  Because all of the shows are "no phone shows"—where your phone gets locked in a Yonder pouch upon entry—they wanted someone to keep the crowd engaged and the energy up because, let's face it, without phones, people don't know what to do with themselves. On that note, I can't tell you how great it is not seeing a sea of phones in the air every night.
The no-phones thing really makes the show more enjoyable in my opinion and keeps the crowd focused. I feel bad for our Yonder reps that have to deal with the small number of people that yell "YOU CAN'T TAKE MY PHONE AWAY FROM ME!! IT'S MY CONSTITUTIONAL RIGHT!!!" and "I NEED MY PHONE BECAUSE I HAVE A KID!!!" every single night.  No lie, our Yonder guy Xavier was punched in the back of the head when a couple didn't want to lock up their phones. I wish I was making that up. People are insane. But really, other than the small handful of Knuckleheads that feel the need to make a stink, Jack's fanbase is the absolute freaking best. There's a ton of people that go to multiple shows and I started seeing some recurring familiar faces as the tour went on. Those fans want the best possible shows, so they will even bust people out in the crowd for pulling out their phones. You love to see it.
MR: With no set being exactly the same, what are some ways you change things up from city to city? Do you work in locally-specific songs for cities you're in?
CS: Everything I play differs from show to show based on my mood and reading the crowd. I always DJ by feel, so it's always off the top of my head and unplanned. I start by playing what I want to play and see what the crowd is responding to. But it's different every time. When we were in Des Moines, Iowa, the place looked like an old skating rink. I couldn't help myself, and I played tons of electro roller skate jams. And yeah, I play jams by bands from that area. I mean, how are you gonna be in Minneapolis and not play Prince?! But also there were crickets when I played Minneapolis band and Amphetamine Reptile Records alum, the Cows. I'm sorry Minneapolis, "Hitting The Wall" is a jam. Playing Big Freedia in New Orleans was so much fun because the crowd went crazy! But then there's times I've played what I thought were big artists from an area and got nothing! Basically, Jack White fans from Buffalo need to school themselves on Griselda, Conway, and Benny The Butcher. But I won't hold it against them because they went off when I played Rick James. I will also say that I have been playing a lot of my favorite Milwaukee bands across the country. I'll never stop repping the Ill Mil.
MR: Were there any places—either the city itself or the arena—that you were especially excited to do on this tour?
CS: Honestly, I was so amped to announce and do the Barclay's Center show in NYC. I mean, that's Wrestlemania territory. Unfortunately, COVID got me and I had to stay away from that show. I can't tell you how bummed I was. I missed Jack's performance on the Stephen Colbert show because of that, too. Other than that, I was really excited to go to the Bourbon & Beyond fest in Louisville just because Alanis Morissette was right before him. I was determined to kick it with Alanis. Turns out, Alanis doesn't want to hang out with me. Oh well, her loss. I'm freaking delightful!
MR: Do you know if you'll be brought out for any more shows or tours? Would you like to go out again?
CS: Honestly, who knows. Again, this was a made up job thing that happened pretty much on the spot for this tour. After the first night, they built me my own DJ booth and I became a part of the tour. I've told him after this last leg that I will be his personal DJ and Hype Man for life, so I guess we will see if he needs—or even wants—that.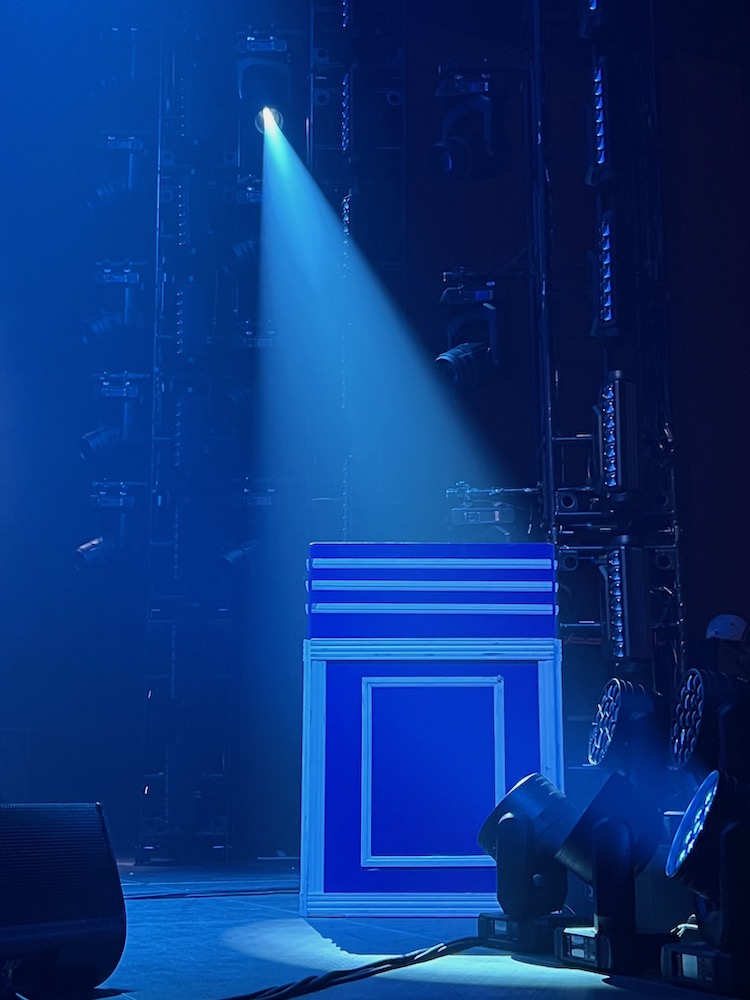 MR: Is there anything else you'd like to add?
CS: I think the one thing I'd like to say is, I can't tell you how great it was working with this crew. I'm really happy,and grateful that Jack and the Third Man fam called me up to do this.  I was thrown into this tour and after a few weeks and it really felt like a family. You really don't realize what goes into creating a show like this. It's not like Jack just shows up with his guitar and says, "Where do I plug in?" There's a huge crew of people creating this experience for the fans. Previously, when I said that Jack doesn't use a setlist and the band has to follow him, that goes for the crew too. The video techs, the lighting people, the sound engineers, band techs, and crew are all watching the show because they don't know what he's gonna do. For example, the video crew may have certain graphics for songs that he might do, but they have no idea what he's going to pull out. He might start with the same song every night, but other than that starting point, it's always different. The minute Jack thinks things are getting too predictable, he will always flip the script. That keeps everyone on their toes and keeps every show interesting. You will never see a cookie cutter Jack White phoned in—pun intended—performance.
I will also say that this incarnation of Daru Jones on Drums, Quincy McCreary on keys, and Dominic Davis on bass is the tightest band in all the land to back Jack up. It's really an amazing thing to watch every night. It makes every show fun and unpredictable. And if the crowd is going bananas, he's going to feel that and melt your face. I also have to say, I will never get tired of watching a crowd lose their fucking minds to "Seven Nation Army." It never ever gets old. It was a fantastic tour and shout-out to all the people in the crowd that had a great time with me. Shout-out to all the early birds in the front who showed me love. It was fun playing the jams!