Brady Street—and the Lower East side as a whole—is filled with unique shops, bars, and restaurants. It probably isn't exactly fair to single out Cempazuchi as the brightest flower in the field, but it is inherently implied by the name itself. Coming from an Aztec word for the vibrant Mexican marigold  that's used to summon the dead to partake in offerings in Dia De Los Muertos festivities, Cempazuchi offers decor, food, and spirits that would both honor the departed and nourish the living.
Hiding inside a rather plain exterior, the restaurant is alive with bright colors and a good amount of space. The walls, tables, ceramics, art, and bottles that line the back bar all work together to transport customers somewhere far away from the corner of Franklin and Brady. Plenty of tables are available for or an inviting stone bar offers a better view of one of the finer agave spirit selections you will come across, in Milwaukee or otherwise.
Two menus are available, one with food and cocktails, and then the one with more than 75 tequilas, over 25 mezcals, and seven tasting flights. The food is good, no doubt. But the food doesn't have to be the beacon leading you in. The large selection of house cocktails are also fine and good, and featuring an array of both tequila- and mezcal-based concoctions, though not necessarily what will summon the dead thirsty soul. The tome titled "Tequila and Mezcal List" is the true draw for the agave-curious or full blown agave enthusiast.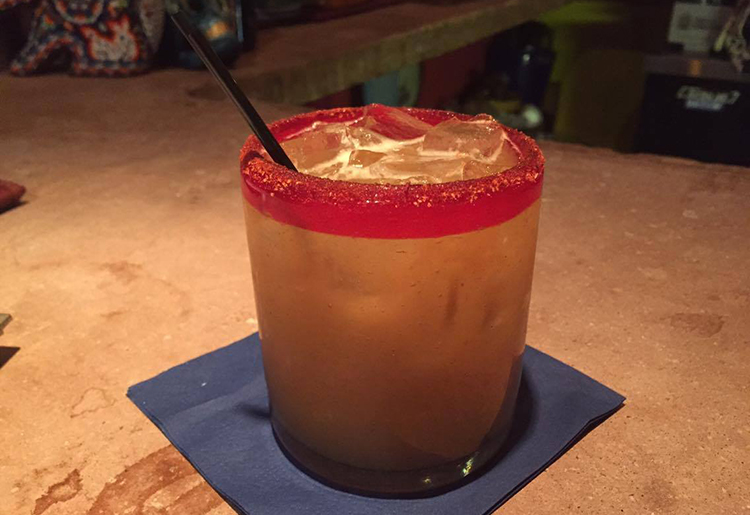 Agave spirits have benefited recently from  renewed interest in classic cocktails, as well as a boom in micro-distillation, and the ever-present craft beer scene. More people are seeking out the less abundant and less popular spirits produced both domestically and from the tiniest of villages in Mexico, where much of the Cempazuchi selections originate. The menu walks readers through the basics of tequila and mezcal: production methods, definitions, blancos versus añejos, dispels myths that Jon Taffer still believes, and lists more than 100 offerings just waiting to be tasted. Not into reading? The staff is more than eager to share thoughts, opinions, and suggestions. Sadly, it seems as if that expertise is not called upon often.
A great way to embrace the agave decadence (with proper time and tolerance) is by partaking in  a cocktail, a tasting flight, and a neat pour for good measure. A fine night for this activity would be on Mezcal Wednesdays—sorry alliteration fans, Cepazuchi is closed Mondays—where a selected mezcal cocktail, tequila cocktail, and shot of Del Maguey Vida are each half price. Another advantageous time to visit would be Saturdays at 2 p.m. for Tequila/Mezcal School. A scant $12 gives students an education on agave spirits, complete with tequila and mezcal samples along with an appetizer. Group Tequila/Mezcal School sessions can be scheduled for other days and times with advance notice.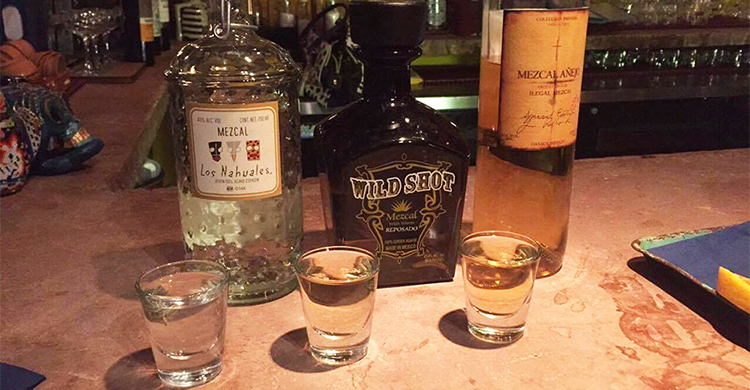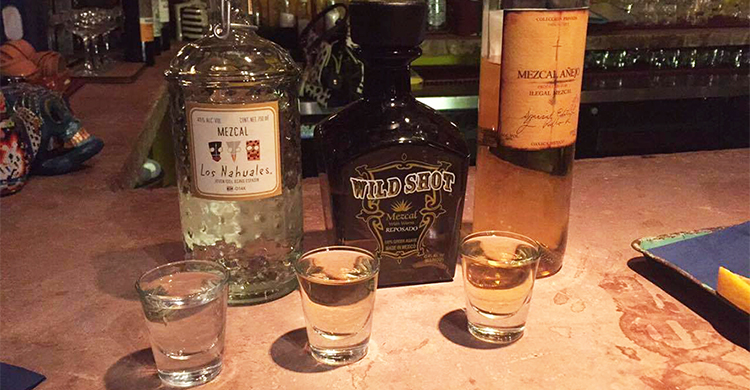 Our Wednesday early evening venture to Cempazuchi landed us with a half price Sombra Ahumada ($4.25), a rich and refreshing concoction composed of mezcal, tamarind, juice, and a surprisingly enjoyable chili salt rim. This was chased with an extensive lesson in the variance of mezcal offerings, The Rabbit And The Moon flight ($18). Los Nahuales Joven kicks off the flight with youthful smoky agave bliss, well crafted and fine-tuned mezcal shining in its purest form. Wild Shot Reposado followed, a Toby Keith-endorsed brand that was riddled with confusing branding (100 percent green agave? Huh?) and a rather raw liquid inside that seemed more at home in a red Solo cup than a copita. The flight was rounded out with the rich, mellow, and well-rested Ilegal Añejo (aged 13 months), something that could lure even the staunchest bourbon, brandy, or scotch connoisseur to the eclectic world of agave.
You can't finish your night without a neat pour, right? Of the many available, and outside of letting your bartender guide you, we recommend Del Maguey Chichicapa, Marca Negra Espadin, Mayalen Borrego, and the Cuervo Reserva. The entire menu is worth exploring, and Cempazuchi should be on everyone's short list to visit, even if much of Milwaukee has already been there before. Don't you want to be able to say you knew about mezcal before everyone else? Well, except Toby Keith.