[dropcacp]M[/dropcap]ysteries: everyone loves 'em, from amateur detectives and podcast hosts to Sherlock Holmes enthusiasts and Robert Stack. Here are five—including the infamous "Milwaukee treasure"—that hit close to home:
Milwaukee treasure
The peculiar case of Milwaukee's "buried treasure" has gone from half-forgotten stunt to full-on obsession. The background: In 1981, New York-based book publisher Byron Preiss was promoting the fantasy satire The Secret. The back of the book contained 12 riddles and 12 paintings that, when correctly paired and deciphered, would lead enterprising sleuths to 12 specific locations in 12 American cities. Preiss had buried twelve ceramic casques at the locations. Each casque contained a key. Send the key to Preiss and he'd send you a precious birthstone, valued at $1,000. Fun!
Here's the generally agreed-upon Milwaukee riddle and painting: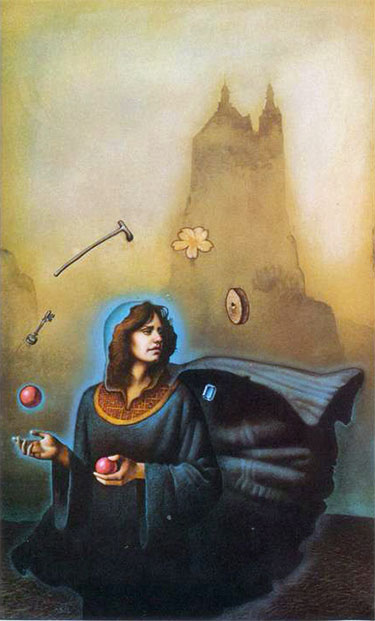 View the three stories of Mitchell
As you walk the beating of the world
At a distance in time
From three who lived there
At a distance in space
From woman, with harpsichord
Silently playing
Step on nature
Cast in copper
Ascend the 92 steps
After climbing the grand 200
Pass the compass and reach
The foot of the culvert
Below the bridge
Walk 100 paces
Southeast over rock and soil
To the first young birch
Pass three, staying west
You'll see a letter from the country
Of wonderstone's hearth
On a proud, tall fifth
At its southern foot
The treasure waits.
Only two casques were ever found—one in Chicago's Grant Park in 1983, the other in Cleveland's Greek Cultural Gardens in 2004. Preiss, meanwhile, died in a car crash in 2005. Despite decades of searching (as well as help from a recent Travel Channel special), the location of the Milwaukee casque remains a mystery. Pre-Pokemon Lake Park seems to be the likely suspect.
Germania statue
The disappearance of Milwaukee's famed "Germania" statue actually involved two disappearances—though only the second remains a mystery. Designed by Milwaukee master metalworker Cyril Colnik (also the designer of Von Trier's antler chandelier), "Germania" was a three-ton, 10-foot tall bronze statue of a warrior goddess that adorned downtown's Germania Building. Due to anti-German sentiments during World War I, however, the building's owners asked Colnik and a crew to remove the statue; in the dead of the night, they did. Colnik kept his pilfered creation in the corner of his studio for decades, though its whereabouts after that are a mystery. According to a terrific piece by Brian Jacobson, "Germania" was "apparently loaned out for a convention at the old Milwaukee Auditorium around 1940, later came close to being melted down for scrap, and over the years there were alleged sightings of the statue or perhaps parts of it, and many differing stories were told about it."
Squirrel Lady statue
In 1931, a bronze statue was erected in Milwaukee's Kosciuszko Park, honoring the life and work of Mary Belle Austin Jacobs. Along with her husband, Herbert Henry Jacobs, Mary had founded the University Settlement House in Milwaukee, known for its pioneering work in social work, public health, and industrial employment. Mary also helped establish a self-supporting workingman's camp, promoted home nursing work in Milwaukee, and set up one of the area's first branch libraries. The statue depicted Mary as a young woman, kneeling to feed some squirrels. The so-called "Squirrel Lady" statue stood in the park for decades, but in 1975, it vanished without a trace. A fictional play was even written about the nutty South Side heist.
Stolen Royals uniforms
On June 12, 1977, County Stadium played host to a strange game: the Milwaukee Brewers versus…the Milwaukee Brewers? Not quite. The Brewers were playing the Kansas City Royals that day, and most of the Royals players were forced to wear the Brewers' away-game uniforms due to the theft of their equipment. The Gettysburg Times noted:
The Kansas City Royals had everything but their bats stolen from their County Stadium clubhouse early Sunday morning…

A thief—or thieves—broke into the Royals' locker room at the Milwaukee ballpark and absconded with 53 Kansas City uniforms, 20 gloves, 10 pairs of baseball shoes, and 15 warmup jackets. All but seven of the Royals were forced to wear the Brewers' blue road uniforms.
Legendary sportscaster Mel Allen even quipped: "A Brewer flying out to…a Brewer. How about that?"
Death by arrow
In the early morning hours of December 20, 1981, 47-year-old Von Trier owner Karl Lotharius locked up his East Side bar and walked home. As he arrived at his backyard patio on N. Murray Avenue, he was shot with a 30-inch, double-barbed, razor-tipped wooden arrow. He died a few hours later at Milwaukee County General Hospital. The case remains unsolved to this day.
Not that there haven't been suspects. Lotharius' dying words, "Buzzy got me," initially led police to Herbert Dolowy Jr., a former employee of Lotharius' downtown nightspot Oliver's Cabaret. Dolowy was never charged, however, and he maintains his innocence to this day. Other factors in the bizarre case: mob ties, jilted lovers, murderous hunters, and a must-read piece from Milwaukee Magazine.
Exclusive articles, podcasts, and more. Support Milwaukee Record on Patreon.
---
RELATED ARTICLES
• Haunted bunk beds, and 4 other Wisconsin-related mysteries from the original 'Unsolved Mysteries'
• 26 horror films set in Wisconsin