It's been a rainy, cold, and emotionally taxing week here in Milwaukee. While those conditions are less-than-ideal for most things, they're perfect for enjoying the crunchy, melt-y, comfort of a "Buttafuoco" from Fuel Cafe. Unfortunately, both The Original Fuel Cafe on Center Street in Riverwest and Fuel Cafe 5th Street in Walker's Point have been closed for months and will remain so "for the foreseeable future."
So with colder days ahead and no clear indication of when—or even whether—either location will open again, I decided to take control of my own dining destiny this week and recreate the sandwich I've been craving on and off for months. If you're also hankering for a Buttafuoco, I pray this unsolicited copycat recipe helps fill that sandwich-sized hole in your heart.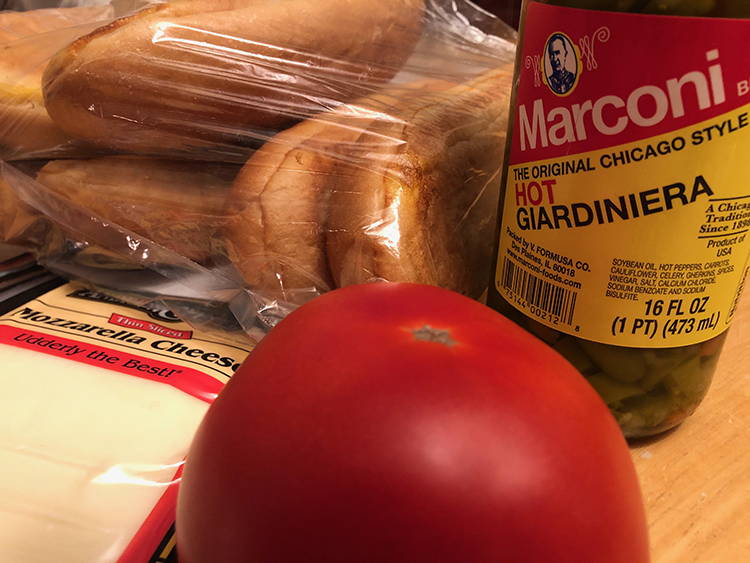 While I'm sure my rendition isn't perfect, I must admit that it did hit the spot. I made it two days in a row this week, and I plan to incorporate my riff on the sando into my household's meal rotation until Fuel Cafe opens again. So if that's good enough for you, please read on. Okay…are you ready?
The beauty of this copycat recipe is it involves very few ingredients. Specifically, it only requires the following: bread, tomato, mozzarella and/or provolone cheese, onion, giardiniera, Italian spices, mayo, lettuce, heat, and time. It takes like 15 minutes from beginning to end and even my dumb ass can do it.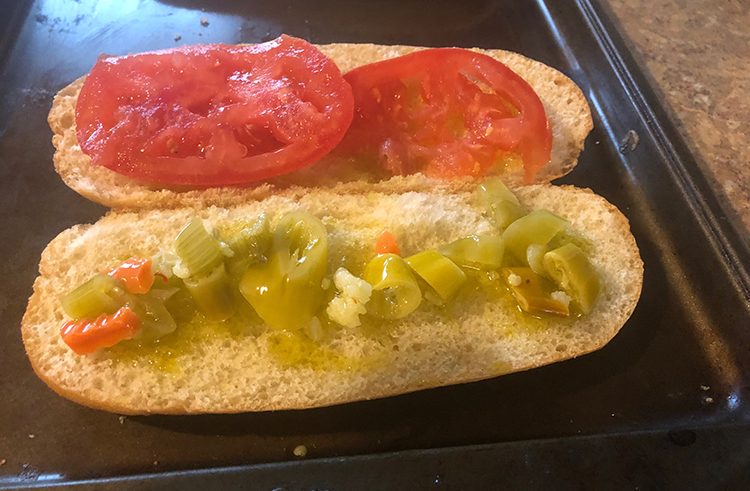 I started by preheating the oven to 400 degrees. While the oven was getting up to temp, I cut the bread in half and placed it on a baking sheet. The regular "Butta" comes on a honkin' piece of French bread, but I just picked up a sack of Troubadour Bakery brat buns from Outpost Natural Foods. They're a bit smaller, so I just made two sandwiches. Whoops! Anyway, I used some of the oil from the giardiniera and drizzled it on both halves of the bread (on the inside portion, duh!). Then I put a liberal helping of giardiniera—two heaping spoonfuls—on one side and two thick chunks of sliced tomato on the other. If you'd like (I opted not to this time), you can throw a few thin slices of raw onion on top of both sides.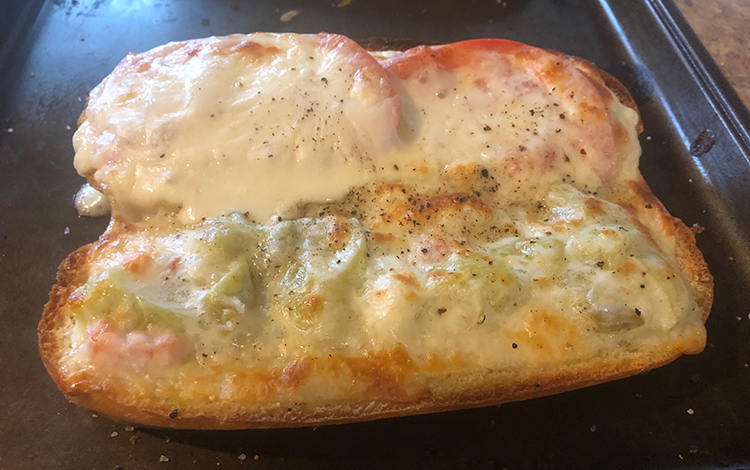 I then put three slices of cheese on top of the giardiniera and tomatoes. I put some black pepper on top of it, and threw a pinch of garlic powder and a few shakes of oregano on top as well to give it a vaguely "Italian" seasoning. Once the oven got to 400, I put the pan in for about 4-5 minutes (until cheese was melted) before taking it out, switching the oven setting to broil (on high setting) and putting it back in for about 2-3 more minutes. I left it in until the bread was slightly browned and the cheese started to bubble.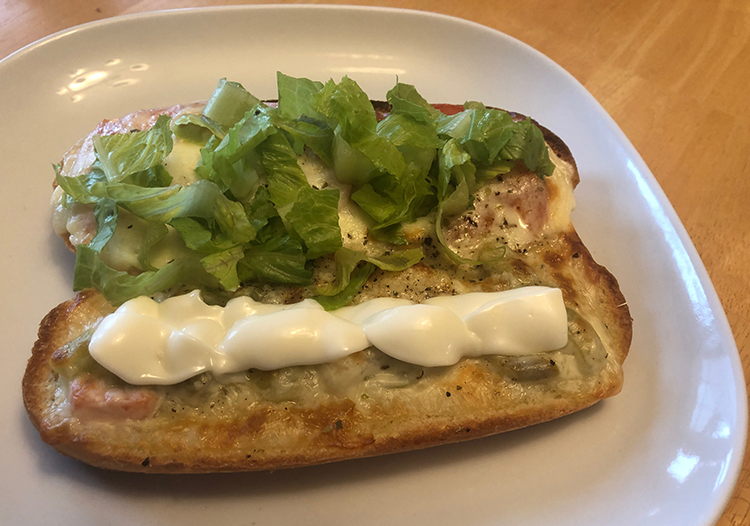 While the sandwich was baking, I chopped some romaine lettuce. Once the sandwich was baked and plated, I added the lettuce and a generous amount of mayo. I know that's a lot of mayonnaise, but that's just the Buttafuoco way, baby!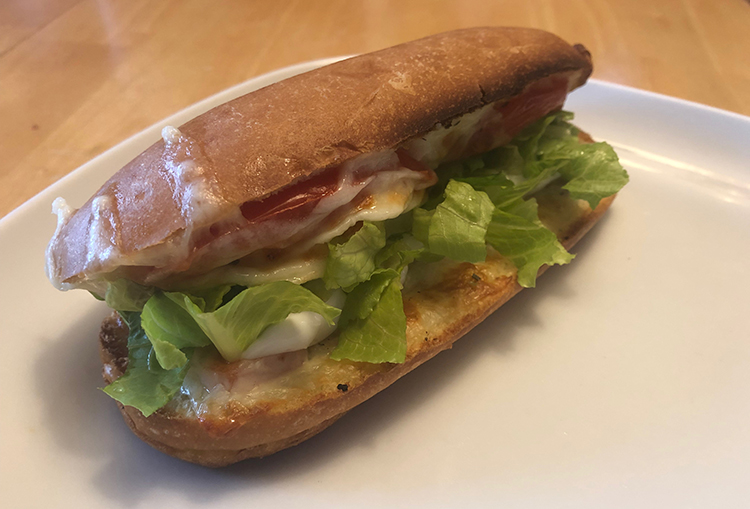 Lastly, I folded it over and had, at least in my humble opinion, a passable knockoff of a Fuel Cafe favorite.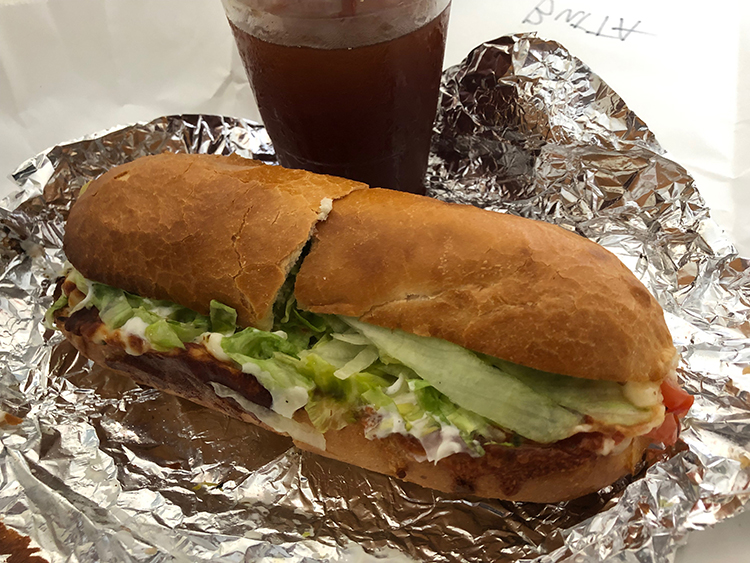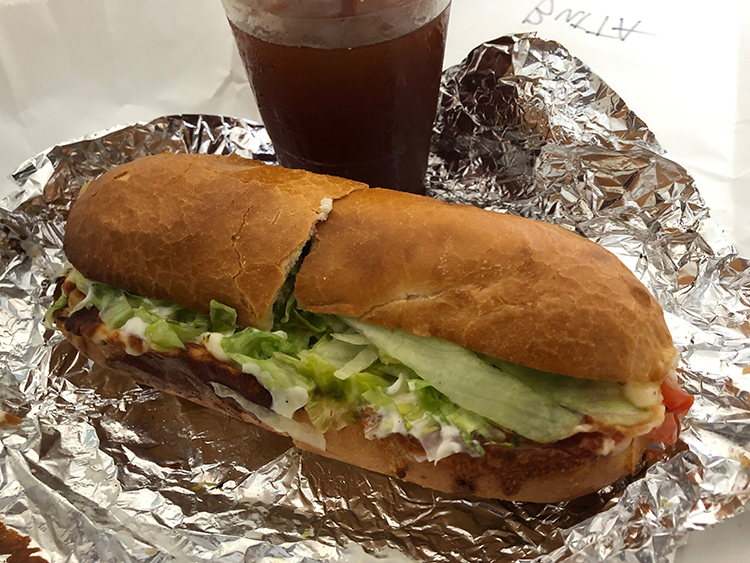 Here's how it compares to the last real one I had in May. Pretty close, eh?!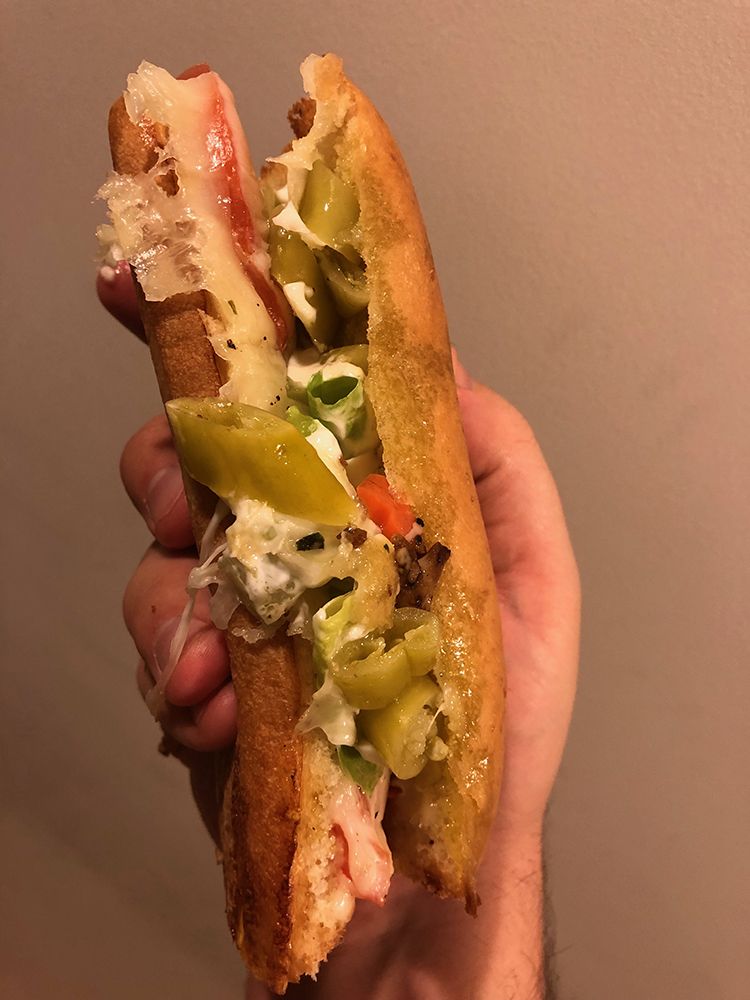 Then I ate the fucker. Enjoy!