It's safe to say there's never been a better time to be vegan in Milwaukee.
But as good as things have become for local vegans of late, there's still lots of room for improvement. Yes, even though the city is now home to an amazing array of meatless and dairy-free burgers, pizza, sausages, desserts, and so much more, there remain some significant blindspots in regard to Milwaukee's ability to offer vegan versions of certain cultures' cuisines. However, a new vegan pop-up series is trying to fill some of those gaps.
Last year, Chase Roldan and Jack O'Grady started hosting dining events under the name Maya Ophelia's. The couple decided to take their love of cooking together to create a platform to give fellow vegan and curious carnivores alike an opportunity to taste meat- and dairy-free dishes that pay homage to their Mexican, Puerto Rican, and Filipino roots. They named the operation after Chase's mom (Maya) and Jack's aunt Ophelia, whom they consider to be their greatest food influences.
"Growing up, we're used to foreign cuisine. A lot of the vegan food in Milwaukee is pub food or super fancy food that I've never heard of," Roldan says. "It's nice to imitate and recreate the stuff we grew up eating and make it accessible for other people—the P.O.C. (person of color) cultures—who can't necessarily get the stuff they grew up eating."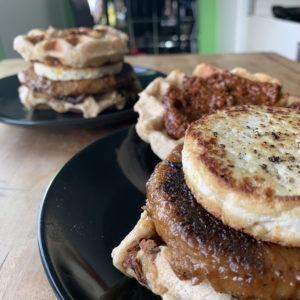 The first Maya Ophelia's event took place at last summer's No Stress Fest in Riverwest's Garden Park. Following the positive reception for that test run, they knew there was an opportunity to continue hosting events.
Late last year, they moved the site of their pop-up gatherings to Cactus Club in Bay View.
"We had good reception after the festival, so we decided to keep doing this," O'Grady says. "We've only had three or four now, and they've skyrocketed in terms of interest in this way were were not expecting."
Each Maya Ophelia's installment has a different theme that focuses on a specific region's food. Past installments have included vegan takes on Mexican specialties like huaraches and tamales, Filipino favorites like "chicken" adobo and siopao, Belgian-inspired waffles and other breakfast foods, and even Frito Pies.
"There's a lot of people that just think vegan food is seasoned sticks and twigs," O'Grady says. "We're really trying to change people's minds on how they feel about vegan food."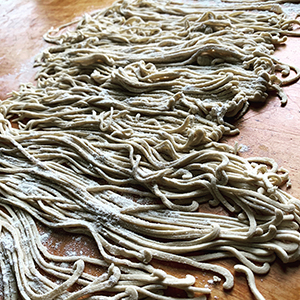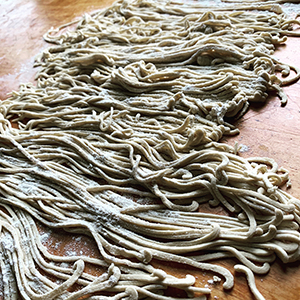 The next Maya Ophelia's pop-up—taking place at Cactus Club on Sunday, March 31—is "Ramen Rapture," which will feature a pea shoot and tahini ramen broth, noodles made from scratch, vegan "pork belly," and a pickled garnish. Ramen will be available for a $5 suggested donation or, as Roldan says, "whatever people think it's worth."
O'Grady says they will also be selling "merch" in the form of pickled produce. For previous pop-ups, Maya Ophelia's has offered jars of pickled jalapeños, pickled cactus, and slaw made from ube and papaya. Prices range from $5 for an eight-ounce jar to $7 for a 16-ounce portion.
Though the venture is young, the pop-up proprietors have been thrilled will the response from customers and thankful for Cactus Club's support in helping the operation get off the ground.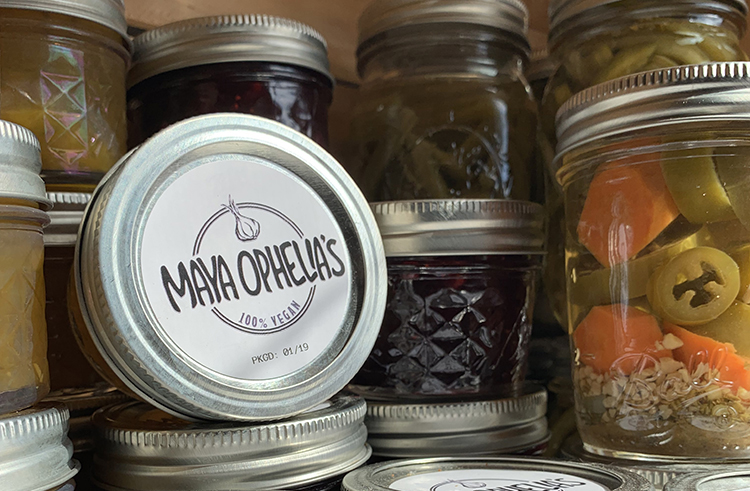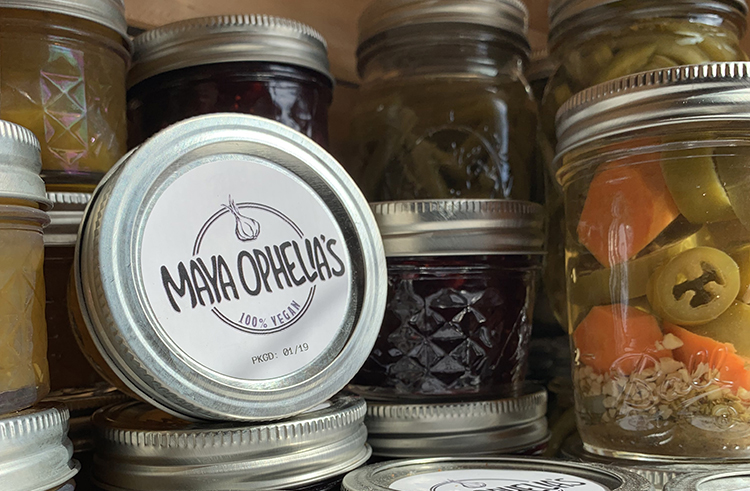 "I jokingly have called it the 'Cactus Cafe.' It's really awesome because [Cactus Club manager] Kelsey [Kaufmann] kind of gives us free rein to do whatever we want," O'Grady says. "It's really great to see the focus change where Cactus isn't only an awesome place to see shows and a great venue, but we are an artist-run community space, too. It's been building a community of sorts here that's been really amazing to see."
Sunday night's rendition of Maya Ophilia's runs from 6 p.m. until midnight. They're also hoping start serving and selling at farmer's markets this summer. Additionally, they're considering a weekly pop-up at Cactus Club instead of semi-monthly installments, and they've talked about potentially doing a multi-course "fine dining" version at another site.
Though they want their food to be accessible to all, Roldan and O'Grady hope these vegan pop-ups and vending opportunities will help build awareness and raise funds to allow them purchase a concession trailer so that people all over Milwaukee (and far beyond) can enjoy the tasty comfort food creations they made together.
"We'd like to be able to travel and have people everywhere try our food," Roldan says.