In late 2004, Colleen Bielinski decided to go vegan. A few years into her new lifestyle, she amassed a respectable listing of Milwaukee's vegan-friendly restaurants. Figuring others would appreciate her findings, the Digital Strategy & Research Supervisor by day decided to start a blog in fall of 2010. Since then, Vegan Milwaukee has blossomed into a go-to resource for meatless and dairy-free dining in and around Milwaukee. The site currently boasts more than 150 local restaurants in its archives.
With Earth Day on the horizon and local vegan cuisine at its all-time best, Milwaukee Record asked Vegan Milwaukee's founder about ways restaurants have adapted since the site's start, what can be improved upon, who makes some of her favorite vegan dishes in town, and small steps non-vegans can take to make healthy and sustainable dietary decisions.
Milwaukee Record: Why did you decide to set out and start Vegan Milwaukee? Did you find there was a lack of coverage or awareness of vegan options in town?
Colleen Bielinski: I started by making a list of vegan-friendly restaurants so that I had a reference when I wanted to go out to eat. Then, I realized this kind of information would be useful to others and started up some social media accounts, made some great connections, and soon thereafter, created the website. There really wasn't much coverage for vegan options in our city. Although there were places that carried vegan food, they kind of fell under the radar.
MR: Was Milwaukee a good place for vegans back when the site started? What were some of the early adopters of vegan cuisine here and what was lacking?
CB: When I first became vegan back at the end of 2004, there were few options that I knew of in town. I cooked most of my own food and when I went out, it was mostly Thai or Indian food. Then I discovered the vegan options at some of my East Side favorites like Comet and Fuel Cafe. Palomino had recently opened as well and they served up some fantastic vegan comfort food. That group of restaurants used to all be under the same ownership, so someone behind the scenes always made sure to offer something vegan. Beans & Barley has been a favorite of vegetarians and vegans since 1979, and they continue to offer some incredible options. East Side Ovens was also a local staple back then, but people often don't realize their bakery is vegan. Riverwest Co-Op Cafe opened back in 2004 and they serve up some of the best vegan food in the city from a tiny kitchen. Cafe Manna in Brookfield opened back in 2008 as the first all-vegetarian restaurant in the Brookfield area and they offer vegan options as well.
So, by the time I created the site in 2010, I felt Milwaukee had a decent selection of vegan options, but it was nothing compared to bigger cities like Chicago or Portland.
MR: How have both Milwaukee's vegan dining scene grown and evolved since the site's origin? Has it impacted how and how often you cover things?
CB: Milwaukee's vegan dining scene has grown so much since 2010, with huge strides made in the past two years. Our first all-vegan restaurant, Urban Beets, opened in early 2016 and has been successful enough that they're opening a second location later this year. Following that, the other two all-vegan restaurants, Strange Town and On The Bus have opened to great reviews and have a strong following. In the past several months, the Beyond Meat Burger and the Impossible Burgers have infiltrated local non-veg restaurants, allowing them to attract some new audiences. After ironing out the details like making sure there's a vegan bun and toppings available, these restaurants have realized it's worth a few modifications to gain a larger customer base.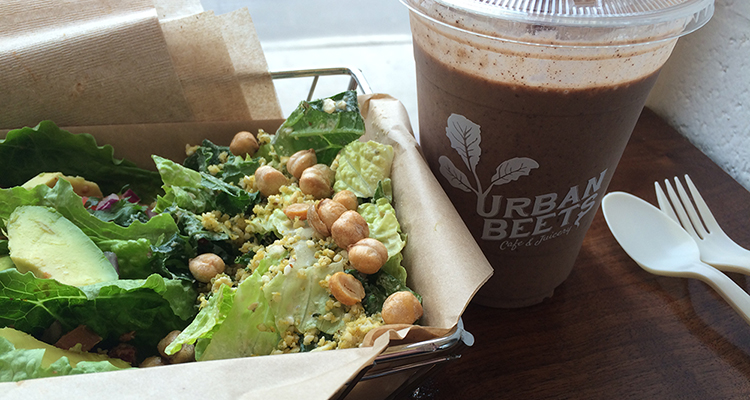 I used to be able to try almost all the vegan-friendly restaurants on my list. Now, I can hardly keep the list up to date. There's approximately 150 different restaurants listed at this time. Between that and all the great vegan events like pop-ups, potlucks, festivals, meetups and more, it's tough to keep up. I think this is a great problem to have. In the past, some restaurants have reached out to me directly and at other times, I have to discover the latest options on my own. I'm hoping by gaining visibility, more restaurants will reach out to me directly so that I can promote their vegan offerings, offer feedback, and make sure I'm not missing anything.
MR: As great as things seem to be at the moment, there are bound to be some issues vegans and vegetarians face in a place known for brats and cheese. Is there anything absolutely lacking here? How can Milwaukee restaurateurs, grocers, and even consumers improve the way they do things?
CB: This may sound weird, but we haven't attracted any vegan chains yet. Native Foods and Veggie Grill, for example, have locations in Chicago, but none have made it here. Both of these have incredible fast-casual food and have the funding to advertise and reach out to a broader audience.
I think grocery stores have really caught on. The only options for vegan staples used to be the local co-op or Whole Foods, but now you can find vegan items at Pick 'n Save, Metro Market, Target, and other big chains. Woodman's and Aldi really have become a favorite of vegans, offering low prices and a great variety. As a Costco member, I'd love to see them expand their local offerings. Costcos in other states often have a better variety of vegan options.
Whenever I get the chance, I tell businesses that vegans are incredibly loyal. If you offer solid vegan options, they will return again and again. And, they'll take pictures and give you free publicity on social media and blogs. It's worth it.
MR: What are some of your favorite restaurants in metro Milwaukee, and what are some of your favorite individual dishes? Like, where do you usually go for pizza, burgers, Mexican fare, and dessert?
CB: First of all, all of our vegan restaurants are incredible and I would never turn down a visit. My job is within walking distance to the Milwaukee Public Market, so having access to On The Bus can be dangerous!
Ian's has done so much outreach with me and the vegan community, I have to give them props for that. They offer so many different kinds of unique and delicious vegan pizzas and it's so nice to have this option for a quick slice or late night food. Classic Slice is close to my home in Bay View and I've been eating their vegan pizza since they opened. Their vegan pesto and sausage are some of my favorite toppings.
Cafe Corazon has been vegan-friendly since the very beginning and I love their soy chorizo tacos. Their tofu scrambler is one of my favorite brunch items too. Also, the vegan nachos at Beerline are the best nachos ever.
For burger, my favorite is actually the Big Boss Burger at Comet Cafe. I love the Field Roast patty, along with their special sauce and pickles. I also have to mention Vanguard. I love all their specialty sausages and they really know how to prepare some tofu. Their burnt ginger tofu and buffalo tofu poutine are amazing. I love Screaming Tuna's sushi. I hate the name, love the food. Cristian, one of the owners, has been a great advocate for vegan options and they offer the best vegan maki rolls I've ever had.
There are so many places dessert places. Babe's Ice Cream is amazing. Do you know it says "VEGAN" loud and proud in the window? I love that and so do all the vegans in town. They offer some great flavors as well as a brownie sundae with East Side Ovens' brownies. They make vegan ice cream cakes too—what a wonderful option for vegan and lactose intolerant kids and adults to celebrate a special day. East Side Ovens cherry dumplings are a favorite too, and they make some outstanding donuts that would fool anyone. Speaking of donuts, Holey Moley has a large vegan menu with a bunch of unique flavors. Comet and Honeypie have always delivered delicious pies and cupcakes piled high with frosting. And Batches just opened a few months ago, and all their vegan bakery is fantastic—brownies, cookies, cheesecake and ice cream too.
MR: We're just a few days from Earth Day. Due to the resources required in production and transport, one of the easiest and best ways to reduce your footprint is to consume less meat and dairy. Most won't totally turn vegan, but what are some small changes people can make to positively impact the world around them?
CB: Start with one meal a week that's vegan. It can be really exciting because you'll be forced to think outside your norm and try new foods. My standard American diet was so boring compared to variety of foods I eat now that I'm vegan. Try using an alternative milk in your cereal, coffee or smoothie. There are so many different types now. Try them out and find a favorite. Most people find they prefer alternative milks. This was a change I made even before I went vegan.
MR: Are there any misconceptions about vegans and about vegan cuisine? How are you working to dispel them?
CB: People may assume that vegan cuisine is boring or not flavorful, but that's the furthest thing from the truth. Sure, you can cook some boring, awful vegan food, but you can do that with non-vegan food, too. Everyone has their favorite go-to items. Some people love tofu and some love faux meats. My suggestion is to try different foods—order vegan dishes at local restaurants and then try similar things when you cook at home.
Now that vegans are more plentiful, the stereotype is no longer just hippies or weirdos. But the judgements still happen. People want to lump us all into some category whether it's health nut or militant or whatever. In reality, vegans are just like everyone else. They come in all shapes and sizes, ages, genders, colors, and backgrounds. Some protest, some run sanctuaries, some write blogs and some cook delicious vegan food. All of these things are important.
Everyone comes to veganism in their own way. For example, my husband was raised in Texas and was an omnivore when I met him, but he loves to cook and began experimenting with vegan foods. Over time, he transitioned to being vegetarian and eventually vegan. Now he's passionate about vegan cooking and loves to help run the site with me and get others excited about vegan choices in Milwaukee. Everyone is welcomed to the website, including those who are plant-based for health reasons or just dabbling in vegan foods. Every vegan meal is a win for the animals and the environment. [All photos except Urban Beets via Vegan Milwaukee's Instagram]