It's an unprecedented and incredibly difficult time for restaurants right now. It's especially tough for restaurants in Wisconsin, where COVID-19 numbers are currently off the charts. Wanting to highlight local establishments who are keeping food quality high while also keeping its customers and employees as safe as possible, we're going to focus on restaurants that have completely shifted to carryout and/or delivery service in a series we're calling "Carryout Chronicles."
With the hours of daylight dwindling, temperatures dropping, and the prospect of staying in become more enticing by the day (even if it wasn't being recommended by the CDC, local officials, and overworked healthcare workers), it's pretty much the perfect time of year for Indian food. To be clear, it's always an excellent time to enjoy Indian cuisine, but it's especially nice to warm your soul and clear your sinuses once December rolls around.
Recently, we wanted to get out of the pattern of takeout burgers, pizza, and sandwiches by indulging in some Indian for the first time in three or four months. And we decided to do so by placing an order at Bombay Sweets (3401 S. 13th St., 414-383-3553), our go-to Indian joint and arguably one of the best vegetarian restaurants in the city.
Policies And Procedures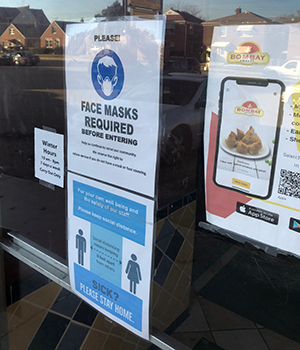 Though Bombay Sweets offered in-person dining in "normal" times since way back in 1999, the restaurant immediately pivoted to a carryout- and delivery-only model back on March 16. In the exactly nine months since then, even as restrictions have lifted and loosened, that's the way it has remained.
Orders can be placed over the phone (that number again, 414-383-3553), on the Bombay Sweets website or with the handy Bombay Sweets App (which rolled out in early February). Otherwise, if you have a Grubhub account, you can proceed that way without any undue guilt, as all the restaurant's deliveries are actually executed by the service. (Editor's note: since Grubhub and similar services take fees from restaurants and drivers alike, consider ordering more food and tipping extra.)
It's also worth noting that, as the restaurant's name suggests, you're able to order a wide range of candy, desserts, and snack mixes from Bombay Sweets either in the restaurant's lobby (masked required, obviously) or online. You can even have some of the restaurant's famed Bengali Sweets shipped to you or a loved one.
Carryout/Delivery Quality
While the name of this series is "Carryout Chronicles," we have to admit that we didn't feel up to driving to the South Side on a rainy and cold December night. We opted for delivery instead, and were given an expected arrival time 40 minutes after our order was placed. Totally manageable, especially on a Saturday night, right? Plus, it was being delivered to us, so what did we have to complain about? Nothing, that's what. Our order arrived right at the 40-minute mark, still warm, but we gave the samosas (more on those later!) a little reheat action in a frying pan for a few minutes to revive them. A small price to pay for the convenience of delivery, if you ask us.
Seeking comfort food and flavors to help spice up the dreary and dismal December night a little, we decided on two curry options from the 57-item menu. Our Aloo Gobhi ($7.99) was an oh-so-satisfying blend of cauliflower and potatoes that was cooked with tongue-tingling spices and a rich masala base.
We also got an order of Vegetable Korma ($7.99), a mix of vegetables such as peas, sweet potatoes, and peppers that were cooked in herb-seasoned cream and combined with tofu and cashews. All curries come with a container of Bombay Sweets' outstanding jasmine rice. The rice was so abundant, in fact, that we had a full container left over after our two single-serving curry containers were long gone.
Of course, any order from Bombay Sweets must include Samosas (pictured above beside both curries). At just 75 cents a pop, this is an incredible value for a breaded pocket of cooked vegetables and Indian spices approximately the size of a human fist. We ordered four of 'em, deciding to save two to reheat the next day and douse with Bombay's amazing spicy green sauce. We're kicking ourselves for not just throwing down for eight Samosas and freezing a few for later. An idea for next time! All told, two entrees, four samosas and a Chum Chum for dessert (that was well-prepared, but just not our thing. We're going back to Baklava in the future!) came to only $31 AFTER delivery charges, Grubhub fees, and tip. So much has changed in dining in 2020, but Bombay Sweets' low prices aren't one of them.
Other Info
Bombay Sweets is open every day of the week. Hours are 10 a.m. to 9 p.m. from Sunday through Thursday, and 10 a.m. to 10 p.m. Fridays and Saturdays. You can walk in the lobby at any point in that time frame to quickly pick up sweets and mixes, though arranging for carryout, delivery, and shipping is also an option. The App is pretty nifty and features coupons and App-only offers. And if it hasn't already been made abundantly clear, Bombay Sweets is 100 percent vegetarian and, even without meat in anything, 100 percent great. Enjoy!