There is a product known as "chikin," which is quite possibly the tastiest of all chicken substitutes in all the vegan product world. I have always been a voracious meat eater, but upon having the chikin banh mi and chikin slider from Maya Ophelia's, I have no problem eating this instead of the real thing from now on.
Maya was Chase Roldan's mother, and Ophelia was Jack O'Grady's tia (aunt); the two ladies inspired the namesake of the business. Jack and Chase have owned Maya Ophelia's for a few years now, and have rambled around the Bay View neighborhood in Milwaukee selling their vegan treats and meals. First, it was outside of Cactus Club. That was followed by a stint at The Mothership, where the pair have now settled into their more established home.
The business was slightly on and off again, until recently when Chase and Jack acquired a food truck, to be parked outside of The Mothership, owned by Ricky Ramirez. "Ricky has helped us since we were first trying to get our legs, so now that we have a truck and are setting a more concrete schedule, we decided this was the place to do it," Jack tells me.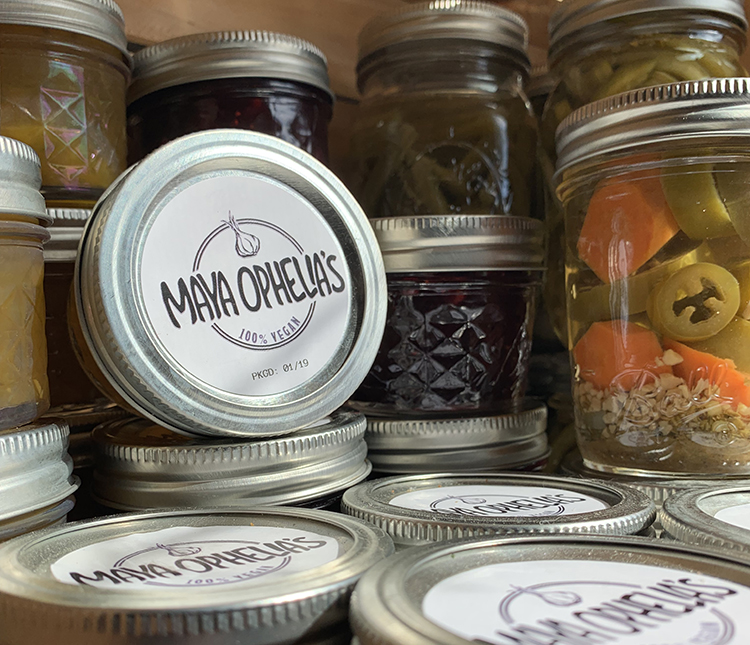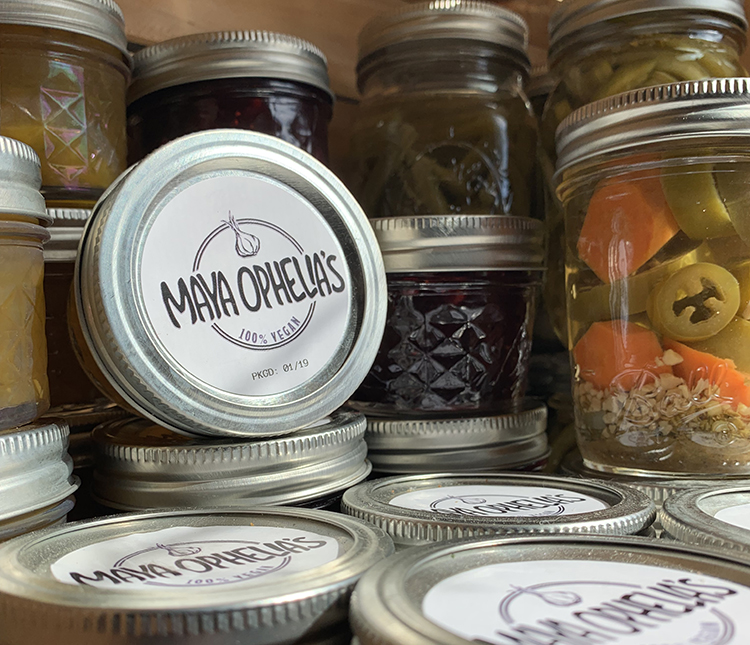 Jack grew up in Phoenix, Arizona during the week, and Sonora on the weekends where his Dad lived, influencing the flavor brought to the dishes. The same goes for Chase, who grew up in a Filipino Palestinian Muslim household with his mom, and a Puerto Rican household with his dad. He started in kitchens when he was 11 in a Subway his mom owned with his nana.
Filipino flavors in a Milwaukee restaurant setting are rare. Maya Ophelia's is a trans-owned business, something that is also a rarity in the Milwaukee food scene. "The truck offers us an opportunity to do, once a month, pay-what-you-can. Giving back to our communities no matter how little we have had to start with has been important to us since day one," Chase tells me.
The best part of having the truck is having a more solid schedule in place. The pair plan to have at least four days where they will be open. The menu used to change every day, but that proved to be too laborious. Now the menu will change monthly, maybe even seasonally. Some of the staple sweets will remain, but new items will make their debut regularly.
"We are going to start Tuesday, September 8 at The Mothership with the return of Trapwrap Tuesday," Chase and Jack assure me. What exactly is a trapwrap? The trapwrap has proven to be one of the most popular menu items, and each Tuesday will feature them at $10. "It's a cross between a tostada and a burrito, that we fill with various things we consider to sort of be a 'chopped challenge' that is once a week and never repeated," the pair tell me.
Chase and Jack are starting their menu with skewers and pandesal sandwiches. Pandesal is a Filipino sweet bread that they make themselves. In a few weeks they will be adding papas rellenas (baked potatoes) topped with nut-free queso, grilled nopales, and onions. Plans to expand to Sonoran-style breakfast burritos on Sundays and a rotating pan dulce are in the works.
Maya Ophelia's will only get bigger, because anything with a cult following has one for a reason. Here, it's attention to detail, championing that which is swept to the side, and exceptional service. At the risk of editorializing, Chase and Jack are personal heroes, and make me want to try an all-vegan diet. Their food makes you feel satisfied and makes you want to take steps towards creating more.