Some places come and go, while some places become icons. Mandatory Milwaukee is all about the latter. Join us as we revisit beloved and well-worn local staples with fresh eyes, and explore how they might figure in the city's future.
Milwaukee is blessed with a wide array of cozy corner markets and shops that truly put the "special" into "specialty foods." These places offer customers a rare respite from the cold sterility of big box retailers, are overflowing with charm and inimitable personal touches, and are known to often highlight products that are made right here in town. While we stump for any and all of these establishments—places like Glorioso's, Sunrise Foods, G. Groppi, and Scardina Specialties among them—it's safe to say there's no neighborhood grocer in Milwaukee quite like Riverwest Co-Op (733 E. Clarke St., 414-264-7933).
The small market that's located in old Schlitz tied house situated on the corner of Clarke and Fratney streets has forged on for close to 20 years amid rampant competition from other retailers and unimaginable societal changes—all thanks to a small list of cooperative principles, an unflappable focus on sustainable and locally-produced items, and the noble business model of selling "food for people, not for profit." With Riverwest Co-Op's 19th anniversary coming up on Tuesday, November 3 and with small businesses continuing to face untold economic hardships, there's no better time to give some attention to this invaluable neighborhood resource than right now.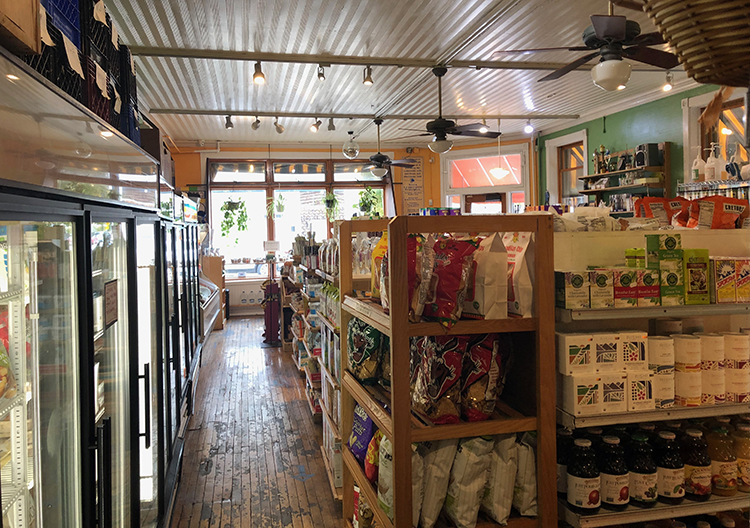 Though the Co-Op officially opened on November 3, 2001, its story actually starts in the fall of 1999. At that time, a group of community members—including members of the Riverwest Workers Buying Club—decided to focus their efforts on opening a co-op. In the two years the followed, funds were raised, plans were made, and all the necessary work was done to get this vision off the ground. What started as just a few shelves and a handful of offerings has since blossomed into a respectable-size corner market with a surprisingly vast range of items.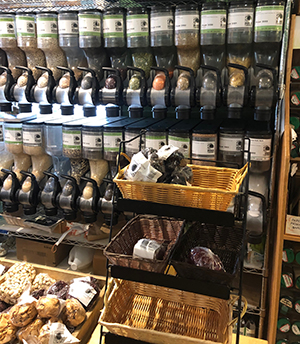 Now close to two decades removed from that humble beginning, Riverwest Co-Op customers and members alike will find an impressive array of inventory that's predominately locally- or independently-owned, fair trade, organic, or that are a combination of a few other those classifications. There are bulk items and fresh foods that are delivered from "businesses that share [their] ideals."
At this point, buyers can pick up a number of fare made by local outfits, such as El Rey chips and tortillas, Purple Door and Scratch ice cream, Cedar Teeth pizza, pasties from Stella's Pasty Shop in nearby Oak Creek, coffee from Anodyne, and produce from a few hand-selected area farms.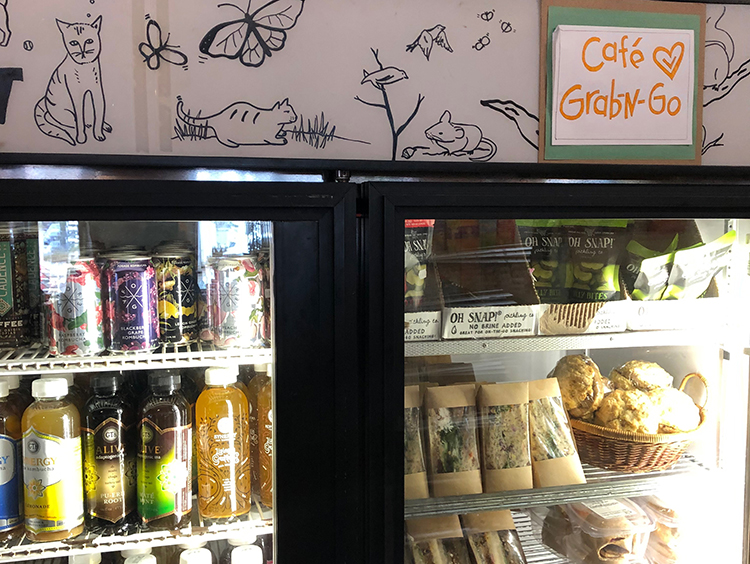 In addition to those metro Milwaukee goods, Riverwest Co-Op has a fully-stocked freezer section, environmentally safe household cleaner, canned food and condiments, dried fruit, fresh vegetables, juices, homemade bakery treats, and coolers full of non-alcoholic beverages. Amazingly, the vast majority of items are priced close to—or in many cases, lower than—what you'd pay at other, larger retailers.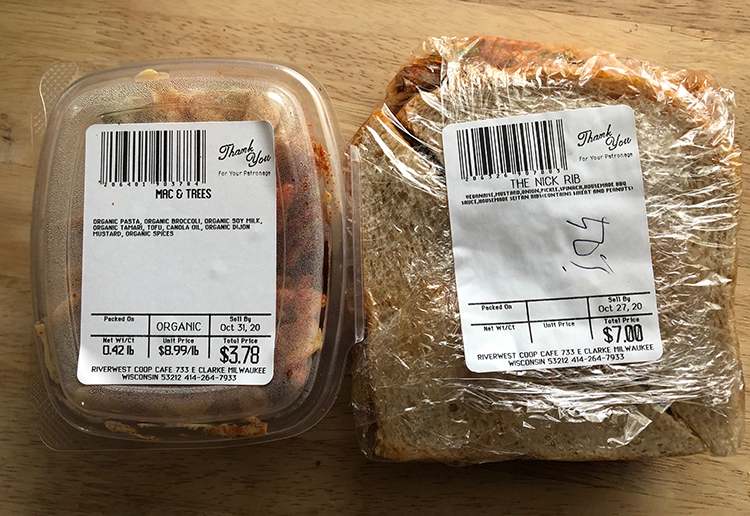 Beyond standard groceries, folks will find Grab-N-Go options with quick, handheld vegetarian and vegan meals that are made in-house. We picked up some Mac & Trees pasta salad and a "Nick Rib" sandwich during our last visit.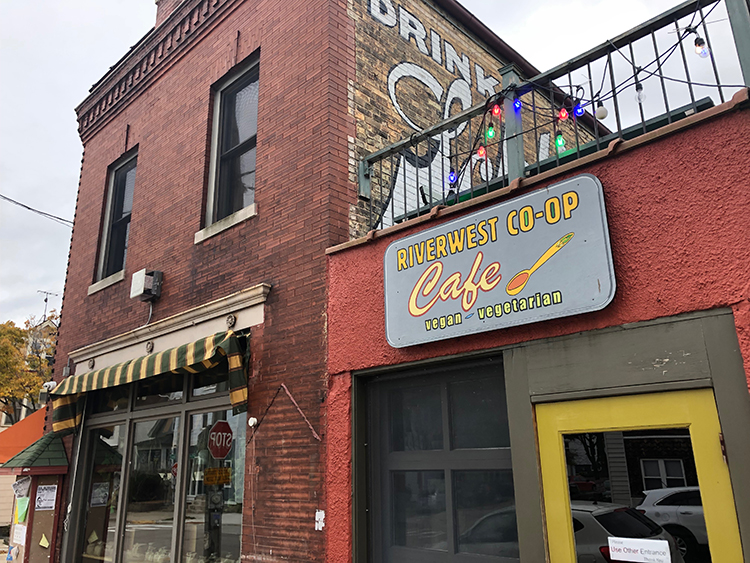 The Grab-N-Go is a handy resource for a fast meal, but in "normal times" (if and when those ever return) we highly recommend getting something from the Riverwest Co-Op Cafe. The restaurant that's connected to the store opened in 2004 and makes some of the best vegetarian and vegan cuisine in the city, including one hell of a Tempeh Reuben. During this point in time, the Cafe is only offering a limited to-go brunch menu (on weekends only) as a result of the COVID-19 pandemic. It's also worth mentioning that only five customers are allowed to shop in the Co-Op at any time right now.
Though it's far-from business as usual at the Riverwest Co-Op, the little member-operated shop remains a well-run, well-stocked, affordable, and wholly important place in the community. Come in to wish them a happy 19th birthday and to help ensure they'll be around to celebrate many more years of "food for people, not for profit" by supporting them (and, as a direct result, various other area operations) with your patronage.
Riverwest Co-Op Grocery Store: Highlight from Tiny Owl Media on Vimeo.