About eight years ago, my sister and I went to see OFF! in Chicago. We showed up about three hours early, so we went to eat at El Barco Mariscos, a Mexican restaurant on Ashland and Cortez. We ordered ceviche, langostinos (crayfish), and crispy octopus. It set off a journey to find more Mexican restaurants in the middle of Latino neighborhoods that sold strictly seafood.
Unfortunately, we had to keep going to Chicago to find these places. Until recently: La Casa De Chivolin (2423 S. 6th St., 414-467-9942) can be found in the Lincoln Village neighborhood, on the hill behind the Basilica of St. Josaphat. (A previous location was in Greenfield.) What we found was our marisco haven, a place to get our ceviche and langostinos without having to deal with PWCs (pinches weyes de chicago, a Mexican rendition of FIBs).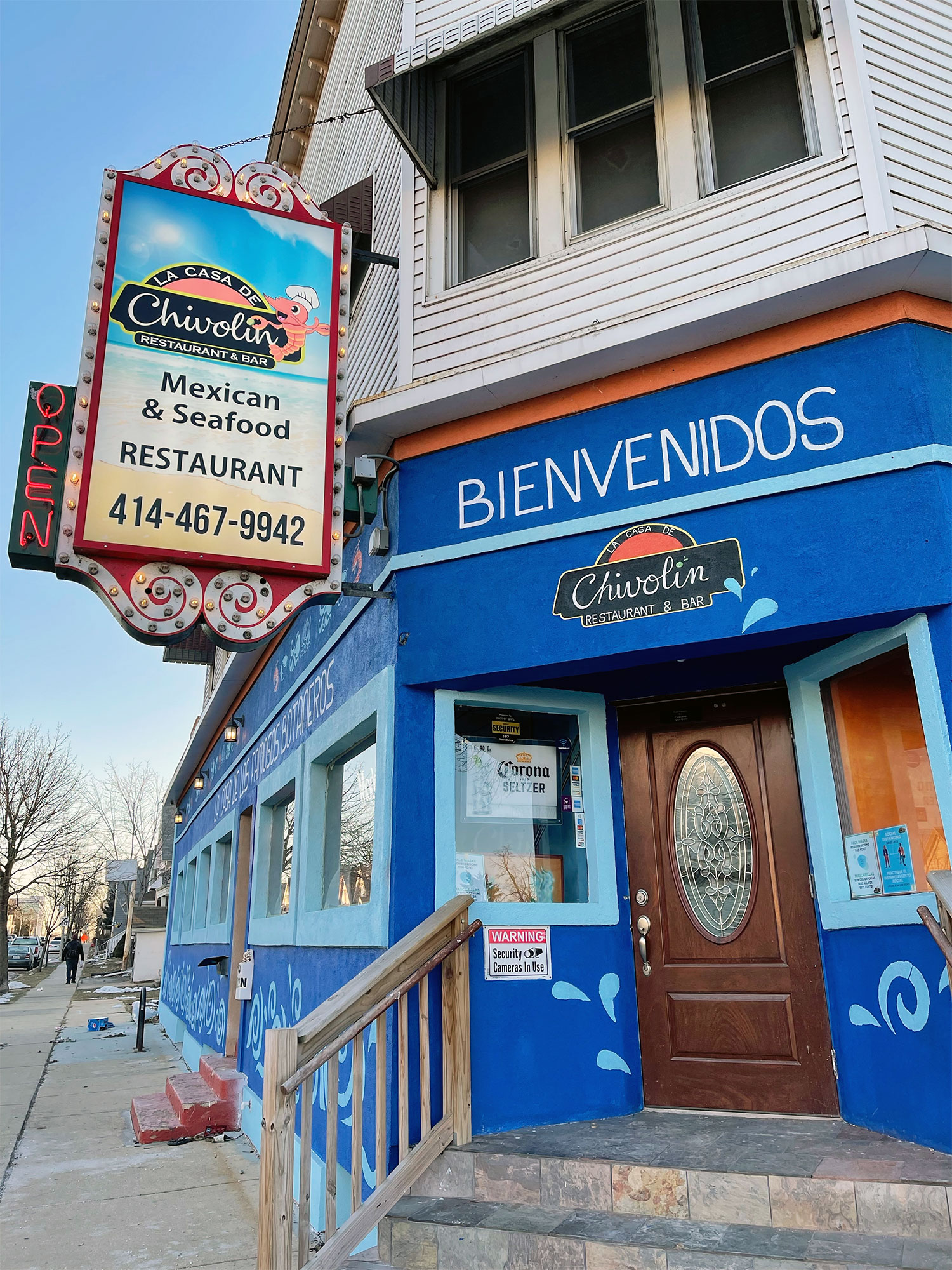 There is a high-end, romantic place to get your ceviche fix in town, which is a restaurant on KK that everyone knows and loves. Casa Chivolin is that place's drunk uncle, one that always has a cooler of beer in tow and hands you a new one with a squint-eyed nod when he sees your bottle is holding liquid in danger of becoming swill.
The music playing is Corridos Tumbados, a sort of blend of 1940s bolero-style guitar coupled with gangster lyrics about the party lifestyle. The drinks are in jug-sized cantaritos, handcrafted clay mugs that just make the michelada taste better. The food is beach-themed, so while there are hot meals, the stars are the cold dishes, like the aguachile, which comes in an oversized molcajete. An aguachile is a dish that consists of seafood of your choice, chopped and mixed with onions and cucumbers, then soaked in lime, achieving a chemical cook. You can order the spice level 1-10; trust me, the numbers are accurate. They make their own chimichurri and bottle it, which is not to be played with.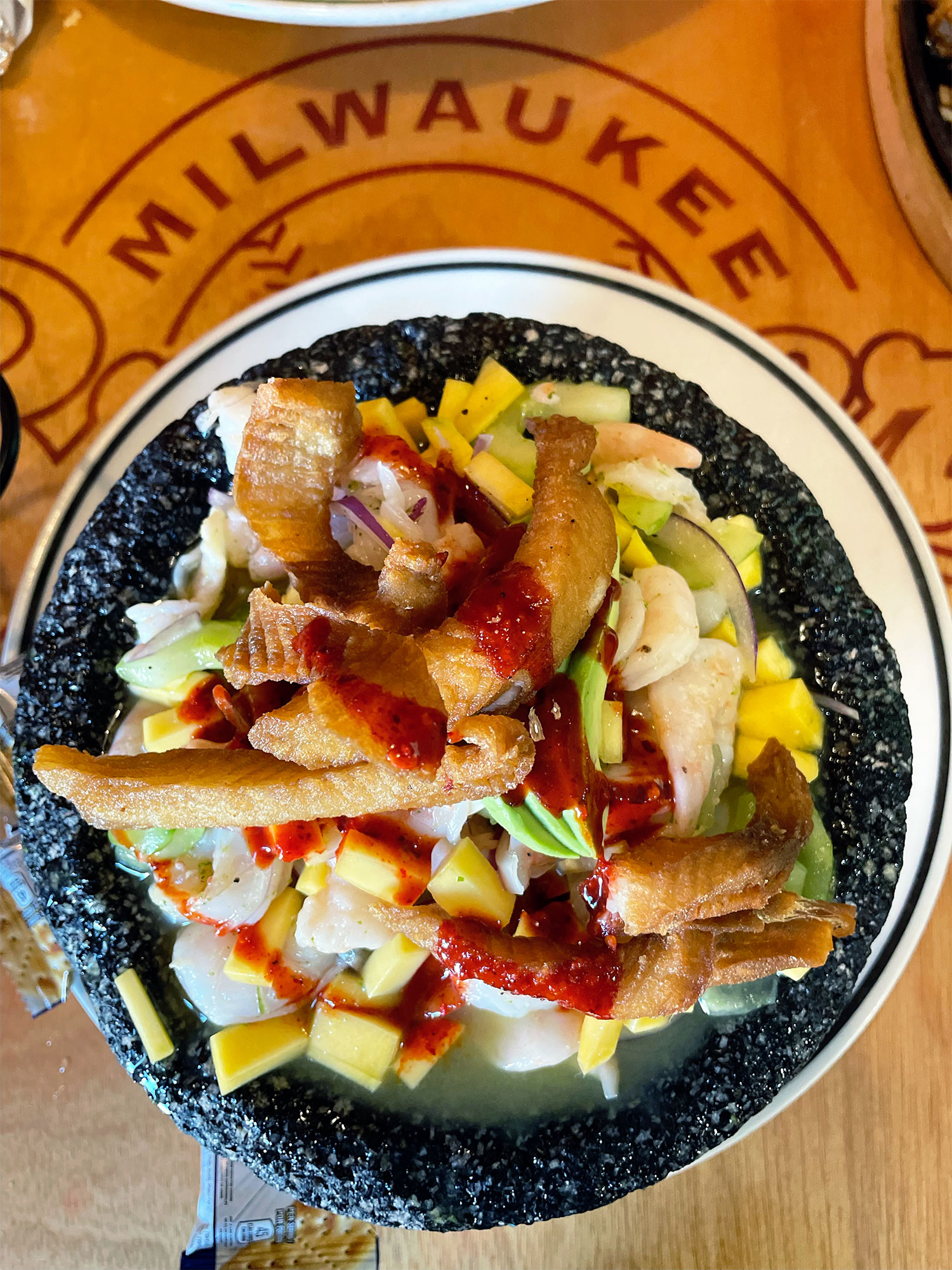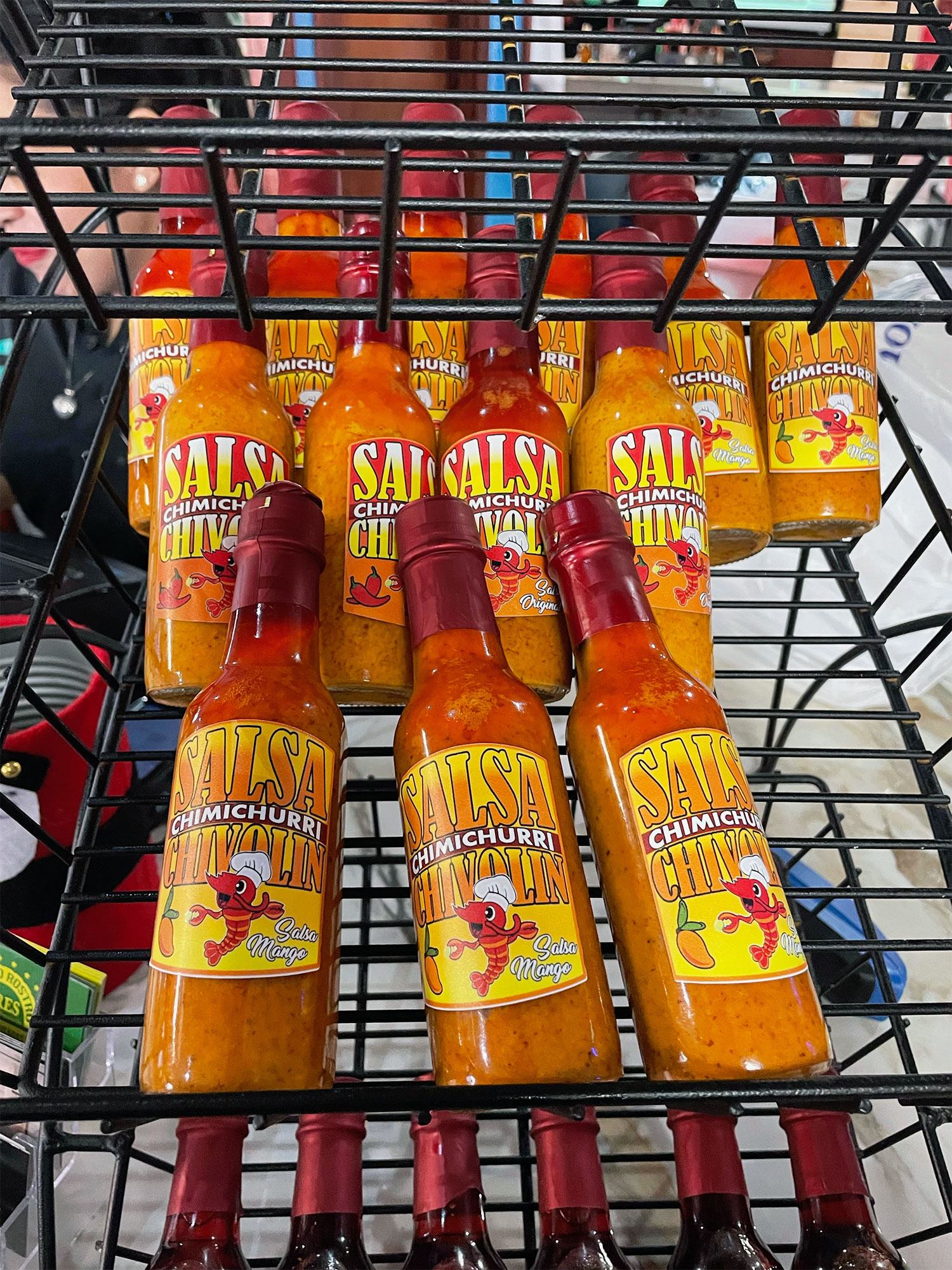 The story of Casa Chivolin is a sweet one, and starts with Francisco Alvarez in 2005. The clown he had hired to show up for his daughter's birthday canceled last minute, so he dressed up as a clown and called himself "Chivolin." He got his brother to join the act, calling himself "Chivolo." What blossomed from there was an appreciation for the art of professional clowning, and the two started a business being the entertainment at kids' birthday parties. Francisco was an amateur chef at the time and made charolas (pans) of ceviche as part of a deal when he would show up to parties. People began ordering them more and more, which led him to add many other dishes to his menu, and the eventual opening of the restaurant.
The building which houses Casa Chivolin is one that has a solid history etched in the memory of local foodies. It was once Tres Magueyes, a Mexican restaurant/bar that was famous for their parrilladas and fajitas, as well as shady after-hours clientele. The place closed sometime in the early 2000s and the building sat vacant for something like eight years until it became a bar again, which fizzled out after only two years in business. Casa Chivolin breathed new life into the building in 2020, and the joint was hopping again.
On a recent trip, I ordered the fajitas and a tostada de ceviche piled high with shrimp and avocado, which came with the special seafood Valentina. It is a more citrusy take on normal valentina, and made special for mariscos. The fajitas came with crispy octopus and slices of beef, making for a pretty heavy lunchtime meal—but then again, I usually don't eat all day before going to a place like Casa Chivolin.
Our server was a young lady who was very interested in my constant picture taking. I told her I was writing the place up. She pulled up a chair and sat down, her face cradled in her fingers. "Make sure you write that Ana Ornelas is the best server at Chivolin, and to ask for me personally," she said, flashing a wide smile.
Ask for Ana Ornelas at Chivolin, she is the best server there.
Exclusive articles, podcasts, and more. Support Milwaukee Record on Patreon.
---
RELATED ARTICLES