Last weekend, I took to our social media accounts and reposted an October 2022 article where I went to the last Ponderosa restaurant location in Wisconsin. (Yes, it's the one in Wisconsin Dells and it's still open.) As that nearly year-old post was doing crazy numbers again, I remembered I was currently in the vicinity of another chain restaurant's one and only Wisconsin location.
The fast food chain I'm referring to is Blimpie Subs, a once-mighty sandwich outlet that has fallen on hard times of late. Before its stark decline, Blimpie had significantly more locations than Subway (which it predates by a year). It was publicly traded on the stock exchange, Dave Winfield was a spokesperson, commercial campaigns were in regular circulation nationwide, and rampant expansion brought locations to almost every state in the U.S. and 15 other countries.
During its peak at the turn of the century, there were more than 1,800 Blimpie Subs locations worldwide. Things were good…until they weren't. Oversaturation brought reduced food quality and menu inconstancy. Meanwhile, sub chain competitors like Subway, Jimmy John's, and Jersey Mike's (ironically, the original inspiration for Blimpie way back in 1964) each overtook the struggling sandwich purveyor. In 2001, co-founder Tony Conza sold Blimpie. It was sold again in 2006, and once more in 2016. Between those sales, the number of Blimpie Subs locations reduced at a staggering rate.
Today, just over 150 Blimpie Subs locations remain. As mentioned above, only one of them is here in Wisconsin. The last store standing is in Oshkosh. Originally opened at 200 City Center downtown in 2007, that Blimpie moved a few miles west to its current home at 2208 Jackson St. somewhat recently. Prior to the relocation, it became the state's sole Blimpie in existence by outlasting shops in Portage and Mineral Point to earn the unsavory honor of last one standing…in Wisconsin, at least.
The new-ish Oshvegas location of "America's Sub Shop" is in a small shopping plaza next to a laundromat. It shares a property with a Little Caesars and what appears to be an area plant shop. For frame of reference for our Fox Valley readers, it's a few doors down from the former site of a strip club called Naughty Girls that was shut down in a prostitution sting in 2014.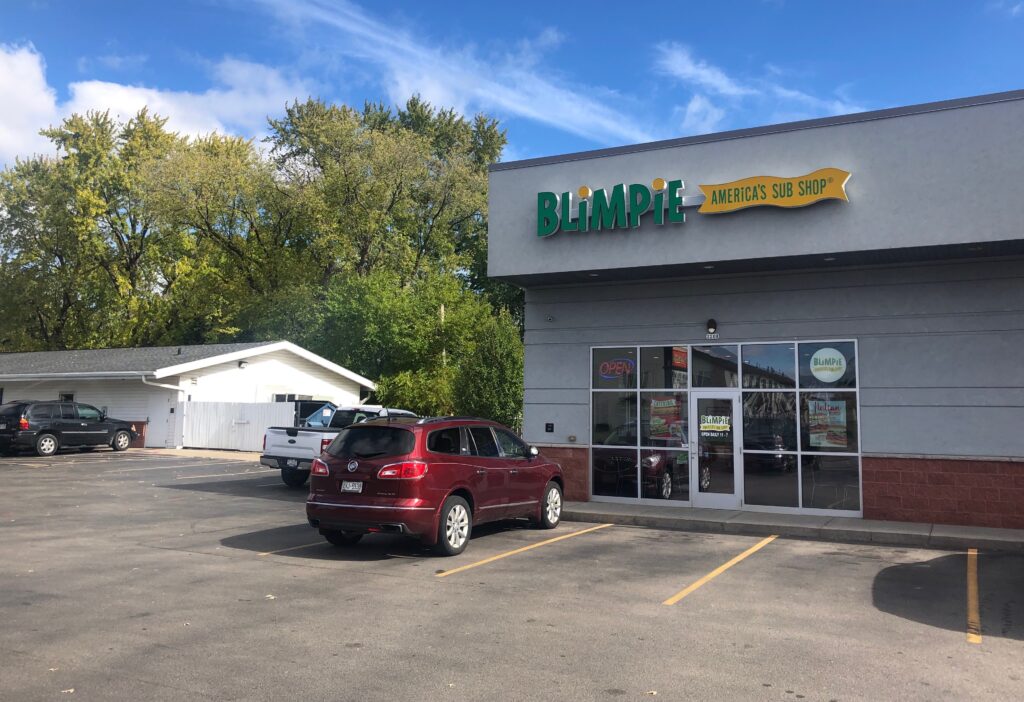 Stopping by around noon on a fall Sunday that coincided with the Packers bye week, I honestly wasn't sure what to expect. I thought back to the last time I had Blimpie and decided it must've been when I rode my bike to the Appleton location on Calumet St. sometimes when I was a kid. I remember liking it. In fact, I think I preferred it to Subway, and that's when Subway was actually solid. If memory serves, I think it closed long before I left Appleton for Milwaukee close to 15 years ago…but I can't recall for sure.
I never ate at the City Center location during my five years living and working in Oshkosh in the early aughts. Apparently, there was a Blimpie in Milwaukee at the corner of 34th and Oklahoma at some point, but I have no recollection of it. Maybe it was gone before I came to town. Maybe I just never noticed it. Do you remember it (or any other Blimpie locales in or around Milwaukee)?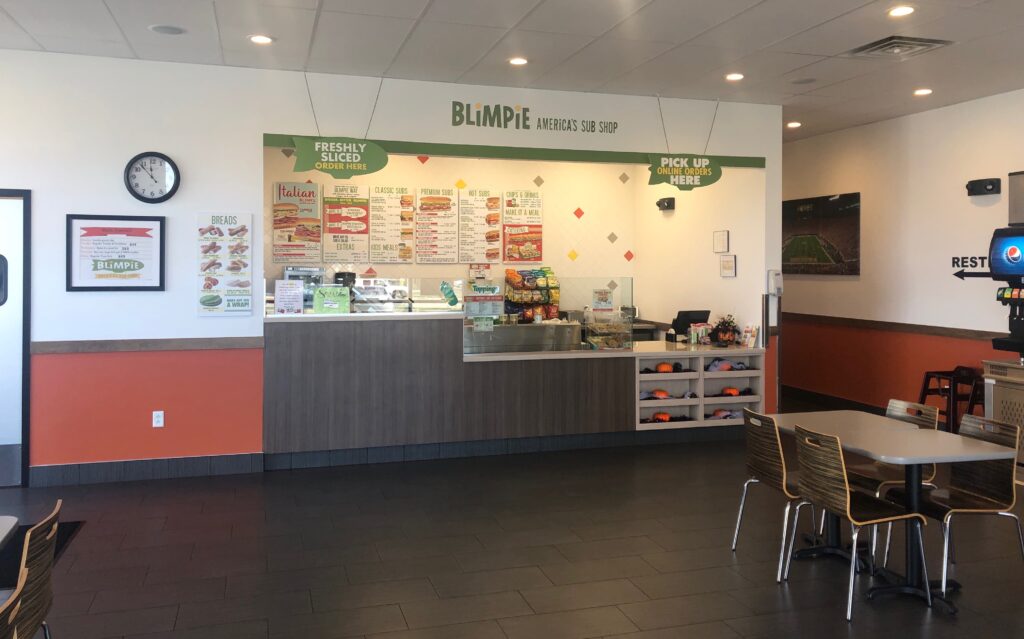 Anyway, I entered this Oshkosh establishment and found…an empty store. A few seconds after I ambled up to the counter, the one Blimpie employee on staff came out from the back, welcomed me, gloved up, and took my order. At Blimpie, once you pick your sub, you start off by selecting your bread.
I opted for a regular size "Hoboken Hero" an Italian-inspired sub that's a nod to the chain's origin in Hoboken, New Jersey. For my bread, I decided on "Everything Bread," which is akin to an Everything Bagel—complete with poppy seeds, sesame seeds, onion, and pieces of coarse salt—as you might've gathered from the name. Like Subway and other chains of that ilk, Blimpie lets you pick what other toppings and condiments they'll put on your sandwich. I decided to add tomato, sliced raw onion, pickles, a little mayo, and some hot giardiniera to my trio of meats and slices of provolone stacked between the bread.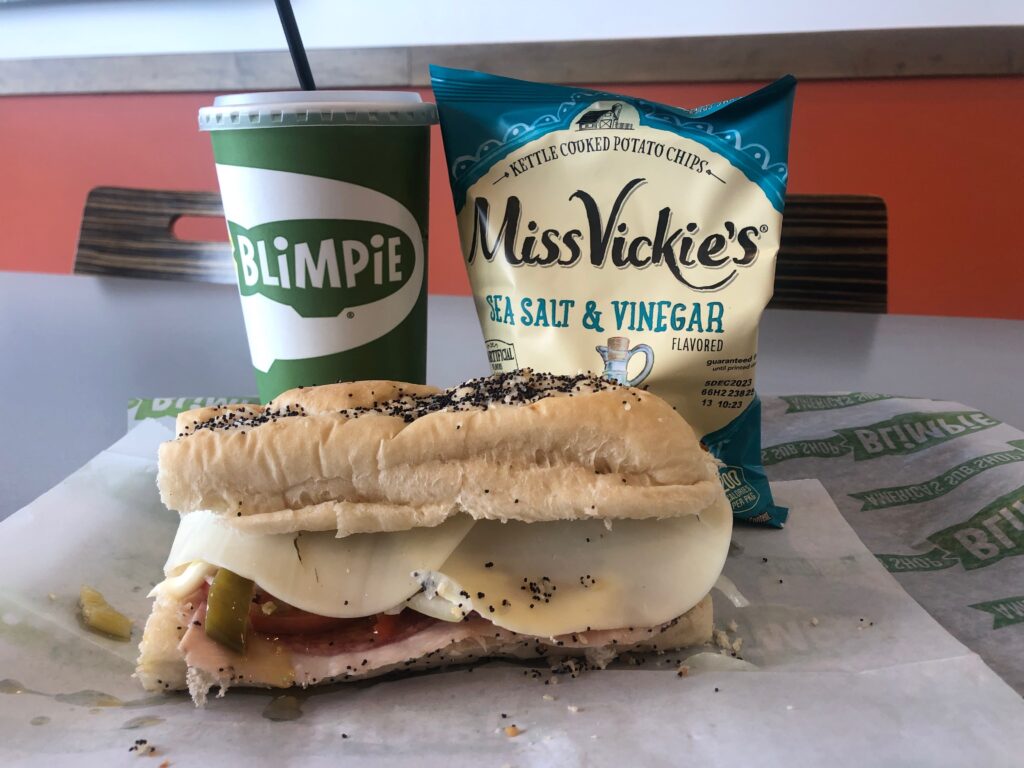 Upon learning the combo upgrade wasn't that much more than the sandwich itself, I said what the hell and added a fountain drink and a bag of salt & vinnies to my order. When in Wisconsin's last remaining Blimpie, right?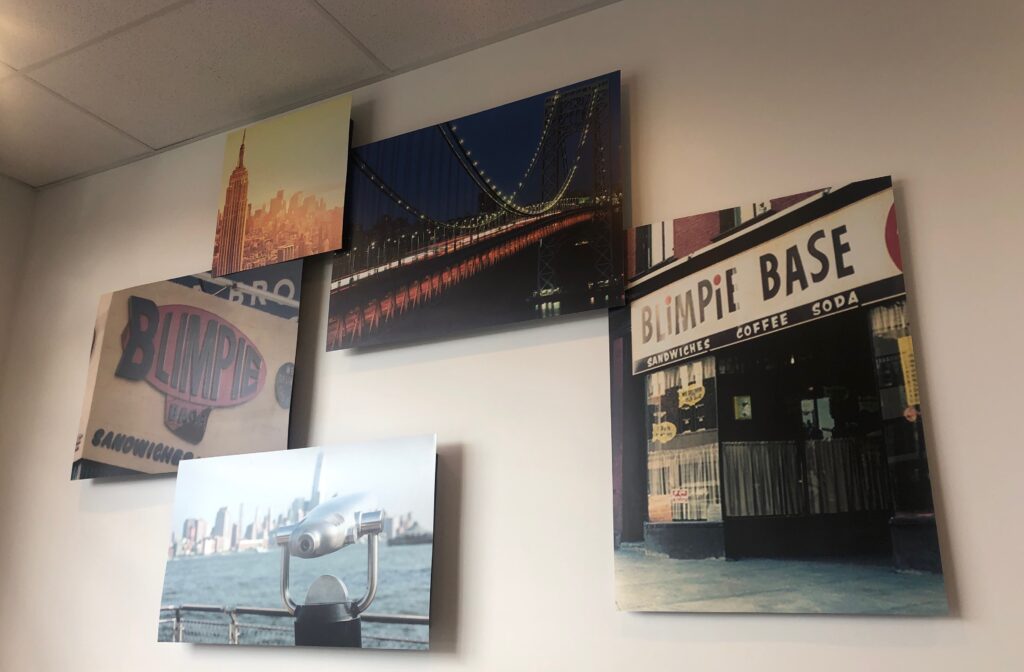 My $11 order in hand, I took a seat at one of the handful of five or six tables (sorry, I forgot to count the friggin' tables!) and checked out the photos on the restaurant's wall that harkened back to the early days of Blimpie. Better times? Different times, at the very least.
I took my first bite of Blimpie in at least 25 years and…
IT WAS ACTUALLY VERY GOOD
Especially by fast food sub standards. The Everything Bread was pillow-y soft and full of flavor from the thick exterior coat of seasoning. The inside of the bread absorbed the moisture from the tomato and the thick and crunchy deli pickle medallions, as well as the excess oil from the giardiniera. The onion was fresh and flavorful. The stack of pepperoni, salami, prosciuttini, and provolone were of a far higher quality than I expected from a dwindling sub franchise I literally forgot existed for a few years of my life.
Removing any shards of nostalgia from the experience, I was very satisfied and pleasantly surprised. Accurate as the claim may have been in, like, 1987 through 1991, I fully acknowledge it's nowhere close to being "America's Sub Shop" anymore. Hell, it can't even make a claim to be Wisconsin's sub shop. However, even though it's fallen on an especially difficult 20-year stretch and a significant bounce back seems very unlikely to ever occur, Blimpie more than met expectations when I returned there for the first time this century.
Though the future is uncertain and not exactly promising for Blimpie at this point, this forgotten sub chain is still here with us almost 60 years after opening its first shop. And if you live in Wisconsin and don't want to cross state lines for a fast food sub, "here" can only be referring to the little space in Oshkosh. Whether revisiting after years away or trying for the first time, head up there and get Blimpie while you still can because it's not like they're expanding anywhere else at this point.